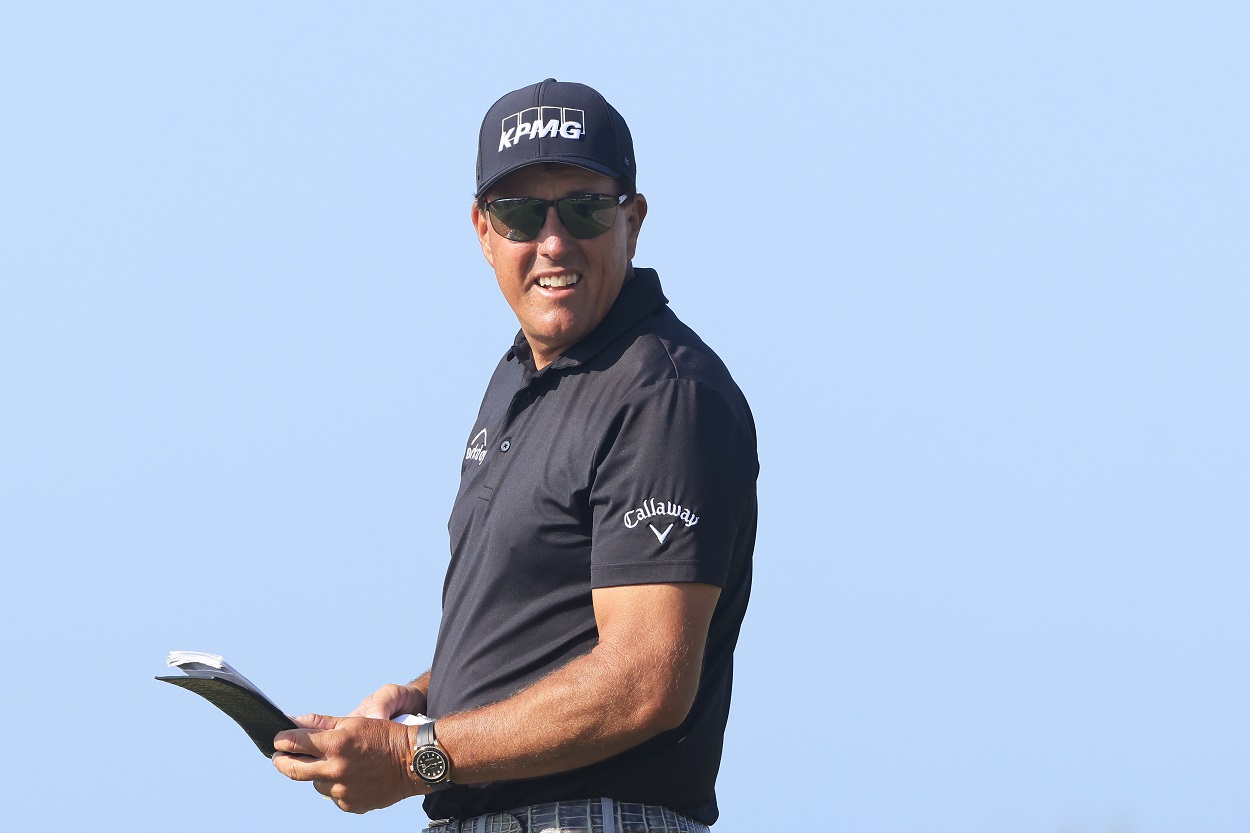 Phil Mickelson: Ranking Lefty's Major Championship Victories
Ranking the five major championship victories of Phil Mickelson.
Over the course of his nearly 30-year career on the PGA Tour, Phil Mickelson has obviously accomplished quite a bit. His 44 victories are good for eighth on the all-time list, has made more than $92 million (not counting the extra hundreds of millions in endorsements), spent more than 25 years in the top 50 in the world rankings, and is already a member of the World Golf Hall of Fame. Lefty has been on a dozen Ryder Cup teams, a dozen Presidents Cup teams, and is easily one of the most popular players of all time.
Then, of course, there are those five major championships. Mickelson is currently one of just 19 players in history with five or more and one of just 12 to win three legs of the Grand Slam. The only one he hasn't conquered is the U.S. Open, where he's famously finished as the runner-up on a record six occasions. But we're not here today to dwell on that.
No, today we're here to rank Mickelson's five major wins so let's get to it.
5. 2006 Masters
In both victory and defeat, Mickelson has been a part of many dramatic finishes in major championships over the years but the 2006 Masters just wasn't one of those times. Looking to win his second consecutive major, Phil shot 70-72-70 over the first three days at Augusta National to take a one-shot lead into Sunday's final round. Calm, cool, and collected, Lefty never let himself get out of control and cruised to a three-under round of 69. He was never truly challenged and was even able to make bogey on the final hole and still won by two strokes.
4. 2005 PGA Championship
Over the first two rounds of the 2005 PGA Championship at Baltusrol, Mickelson shot 65-67 on the par-70 layout and took a three-shot lead into the weekend. He struggled to a two-over 72 on Saturday but was still tied for the lead with Davis Love III heading into the final round. The weather became the biggest story on Sunday as play was suspended while Phil was putting on the 14th hole.
Play resumed Monday morning with six players within three shots of the lead. When Mickelson reached the par-5 18th, he was tied for the lead with Steve Elkington and Thomas Bjorn, who were both already in the clubhouse at 3-under. After finding the fairway with his drive, Lefty hit his second shot into the deep rough short of the green but hit a phenomenal flop shot with his third, leaving himself essentially a tap-in to claim his second major title.
3. 2010 Masters
The 2010 Masters may not have been Mickelson's most dramatic victory but it was certainly filled with plenty of emotion. Trailing leader Lee Westwood by two strokes midway through the tournament, Phil provided plenty of fireworks over the weekend to win his third green jacket. During Saturday's third round, he made consecutive eagles at the 13th and 14th and nearly made another on the 15th on the way to a five-under round of 67.
On Sunday, he had a one-shot lead on Westwood heading into the final nine holes but slammed the door on the Englishman with four birdies on the back side, including one on the par-5 13th, which featured his famous shot from the pine straw. While the three-stroke victory may not have had as much on-course drama as the previous entry on our list, this victory gets the No. 3 spot simply due to the celebration that followed it. Not even one year earlier, Mickelson's beloved wife, Amy, had been diagnosed with breast cancer and she was in attendance to cheer her husband on for the first time in 11 months. Just watching the two embrace afterward was a truly special moment.
2. 2013 Open Championship
After shooting 69-74-72 over the first 54 holes at the 2013 Open Championship, Mickelson entered the final round at Muirfield in a tie for ninth, five strokes back of the lead. Westwood was once again in contention for his first major and held the lead with 18 to play but faltered down the stretch and finished tied for third.
As for Phil, he played a solid front nine with seven pars and two birdies to get back to even for the tournament and played exceptional golf down the stretch in extremely tough conditions. After a bogey at the 10th, he made pars at 11 and 12 and then birdied four of the last six holes, finishing with a five-under 66 to win by three. His longtime caddie, Jim "Bones" Mackay, would later say it was the best round of Mickelson's career. Many thought that with his style of play, Lefty might never win a Claret Jug, and the numbers throughout his career backed up that theory as he'd only recorded two top-10 finishes in 19 starts at The Open coming into this tournament.
1. 2004 Masters
Honestly, Mickelson's win at The Open in 2013 was probably his greatest win given that final-round performance. But given how long he'd waited to win a major championship, we've gotta give the No. 1 spot to his win at The Masters in 2004.
Coming into Augusta National that year, Phil had teed it up in 46 major championships (43 as a professional) and had finished in the top 10 on 19 occasions, including three consecutive third-place finishes at The Masters. He trailed by five strokes after the first round but cut that deficit to three after 36 holes. He found himself in a tie for the lead after 54 holes with Chris DiMarco, who crumbled on the final day with a 76 and finished tied for sixth.
Ernie Els, on the other hand, was a major (pardon the pun) threat and he and Mickelson engaged in an epic battle on the back nine on Sunday, trading shots back and forth like two heavyweight boxers. Els, playing two groups ahead of Lefty, closed with a five-under 67 and finished his day at eight-under for the week. Phil came to the last at eight-under as well, hit a perfect tee shot, and then hit his approach approximately 20 feet past the hole, leaving a slick birdie putt. Initially, it looked as if his putt might slide to the left but it just caught the edge of the cup and dropped in, creating an iconic moment as Mickelson jumped (maybe a foot) in the air as his long wait was finally over.
Stats courtesy of PGATour.com