Bryson DeChambeau Took a Little Jab at Tiger Woods' Age at the Memorial
Since turning pro in 1996 at the age of 20, Tiger Woods has been the most talked-about golfer in the world for obvious reasons. Over the last 24 years, the now-44-year-old has racked up 15 major championships, a record 82 PGA Tour wins (tied with Sam Snead), and has easily become the richest golfer the sport has ever seen.
While Tiger will always be the most-discussed player of any tournament he enters, another man has been making big headlines since the restart of the season, that being Bryson DeChambeau. The 26-year-old has been wowing fans and fellow tour pros alike with his bulked-up physique and phenomenal power and Woods himself got a closer look ahead of the Memorial as the two played nine holes together earlier this week at Muirfield.
The two certainly seem to have a mutual admiration for one another but DeChambeau inadvertently took a dig at Tiger's age following their practice round.
Bryson DeChambeau recently broke a driving distance record previously held by Tiger Woods
When Tiger Woods burst onto the scene in the mid-90s, he amazed the golf world with his incredible distance, something Bryson DeChambeau is doing today. DeChambeau packed on some 30 pounds during quarantine and is simply mashing golf balls right now. It only seems to be a matter of time before he goes full Roy Hobbs and knocks the cover off of one, don't you think?
Following six consecutive top-10 finishes, three before the PGA Tour shut down for three months due to COVID-19 and three after, DeChambeau finally picked up a victory, his first in 20 months, at the Rocket Mortgage Classic in Detroit two weeks ago and broke a Tiger Woods record in the process.
Over the four rounds at Detroit Golf Club, Bryson DeChambeau set a new driving distance record for a winner by averaging an incredible 350.6 yards off the tee. The previous record was set by Tiger at The Open Championship at St. Andrews in 2005, where he averaged 341.5.
The pair played a practice round together ahead of the Memorial
Bryson DeChambeau knows how special it is to get to play a practice round with Tiger Woods so he was naturally delighted when his invitation was accepted by the five-time Memorial champ. The two have had a solid relationship over the last couple of years as both play Bridgestone golf balls and, as DeChambeau told PGATour.com following their round, each is interested in seeing what the other is doing to improve.
"I'm always interested to see what new things he's doing. And I think it was mutual. Obviously he likes playing with me. We've had a great relationship. We have great conversations. So it was just mutually beneficial and we had a lot of fun."

Bryson DeChambeau
Both DeChambeau and Tiger said that they didn't talk much about Bryson's new power game a ton during their round together but Woods is obviously very impressed with what's happening.
"What Bryson has done is no easy task. He's put in the time and has put in the reps, and he's figured it out. He's gotten stronger, faster, bigger, and has created more speed. But more importantly, let's look at the fact that he's hitting it as straight as he is.

"That part of the most difficult thing to do. The further you hit it, the more the tangent goes crooked … the fact that he's figured that out and has been able to rein in the foul balls to me has been equally as impressive as his gains off the tee distance-wise."

Tiger Woods
Bryson DeChambeau also said that he was impressed with Tiger Woods distance but inadvertently called his buddy old while doing so.
Bryson DeChambeau said Tiger Woods hits the ball well 'for his age'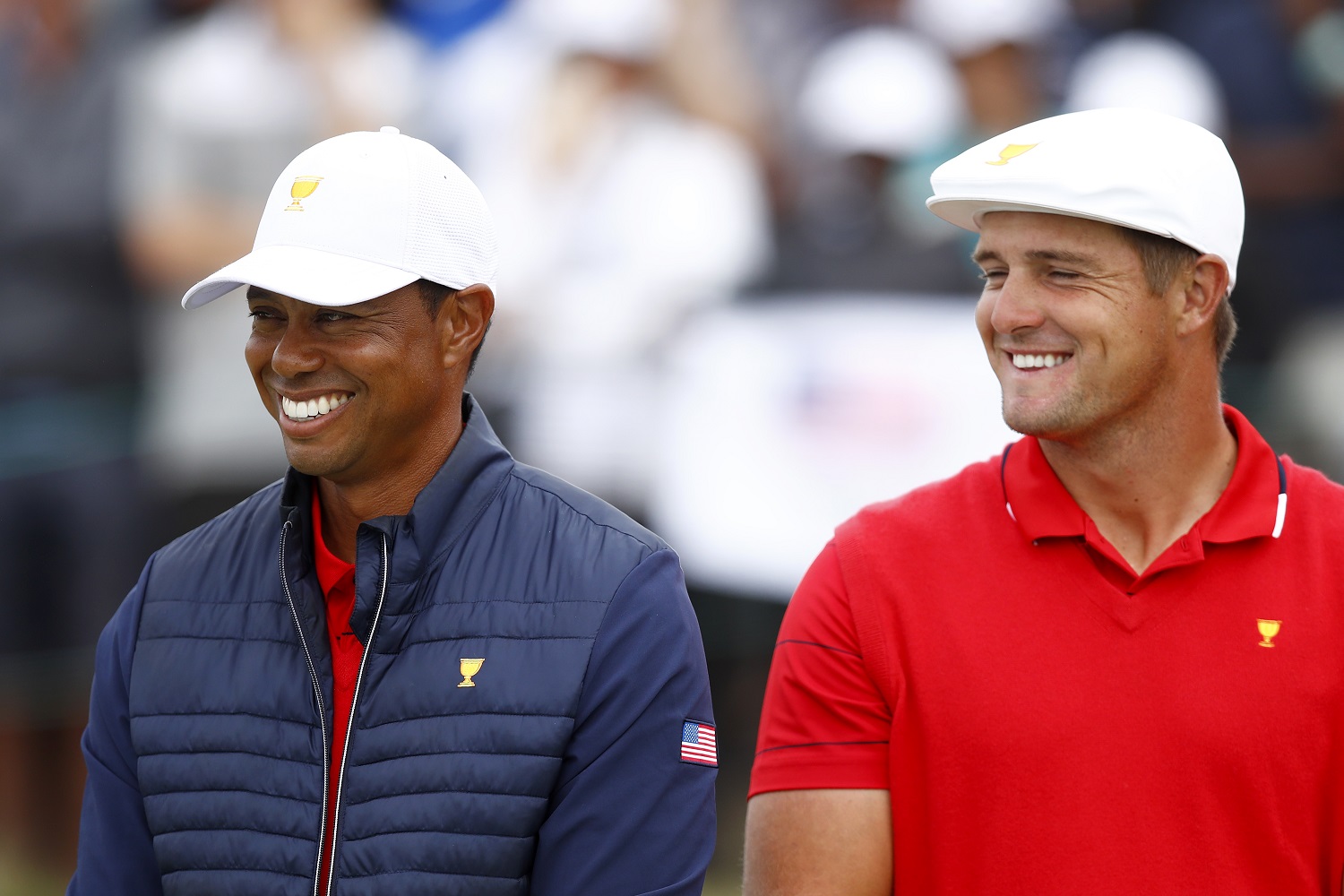 Bryson DeChambeau has to be tickled pink hearing those kinds of comments from someone like Tiger Woods, someone he obviously looked up to as a youngster. DeChambeau was clearly thrilled to play alongside Woods at Muirfield and was trying to praise him when talking about their round together. But he accidentally (or so it seems but you just never know with Bryson) ended up calling Tiger an old man while doing so.
"Back in the day, he was it. He was the golden star. He was the one everybody looked up to. Junior golfers that I played with were all inspired by Tiger and how far he hit it and how he dominated tournaments.

"I watched in just complete awe, going, man, how is he doing this, especially when you're young and you know you can't hit it more than 250 or something like that, he's hitting it 330 back in the day. Even now, he's hitting it pretty long. There was a couple holes he hit 320, 325. I'm like, that's pretty good for his age. It's amazing for his age."

Bryson DeChambeau
Bryson DeChambeau obviously has a history of putting his foot in his mouth but this actually did seem to be an accident. He was simply trying to compliment Tiger, who still is killing the ball at 44, even after four back surgeries. These two will certainly continue to make headlines as this crazy PGA Tour season rolls on.