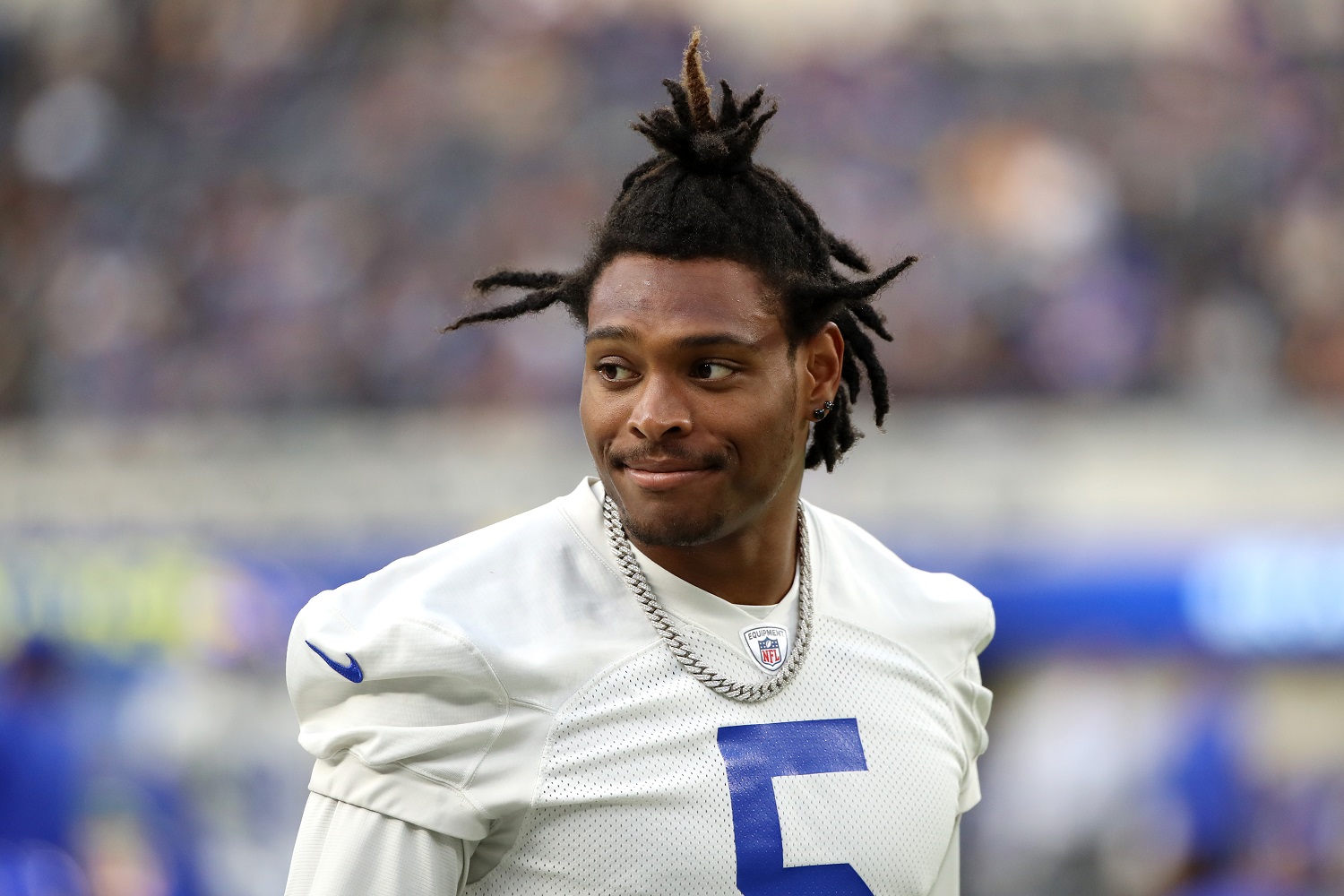 Former Giants Wonder if Rams All-Pro Jalen Ramsey Is Disciplined Enough to Be a Winner in the NFL
Jalen Ramsey said recently that Jacksonville Jaguars players hated then-vice president Tom Coughlin. Former New York Giants have spoken up in Coughlin's defense.
So, Tom Coughlin apparently hurt Jalen Ramsey's feelings, resulting in the superb cornerback asking the Jacksonville Jaguars to trade him early in the 2019 NFL season. Well, Ramsey should get used to it because some guys in possession of Super Bowl rings are coming to their old coach's defense by stepping on his feelings once again.
Jalen Ramsey said Jacksonville Jaguars players hated Tom Coughlin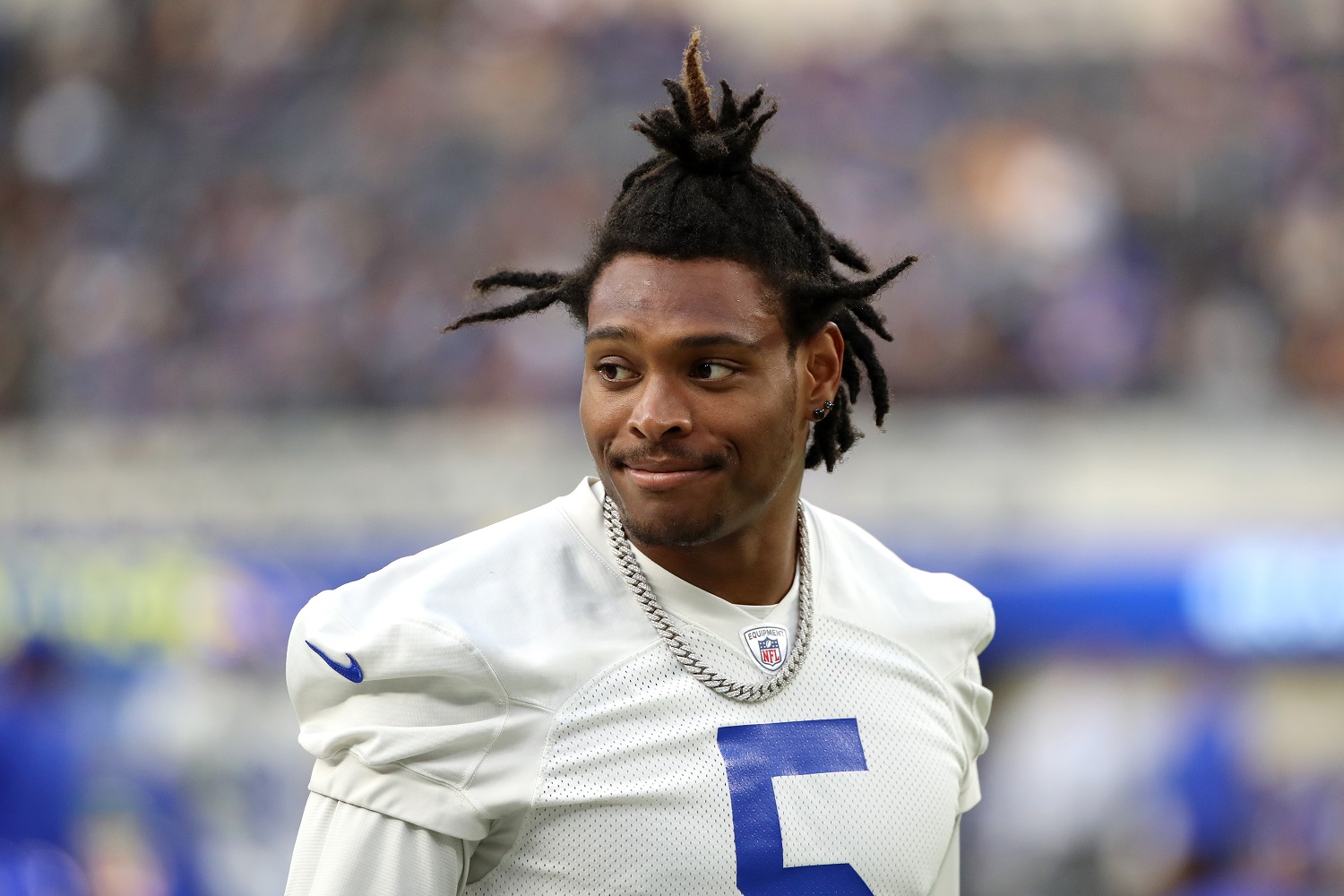 Coughlin was the first head coach of the Jaguars, went on to coach the New York Giants to two Super Bowl victories, and returned to Jacksonville in a front-office role in 2017. The Jags improved seven games in the standings that first year back and went to the AFC Championship Game.
Two years later, however, Coughlin's uncompromising attitude toward discipline had alienated much of the locker room. Appearing on the Catchin' Fades podcast, Ramsey told Aqib Talib that players despised Coughlin for his approach. Coughlin's methods, though unpopular at the time, instilled discipline on the field that led to victories in Super Bowls 42 and 46.
"We came together and we created a bond … that we were going to fight for each other, ride for each other, because to be honest, we (didn't) like Tom Coughlin," Ramsey said, as transcribed by Audacy.com. "That's what it came down to."
The NFL Players Association went so far as to send a letter to members across the league that said more than a quarter of all grievances filed by players were against the Jaguars (presumably primarily Coughlin) and ″you as players may want to consider this when you have a chance to select your next club."
What sent Ramsey over the edge and to the Los Angeles Rams?
According to USA Today, two incidents with Coughlin contributed to Ramsey requesting a trade, which came to fruition on Oct. 16, 2019, when the Los Angeles Rams acquired him for two first-round and one fourth-round draft pick.
Ramsey alleged to another team official that Coughlin spoke to him disrespectfully after Jacksonville's 13-12 loss to the Houston Texans on Sept. 15, 2019. Earlier in the year, Coughlin called out Ramsey and linebacker Telvin Smith over their absence from voluntary offseason workouts.
It can't be emphasized enough that "voluntary" is a key word in the phrase "voluntary offseason workouts," so it is easy to side with Ramsey, twice a first-team All-Pro since entering the NFL in 2016.
On the other hand, the offseason roster can exceed 75 players. When only two of them are missing those voluntary workouts for non-medically related reasons, there might be a message there about their commitment to the rest of the guys in the room.
As Coughlin put it, according to the website, "Championship teams are dominated by selfless individuals who recognize that the welfare of the team must always be paramount to any other consideration."
Former Giants players come to Coughlin's defense
Several of Coughlin's former Giants players reacted strongly and negatively after hearing about Ramsey's criticism on the podcast.
Among them was Lawrence Tynes, who was the Giants' kicker for both the Super Bowl titlists with Coughlin as coach.
"Tom is not for everybody but he is for those who want to lift up that Lombardi Trophy," Tynes tweeted.
Brandon Jacobs, who played eight years for the Giants, including the squad winning the Super Bowl after the 2008 season, seconded the motion.
"True Champion True Leader!!! Tom Coughlin is all we needed to be champions," he wrote on Twitter. "We don't win s— without him, we played for Tom."
Offensive lineman Rich Seubert took the hardest shot of all at Ramsey, suggesting he "must not like being held accountable."
There are two (or more) sides to every story, and Ramsey's take might be completely credible. But the fact that multiple players endured the conditions that Coughlin insisted upon and have his back so many years later suggests that Jaguars players may have been too set in their ways – the same fault that Ramsey found with Coughlin.
Like Sportscasting on Facebook. Follow us on Twitter @sportscasting19.