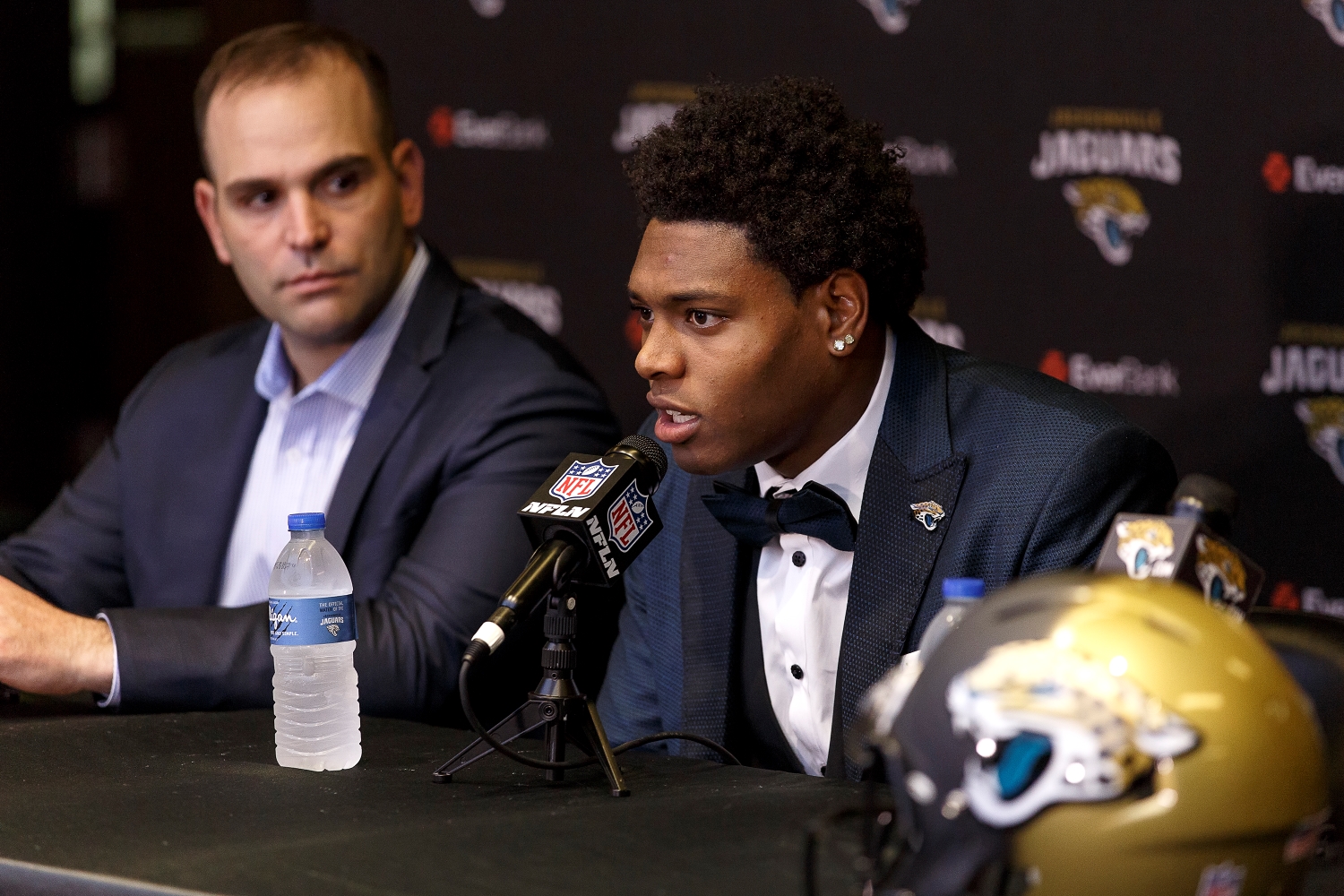 Jalen Ramsey Exposed Who's Ultimately Responsible for Ruining the Jaguars by Revealing the Truth About What Led to His Exit From Jacksonville
Jalen Ramsey provided some interesting insight into how he went from starring for the Jacksonville Jaguars to playing alongside Aaron Donald with the Los Angeles Rams. By exposing the truth about what led to his trade demand, Ramsey shed the spotlight on who's ultimately responsible for ruining the Jaguars.
The Jacksonville Jaguars once had a defense that looked capable of dominating the rest of the NFL for years to come. However, their dreams of running the AFC disappeared rather quickly, especially once stars like Jalen Ramsey and Yannick Ngakoue got shipped out of town.
Trading one of the NFL's premier cornerbacks seemed like an obvious sign of dysfunction in Jacksonville, and thanks to Ramsey revealing the truth about what led to his exit, it's abundantly clear who deserves the most blame for ruining the Jaguars.
Jalen Ramsey went from headlining a star-studded defense to playing alongside Aaron Donald in Los Angeles
The Jaguars landed a franchise-altering talent in the 2016 NFL Draft by taking Ramsey with the fifth overall pick. A long-limbed defensive back with supreme confidence and elite athleticism, the former Florida State star wasted no time showing why Jacksonville took him over talented prospects like Ronnie Stanley, DeForest Buckner, and Laremy Tunsil. By his second season, Ramsey earned his first of four straight Pro Bowl selections. And as the crowned jewel of an elite defense that included Ngakoue, Myles Jack, Calais Campbell, A.J. Bouye, and Telvin Smith, the 6-foot-1, 208-pound corner seemed like a lock to spend the rest of his prime in Jacksonville.
Unfortunately for Jaguars fans, Ramsey went from being the team's best player to being Aaron Donald's teammate. Unhappy with his contract situation, the perennial Pro Bowler eventually secured his freedom by getting traded to the Los Angeles Rams in October 2019, who sent two first-round picks and a fourth-round selection for the most gifted member of the Jaguars' secondary.
Eleven months later, Ramsey received the raise he fought hard for during his final years in Jacksonville. On Sept. 9, he signed a five-year, $105 million contract extension with the Rams. He responded by earning first-team All-Pro honors for the second time in his career. Meanwhile, the Jaguars finished 31st in points allowed and landed the No. 1 overall pick after posting a 1-15 record. While Trevor Lawrence represents a chance for a brighter future, the Jaguars don't come close to measuring up to the talent level of Ramsey's new team.
Ramsey exposed who's ultimately responsible for ruining the Jaguars by revealing the true story behind his trade demand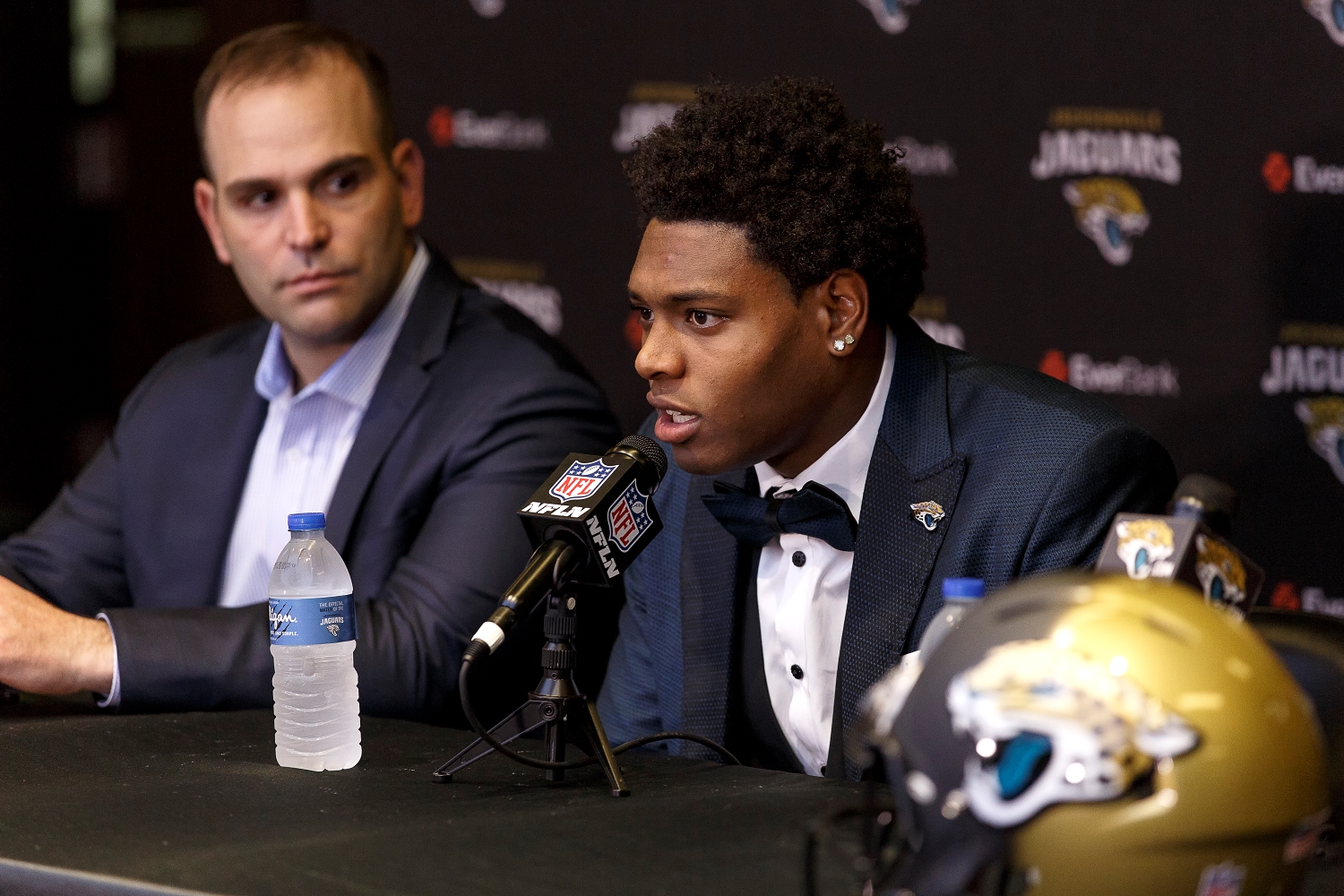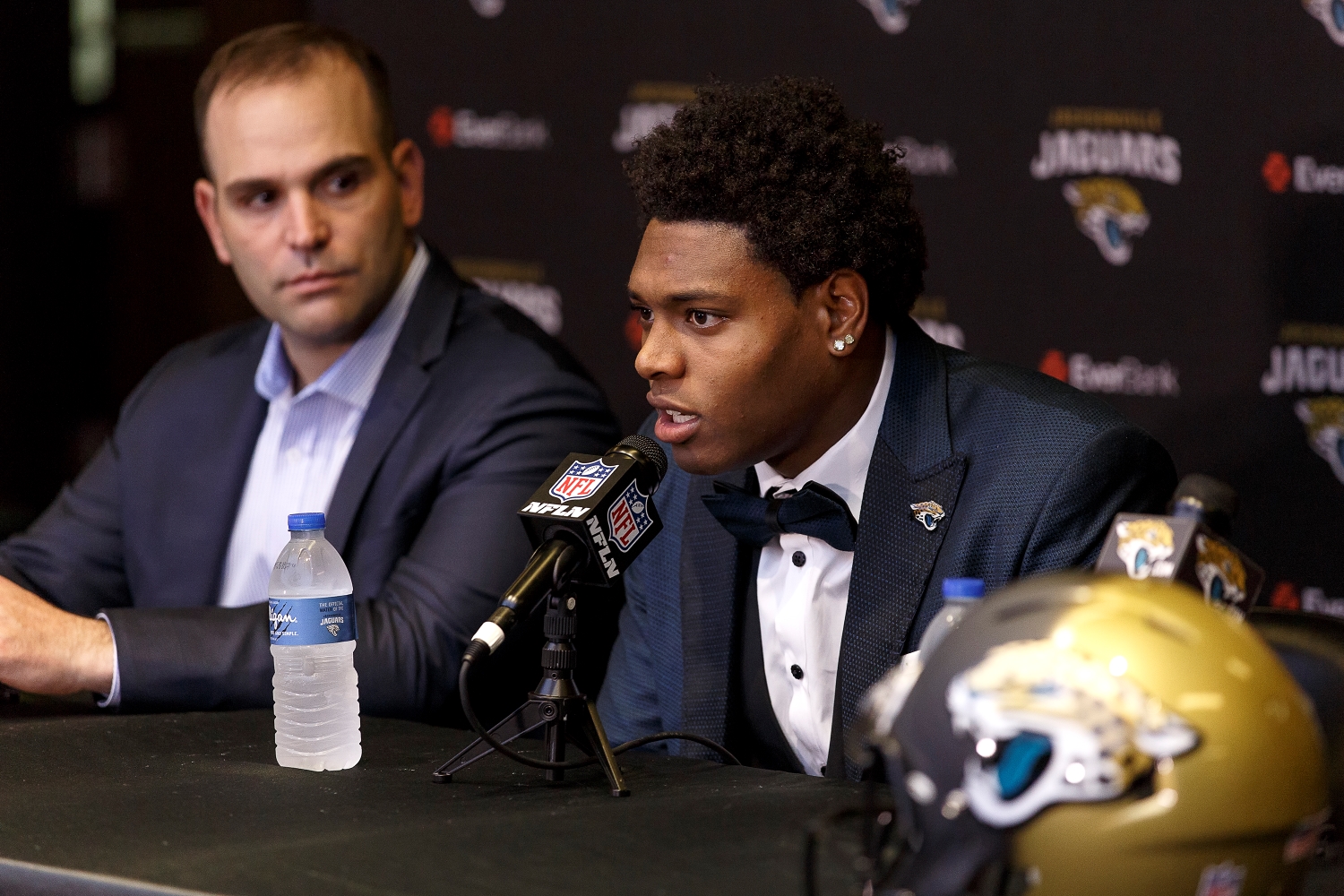 What exactly happened that caused the Jaguars' best player to ask to get dealt? Ramsey addressed the topic of his trade request during his appearance on former NFL player Aqib Talib's podcast. By revealing the truth behind his exit from Jacksonville, the sixth-year pro proved who's directly responsible for ruining the Jaguars.
According to Ramsey, Tony Khan, the son of team owner Shad Khan, asked him to come to a meeting with the two men. However, he received a surprise when he arrived. Team president Tom Coughlin and general Dave Caldwell also attended the meeting. While the former New York Giants coach didn't say a word, Caldwell made sure to communicate his feelings quite clearly.
After Ramsey said he wouldn't apologize to head coach Doug Marrone, Jacksonville's GM changed the course of franchise history with his comments.
"He started cussing and started trying to cuss me out, like, 'You need to go [f——] apologize,'" Ramsey explained. "I said, 'No that ain't happening.'"
The Pro Bowl corner admitted he gave a little laugh and a grin, which didn't sit well with Caldwell. The GM told Ramsey to "get the [f—] out" and slammed the door once the corner exited the room.
Ramsey immediately called his agent and let him know he wanted out. He got his wish granted a month later when the Rams paid a premium price to bring him to LA.
The way Caldwell treated the team's top player shows just how bad things were in Jacksonville during his eight years as GM. Sure, the Jaguars found some future stars via the draft. But Caldwell also selected and stuck by Blake Bortles, a decision that ultimately proved disastrous. He also foolishly took Leonard Fournette over Patrick Mahomes and Deshaun Watson. Plus, he depleted a once-dominant defense of impact players like Ramsey, Ngakoue, Bouye, and Campbell via trades. Caldwell's inability to find a franchise quarterback, hire the right coach, and keep a championship-level core intact ruined what appeared to be a promising Jaguars team.
Will Jacksonville fans have another Dave Caldwell experience with Trent Baalke as general manager?
Unfortunately for Jaguars fans, the Khan family didn't make a home-run hire when it came time to replace Caldwell. Trent Baalke may represent a fresh face in the front office, but based on his spotty track record with the San Francisco 49ers, no one should feel confident about his chances of turning things around in Jacksonville.
The 57-year-old held that same role from 2011-16 for the NFC West franchise. Like Caldwell, Baalke had some success in the draft. But like his predecessor, the former 49ers GM made a number of questionable decisions that ultimately led to his exit.
From mismanaging the Colin Kaepernick situation to firing Jim Harbaugh and Chip Kelly to blowing first-round picks on A.J. Jenkins and Joshua Garnett, Baalke gave 49ers fans many reasons to criticize him before he finally got fired on the first day of January 2017.
Baalke can't afford to make mistakes as he tries to build a strong supporting cast around Lawrence. But based on what happened in San Francisco, it seems naive to think he can turn things around in Jacksonville.