The Jacksonville Jaguars Just Put Trevor Lawrence's Future at Risk With a Business Decision That Could Prove Costly Down the Line
The Jacksonville Jaguars are putting Trevor Lawrence's future at risk by failing to take care of an important piece of business with his blindside protector, Cam Robinson.
Will Trevor Lawrence live up to expectations at the NFL level? Based on his skill set and attitude, it seems unwise to bet against him. However, like with any potential star quarterback, his future depends largely on how his team handles business with other players. And based on how the Jacksonville Jaguars have operated since Urban Meyer took over as head coach in January, it's not a stretch to say the franchise has already made a few questionable decisions.
Unfortunately for Lawrence, the Jaguars have put his future at risk by making a decision that could have costly consequences down the line.
Trevor Lawrence joined a Jaguars team with a history of making bad decisions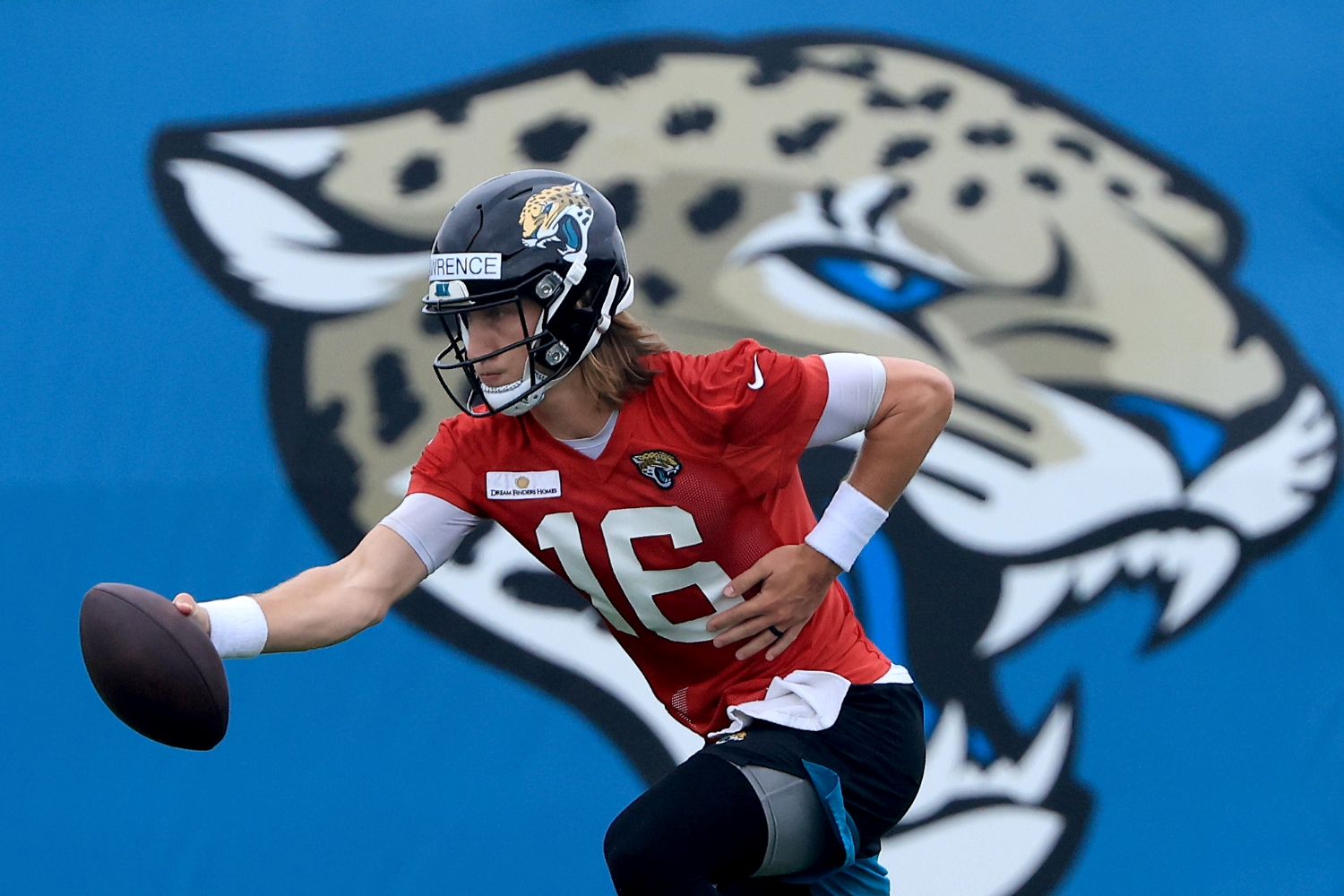 Let's just say the jump from Clemson to the NFL might be a rude awakening for the No. 1 overall pick of the 2021 NFL Draft. That's not to say Lawrence doesn't have the physical tools required to play the quarterback position at an elite level. And it has nothing to do with his mental makeup or a character flaw. Rather, it has everything to do with the fact that he joined one of the league's most dysfunctional franchises.
From blowing first-round picks on quarterback busts like Blaine Gabbert and Blake Bortles to choosing Leonard Fournette over Patrick Mahomes and Deshaun Watson, the Jaguars have made a number of brutal personnel mistakes over the years. And even though hiring Meyer represented a step in a new direction, Jacksonville still seems like a team that doesn't have it all together. From the Chris Doyle debacle to signing Tim Tebow to committing costly organized team activity-related violations, the Meyer era certainly hasn't gotten off to a particularly smooth start.
Looking at the Jaguars' current roster, it's easy to see why the team went 1-15 during the 2020 season. A defense that once featured elite playmakers like Jalen Ramsey, Calais Campbell, Yannick Ngakoue, and Telvin Smith got exposed as a talent-depleted unit. Meanwhile, the NFL's 31st-ranked scoring defense didn't get much help from the offense. Although Gardner Minshew II actually played fairly well considering the circumstances, Jacksonville finished 30th in scoring—a four-spot drop from 2019.
So even though the Jaguars secured the opportunity to build around Lawrence, their penchant for making mistakes should cause concerns that even one of the most gifted quarterback prospects of all time may struggle to replicate his success with the Tigers.
Jacksonville just put Lawrence's future at risk by making a decision that could prove costly
NFL players who received the franchise tag had until 4 p.m. on Thursday, July 15, to sign contract extensions with their respective teams. While the Carolina Panthers made a wise choice to lock up Taylor Moton on a four-year, $72 million deal, the Jaguars did not take the same approach with their franchise-tagged offensive tackle. Instead, the franchise put Lawrence's long-term outlook at risk by letting the deadline pass without a long-term deal for Cam Robinson.
The 6-foot-6, 320-pound former Alabama star has started 47 games since the Jaguars made him the 34th player taken in the 2017 NFL Draft. Although Robinson suffered a torn ACL in his second season with the team, he's only missed two games between 2019-20. Not an elite player by any means, the fifth-year pro has shown the ability to dominate as a run blocker. His pass-protection skills need more refinement, but given his second-round pedigree and physical tools, Robinson—who's still 25 years old— seemingly has untapped potential.
Letting him play out the year on the franchise tag obviously saves Jacksonville from having to tie up future financial resources on someone who's shown inconsistencies during his first four years in the league. However, Robinson is responsible for protecting Lawrence's blind side, so if the Jaguars trust him enough to man the position in 2021, why not show some faith in their own ability to develop talent? If the team has to break in a new left tackle in 2022, that could lead to protection and communication issues—a detriment to any quarterback's success.
Will Cam Robinson make the Jaguars regret not giving him a long-term deal?
The '22 tag #'s for the six who'll play '21 on tags …

? Bucs WR Chris Godwin, $19.18M
? Jets S Marcus Maye, $13.44M
? Bears WR Allen Robinson, $21.60M
? Jags OT Cam Robinson, $16.50M
? Washington OG Brandon Scherff, $25.97M
? Saints S Marcus Williams, $13.44M

— Albert Breer (@AlbertBreer) July 15, 2021
Ask Tom Brady how much having a good offensive line matters. After all, he'd have two more rings at home if the New England Patriots had protected him better in their two Super Bowl losses against the New York Giants.
Better yet, ask the quarterback Brady defeated in February how much protection means to a passer's success. Despite having all the talent in the world, even Patrick Mahomes looked mortal without the benefit of time in the pocket.
Robinson isn't a top-flight player, but it's a huge risk to enter the season without a definite long-term plan at left tackle. And given how much they need Lawrence to transform the entire franchise, the Jaguars need to do everything possible to ensure he has a strong supporting cast for years to come.
If Robinson—who should be highly motivated by the potential of a life-changing contract—puts it all together in 2021, he should set himself up for a long-term deal from some NFL team next offseason. And after dealing with years of losing in Jacksonville, it wouldn't be a surprise if a player who won a national championship in college wants to join a franchise with a tradition of winning. Signing with another team would leave the Jaguars perilously thin at arguably the most important position on offense outside of quarterback.
For those who point to 2021 second-round pick Walker Little as a potential Robinson replacement, don't forget that a knee injury ended his 2019 season after one game. And the Stanford product didn't even play the 2020 season due to the COVID-19 opt-out policy.
So as much as the Jaguars may hope that Little can protect Lawrence down the line, that seems like a risky proposition, too.
All statistics courtesy of Pro Football Reference. All contract data courtesy of Spotrac.