The Carolina Panthers Just Pulled Off a $72 Million Power Move That Has Career-Altering Implications for Sam Darnold
As New York Jets fans can attest, the front office did a bad job building around Sam Darnold. After all, former general manager Mike Maccagnan didn't do him any favors by neglecting the offensive line for years. Luckily for Darnold, his new team seems committed to doing everything possible to help him succeed.
In fact, the Carolina Panthers pulled off an expensive power move on Thursday to make sure their new quarterback has a legitimate chance to turn his career around. But even after making an expensive investment with only moments to spare, the Panthers don't necessarily have all the pieces needed to make the playoffs in 2021.
Sam Darnold faces a make-or-break year in 2021
The Jets thought they found a franchise quarterback when they drafted Darnold No. 3 overall in 2018. However, the former USC star simply didn't live up to expectations in New York.
Darnold's play during his rookie season often resulted in more groans than cheers. He completed just 57.7% of his passes for 2,865 yards, 17 touchdowns, and 15 interceptions in 13 starts. He got sacked 30 times and posted an underwhelming 4-9 record. Needless to say, he didn't get off to a great start in New York.
Unfortunately for Darnold, things didn't get much better over the course of the next two years. Sure, he increased his numbers slightly in 2019. But the Jets certainly expected more than 19 passing touchdowns from a player they took third overall the year prior. Plus, Darnold committed 11 fumbles in 13 games, which did little to quiet concerns about his penchant for turning the ball over.
The 2020 season went about as bad as it could have for the California native. Not only did he go 2-10 as a starter, but he also finished with more interceptions (11) than passing touchdowns (nine). While the Jets deserve criticism for not surrounding Darnold with a strong supporting cast, he undoubtedly delivered disappointing results on the field in what amounted to his final season with the franchise.
On April 5, the Panthers took a gamble on Darnold's untapped upside by trading 2022 second- and fourth-round picks and a sixth-rounder for the talented signal-caller. Considering his contract expires after the 2022 season, he faces enormous pressure to turn his career around quickly. If he doesn't play well in 2021, Darnold will have a tough time convincing any team to invest in him.
The Panthers just pulled off a $72 million power move with Taylor Moton that has career-altering implications for their new quarterback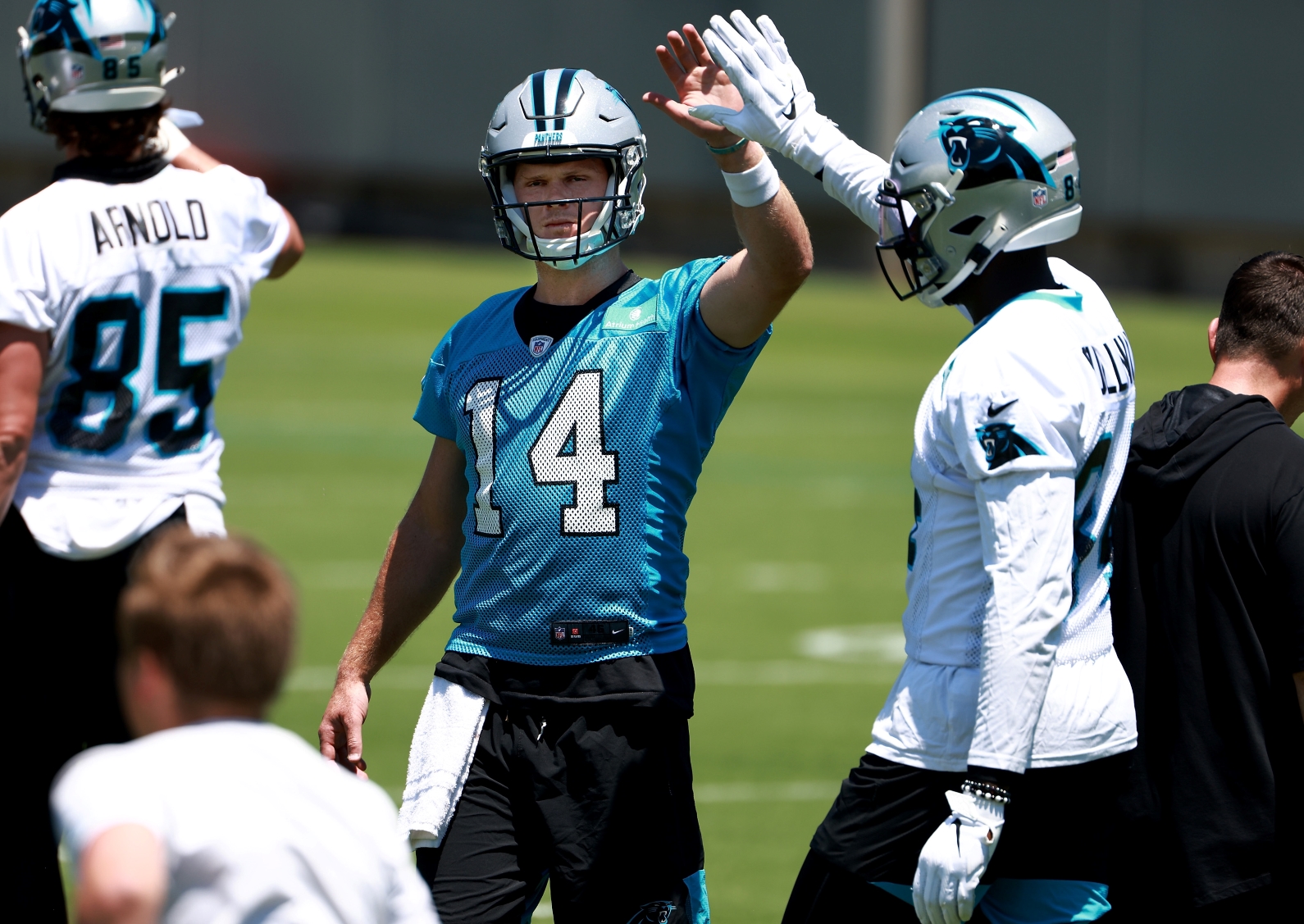 Luckily for Darnold, his new team made sure a key piece of his protection squad will continue to call Carolina home for years to come. And it took a significant amount of financial resources for the Panthers to ensure the right tackle position will remain a strength moving forward.
ESPN's Adam Schefter reported via Twitter that Taylor Moton agreed to a four-year, $72 million contract extension that includes $43 million guaranteed. The Panthers had until 4 p.m. on Thursday, July 15, to sign their starting right tackle to an extension. Set to play the 2021 season under the franchise tag, Moton instead secured long-term financial security by agreeing to a deal that cements his status as one of the top players at his position.
By pulling off a last-minute power move to keep the 6-foot-5, 325-pound offensive lineman in Carolina through 2025, the Panthers showed they're willing to pay a premium price to keep Darnold protected. While the left tackle spot remains a work in progress, Moton should lock down the right side for the foreseeable future.
Durable, dependable, and physical, the 2017 second-rounder only allowed three sacks on 1,032 offensive snaps in 2020, according to Pro Football Focus. Moton possesses the physical tools to dominate opponents, so having him under contract for another four years can only benefit Darnold and the rest of the offense.
Can Darnold lead Carolina back to the playoffs?
If Moton lives up to his $72 million deal, the Panthers should be in a good place on offense. Of course, how far the team goes in 2021 depends on what Darnold does on the field.
The Jets draft bust has a chance to prove his doubters wrong simply because he has a better collection of talent around him. While Carolina's offensive line isn't elite by any means, the group should at least be a step up from what Darnold had in New York. Meanwhile, he gets to throw to a collection of athletic pass-catchers that includes 2018 first-round pick DJ Moore, 2021 second-round pick Terrace Marshall Jr., and former Jets teammate Robby Anderson. Plus, Ian Thomas and rookie third-round pick Tommy Tremble should make plays in the passing game from the tight end position.
Most importantly, though, Darnold will benefit from having an elite running back taking some of the pressure off him. As long as Christian McCaffrey stays healthy, second-year offensive coordinator Joe Brady will have one of the NFL's most diverse playmakers at his disposal. Expect McCaffrey to receive a ton of touches as the focal point of Carolina's offense.
With all that talent, the Panthers still don't look like a playoff lock.
After all, their defense has to take a massive step forward, too. Can a unit that ranked 18th in both points and yards allowed enter top-10 territory? Carolina has several young, talented players on that side of the ball, including defensive end Brian Burns, defensive tackle Derrick Brown, and rookie cornerback Jaycee Horn. However, it remains to be seen whether the youth movement pays off for a Panthers team that's seen veterans like Luke Kuechly, Thomas Davis, and James Bradberry depart in recent years.
But if Sam Darnold rediscovers his college form, Carolina may be able to get away with having just an average defense.
Good luck finding many people who feel confident about that happening, though.
All statistics courtesy of Pro Football Reference.