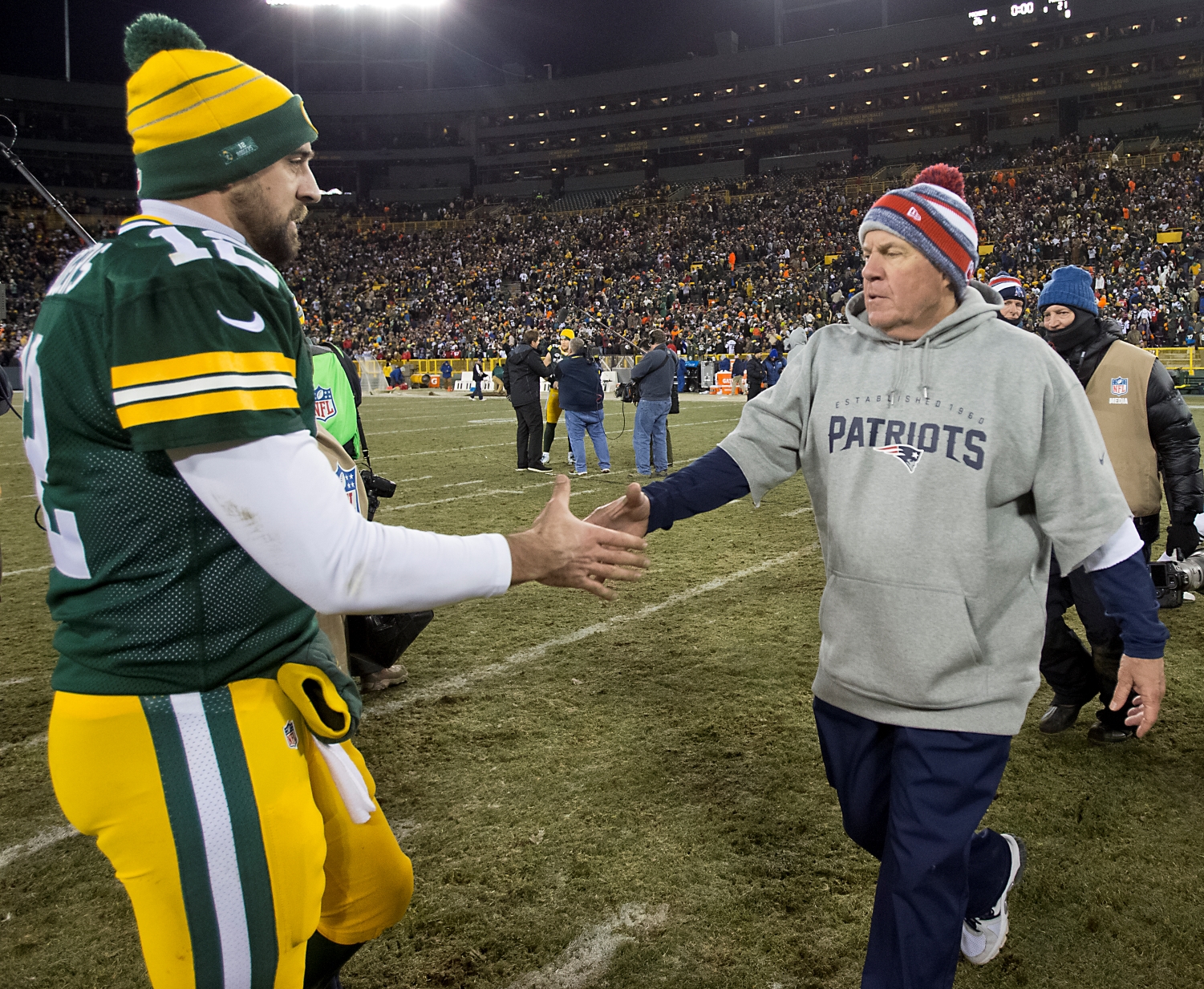 Aaron Rodgers Could Receive a Long-Overdue Gift From the Packers Courtesy of Bill Belichick
With big-bodied receiver N'Keal Harry looking for a change of scenery, Bill Belichick should call up Packers general manager Brian Gutekunst. After all, isn't it time for Green Bay to give Aaron Rodgers a first-round wideout?
The Green Bay Packers haven't exactly gone all-in on surrounding Aaron Rodgers with a top-flight supporting cast over the years. Sure, they drafted a future star in Jordy Nelson…in 2008. And Davante Adams also joined the Packers as a highly hyped prospect…in 2014. However, during his time in Green Bay, Rodgers has rarely worked with a first-round weapon.
Could that change this season?
Of course, everything hinges on the reigning MVP reversing course and returning to work. But if Packers general manager Brian Gutekunst wants to give Rodgers a long-overdue gift, he can do so by giving Bill Belichick a call.
Green Bay has never invested a first-round pick on a skill player for Aaron Rodgers
Rodgers has put up big-time numbers for well over a decade. While he's undoubtedly talented, he's also worked with some talented playmakers along the way. Jordy Nelson joined the Packers as a second-round pick in 2008 and racked up 397 catches for 6,098 yards and 57 touchdowns from 2011-16. The 6-foot-3, 217-pound wideout formed a dominant duo with Rodgers, who captured MVP honors twice during that stretch.
The Packers found another star via the draft in 2014 when they took Davante Adams with the 53rd overall pick. After flashing spurts of greatness over his first four years in Green Bay, the former Fresno State standout has been one of the league's most unstoppable wideouts since 2018. But even though Adams has caught 36 touchdowns in his last three seasons, that hasn't been enough to put the Packers over the top.
Part of that has to do with the fact that the team hasn't done a great job of finding secondary targets for Rodgers. While Allen Lazard, Equanimeous St. Brown, and Marquez Valdes-Scantling possess some intriguing physical tools, they didn't enter the league as early-round picks. St. Brown and Valdes-Scantling waited until Day 3 to hear their names called, and Lazard didn't get selected at all during the 2018 NFL Draft.
In fact, despite having one of the best quarterbacks of all time under center since 2008, Green Bay has never spent a first-round pick on a receiver, tight end, or running back in the Rodgers era. While the future Hall of Famer has enjoyed sustained individual success, it's fair to wonder whether he would have another Super Bowl ring or two at home if the Packers had invested a first-round pick on a pass-catcher.
After all, it's not like trading up to take Jordan Love did anything to help Rodgers, right?
Rodgers could receive a long-overdue gift from his current team courtesy of Bill Belichick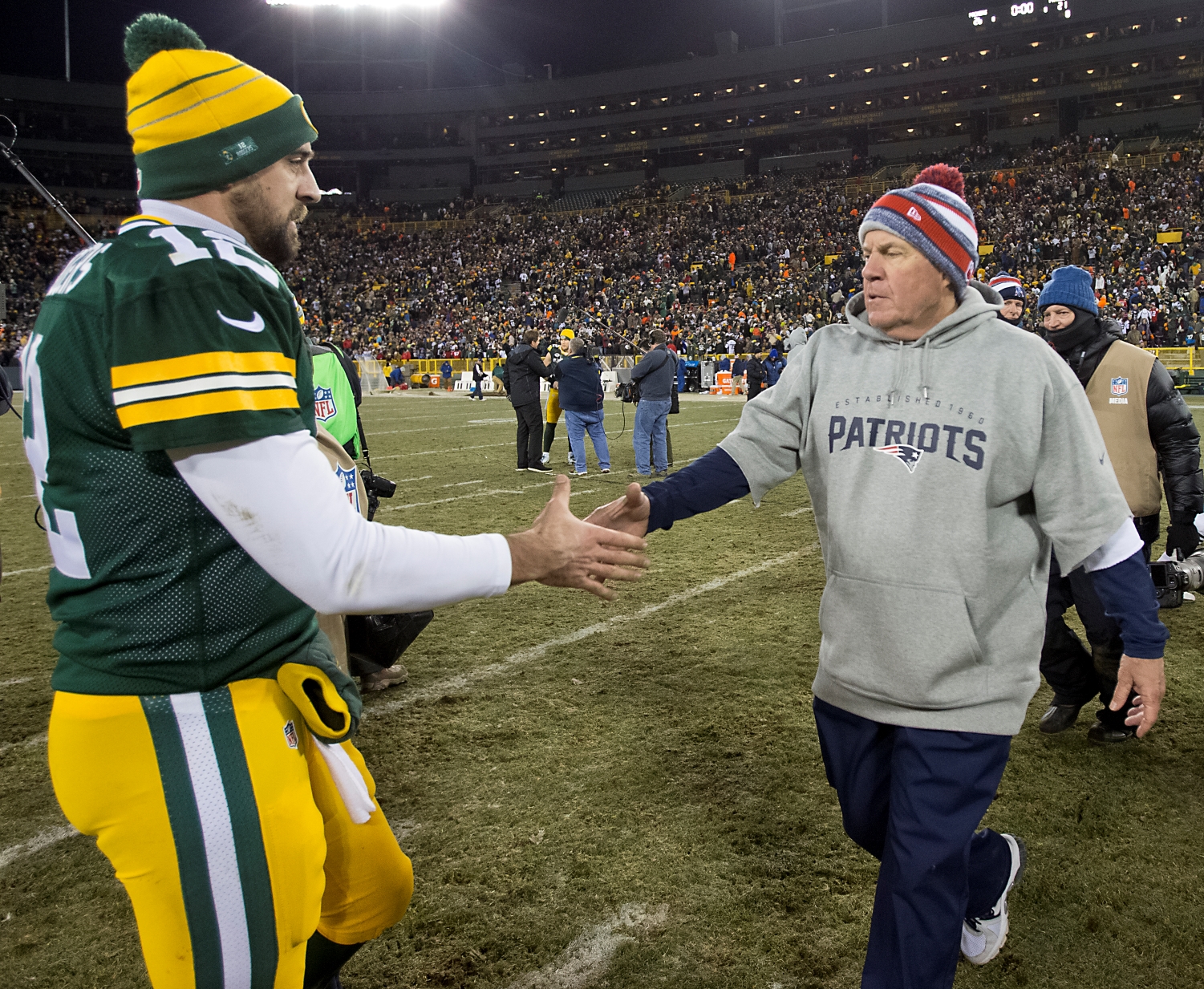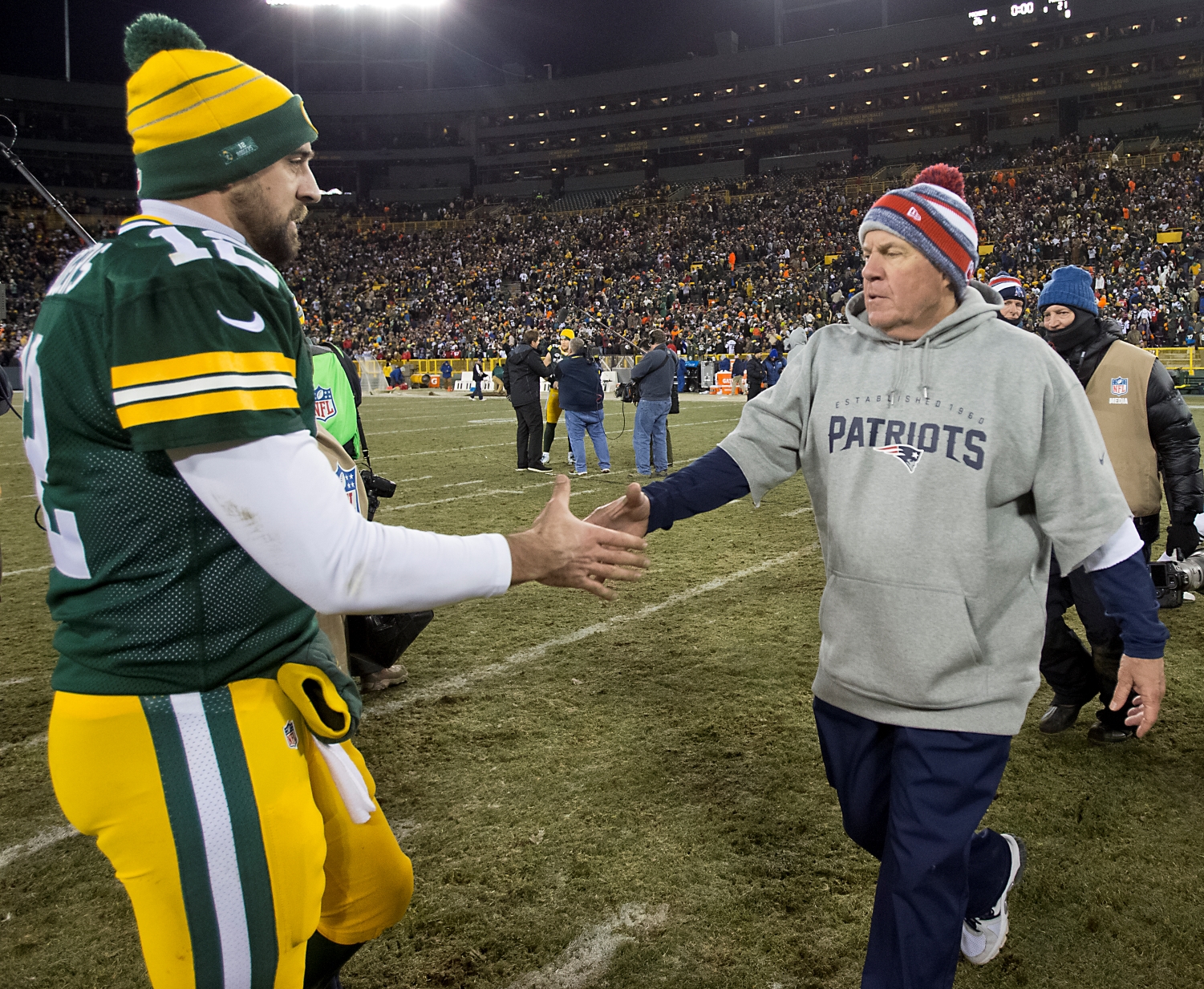 Rodgers hasn't returned to work, and that mostly has to do with his dissatisfaction with Gutekunst. Promoted to the GM role in 2018, the 47-year-old began working for the Packers as a scout in 1998. While the way he handled the Love pick may have ruined his relationship with Rodgers, perhaps Gutekunst can save face a bit by pulling off a trade that would finally give the reigning MVP what he's lacked for so long: a first-round receiver.
But in order for Rodgers to receive a long-overdue gift from the Packers, he'll need some help from Bill Belichick.
With N'Keal Harry requesting a trade, the New England Patriots have to decide whether to hold on to a player who's failed to live up to expectations throughout his first two years in Foxborough. The final first-round pick of the 2019 NFL Draft, the 6-foot-4, 225-pound wideout has totaled just 45 catches for 414 yards and four touchdowns in 21 games. Harry's first season got derailed by an ankle injury that limited him to only seven games, and a concussion caused him to miss two games during the 2020 season.
Considering Harry has made it clear that he wants out, Belichick has no need to keep him on the roster. Meanwhile, the Packers could use an upgrade behind Adams, and the price to acquire the 23-year-old shouldn't preclude a deal from happening.
Harry entered the league as the 32nd overall pick only two years ago, so he clearly showed enough talent in college to convince the architect of the most successful dynasty in sports to take him. Green Bay can buy low and potentially reap the rewards of what should be a fairly inexpensive investment — a move purported by former NFL player and scout Bucky Brooks.
And even though Rodgers may want a change of scenery, he shouldn't completely write off returning to Green Bay. If Gutekunst swings a trade for Harry in the coming weeks, the quarterback needs to consider the possibilities of working with a receiver who seems perfectly suited to play in the Packers' offense.
A N'Keal Harry trade makes perfect sense for both the Patriots and the Packers
Although he hasn't delivered impressive results playing in New England's timing-based offense, Harry's skillset seems better suited for Green Bay's system. Like all of the Packers' top receivers, he possesses ideal length and a big, strong frame to box out defenders. And while he hasn't shown it at the NFL level, partly because of the Patriots' focus on short and intermediate routes, Harry showcased excellent contested-catch ability at Arizona State.
Playing with a strong-armed quarterback like Rodgers who excels at making magic on the run and knows how to put the ball up for grabs better than anyone else would give Harry a chance to showcase the skillset that obviously enticed Belichick enough to use a first-round pick on a receiver for the first time in his Patriots career.
Meanwhile, trading Harry to the Packers would make sense from New England's standpoint. Belichick wouldn't have to worry about the former Pac-12 star turning into a weapon for an AFC rival. And by sending Harry to a new team, he could officially move on from a disastrous decision that deserves tremendous criticism.
The Patriots could build their passing game around precise route-runners in Nelson Agholor, Kendrick Bourne, and Jakobi Meyers rather than a big-bodied, downfield target like Harry. That seems like a far better strategy to set Mac Jones up for success than trying to make it work with a player who simply never fit from the beginning.