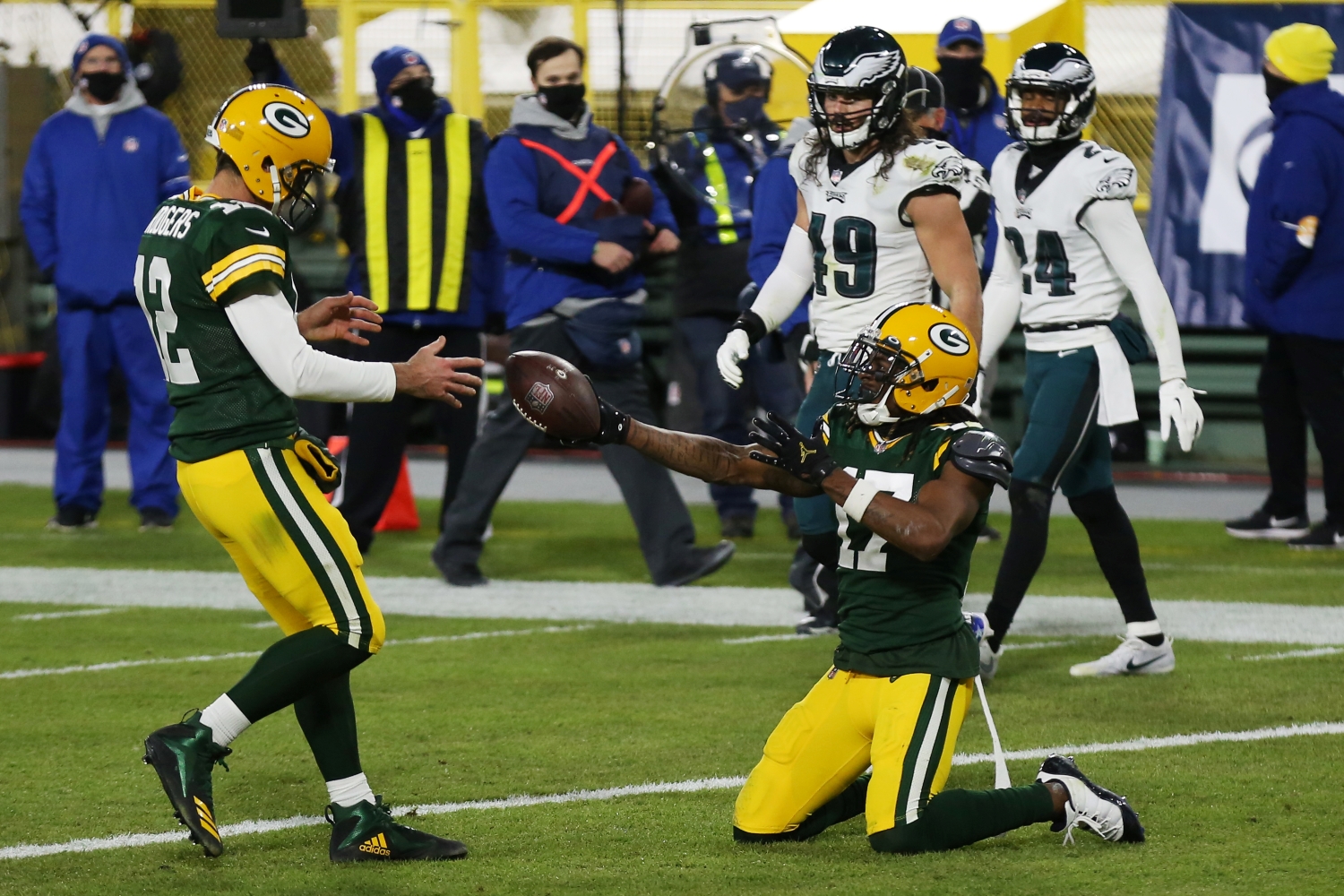 The Packers Reportedly Plan on Making a Record-Setting Power Move That Could Convince Aaron Rodgers to Come Back to Green Bay
Can the Packers convince Aaron Rodgers to come back to play at least one more season? If the latest report on Davante Adams proves true, don't be surprised if the reigning MVP changes his mind about remaining in Green Bay.
Aaron Rodgers may have no intention of playing for the Green Bay Packers again, but the reigning MVP could be forced to change his mind if the front office takes care of an important piece of business in the coming weeks.
In fact, if the Packers go to historical lengths to make Rodgers' No. 1 target happy, the star quarterback should reconsider his stance about wanting out. And if Rodgers wants to win a second Super Bowl ring before he retires, he needs to remain teammates with Davante Adams for at least one more year.
Aaron Rodgers isn't the only Packers player facing an uncertain future
The Rodgers-Adams duo dominated defenses at a truly remarkable level during the 2020 season. Green Bay's iconic quarterback won his third NFL MVP award after completing 70.7% of his passes for 4,299 yards and a league-leading 48 touchdowns. Meanwhile, his top receiver recorded a career-high 115 receptions in just 14 games.
Oh, Adams also led the league with 18 touchdown receptions.
Unfortunately for Packers fans, the chances of seeing the tandem torch secondaries for the eighth straight season seem slim, and that might be putting things too generously.
With Rodgers skipping voluntary organized team activities and mandatory minicamp, it's clear the Packers have a quarterback problem on their hands. However, general manager Brian Gutekunst has remained firm on not trading one of the best players in franchise history. So even though Rodgers' contract runs through the 2023 season, his future firmly hangs in the balance.
While Adams doesn't have an issue with the front office, his impending free agency looms in the distance. The four-time Pro Bowler signed a four-year, $58 million contract extension in December 2017 that made him one of the league's highest-paid wideouts. Coming off the most impressive season of his career, Adams should cash in at some point with another lucrative deal. But with Derek Carr openly discussing the idea of reuniting with his collegiate teammate, the Packers star may want to keep his options open.
Green Bay plans on making a record-setting move to retain Davante Adams
Will Adams continue to call Green Bay home after the 2021 season?
Based on a report from ESPN's Jeremy Fowler, Packers fans should feel confident that one of the league's best receivers will light up Lambeau Field for years to come.
During Thursday's appearance on SportsCenter, Fowler provided a major update on Adams' contract situation. And it doesn't sound like the Packers will let money get in the way of keeping a good thing going.
"Davante Adams and the Packers are expected to try to come to an agreement on a massive contract extension," Fowler said, per Bleacher Report. "He will likely be the highest-paid receiver in the league at some point. Most evaluators I talk to believe he is the very best at that position right now. So, he's a priority for the Packers, whether Aaron Rodgers is the quarterback or Jordan Love."
DeAndre Hopkins currently leads all receivers with an average annual salary of $27.25 million. Julio Jones ranks second at $22 million. Based on Fowler's report, the Packers seemingly plan on paying Adams somewhere in the neighborhood of $28-30 million per year — a stunning mark for a non-quarterback. Making that type of financial commitment on a receiver may raise eyebrows, but it should be viewed as a positive on several levels.
Besides doing right by Adams and ensuring that he will remain the focal point of the passing game moving forward, locking him up on a record-setting deal will show Rodgers how much the Packers value his most trusted target. And if No. 12 cares about getting ring No. 2, he needs to get back to Green Bay before it's too late.
Taking care of Adams should convince Rodgers to come back for another shot at a Super Bowl title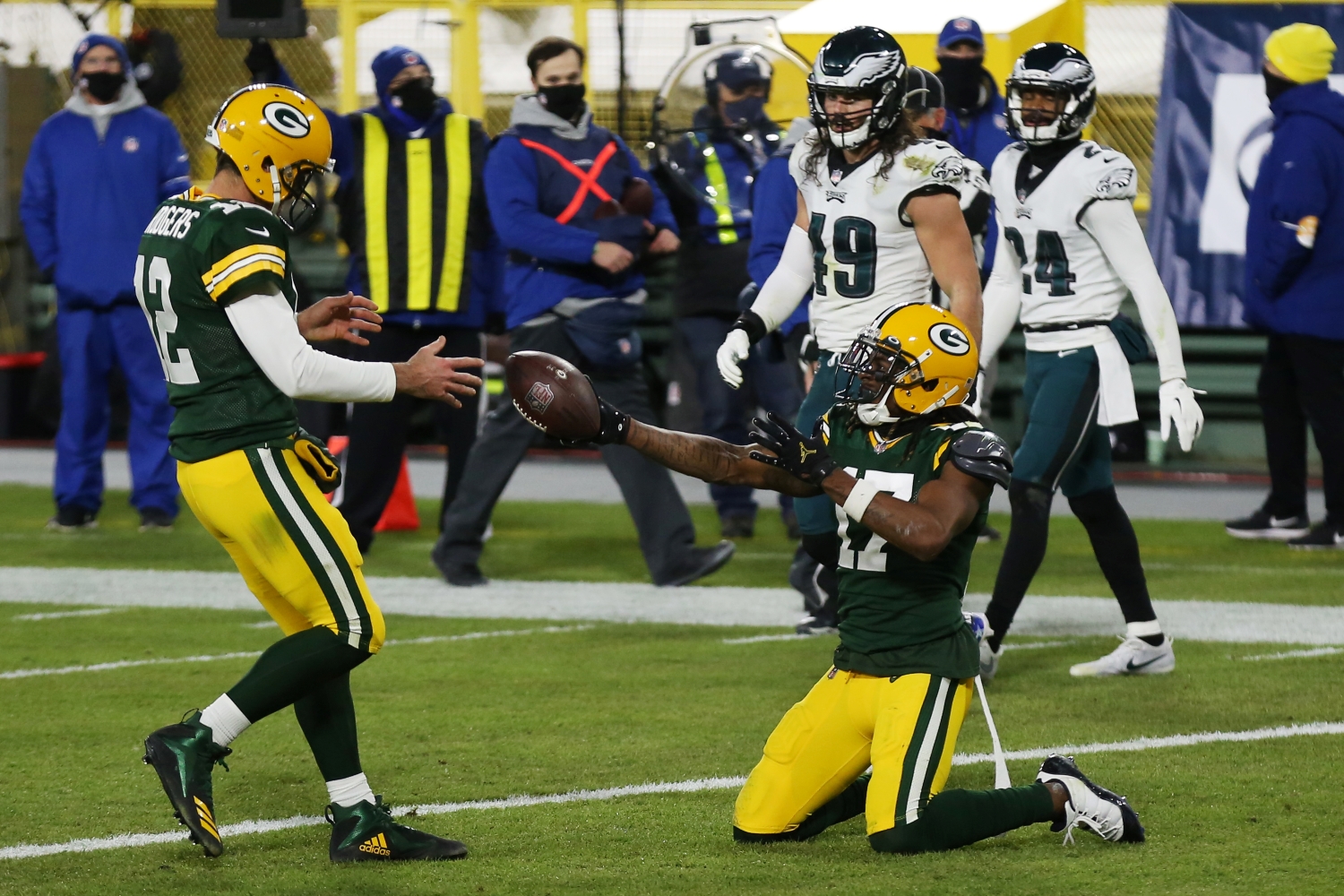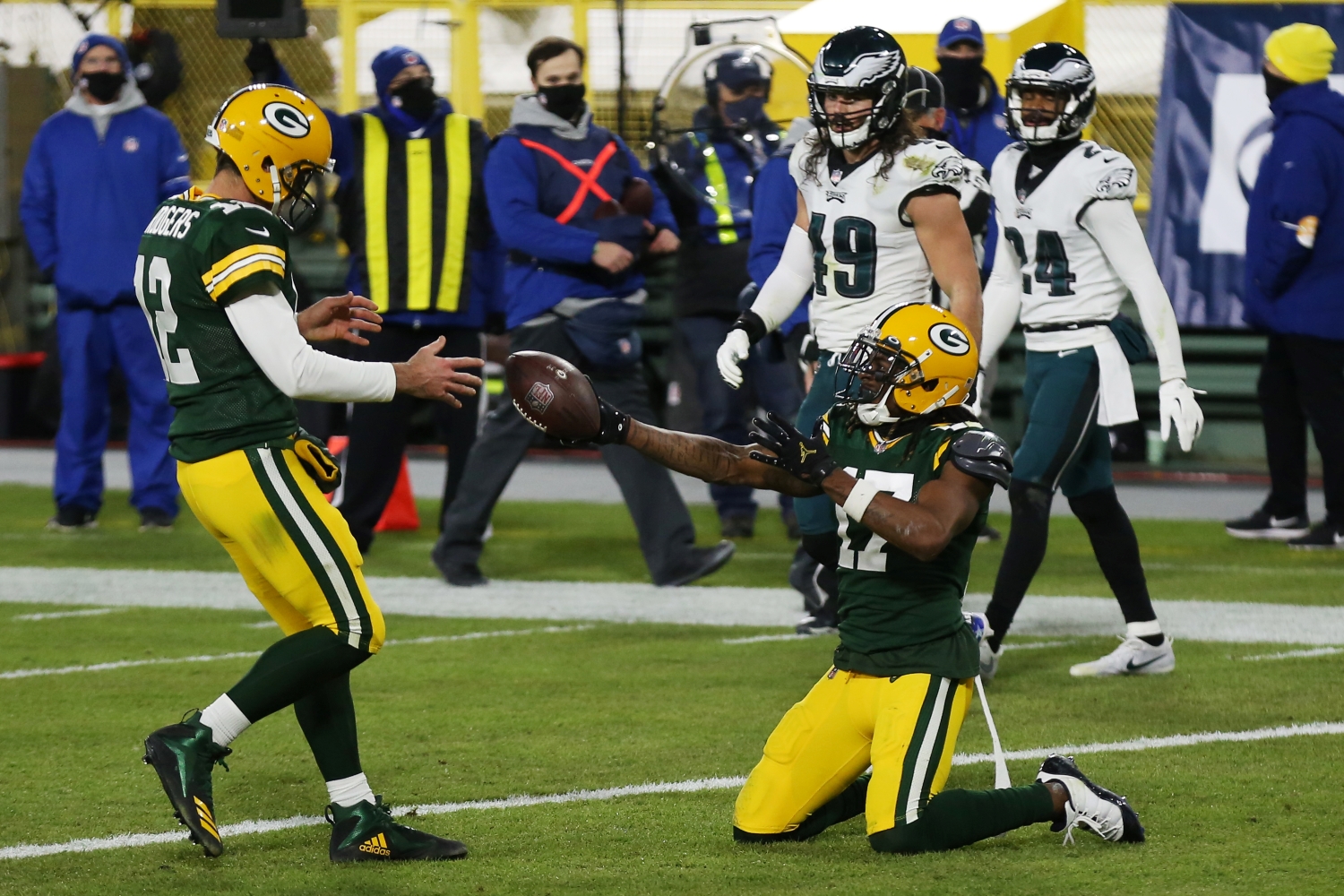 If the Packers sign Adams to a record-setting extension in the coming weeks, that should open Rodgers' eyes to the reality of the situation. His best bet to win another Super Bowl title doesn't involve leaving one of the NFL's most dominant playmakers behind. After all, would he have won MVP honors last year without Adams in the lineup?
Instead of bailing on the Packers, Rodgers should view a $100-plus million investment on Adams as a reason to return. Even if he detests Gutekunst, the 37-year-old signal-caller can't replace the chemistry he has with his favorite target. It doesn't make any sense to have to start from scratch with a new set of receivers at his age. Why not run it back with Adams, Aaron Jones, Robert Tonyan, and the rest of Green Bay's rock-solid group of skill players?
Plus, if Adams signs a long-term deal, Rodgers may have some motivation to stick around for the long haul, too. He could ask for a contract extension of his own that makes him the highest-paid player at his position, at least in terms of average annual salary. That would allow him to continue working with Adams until he wants to retire and move on to hosting Jeopardy! on a full-time basis.
All contract data courtesy of Spotrac.