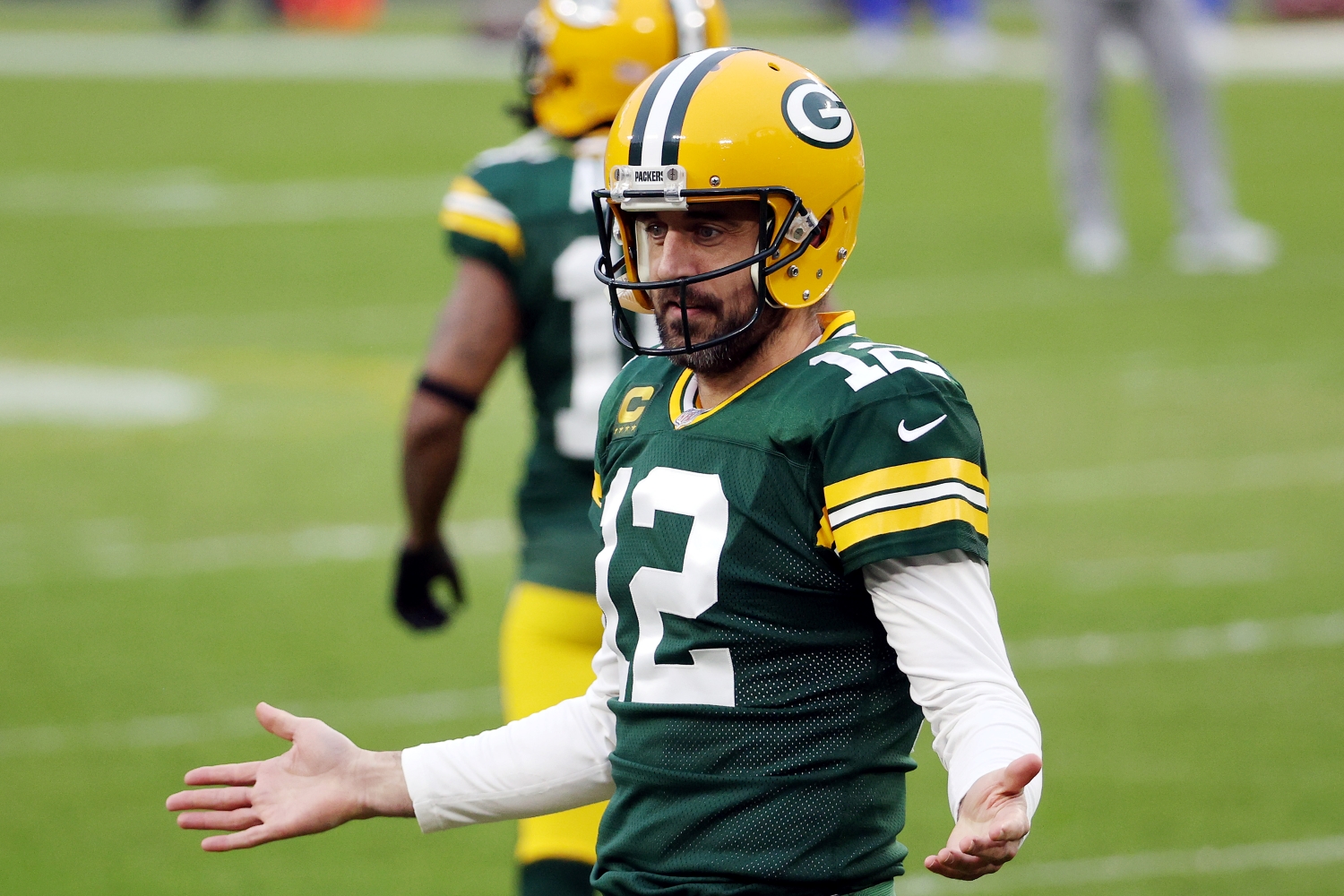 Aaron Rodgers' Ominous 3-Word Message Should Convince the Packers to Make the Most Painful Decision in Franchise History
Aaron Rodgers used three words to answer whether he'll play for the Packers this season. With the reigning MVP still not committed to coming back, it's time for the front office to pull the ultimate power move to show who really runs the franchise.
When Aaron Rodgers speaks, everyone listens. After all, few NFL players can capture an audience's attention quite like the Green Bay Packers quarterback. While Rodgers mostly lets his play do the talking, he delivered a three-word message on the golf course that should convince Packers general manager Brian Gutekunst to make the most painful decision in franchise history. 
And if Green Bay does go that route, it's entirely fair to blame all parties involved for allowing the situation to reach this point.
Aaron Rodgers has raised serious doubts about his future in Green Bay over the last few months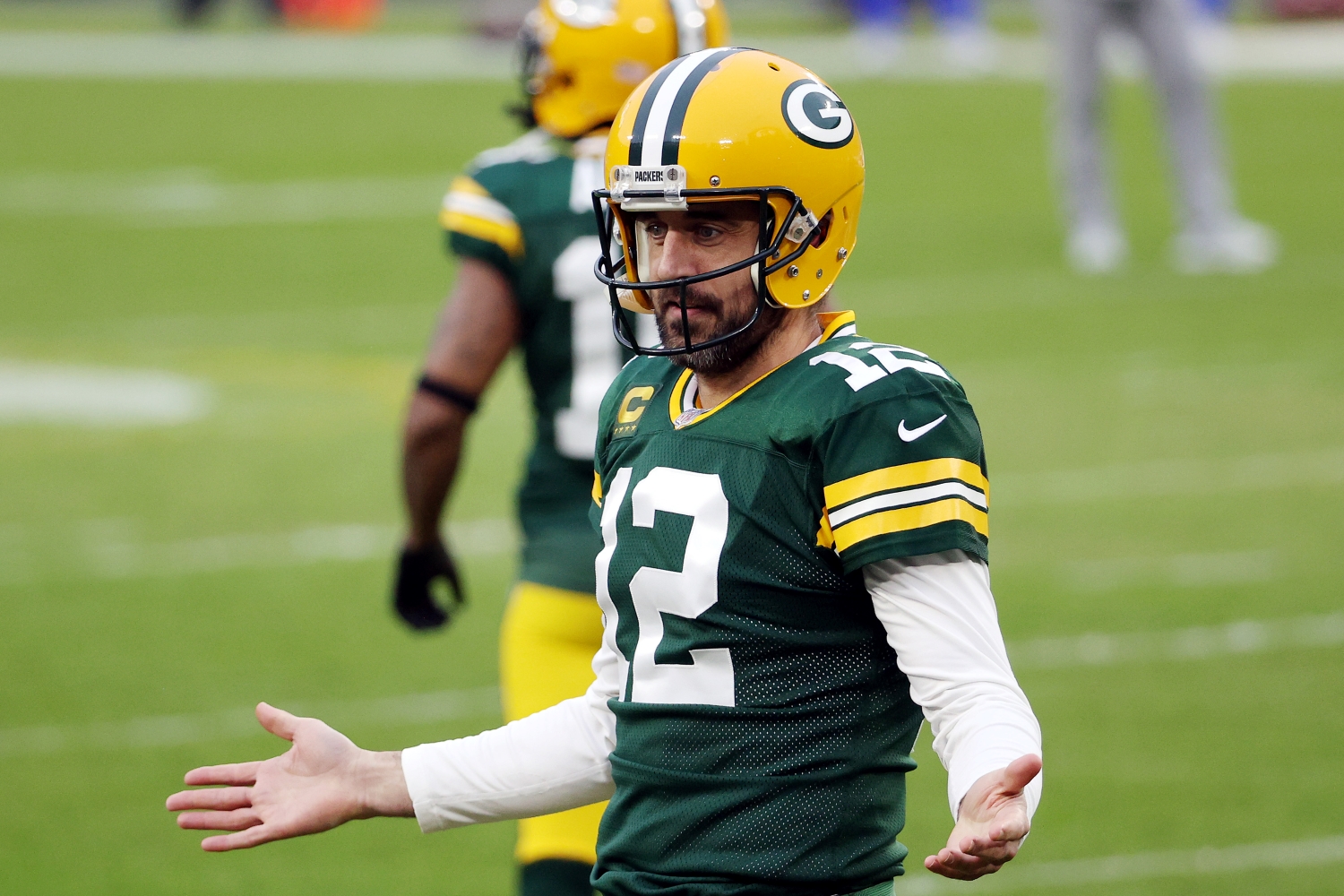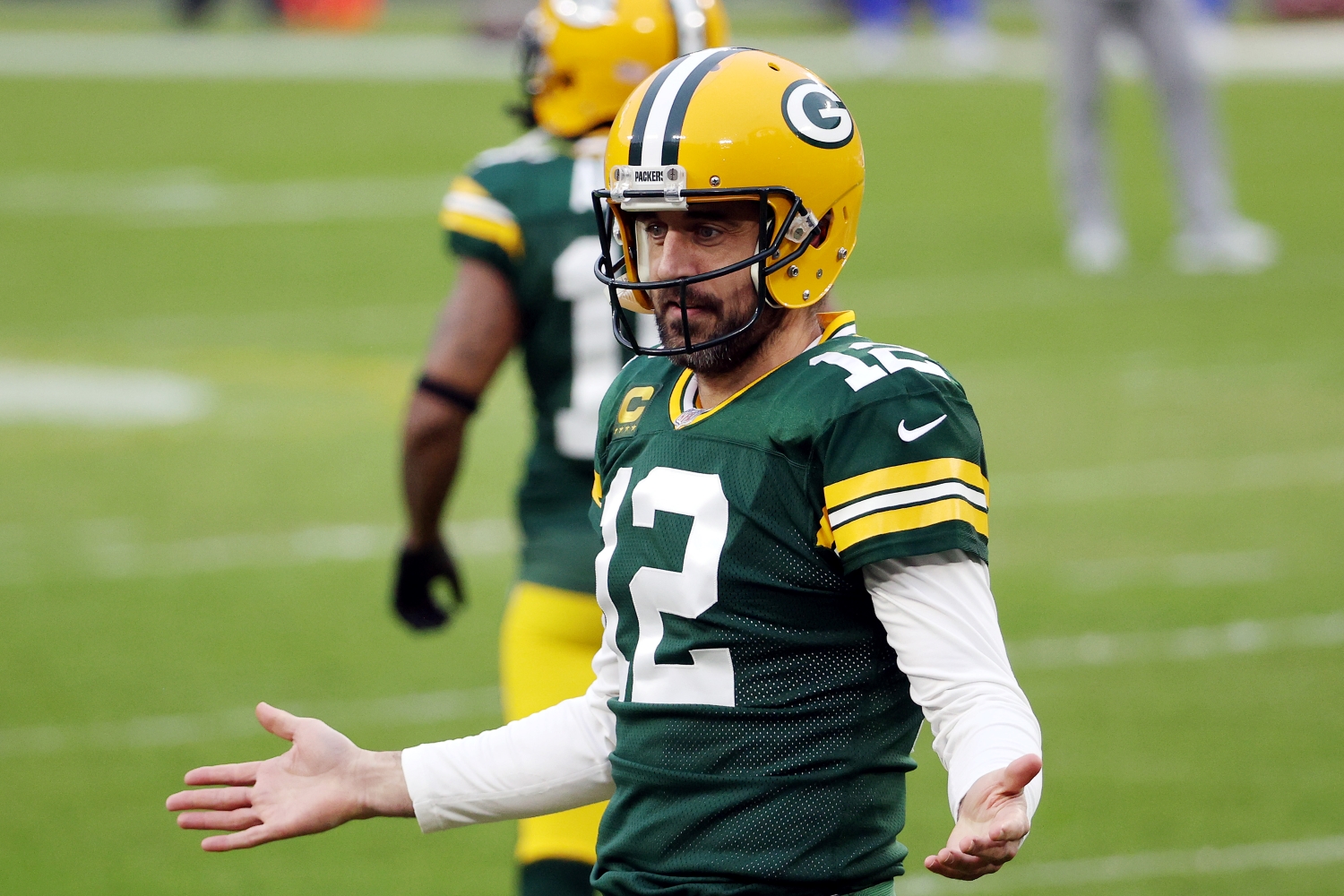 As if losing the NFC Championship didn't sting enough, Packers fans have spent the last few months wondering whether the team will make the playoffs at all in 2021. That's not due to a lack of talent. Rather, it has everything to do with the fact that the reigning MVP remains MIA in Green Bay.
Unhappy with the front office, Rodgers has taken a vastly different approach to his preparation process as he enters his 17th year in the league. In fact, he's completely disregarded the team's offseason program. Rodgers did not participate in voluntary organized team activities. Since he never missed them before, the fact he didn't return to work raised obvious concerns about whether he would show up to mandatory minicamp.
Unfortunately for Packers fans, Rodgers chose to skip that, too. 
Meanwhile, he has remained in the public spotlight through his temporary gig as the host of Jeopardy! and as part of a highly anticipated golf matchup involving Tom Brady, Phil Mickelson, and Bryson DeChambeau. 
Considering his offseason has mostly consisted of traveling, spending time with his new fiancee, and doing all types of non-football-related activities, Rodgers certainly hasn't given the impression that he intends to come back to work anytime soon.
Rodgers' ominous message should convince the Packers to make the most painful decision in franchise history
During his match against Brady and Mickelson, Rodgers got asked whether he will play for the Packers this season. For those hoping to see No. 12 penciled into the starting lineup for the 14th straight year, his ominous answer did nothing to inspire confidence about what lies ahead.
"I don't know," Rodgers said. "We'll see. We'll see, won't we?"
Not exactly the words Packers fans wanted to hear, right? After all, it's never a good thing when the best player on the team doesn't even know if he'll suit up this season.
At this point, Green Bay needs to get serious about bringing an end to a distracting situation that seems destined to carry over into training camp. With Rodgers sticking to his non-committal stance, it's time for Gutekunst to reverse course and finally embrace the idea of trading the team's longtime starting quarterback.
Will it hurt to get rid of the reigning MVP?
Undoubtedly.
But it makes no sense to hold on to a player who seemingly has no interest in wearing a Packers uniform again. And it doesn't help second-year quarterback Jordan Love to have the Rodgers situation lingering overhead. So as much as it might sting to part ways with an all-time great, Gutekunst needs to open the phone lines for business and find a trade partner who's willing to pay a fair price for a 37-year-old version of Rodgers.
It will be more painful than the franchise moving on from Brett Favre, but considering Gutekunst traded up in the first round of the 2020 NFL Draft to take Love with Rodgers under contract through 2023, shouldn't he feel comfortable with building around the former Utah State standout?
Both sides deserve blame if the situation ends in a trade
If the Packers trade Rodgers at some point, who should bear the brunt of the blame for that outcome? 
In this case, it's fair to assign an equal share of culpability to both parties. 
From an organizational standpoint, the Packers deserve criticism for several reasons. First, why didn't they use premium draft picks to surround their star quarterback with premier talent? The fact the franchise has never invested a first-rounder on a receiver, tight end, or running back during the Rodgers era should not be overlooked. When you also consider the team rarely spent big money in free agency, it's clear Green Bay didn't do everything possible to surround its best player with the strongest possible supporting cast.
In addition, the way the front office handled the Love selection also deserves criticism.
Did the Packers need to ask Rodgers permission to draft his potential successor?
Absolutely not.
Should they have at least made him aware of their plan to take a quarterback in the first round?
Without a doubt.
Based on Rodgers' value and contributions to the organization, the Packers should have at least given him some type of heads up about the long-term plan at the most important position in sports. So after watching the team use another top-32 pick on a player who can't directly help him, it makes sense for Rodgers to have a major issue with how business gets done in Green Bay.
At the same time though, the three-time MVP has to take some responsibility for what's gone on. He's basically kept everyone on a string for months by refusing to take a clear stance, at least publicly. That doesn't look good for someone who's supposed to be the unquestioned leader of the team. At this point, Rodgers seems like a major distraction that will continue to hang over teammates' and coaches' heads as long as he remains wishy-washy about playing football this season.
Perhaps a change of scenery really is the best solution to make everyone happy. And if Gutekunst wants to send a message of his own, he needs to take Rodgers' three-word answer as a sign that it's time to finally bring an end to the power struggle between the organization and the disgruntled quarterback.