The Match 4: Who Has the Highest Net Worth Between Tom Brady, Phil Mickelson, Aaron Rodgers, and Bryson DeChambeau?
Capital One's The Match is back on TNT, this time with two new faces.
Tom Brady and Phil Mickelson, former competitors in the television event, will face off this Tuesday against newcomers Aaron Rodgers and Bryson DeChambeau in a PGA Tour/NFL mashup. The four world-famous stars aren't just a few of the most well-known athletes on the planet, but they're also a few of the richest. So, what are they all worth, and who has the highest net worth of the bunch?
The Match 4 is set for Tuesday at 5 p.m. ET
The Match series started off with just Mickelson and Tiger Woods, but it has since grown to feature superstar athletes from all around the world of sports. Brady and Peyton Manning teamed up with Mickelson and Woods for The Match 2: Champions for Charity. A few months later, Stephen Curry and Charles Barkley joined the fold for The Match 3: Champions for Change, with Mickelson and Barkley taking home the title rather easily.
And now we've made it to the fourth edition of Capital One's The Match, which will feature Brady and Mickelson facing off against Rodgers and DeChambeau.
The event will be held at The Reserve at Moonlight Basin in Big Sky, Mont. Instead of playing their own balls, the players will compete in a modified alternate-shot format. All four players will tee off on every hole, then each team will pick their best drive and alternate shots from there.
You can watch The Match 4 starting at 5 p.m. ET on TNT and streaming on TNTDrama.com.
Phil Mickelson's $400 million net worth is the highest in The Match 4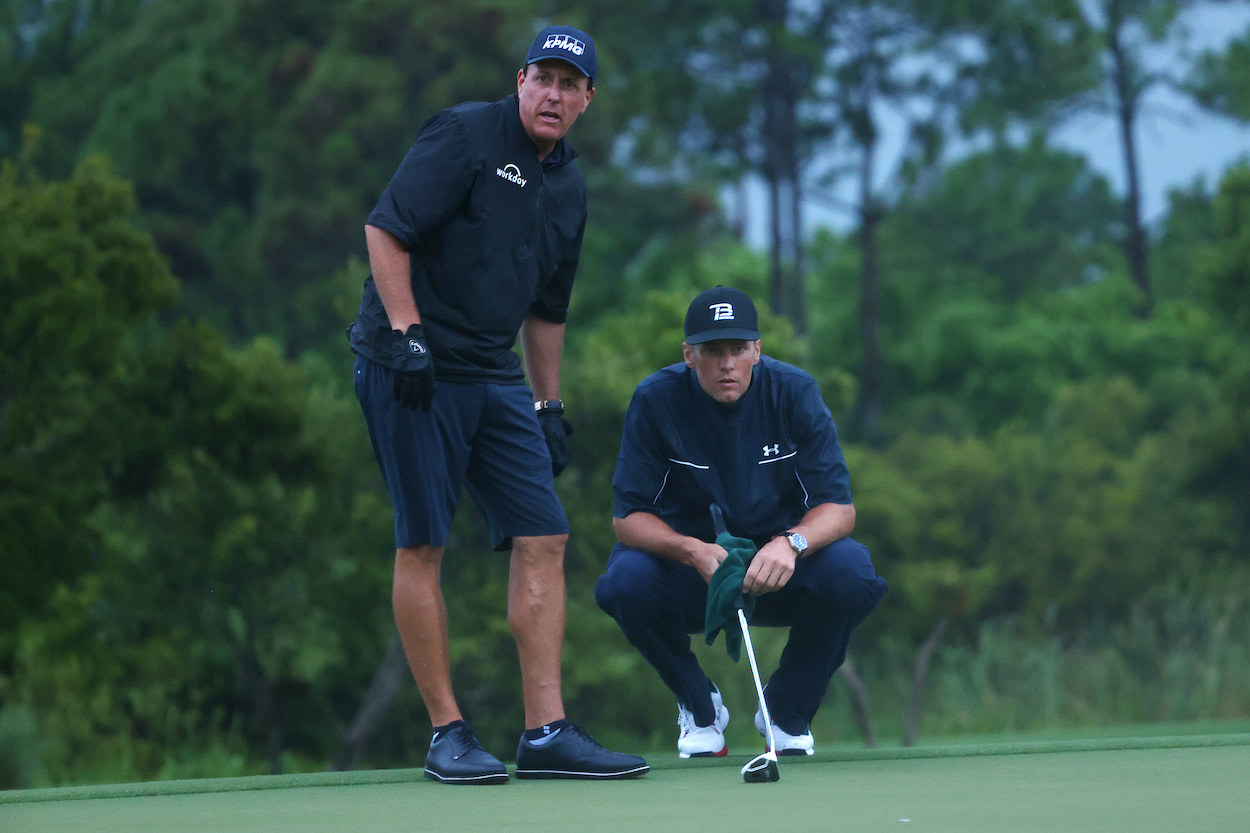 Mickelson is adept at two things: Hitting a tiny, white ball in a hole and adding more zeros to his bank account.
Over the course of his professional golf career, Lefty has racked up more than $94 million in earnings, which ranks second all-time behind only Tiger Woods. Combine that with his numerous endorsement deals and various other investments, and Mickelson has amassed a $400 million net worth.
That gives him the highest net worth in The Match 4, and it isn't even that close.
Tom Brady, Phil Mickelson, Aaron Rodgers, and Bryson DeChambeau have a combined $780 million net worth
Brady, Rodgers, and Mickelson are all living legends in their respective sports. All three will be Hall of Famers one day, and that legendary status has translated to massive wealth for all three athletes.
DeChambeau, on the other hand, still has a long way to go before reaching the pedestal his three playing partners have already reached. He has the potential and the firepower to eventually go down as one of the all-time greats in the game of golf, but at 27 years old, he only has eight PGA Tour wins and one major to his name so far.
The bomber's early success has translated to a $10 million net worth, which is by far the lowest of the group.
Rodgers comes in third with a $120 million net worth. The longtime Green Bay Packers quarterback has earned more than $240 million throughout his NFL career, so his net worth will only climb even higher in the coming years.
Brady, who's considered by many to be the greatest quarterback in NFL history, tops Rodgers with a $250 million net worth of his own.
But he isn't the wealthiest athlete competing in The Match 4. That title belongs to his teammate.
Net worth figures courtesy of Celebrity Net Worth