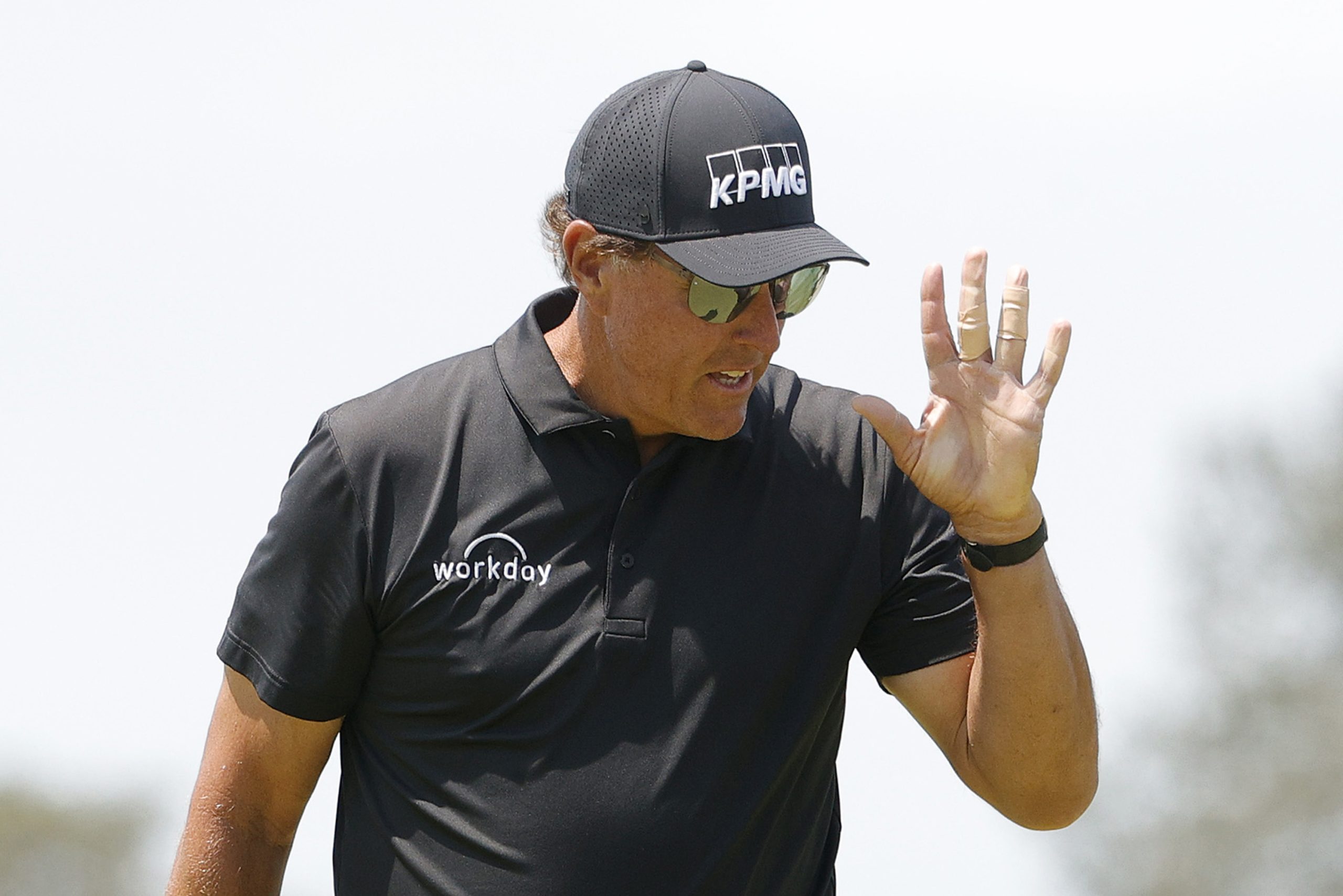 Phil Mickelson Even Making Tiger Woods Fans Smile at U.S. Open
Phil Mickelson has always been a fan favorite.
Phil Mickelson didn't have the greatest of golf days on Thursday as the U.S. Open took center stage. Mickelson had a rough first-round outing after making history by becoming the oldest golfer to win a major when he claimed the PGA Championship last month. Despite his tough start this weekend, he was able to make some people smile, even those who are Tiger Woods fans.
Phil Mickelson has a tough first day at the U.S. Open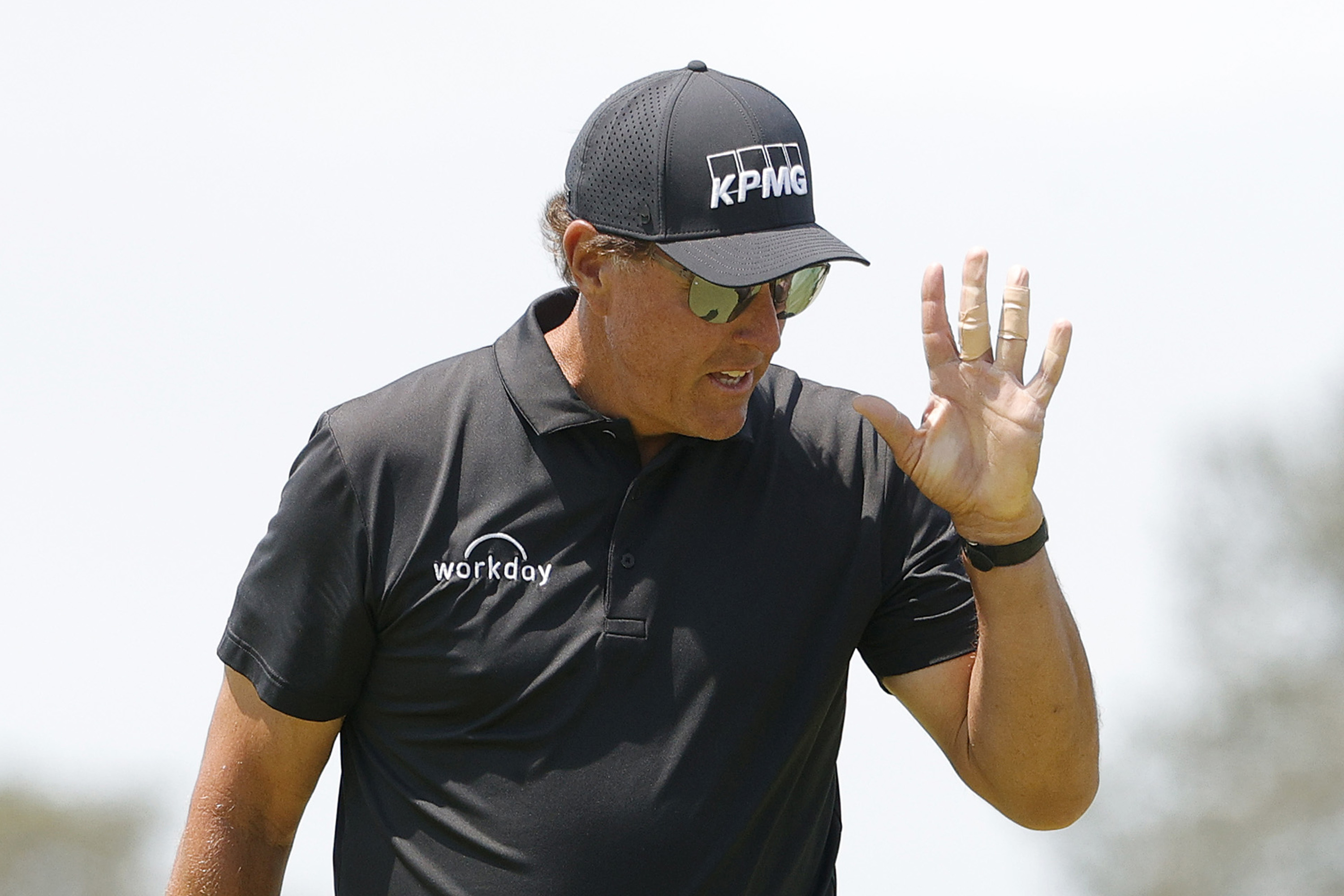 Mickelson was hoping to ride his momentum from the PGA Championship into this weekend's major – the U.S. Open. He didn't get off to the start he wanted. Mickelson began the tournament with a 4-over 75, not an ideal beginning.
He played well off the tee but struggled elsewhere. Mickelson was optimistic he could turn things around. "I'm hitting enough fairways to give myself chances, and I'm optimistic that I'll put together a good round (Friday)," Mickelson said, according to ESPN.
Mickelson said he had a tough time getting going. It was a struggle from the get-go. "I was fighting hard throughout the round," Mickelson said. "I wasn't really getting anything going, and I fought really hard, and then to let two bogeys slide on 6 and 7 when I really shouldn't have, like they weren't that hard of pars — you probably saw the disappointment there."
Despite struggles, Phil Mickelson makes fans, even those of Tiger Woods, smile
Even though Mickelson didn't have the greatest of days on the golf course, he made sure some fans did. Walking between the 14th and 15th tee on Thursday, Mickelson tossed a golf ball to 10-year old Grayden Jackel, who was standing with his friend, 7-year-old Santi Ulloa. Ulloa wasn't too happy that his friend got the ball and he didn't.
"Don't worry," Mickelson said to Ulloa, according to Yahoo! Sports, "I'll get you in a couple holes."
Mickelson kept his promise. After the 15th hole, Mickelson spotted Jackel and Ulloa. He handed Ulloa, who was wearing a Tiger Woods pin, a golf ball.
COVID-19 protocols prohibit golfers from signing autographs for fans. Mickelson still found a way to make two young fans happy, even if one of them was a Tiger fan.
Mickelson has always been a fan favorite
Mickelson is known for interacting with the fans. During last month's quest for a PGA Championship, he made another young fan's day. Mickelson spotted a fan in a wheelchair and offered him a ball while striking up a conversation with him.
He credits the legendary Arnold Palmer for helping him realize what it means to engage with the fans. Palmer was the same way. Lefty remembers watching Palmer sign autographs and take photos in the volunteers' tent at the 1994 U.S. Open at Oakmont.
That moment has stuck with him.
"I talked to (Palmer) about it, and he said, 'It's the volunteers and fans who allow us to play golf for a living. They're the ones buying the tickets and promoting the game,'" Mickelson said, according to PGA.com. "That always stuck in my head."
Even when things aren't going particularly well for Mickelson, he finds a way to make others happy – even if they are Tiger Woods fans.