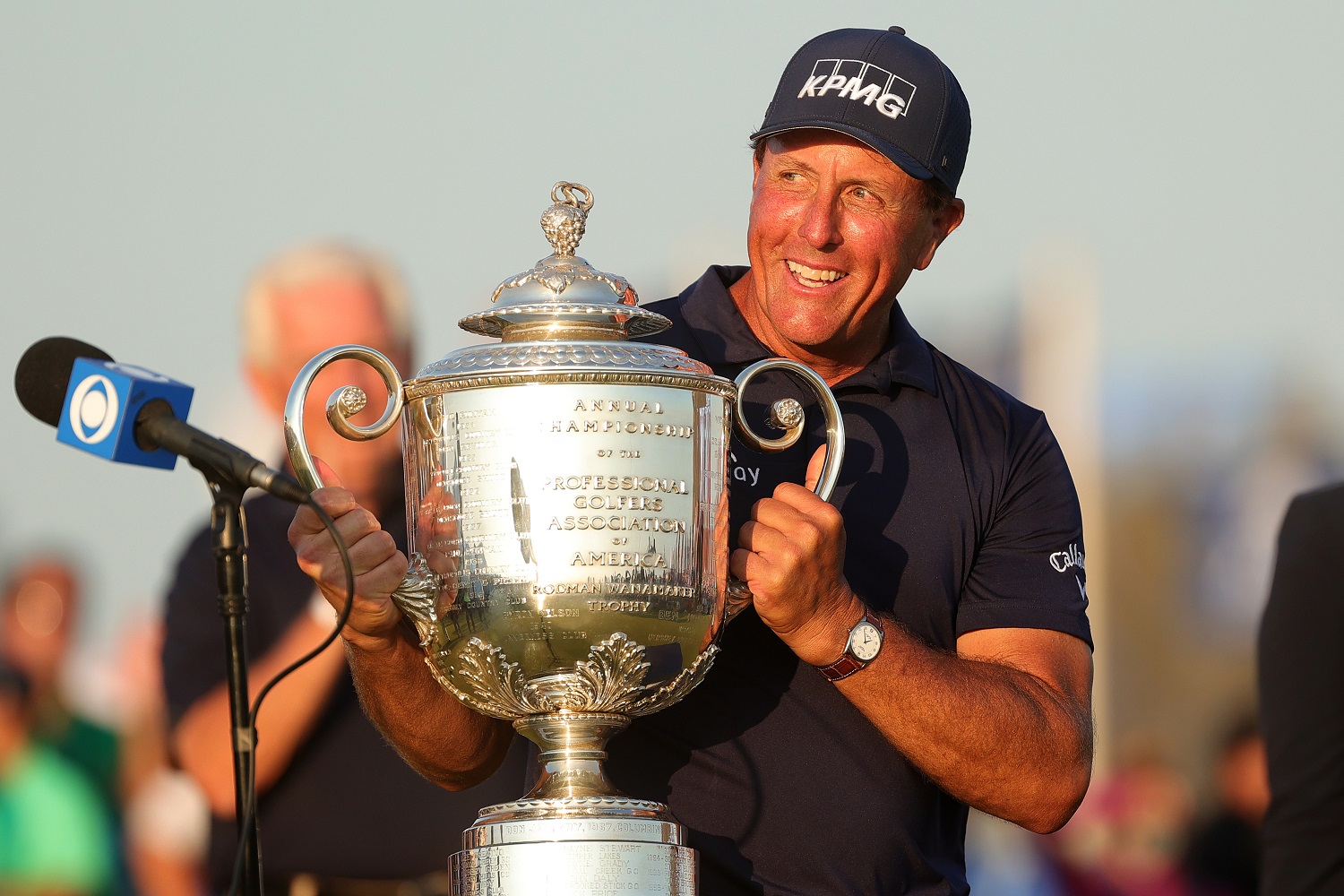 Is Phil Mickelson Back in the Ryder Cup Conversation? And Is That Good or Bad?
Phil Mickelson soared up the Ryder Cup team points list by winning the PGA Championship, but earning a spot in the international competition this fall is not automatic.
If you thought Phil Mickelson was feeling any pressure while standing over 15-foot putts for par at the PGA Championship, just imagine what Steve Stricker will be experiencing through the end of August.
Stricker captains the 2021 United States Ryder Cup team. Half of the 12-man roster plays its way into the event by accumulating points during tournaments. Stricker fills out the remainder of the roster based upon what his eyes and his gut tell him.
Now, what's in his heart – and the heart of millions of golf fans — might come into play.
Phil Mickelson is unlikely to earn an automatic Ryder Cup spot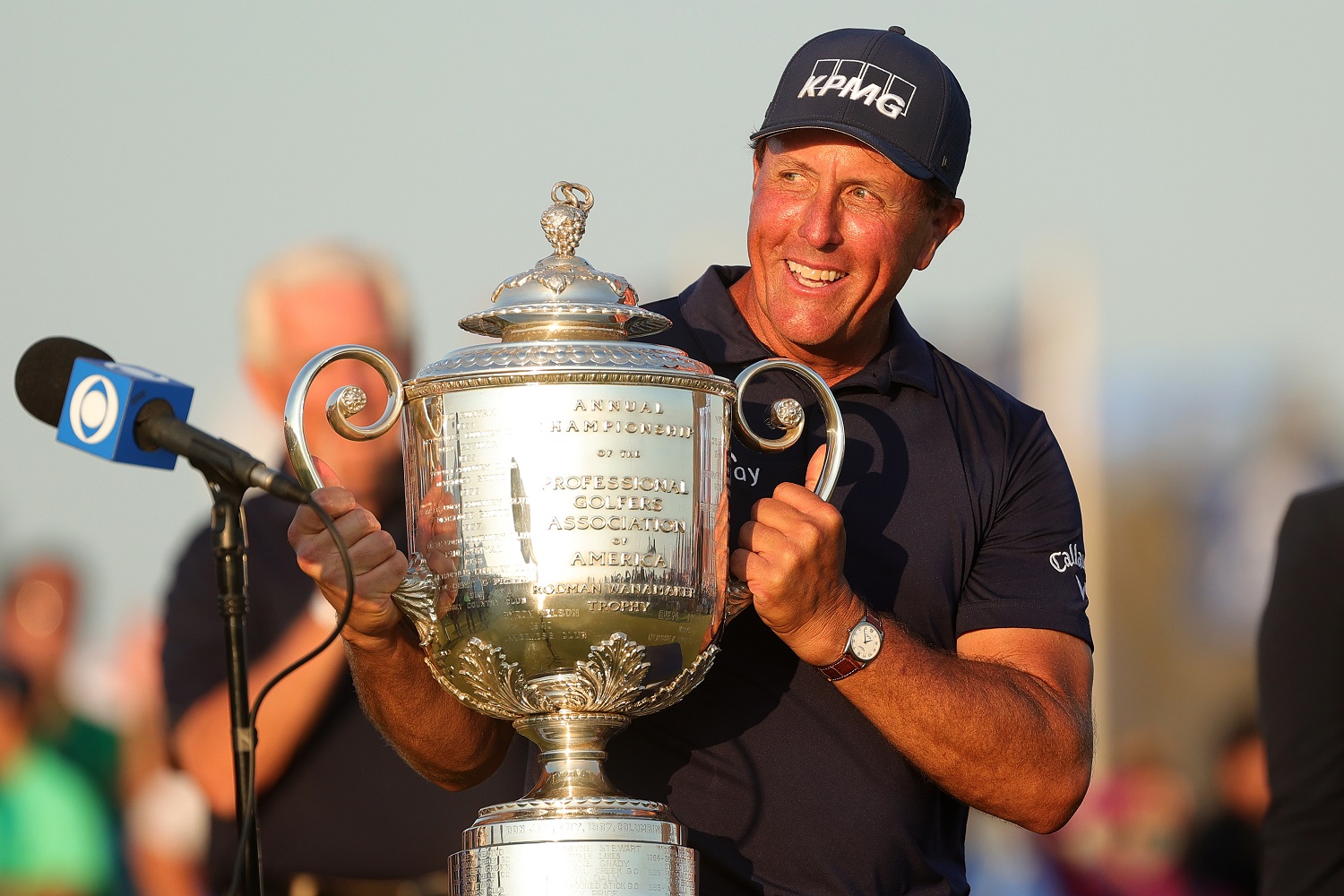 The 600 points that Mickelson pocketed by winning the PGA Championship at Kiawah Island shot him up the Ryder Cup list 36 spots to No. 16 with 6,575.57 points. The two most relevant names with respect to his hopes of making the Ryder Cup team at this moment are Xander Schauffele and Billy Horschel.
Schauffele holds the sixth and final automatic qualifier spot for now at 11,291.19 points. Horschel is 12th at 7,730.22 points. His significance is that he currently stands as the first U.S. golfer bumped if Stricker uses one of his captain's picks on someone lower on the points list – Mickelson, for instance.
Winning his sixth career major and doing so at the age of 50 is a great achievement by Mickelson. Still, his body of work in 2021 before the PGA Championship says he has no realistic hope of making up a gap of more than 4,700 points by the conclusion of the last points event, the BMW Championship at the end of August.
Making up 1,155 points on Horschel is more realistic and improves Mickelson's odds, but that still would not guarantee another Ryder Cup berth.
Victory aside, Mickelson's game is slipping
Mickelson was showing his age before his impressive weekend at Kiawah Island. He hadn't won a major since the 2016 British Open, nor has he cracked the top 10 of the money list since 2013. He won just two regular tour stops in seven years before capturing his second PGA Championship.
Mickelson said in January that he'd focus more on seniors events this season if he wasn't competitive on the PGA Tour. In nine starts before his unexpected victory, Mickelson missed four cuts and finished better than 25th just once – a tie for 21st at The Masters Tournament. By all rights, he should be filling out entries for stops on the PGA Tour Champions circuit by now.
However, he can now take his best shot at qualifying for the Ryder Cup. If he stays in the top 20 on the points list, Mickelson would make it hard for Stricker not to pick him for the event Sept. 24-26 at Whistling Straits in Kohler, Wisconsin.
Mickelson making the Ryder Cup team would be somewhat worrisome
Mickelson certainly caught Stricker's eye with his showing in demanding conditions.
"You could put a pretty good amount of weight on this week, I feel like, just because I feel like this is really similar to Whistling Straits," Sticker told Wisconsin Golf after seeing Mickelson hold the lead through three rounds last weekend. "We've got wind, we've got links-style but not really links-style golf, which is similar to Whistling Straits. We'll look – myself and the (assistant) captains – we'll look at who played well here this week, for sure, because this is a telltale for Whistling Straits."
Mickelson has played in a record 12 Ryder Cups, all since 1995 at Oak Hill.  Would a 13th appearance be unlucky for the United States? After all, Mickelson has not shown himself to be a great Ryder Cup player. He is just 5-6-1 in Sunday singles action and isn't above .500 in foursomes or fourballs. His cumulative record in 12 appearances is 18-22-7.
For what it's worth, however, Tiger Woods is only 13-21-3 in his Ryder Cup appearances and Dustin Johnson, who is sitting first in points ahead of Bryson DeChambeau and Justin Thomas, is a mere 7-9-0.
Like Sportscasting on Facebook. Follow us on Twitter @sportscasting19.
RELATED: Even Tiger Woods Could Never Touch Phil Mickelson's Amazing Pink Floyd-Like Record