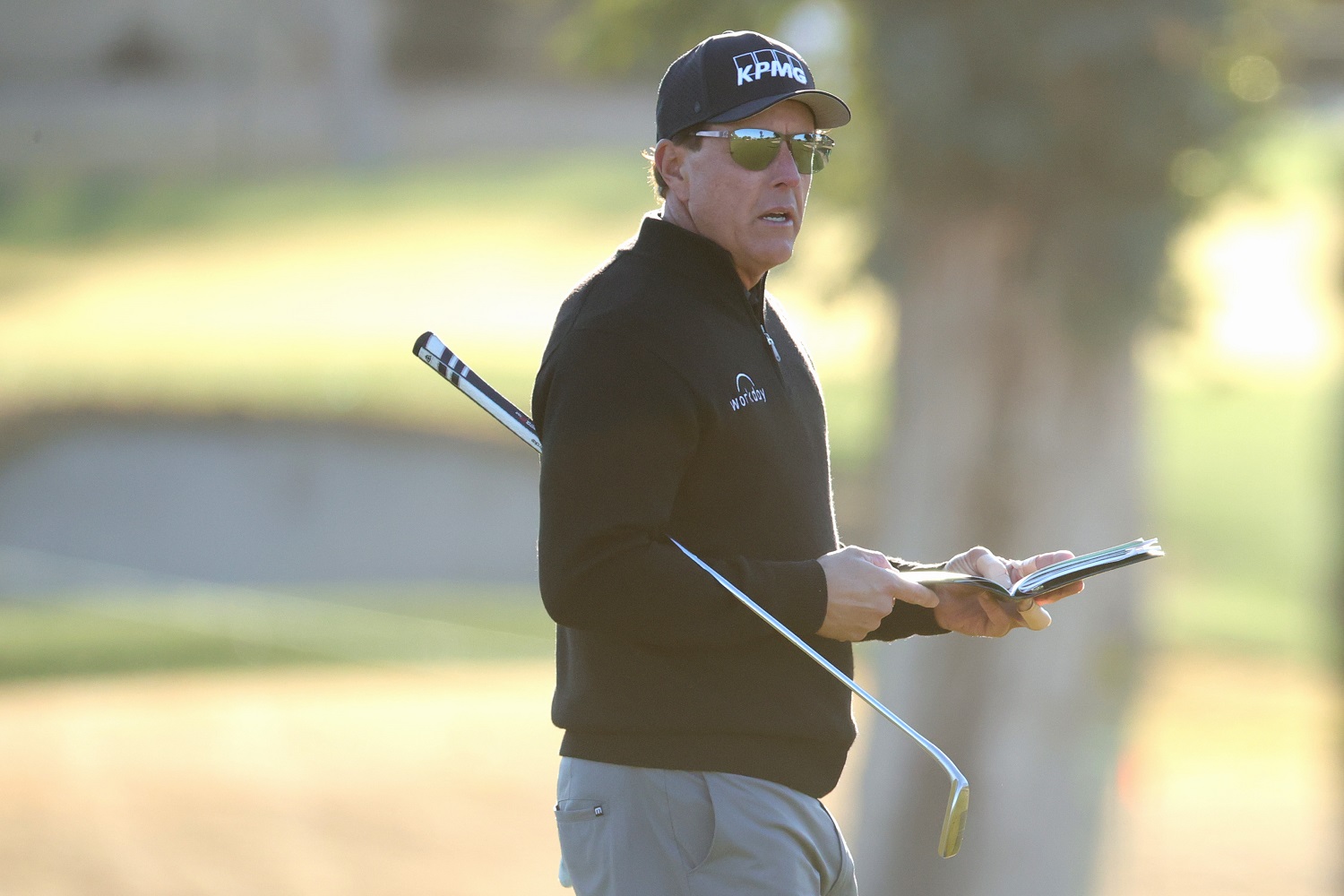 Even Tiger Woods Could Never Touch Phil Mickelson's Amazing Pink Floyd-Like Record
PGA Tour star Phil Mickelson's record streak of weeks in the top 100 of the world golf rankings has finally ended.
There aren't many golfers who can match Phil Mickelson when it comes to tournament wins, victories in the majors, or purse money. Tiger Woods does have the upper hand in all three categories, but even he can't match the man known as "Lefty" when it comes to one particular distinction.
Unfortunately for Mickelson, his run has come to an end after keeping a streak intact for more than a quarter of a century.
Pink Floyd knows a little something about streaks
Bear with us for a moment while we delve into music to help put Phil Mickelson's achievement into perspective.
Pink Floyd released its acclaimed Dark Side of the Moon album in 1973, and it is said to have sold more than 45 million copies worldwide over the years. However, that didn't translate to a lengthy stay at the top of the charts like Fleetwood Mac experienced with Rumors three years later. In fact, the album held down the No. 1 spot for just a single week.
What Pink Floyd had with its acclaimed album, though, was staying power. New waves of teens and young adults discovered Dark Side of the Moon each year. It resulted in the album staying in the Billboard album chart for 736 consecutive weeks from 1973 to 1988.
After a change in the way data was compiled, Dark Side of the Moon returned to the album chart in 2009. It's bounced in and out sporadically since, making for a total of 957 weeks on the charts as of January 20021, nearly half a century after being released.
Even Tiger Woods could never touch Phil Mickelson's record
When PGA Tour star Phil Mickelson won The International in 1993, it meant something beyond giving him three tournament championships. The victory also launched Mickelson into the top 100 of the Official World Golf Ranking (OWGR) for the first time.
Although he never climbed to the No. 1 spot in those rankings, Mickelson was No. 2 for 270 weeks over the years, according to ESPN. Tiger Woods was the nemesis in his way all 270 weeks, though it hardly kept Mickelson from racking up considerable success along the way. Mickelson has been a 44-time PGA Tour winner (five of them majors) and is in the World Golf Hall of Fame.
The wins and assorted other top-10 finishes while maintaining a steady schedule allowed Mickelson, 50, to remain in the top 100 in the OWGR for 1,425 weeks – a record for the sport.
Phil Mickelson's streak has ended
RELATED: When Was the Last Time Phil Mickelson Won on the PGA Tour?
Phil Mickelson did not play in this past weekend's Arnold Palmer Invitational. As a result, he slipped to 101st in the Official World Golf Ranking after starting the year at No. 66. When the numbers were updated Sunday night, Mickelson found himself outside the top 100 for the first time in 27 years, 6 months, and 17 days.
He ended every year from 2004-10 in the top 10 and won as recently as the 2019 AT&T Pebble Beach National Pro-Am, but Mickelson has placed no better than a tie for 53rd in four tournaments this year.
Tiger Woods, who came onto the PGA Tour full-time in 1996, holds the records of 281 consecutive weeks at No. 1 and 683 weeks in the top spot overall. However, back surgery took Woods off the PGA Tour in 2017, and he dropped all the way to No. 1,199 in the rankings.
Like Sportscasting on Facebook. Follow us on Twitter @sportscasting19.