Xander Schauffele Lost $575,000 at The Masters Because of 1 Unexpected Act of God
Xander Schauffele has certainly made a habit of finishing second on the PGA Tour. Since joining the Tour full-time in 2016, Schauffele has recorded four wins and 10 second-place finishes, including three already this season.
The World No. 5 was in position to record yet another runner-up finish at the 2021 Masters on Sunday, but a vicious gust of wind gobbled up his tee shot on the par-3 16th hole and pushed his ball into the pond, resulting in a triple bogey. Not only did that act of God cost Schauffele a second-place finish at the greatest tournament in golf, but it also cost him $575,000 in prize money.
Xander Schauffele's back 9 charge at The Masters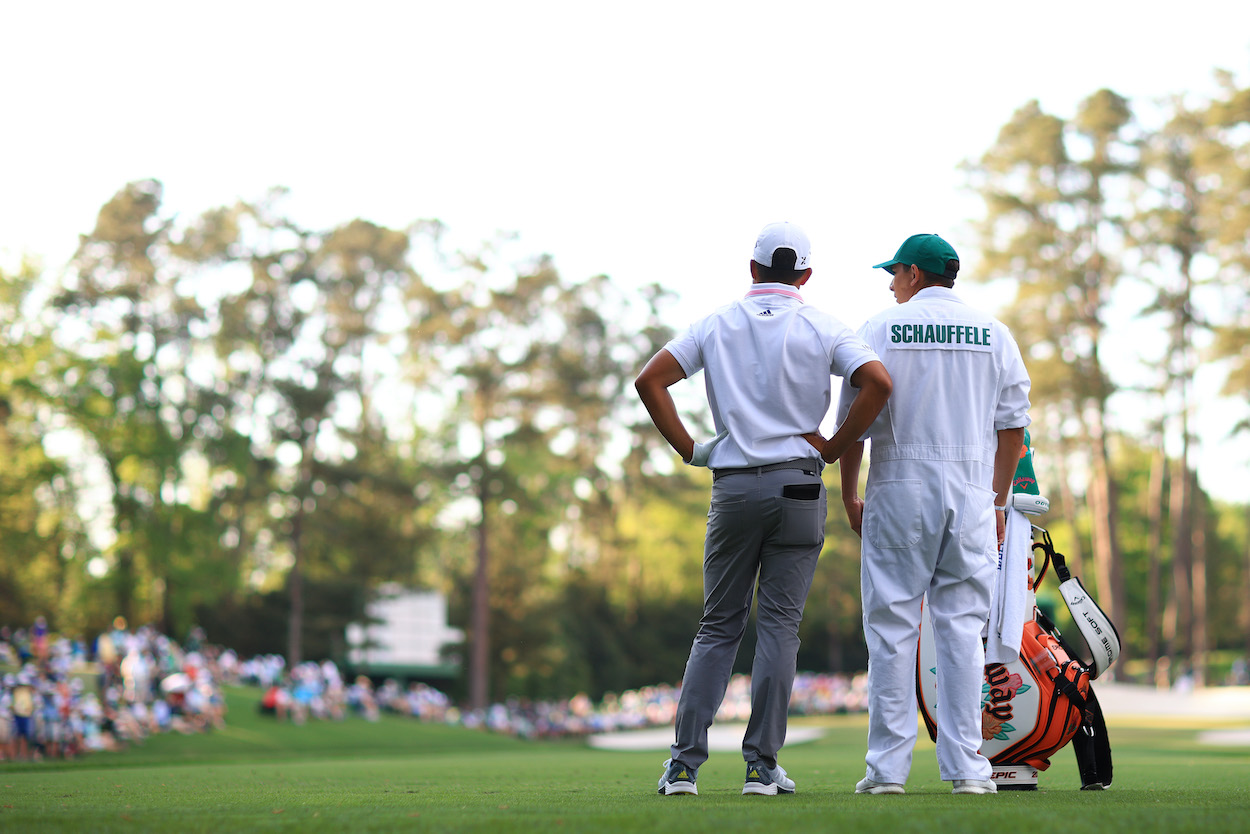 After every player had completed nine holes during the final round of the 2021 Masters on Sunday, the tournament already seemed decided. Hideki Matsuyama, who held a four-shot lead entering the final round, birdied the par-4 ninth hole to stretch his lead to five at the turn.
But Xander Schauffele refused to go out quietly. The spunky right-hander rattled off four straight birdies on holes 12-15 to cut Matsuyama's lead to just two. He stepped up to the 16th tee in sole possession of second-place at 10-under par. Talented PGA Tour rookie Will Zalatoris was the closest player to Schauffele at the time at 8-under.
As he stood on the famed 16th tee at Augusta National, Schauffele was closer to winning a green jacket than he was to falling out of second place. A $1,242,000 payday at minimum looked to be in store, but the Augusta wind had a different plan for the 27-year-old.
A vicious gust of wind led to a triple bogey on 16
As Schauffele and Matsuyama reached the 16th tee, Schauffele had the honors to hit his tee shot first. He and his caddie, Austin Kaiser, mulled over which club to hit and which line to take for a minute before settling on an 8-iron. Schauffele hit it beautifully, flushed and right at the flag. But an unexpected gust of wind rose up out of nowhere and knocked the ball backward and off Schauffele's starting line. The result? Splash.
"I hit a perfect iron," Schauffele said after Sunday's round. "It was 184 yards. I can hit my 8-iron 180 yards out here. I turned it right to left; the wind was into left to right. It got smoked and eaten up. You could kind of see it. The ball hovered there."
Schauffele went on to make a triple bogey on the hole and fall back to 7-under par, which basically gifted Matsuyama his first career green jacket.
"I was chasing," Schauffele continued. "I was still 2 back. Hideki is a great left-to-right iron player. I figured, if I hit it close, he was going to hit it right on top. I was in full chase mode, so I have no regrets from that aspect."
Schauffele lost $575,000 because of an unexpected act of God
If Schauffele had just aimed at the middle of the 16th green and settled for a par on the hole, he would've cruised to at least a runner-up finish at The Masters. Sole possession of second place would've given him a $1.24 million payday.
But the untimely gust of wind and the brutal triple bogey that followed knocked Schauffele back to a tie for third with Jordan Spieth, which netted him $667,000. The unforeseen act of God on 16 cost Schauffele $575,000 in prize money, but he won't let it haunt him going forward.
"I hit a good shot," Schauffele said about his tee shot on 16. "I committed to it. It turned out bad. I'll be able to sleep tonight. There might be some tossing and turning, but I'll be OK."