Hideki Matsuyama's Historic Win at The Masters Could Lead to an Even Bigger Honor
With his victory at The Masters on Sunday, not only did Hideki Matsuyama become the first Japanese player to win at Augusta National, he's the first player from the "Land of the Rising Sun" to win any of golf's four major championships. Before Matsuyama's historic one-shot victory, the closest any Japanese player had come to winning a major was 51-time Japan Golf Tour winner and World Golf Hall of Famer Isao Aoki, who finished second to Jack Nicklaus at the 1980 U.S. Open at Baltusrol.
Now, while it's obviously a huge honor for Matsuyama to be the first Japanese player to win a major, an even bigger honor may be in store for the 29-year-old a few months down the road.
Hideki Matsuyama hung on for a one-shot victory at The Masters
Not having won a tournament since the WGC-Bridgestone Invitational in August 2017, Hideki Matsuyama certainly wasn't one of the favorites coming into the 2021 edition of The Masters. But he came out on a tough scoring day on Thursday and fired an opening-round 69, putting him in a tie for second behind leader Justin Rose, who opened with a 7-under 65.
Matsuyama kept himself in the mix on Friday with a 1-under 71, leaving him three back of the lead heading into the weekend. He wasn't having the most spectacular third round on Saturday but following the 78-minute rain delay, he simply went off, shooting six-under over his final eight holes to get to 11-under for the week, giving him a four-shot lead heading into Sunday's final round.
Things got a little dramatic at times on Sunday, especially when Matsuyama hit his second at the par-5 15th into the drink behind the green, which led to a bogey, but the 29-year-old never relinquished his lead and hung on to win by one shot over rookie Will Zalatoris.
He's now in the top 35 on the all-time PGA Tour earnings list
Coming into The Masters, Hideki Matsuyama had earned $31,220,951 in his PGA Tour career, good for 37th on the all-time earnings list. With his win at Augusta, he earned a cool $2.07 million, taking his total to $33,290,951, which bumps him into the 32nd spot, a spot previously held by another Asian-born player, South Korea's K.J. Choi.
Kevin Na, who, like Choi, was born in South Korea, is the only Asian-born player who's made more money on the PGA Tour than Matsuyama. Na, who was right there off the 18th green to congratulate Matsuyama, finished eight strokes back and tied for 12th.
Don't be surprised if Hideki Matsuyama is the final torchbearer at the Tokyo Olympics this summer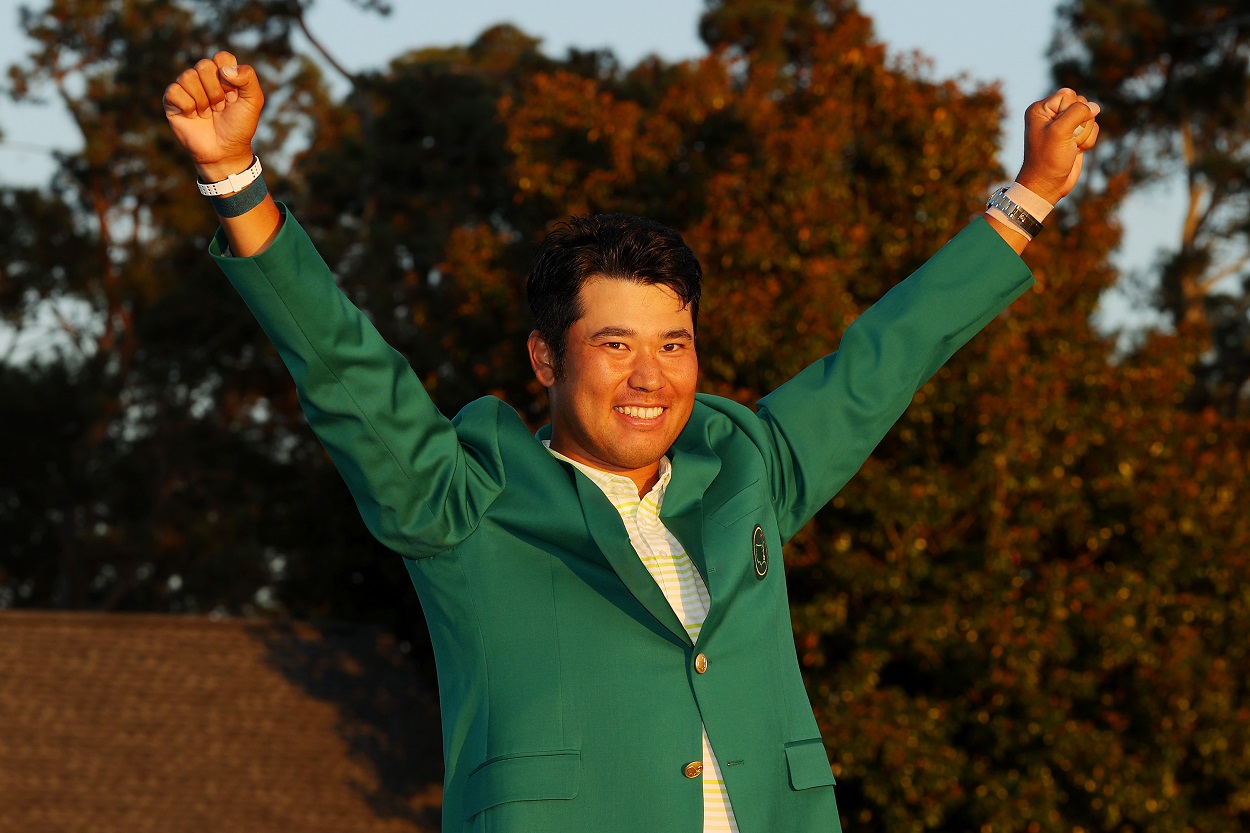 Hideki Matsuyama is scheduled to play the Olympic golf event this summer in Tokyo but don't be surprised if he has a little more on his plate than just playing 72 holes.
It can't be stated enough how big of a deal Matsuyama's win at The Masters is for Japan. He'll undoubtedly receive a hero's welcome when he returns home and he's had to have put himself in serious contention to receive the honor of being the final torchbearer when the Olympic torch is lit in July.
Before the Games were postponed last year due to COVID-19, numerous names were mentioned as possible candidates to receive the honor. Baseball stars Ichiro Suzuki and Shohei Ohtani are certainly options. Four-time major tennis champ Naomi Osaka has to be considered. Three-time gold medalist and 13-time world champion wrestler Saori Yoshida, who was Japan's flag bearer in London in 2012, has certainly earned it. The list goes on and on.
But, again, don't be surprised if Hideki Matsuyama gets the nod. But we're just going to have to wait and see as Olympic officials have said that the reveal won't happen until the flame arrives in the stadium during the opening ceremonies on July 23.