Even Adjusted for Inflation, Jack Nicklaus' Career Earnings at the Masters Barely Crack the Top 20 on the Tourney's All-Time Money List
Even adjusted for inflation, Jack Nicklaus' career earnings at The Masters would only be good for 20th place on the tournament's all-time money list.
With six green jackets to his credit, Jack Nicklaus is the greatest champion in the history of The Masters. Well, he's actually the greatest champion in the history of major championship golf with a record 18 majors to his name, three more than Tiger Woods, who sits in second place on the all-time list with 15.
But when it comes to money won at The Masters, Tiger clearly has the advantage. Purses are obviously much bigger these days (and every player in the world should thank Tiger for that) but just how much bigger is absolutely mind-blowing.
Think about this. When Tiger captured his fifth Masters title in 2019, he won over two million dollars. Nicklaus didn't make that much money in his entire career at Augusta National. In fact, the Golden Bear didn't even make half of that amount playing The Masters. If you add up all the money he won at Augusta over the years, it's less than a million bucks.
And now think about this. If you took every player's earning at The Masters over the years and took inflation into account, Jack Nicklaus would still only be in 20th place on the tournament's all-time money list.
How many times did Jack Nicklaus play The Masters?
Over the course of his Hall of Fame career, Jack Nicklaus played The Masters 45 times, good for a tie for fifth on the tournament's all-time appearances list. Only Gary Player (52), Arnold Palmer (50), Doug Ford (49), and Raymond Floyd (46) played in more. Billy Casper also made 45 appearances.
In those 45 starts, Nicklaus won six times, had four runner-up finishes, finished inside the top five 15 times, and finished inside the top 10 on 22 occasions. All of those are Masters records.
Jack Nicklaus made his debut at Augusta as a 19-year-old amateur in 1959 and made his final appearance in 2005 at the age of 65. In 45 starts, he missed the cut just seven times and withdrew once. And about those seven missed cuts, one was in his first year at The Masters and the last four were in his final four appearances when he was over 60.
The Golden Bear collected a total of $269,000 for his six wins at Augusta
If you add up the paychecks from Jack Nicklaus' six career wins at The Masters, you come to a total of $269,000.
Jack was awarded $20,000 for each of his first three wins, which came in 1963, 1965, and 1966. He then got a payout of $25,000 for winning his fourth green jacket in 1972. For Masters win number five in 1975, the Golden Bear was paid $40,000. When he won his sixth title in 1986 at the age of 46, Nicklaus made more money than his five previous wins combined by collecting $144,000.
And here's how much things have changed. To earn $144,000 at The Masters in 2020, one has to finish in 20th place ($149,500), which is exactly where Jack Nicklaus would be on the tournament's all-time money list adjusting for inflation.
With all Masters earnings adjusted for inflation, Jack Nicklaus would be 20th on the tourney's all-time money list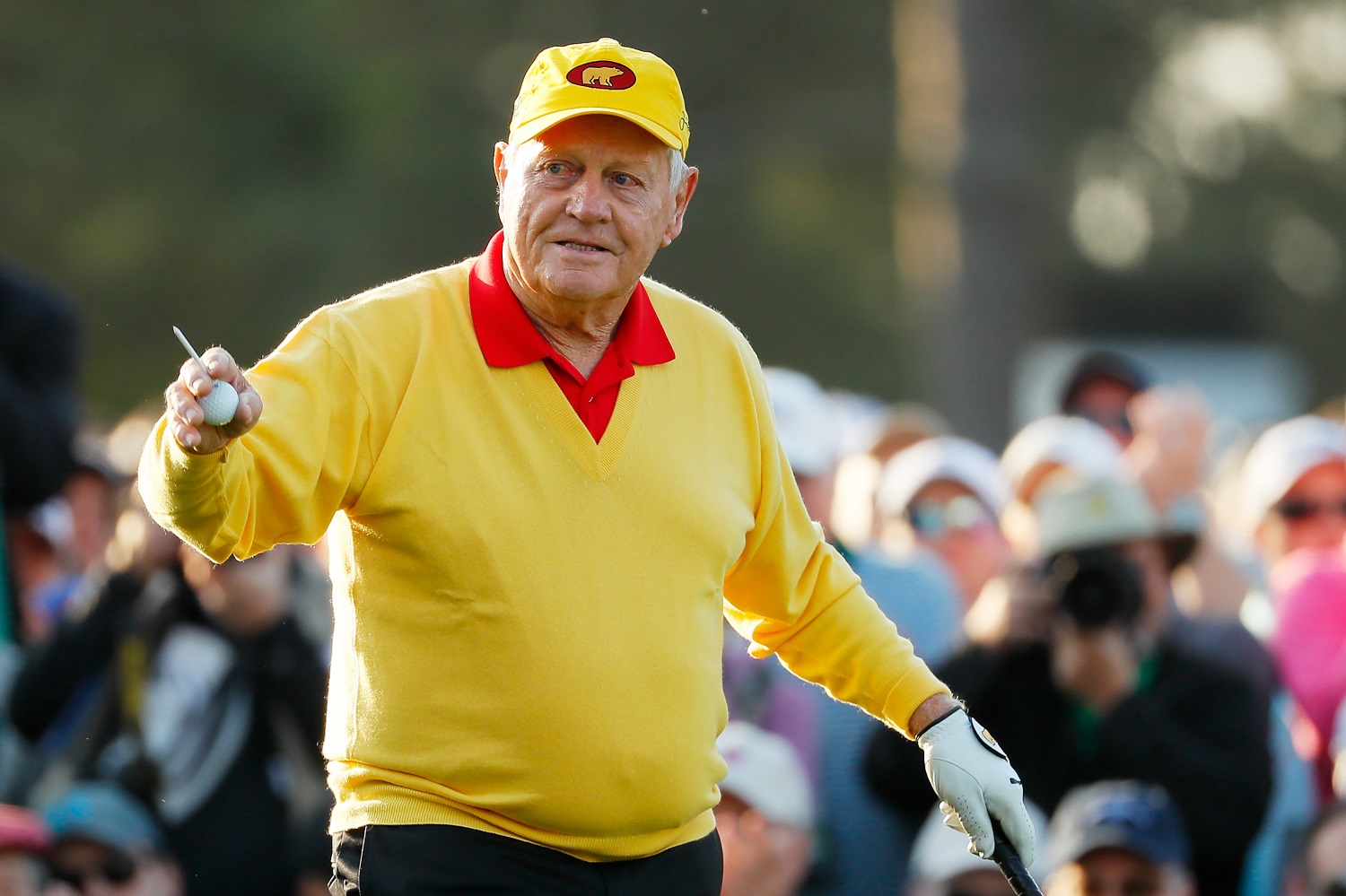 Ahead of the 2020 Masters, statistician Lou Stagner converted all Masters prize money ever won into 2019 dollars. In real money, Tiger Woods sits atop the tournament's all-time earnings list with $9,505,469. Adjusted for inflation, Tiger would still be No. 1 at $11,436,486.
As for Jack Nicklaus, his career earnings at The Masters in 2019 dollars would be $2,387,049, which would put him in 20th place on that adjusted list. 20th!!! Remember the stats from earlier? Six wins, four runner-ups, 15 top fives, 22 top 10s? Yeah, that's good for 20th. That's how much purses have jumped over the years.
Here's a look at the entire top 20 on the adjusted list.
Tiger Woods: $11,436,486
Phil Mickelson: $9,696,814
Jordan Spieth: $4,713,424
Bubba Watson: $4,160,834
Angel Cabrera: $3,960,307
Adam Scott: $3,937,037
Justin Rose: $3,822,046
Lee Westwood: $3,699,375
Fred Couples: $3,651,009
Jose Maria Olazabal: $3,604,814
Sergio Garcia: $3,469,419
Vijay Singh: $3,320,585
Ernie Els: $3,274,640
Retief Goosen: $2,852,620
Bernhard Langer: $2,686,196
Charl Schwartzel: $2,503,650
Rickie Fowler: $2,449,258
Mike Weir: $2,397,772
Jason Day: $2,396,266
Jack Nicklaus: $2,387,049
As you can see, players from the modern era dominate this list. But as you can also see, some of these guys don't even own a single green jacket.
But Jack Nicklaus has done just fine for himself. While he wasn't able to capitalize on huge purses on the PGA Tour or The Masters, he's made hundreds of millions of dollars in course design and other business ventures.