The Day Hideki Matsuyama Lost $143,000 in 2 Minutes, 12 Seconds
Hideki Matsuyama has made more than $31 million over the course of his young career — and that's just the cash he's earned on the PGA Tour, where he's already in the top 40 on the all-time money list. Throw in the money he earned on the Japan Golf Tour, where he's won eight times, and that figure obviously goes up.
However, while Matsuyama has already made a ton of money, he should actually have an extra $143,000 in his bank account (minus taxes, of course), an amount he lost after getting hit with a ridiculous one-stroke penalty for slow play at The Open Championship in 2013, which was the first time he was truly in contention at a major.
Hideki Matsuyama put himself in contention at The Open Championship in 2013
The 2013 edition of The Open Championship was just then-21-year-old Hideki Matsuyama's third major championship start as a professional but he came to famed Muirfield Golf Links playing solid golf.
A month earlier, he'd finished tied for 10th at the U.S. Open at Merion following a final-round 67 and just two weeks prior to The Open Championship had tied for fourth at the Nagashima Shigeo Invitational in Japan, a finish that vaulted him to 46th in the Official World Golf Ranking, at that time the highest ranking of his career.
As per usual, Muirfield played extremely tough that week but Matsuyama got off to a nice start, shooting an even-par round of 71, which he followed up with a 73, putting him at 2-over heading into the weekend, just five shots back of leader Miguel Angel Jimenez.
He was assessed a one-stroke penalty for slow play during the third round of The Open Championship
Ahead of the 2013 edition of The Open Championship, the R&A made it a point to announce that they would be monitoring slow play a little more closely and they certainly stuck to it as multiple groups were put on the clock during the third round at Muirfield, saying groups should easily finish their round in three hours and 41 minutes, which just seems absurd.
The two-ball groups of Tiger Woods and Lee Westwood, Sergio Garcia and Lee Westwood, and Graeme McDowell and Gregory Bourdy were all given warnings at some point throughout their Saturday rounds, as were Hideki Matsuyama and Johnson Wagner.
Matsuyama and Wagner were first put on the clock at the 15th as the R&A claimed they were 15 minutes behind pace. By the time they got to the 17th, Matsuyama was just three shots out of the lead but found trouble off the tee at the par-5, leaving him a difficult second shot for which members of the gallery needed to be moved and for which both he and his caddie had to walk back out to the fairway just to get an angle and a carry number.
In total, it was said that Matsuyama took two minutes and 12 seconds to play that second shot, which apparently was too long as he was assessed a one-stroke penalty, which turned his par-5 into a bogey-6 on the scorecard. Following the round, Wagner was livid with the decision and actually argued with scoring officials for five minutes that the score be changed for his playing partner, which did nothing as the R&A stuck to their guns and said they gave Matsuyama ample time to deal with the difficulty of the shot.
The penalty ultimately cost Hideki Matsuyama over $143,000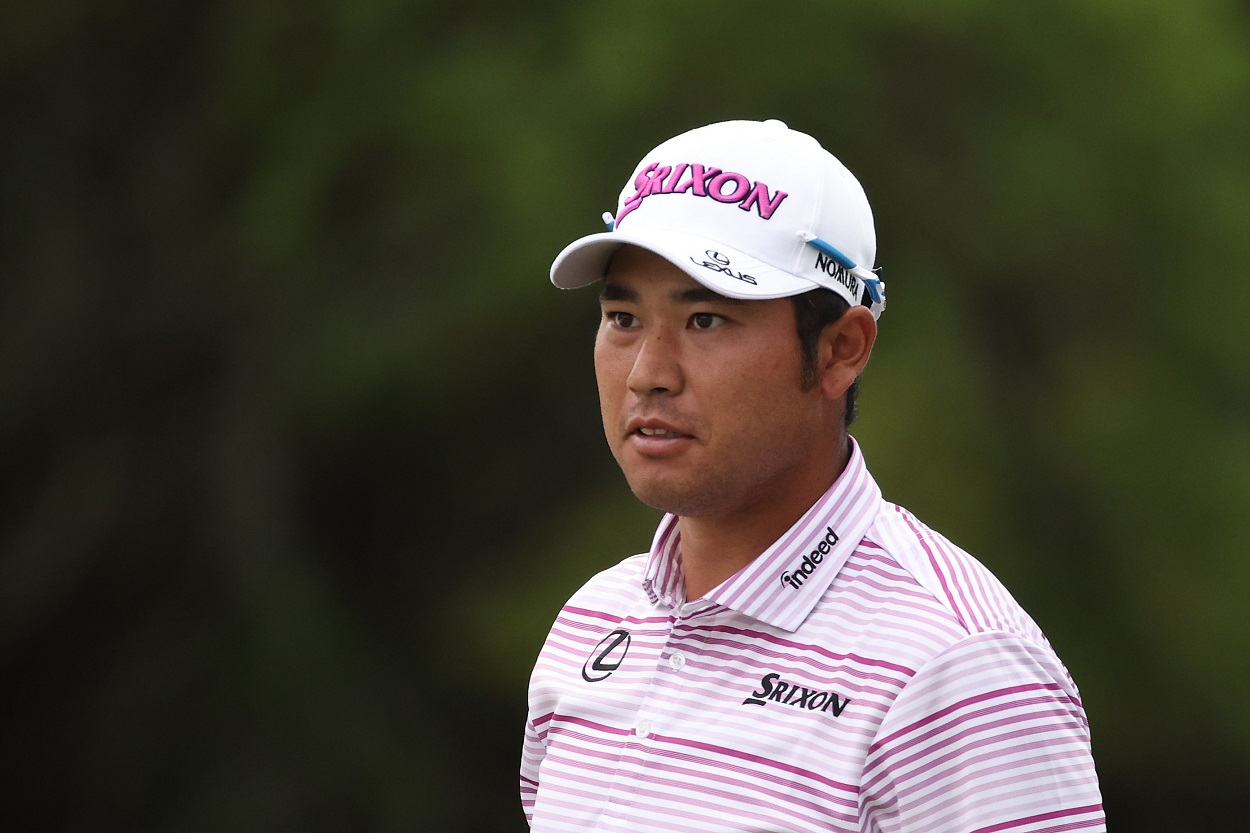 With the penalty stroke added to his score, Hideki Matsuyama shot a 1-over round of 72 on Saturday, leaving him six behind leader Lee Westwood heading into the final round. Westwood would stumble on Sunday and Phil Mickelson played a phenomenal final round to capture his fifth major championship, winning by three strokes.
As for Matsuyama, he fired a 1-under 70 on Sunday, and tied for sixth at 2-over for the week, which earned him $247,809, which is certainly a nice chunk of change. However, had he not been hit with that one-stroke penalty on Saturday, he would have finished in a tie for third with Westwood, Ian Poulter, and Adam Scott. Given the split, Matsuyama would have collected $391,627.
So, in essence, two minutes and 12 seconds cost Hideki Matsuyama $143,818. Again, it's not as if he's struggling for cash these days but that's still quite a bit of cash to have taken away when nobody else was penalized that day at Muirfield.