Why Does Hideki Matsuyama Pause in the Middle of His Backswing?
Hideki Matsuyama has one of the most recognizable swing actions on the PGA Tour today. Whereas most players utilize one fluid motion throughout their backswing and follow through, Matsuyama pauses for a half-second at the very top of his backswing before powering through the ball. It might seem like an impossible motion for most amateur and professional players, but Matsuyama has recorded five PGA Tour wins using his unique swing.
So, how did the pause come to be and why does Matsuyama swing the way he does?
Hideki Matsuyama's unique swing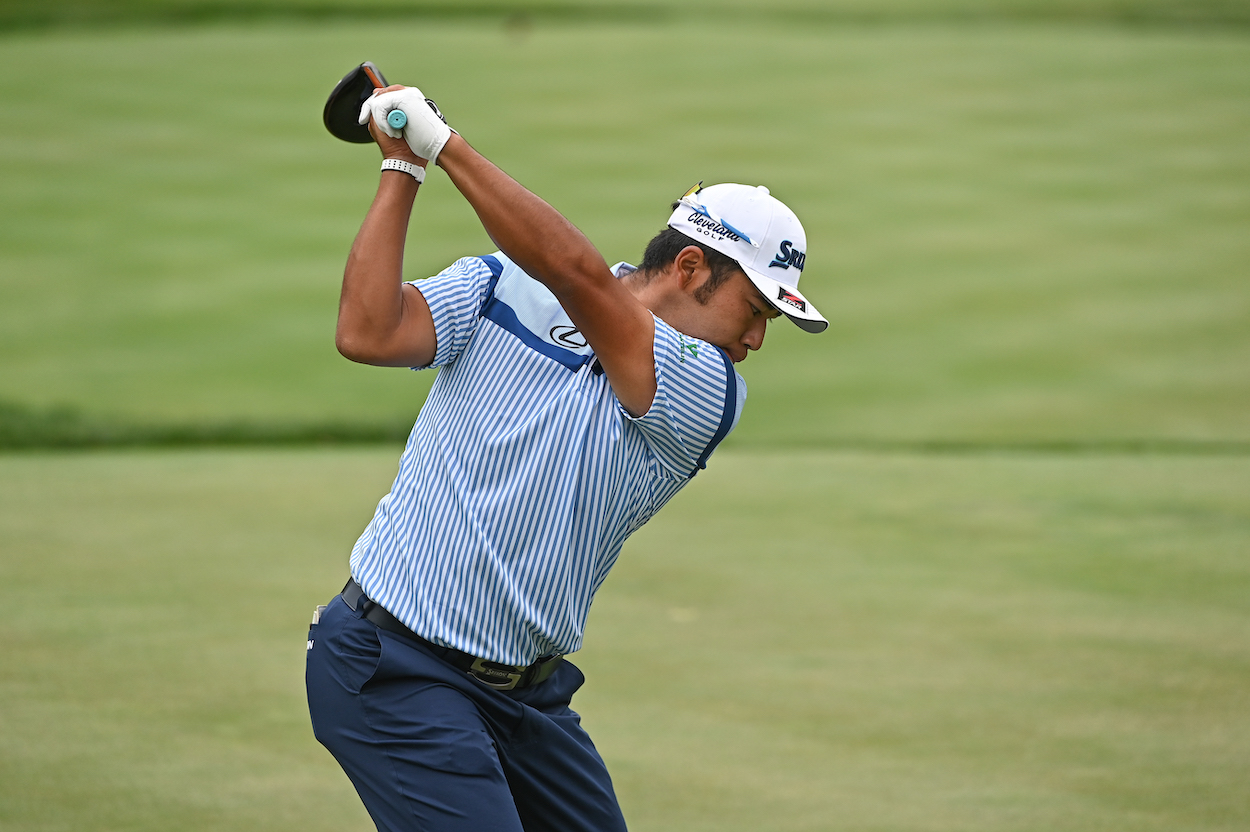 Golf swings come in all different shapes in sizes. Some players come over the top of their heads, and some like to keep it flatter. Some swing out of their shoes to generate a massive amount of power, and some focus on tempo and accuracy instead. But Hideki Matsuyama has one of the most distinctive swings in professional golf.
His swing starts like any other, but once he reaches the apex of his backswing Matsuyama pauses his motion and holds the club still for a good half-second. From there, he whips the club forward and through the ball, generating a surprising amount of power in the process.
It might look odd, but Matsuyama has perfected the pause. He's been one of the best iron players on the planet for most of his professional career, as he's ranked inside the top 10 in strokes gained: approach for seven straight seasons.
Why does Matsuyama pause in the middle of his backswing?
You might think there's a secret to Matsuyama's madness, but the pause actually just developed for him naturally as he tried to slow down his swing.
"I'm not trying to stop," Matsuyama told Golf Digest through a Japanese interpreter in 2018. "When I first came to the PGA Tour in 2013, everyone was hitting it a long way, so subconsciously my takeaway was getting faster, because I wanted to hit it farther. I wanted to slow down my backswing, and I think that's when I really noticed the pause."
"I don't even know I pause, so it's hard for me to say, 'OK, what am I thinking at the top or what's my first swing thought in the transition,'" Matsuyama said later that year. "I really don't know how that pause got into my swing. I guess as far as timing is concerned, I try to be as slow as I can at the top."
Hideki Matsuyama can ride his pause to a Masters green jacket
Pause or no pause, all that matters at the Masters Tournament is how low you can go. And Matsuyama has gone lower than anyone else in the field through three rounds at Augusta National this year.
Matsuyama enters the final round at the 2021 Masters four strokes clear of the field at 11-under par. If he prevails on Sunday, he will win his first career major championship.
Pause that.