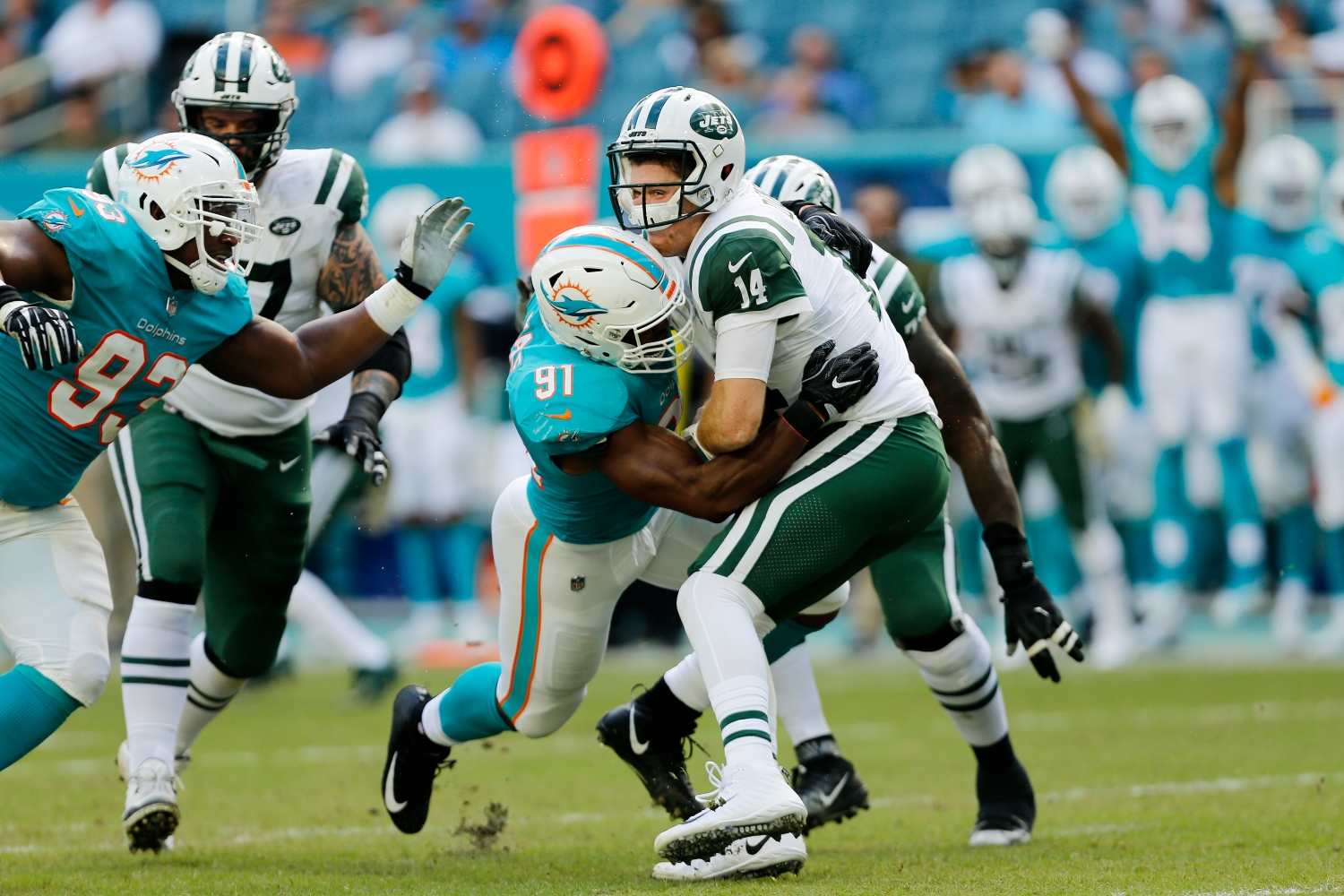 The Jets' Latest Move Should Make Sam Darnold Absolutely Livid
Sam Darnold should be absolutely livid by the New York Jets' latest move. After all, the team has taken a wildly different approach to setting up their new franchise quarterback for success.
Whether you believe in Sam Darnold or not, it's safe to say the New York Jets didn't set him up for success during his rocky tenure with the team. From employing one of the worst head coaches in football to letting an overmatched general manager control the roster, the franchise failed Darnold on so many levels. In particular, the tandem of Adam Gase and Mike Maccagnan did a horrific job of providing the young quarterback with adequate protection.
So after suffering the consequences of playing behind an undermanned offensive line for the first three years of his NFL career, Darnold should be absolutely livid about the Jets' latest move.
Luckily for the new face of the Carolina Panthers, he has a chance to exact revenge against his former team in Week 1 of the 2021 season.
Sam Darnold suffered the consequences of playing behind a porous offensive line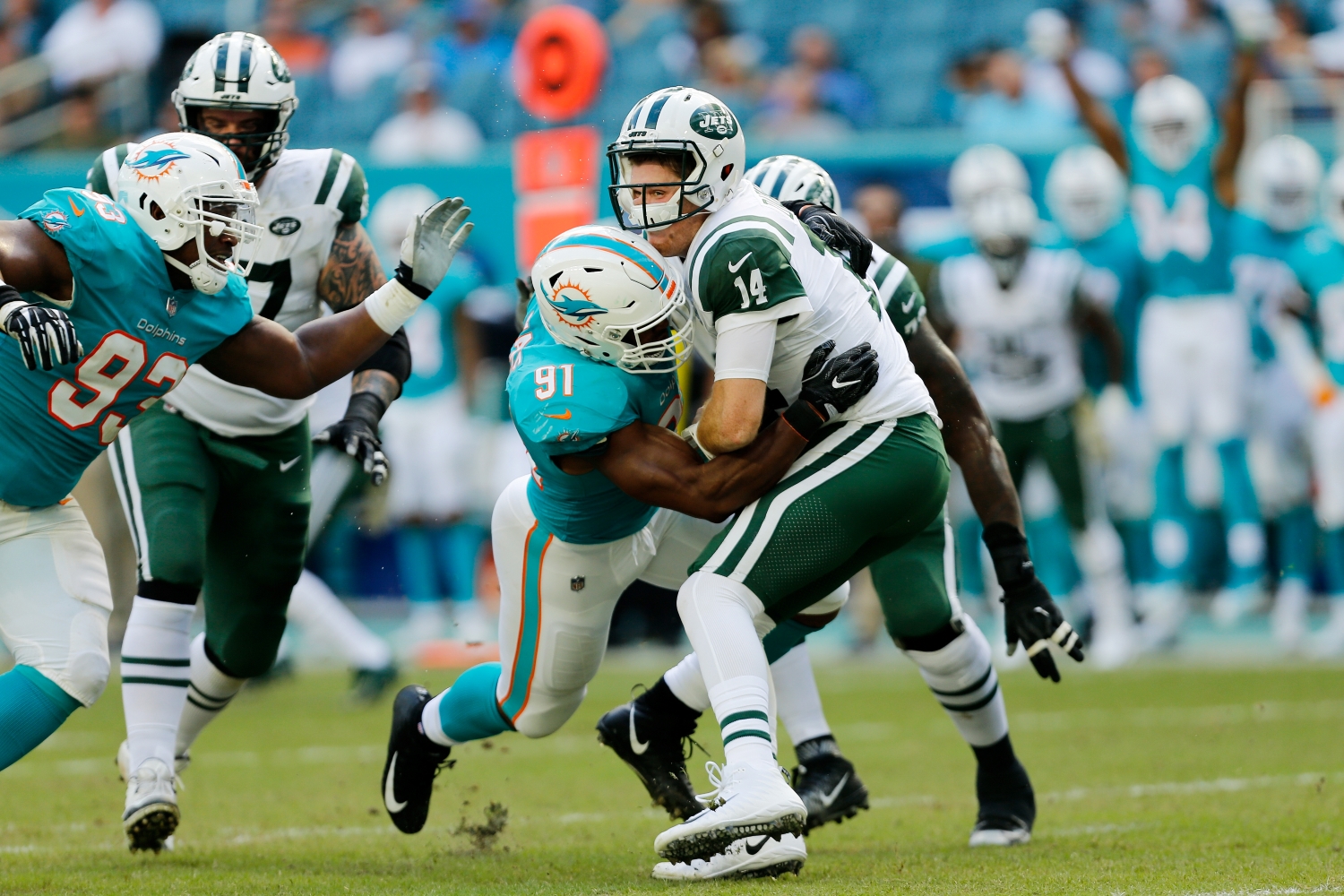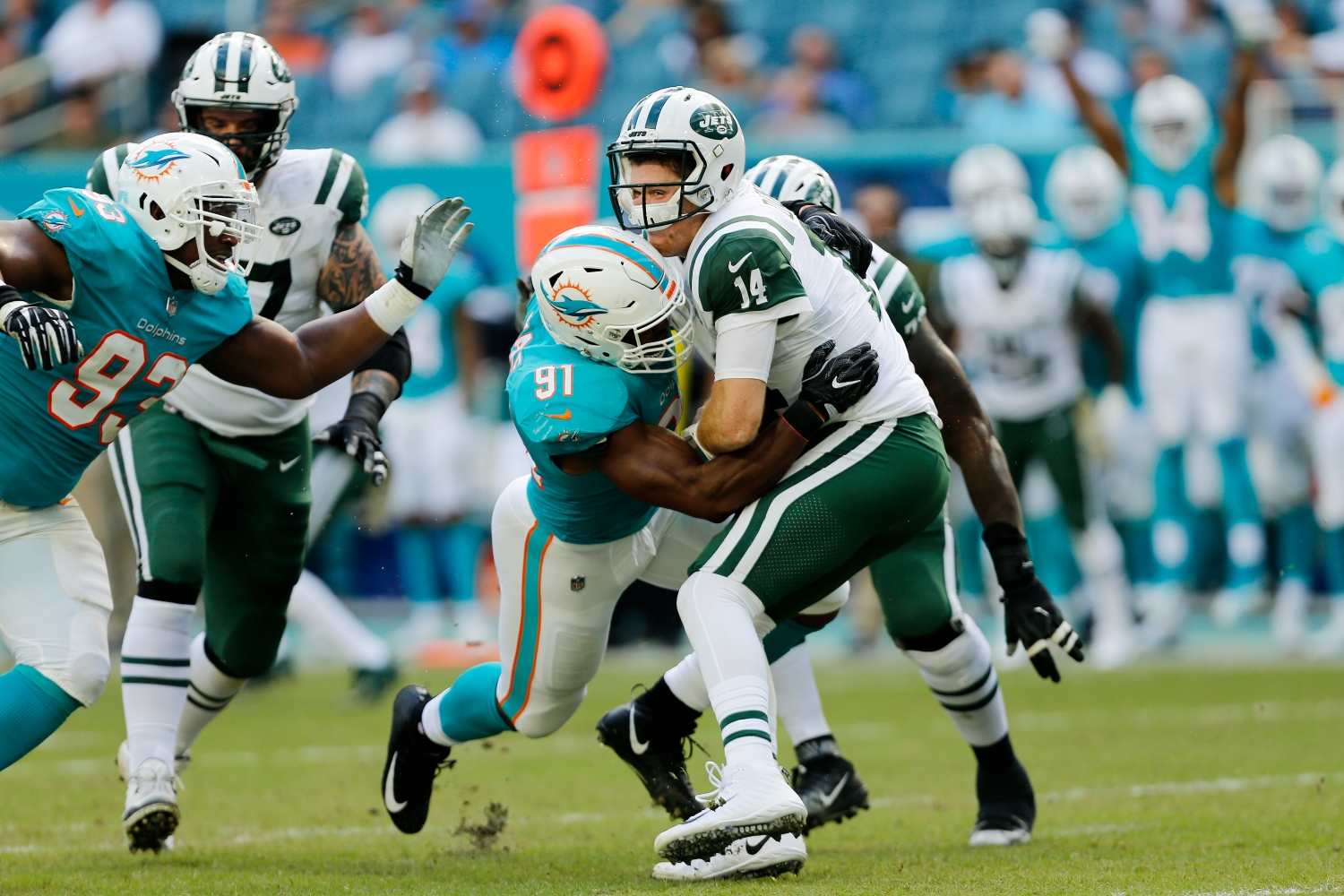 While Darnold flashed some of the traits that made him such a coveted prospect coming out of college, his time in New York featured more frustrating moments than happy ones.
Did he play a part in that?
Without a doubt.
However, it's impossible to ignore the circumstances surrounding a player who entered the league as a 21-year-old. Not only did the Jets fail to give Darnold adequate weapons, but they also ignored one of the most critical elements to a quarterback's success: proper protection.
Maccagnan's inability to construct a reliable offensive line led to disastrous results for Darnold. He got sacked 98 times and committed 20 fumbles in 38 starts, and he threw almost as many interceptions (39) as touchdowns (45). The Jets' protection problems put their young quarterback in harm's way and left Darnold in a disadvantageous position to consistently make plays in the passing game.
So as much as his struggles may have stemmed from reading coverages or making good decisions, the Jets deserve tremendous criticism for not putting together a solid front five.
The Jets' latest move should make their former quarterback absolutely livid
Fortunately for Darnold, the Panthers seem committed to doing everything possible to help him live up to his draft pedigree.
Unfortunately for the fourth-year quarterback, his old team didn't take that approach. And the Jets' latest move should make Darnold furious about the hypocrisy of their ways.
On Friday, Ian Rapoport reported the Jets agreed to terms with Morgan Moses on a one-year, $3.6 million contract. The 30-year-old can earn up to $5.3 million if he plays at least 80% of the team's offensive snaps. Tipping the scales at 6-foot-6, 330 pounds, Moses provides the Jets with a dependable, durable presence at right tackle. The 2014 third-round pick started all 16 games in each of the last six seasons for the Washington Football Team, and he represents a big upgrade over 2020 starting right tackle George Fant.
With Moses now in the mix, the Jets have an even better offensive line heading into the 2021 season. That's a positive development for Zach Wilson, but Darnold should feel insulted by the way his former team has handled fortifying the offensive line for the rookie quarterback. Not only did the Jets secure a reliable veteran in Moses, but they also drafted Alijah Vera-Tucker 14th overall to pair with 2020 first-round left tackle Meki Becton. Plus, general manager Joe Douglas added more depth at guard by signing Dan Feeney, who started 57 games for the Los Angeles Chargers after entering the league as a third-round pick in 2017.
Wilson undoubtedly has a better chance to succeed in New York simply due to playing behind a more talented offensive line. To think the Jets took such a wildly unaggressive approach to protect Darnold seems unforgivable considering they gave up three second-round picks to move up three spots to select him. Clearly, though, Douglas doesn't plan on putting Wilson in the same unenviable position as the quarterback his team has to face at the beginning of the 2021 season.
Darnold has an opportunity to exact revenge right away
In a true twist of fate, NFL schedule makers made sure Darnold received an immediate opportunity for revenge. The Panthers host the Jets in Week 1 of the regular season, so the first-round flameout has a chance to prove his old team made a massive mistake by moving on from him.
Luckily for Darnold, Carolina has plenty of playmakers who should make his life easier. When healthy, Christian McCaffrey might be the best all-around running back in the NFL. D.J. Moore and Robby Anderson both have elite speed and big-play ability, and rookie second-round pick Terrace Marshall Jr. should shine now that he's reunited with former LSU coach and current Panthers offensive coordinator Joe Brady.
While it's unclear whether the Panthers made enough improvements on both sides of the ball to put themselves in the mix for a playoff spot, one thing is for certain: Darnold will have no shortage of motivation to get off to a hot start.
After all, there isn't a better way to begin a new chapter of your career than to hand a loss to your old team.