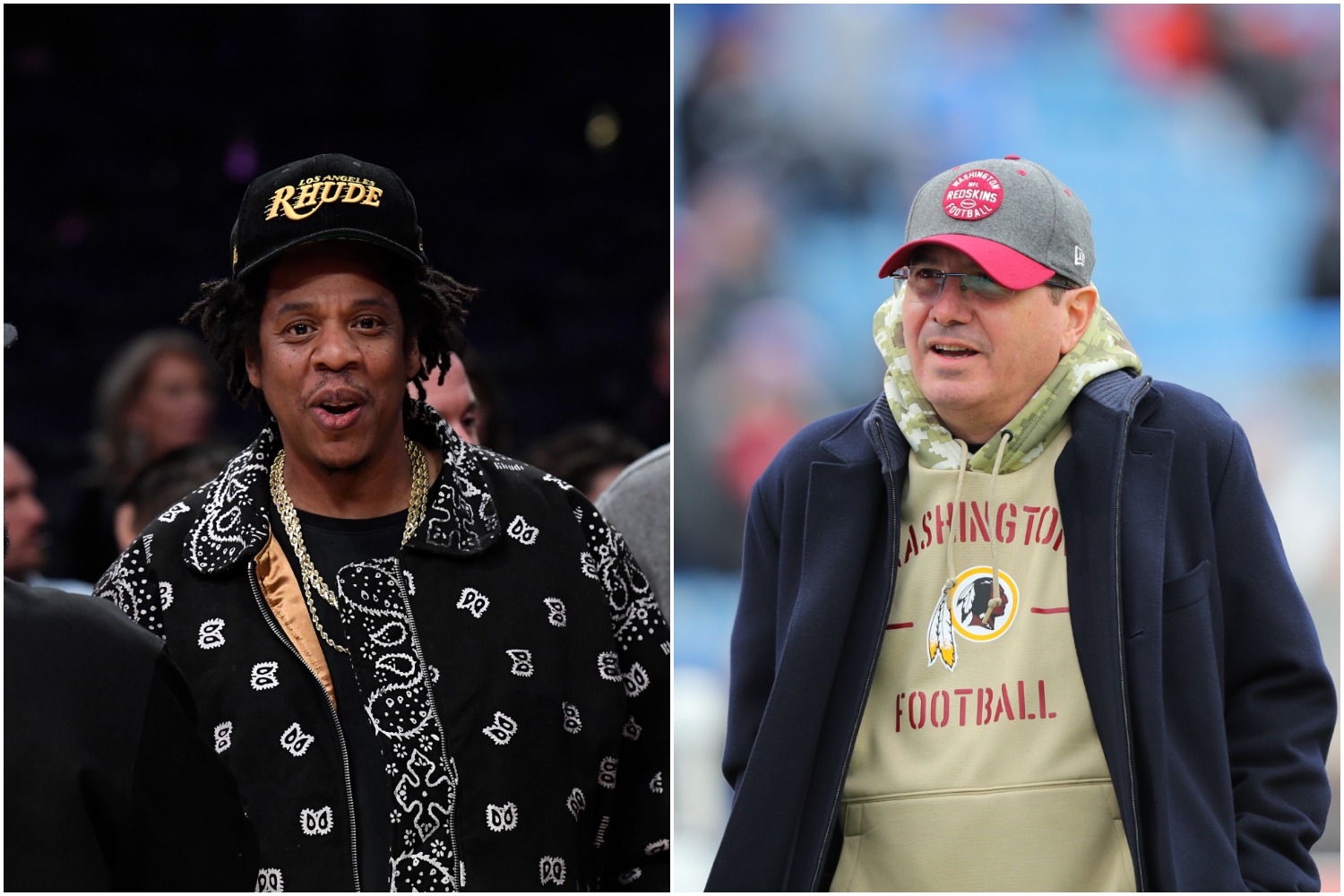 Dan Snyder Could Soon Cease Partial Control of the Washington Football Team to Legendary Rapper Jay-Z
Legendary rapper Jay-Z may soon call himself an NFL owner. Will Dan Snyder be willing to cease partial control of the Washington Football Team to a new business partner?
Could one of the most successful hip-hop artists of all time eventually have a say in running an NFL team?
That all depends on how Dan Snyder handles business moving forward. But based on the latest reports about Jay-Z's interest in investing in pro sports, don't be surprised if the controversial owner soon ceases partial control of the Washington Football Team to the legendary rapper.
A lot has changed in Washington during the last 18 months
While Snyder still remains the man in charge, much has changed in Washington over the last year-and-a-half.
In January 2020, Ron Rivera became the team's latest head coach. Highly respected around the league, hiring Rivera represented a step in the right direction for a franchise that got progressively worse under Jay Gruden.
That set the stage for a much more dramatic change.
Facing pressure from sponsors and investors (as well as other stakeholders) to change the team's controversial name, Snyder eventually gave up on fighting to keep the "Redskins" nickname alive. On July 23, the franchise officially transitioned to the Washington Football Team era.
But with a sexual harassment scandal hanging over the organization's head, Snyder looked like he would potentially be forced to sell his ownership stake. That didn't happen, though.
Instead, the exact opposite occurred.
After letting the situation drag out for close to a year, Snyder acquired the remaining 40.5% of the team from minority owners Fred Smith, Robert Bothman, and Dwight Schar in early April. To facilitate the deal, the NFL approved a $450 million debt waiver that Snyder must pay back by 2028.
And that financial obligation could force the 56-year-old owner to let Jay-Z have a seat at the table in Washington.
Dan Snyder could soon surrender partial control of the Washington Football Team to Jay-Z
At one point, Jay-Z had the Brooklyn Nets in his financial portfolio. However, after holding the title of part-owner for a decade, he sold his stake to start a sports agency called Roc Nation Sports. While that business has taken off, it looks like the award-winning rapper wants to invest in one of the NFL's most historic franchises, too.
On Wednesday, Burgundy Blog, a verified account that has provided coverage on the team since 2010, provided an interesting update about a potential business deal going down in the future.
"Nothing imminent. These things take months and sometimes break down. But I have it on good authority that Jay-Z is actively divesting assets to position himself for purchase of stake in #WFT," Burgundy Blog tweeted.
J.P. Finlay of NBC Sports Washington confirmed the report during a radio appearance that same day.
"If you listen to my podcast, I've been saying this for months," he said on 106.7 The Fan. "I heard it from somebody sort of connected to the NFL eight, nine months ago that this could happen."
Finlay specifically mentioned Snyder's debt waiver when discussing the future of the team.
"Listen, Dan Snyder just had to take out a debt to buy off the rest of the team," he said. "Eventually he's going to sell out parcels of this team again. That's how it works. You're gonna get some cash."
If the reports about Jay-Z's interest in the Washington Football Team are true, Snyder could soon give up some control to the first hip-hop artist to become a billionaire. Of course, he wouldn't be the first celebrity to invest millions of dollars on a pro sports team.
The legendary rapper would join a long list of celebrities who've invested in pro sports teams
While retired athletes like David Robinson and Grant Hill used their wealth to become part-owners of NBA teams, recognizable stars from other walks of life have also earned ownership roles by investing their riches in the pro sports world.
According to Yahoo Finance, comedian and TV host Bill Maher joined a group that paid $20 million for a minority stake in the New York Mets back in 2012. He reportedly tripled his investment once hedge fund manager Steve Cohen purchased the team for $2.4 billion last fall.
In 2009, a group of celebrities and athletes that included Gloria Estefan, Jennifer Lopez, Serena Williams, and Venus Williams purchased shares of the Miami Dolphins. Majority owner Stephen Ross reportedly sold 1% shares of the team to each star for $10 million.
Decorated singer and actor Justin Timberlake also used his riches to get into the sports ownership game. He was part of a group that invested $5 million for a 2.84% stake in the Memphis Grizzlies in 2012.
Like Sportscasting on Facebook. Follow us on Twitter @sportscasting19.