Tom Brady Lied to Himself and NFL Fans During His Recent Conversation With Late Night TV Host James Corden
Don't believe everything Tom Brady says.
After all, his job requires him to play the public relations game. And during his recent conversation with James Corden of The Late Late Show, Brady did his absolute best to try and sell NFL fans (and himself) on a few lies that simply don't add up.
No matter what he wants people to believe, though, the aging quarterback seems as motivated as ever heading into his 22nd year in the league. But if Brady accomplishes his goal of winning back-to-back titles with the Tampa Bay Buccaneers, will he finally walk away from the game that's made him one of the most recognizable and respected athletes of all time?
Tom Brady has silenced critics and doubters throughout the course of his NFL career
During his two-decade run with the New England Patriots, Brady often spoke about his brutal NFL draft experience. Slipping to the sixth round while six other quarterbacks went off the board gave the former Michigan Wolverine ample motivation to prove everyone wrong, and Brady succeeded at using any resentment or bitterness to fuel his career. In fact, even when he had clearly established a reputation as one of the NFL's biggest stars, he still carried a chip on his shoulder — something you'd expect from an unproven rookie rather than a future Hall of Famer.
Plus, when Brady faced legitimate questions about his future after a down 2013 season, he refused to go away quietly. He didn't let Jimmy Garoppolo's arrival knock him off his game. Instead, he used the selection of his potential successor as a source of motivation to prove Bill Belichick wrong. Considering he won three Super Bowl titles and essentially forced the Patriots to move on from Garoppolo, Brady seemed to do everything in his power to show he deserved to remain a key part of New England's long-term plans.
Yet, he didn't get a new contract from Belichick.
Luckily for Brady, the Buccaneers gave him a chance to prove his former head coach made a massive mistake. After years of dealing with Belichick's criticism and controlling ways, he looked refreshed, rejuvenated, and happy playing for Bruce Arians. And by taking his talents to Tampa, Brady put himself in a position to win a Super Bowl ring in his first season without Belichick as his head coach. He achieved that mission, and you have to imagine the thrill of accomplishing that feat felt particularly sweet since Belichick suffered his first losing season since Brady joined the Patriots in 2000.
The legendary quarterback lied to himself and NFL fans during his conversation with James Corden
The topic of proving himself came up in Brady's conversation with late-night TV host James Corden. But his explanation of why he still plays the game doesn't fully add up when you consider how Brady has operated in recent years.
"It's hard to walk away from something that you still feel like you can do and you wanna do," Brady told Corden. "So it's not about proving it to others what you can do, it's more about proving it to yourself. And I still feel like even though I'll be 44 this year, I still have a chance to prove it to myself that I can still do it at 44 because I really worked to a point where I can still do it at this age."
The 43-year-old quarterback may want everyone to believe he doesn't care about proving himself to others, but that seems disingenuous.
Did Brady pick the Buccaneers so he could show himself he could still play at a high level? Or did he choose to continue his career to make Belichick pay for doubting him and letting him walk?
Does he refuse to retire because he wants to prove to himself that he can play until he's 45? Or does he simply want to show the Patriots they should have invested in him? Plus, the TB12 brand stands to benefit from Brady lasting as long as possible in the league.
Brady lied to himself and fans even further by saying he never thinks about being the greatest quarterback of all time. Corden made light of the comment, but nobody should believe it for a second.
Does anyone really think one of the most popular athletes in the world doesn't view himself as the best at his position? Brady's self-confidence has helped him become an all-time great, so it seems impossible that he never thinks about (or has accepted) being the GOAT.
Should Brady retire if the Buccaneers win back-to-back Super Bowl titles?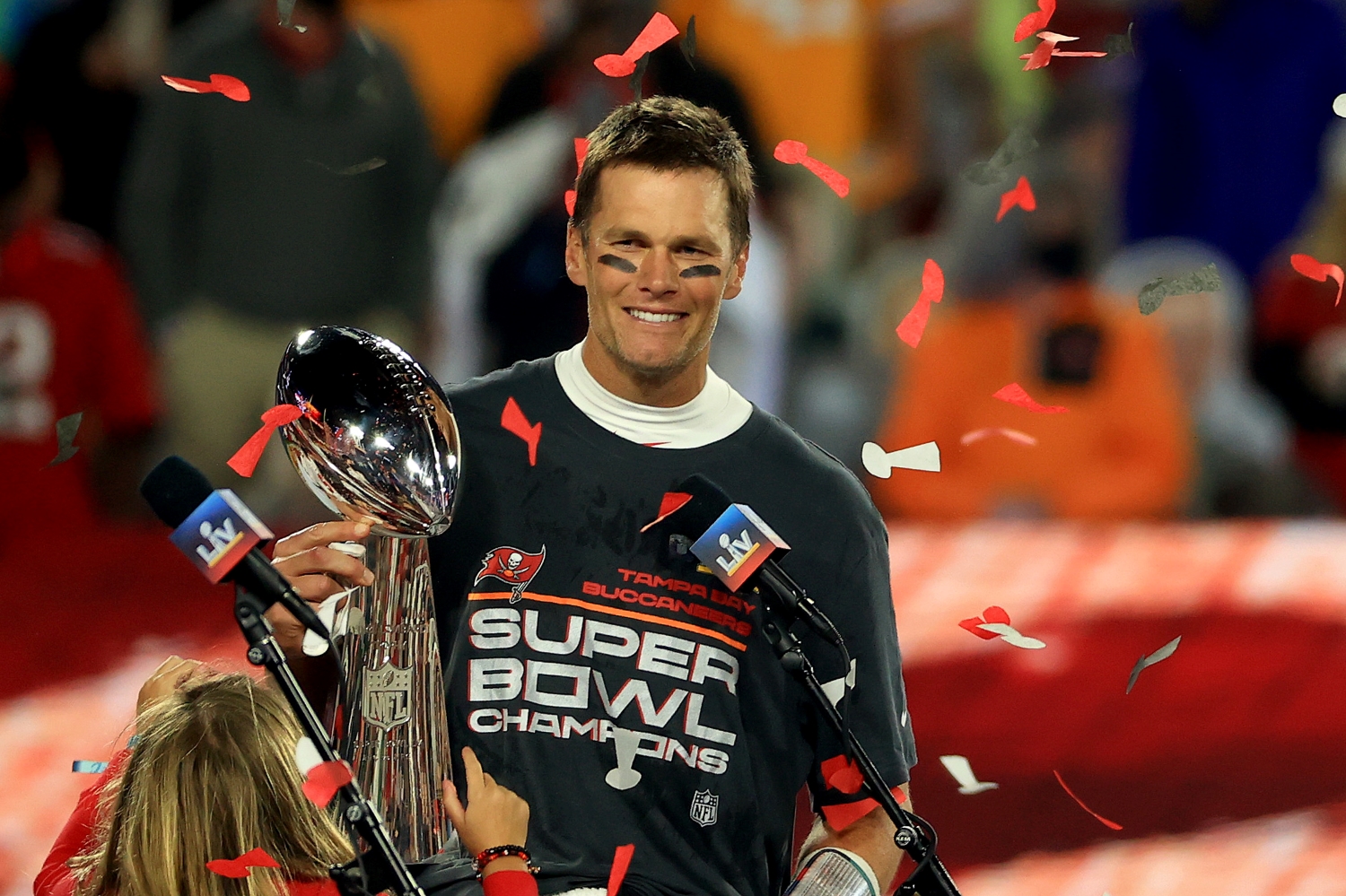 Could motivation finally run out for Brady after the 2021 season? Or will he come back for at least another year of football?
In many respects, it makes sense for the 14-time Pro Bowler to hang 'em up if the Buccaneers repeat as Super Bowl champions. If Brady captures ring No. 8, what else does he have left to prove? He already locked down the GOAT title years ago, so it's not as if he needs to add anything else to his resume. He can retire on top, spend more time with his family, and build his financial fortune in other ways.
Then again, perhaps Brady will want to keep going for another year or two.
Whatever his motivation is, Buccaneers fans won't care one bit as long as he does his job.
And no matter what Brady said to Corden, it's undeniable that he's the best in the business.