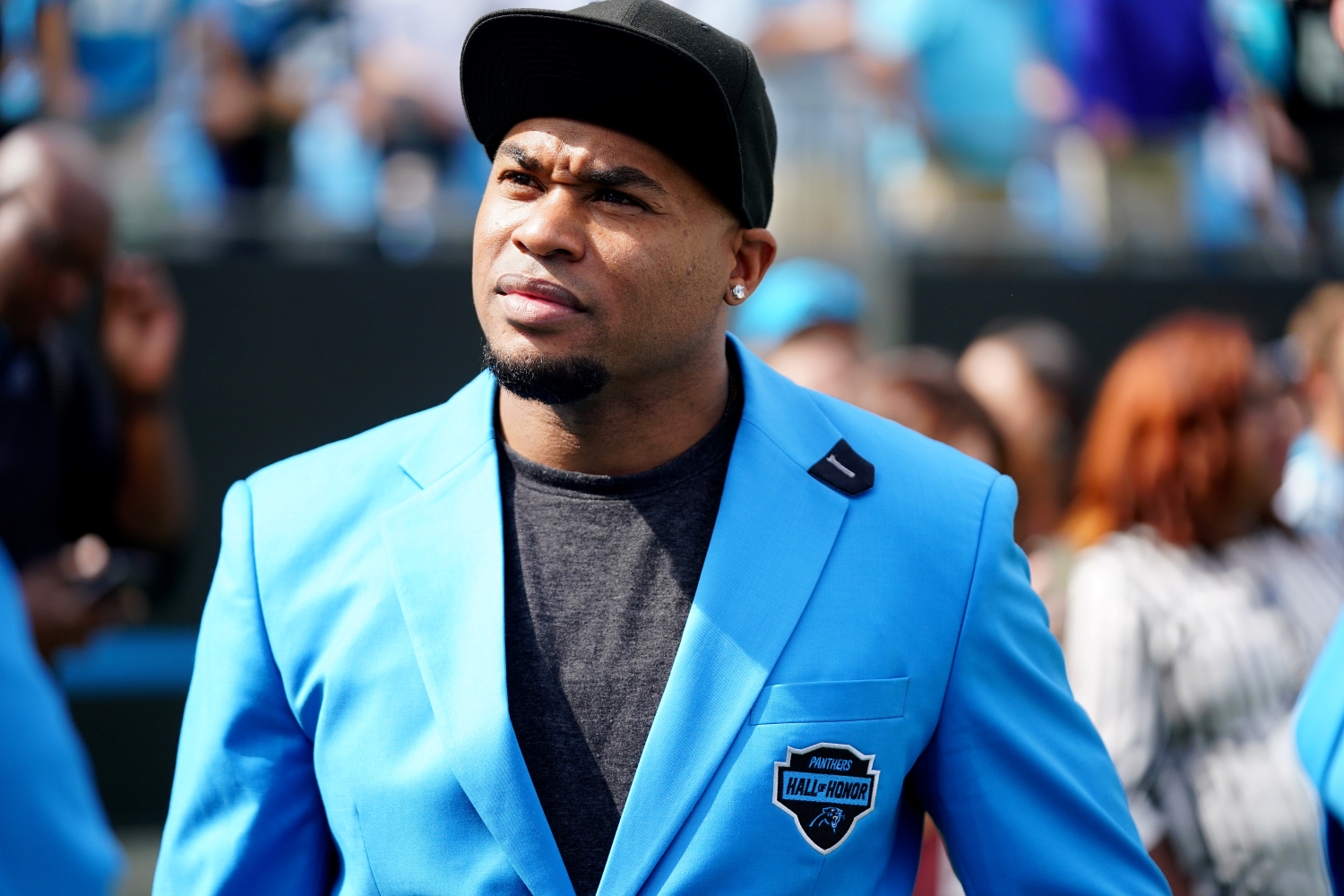 Panthers Legend Steve Smith is Returning to Carolina to Learn a New Position
Steve Smith might be the best player in Panthers history. However, the NFL legend will return to Carolina to learn a new role this summer.
Steve Smith spent nearly his entire 16-year NFL career with the Carolina Panthers. During his time with the team, he established a reputation as one of the league's most dynamic (and brash) receivers. Needless to say, Smith provided Panthers fans with plenty of happy memories because of his abilities as a football player.
Although the Los Angeles native hung up his helmet and shoulder pads for good five years ago, Smith hasn't strayed far away from the NFL. Fittingly, his latest career move will take him back to a familiar place. Only this time, Smith will have to perform a much different set of job duties for the Panthers.
Panthers fans watched Steve Smith dominate defensive backs for more than a decade
The Panthers stole a Hall of Fame-caliber receiver in the third round of the 2001 NFL draft. Even though he lasted until the 74th overall pick, Smith quickly showed he should have gone much higher.
After earning first-team All-Pro honors as a rookie thanks to his return skills, the 5-foot-9, 195-pound wideout broke out with 54 catches for 872 yards and three touchdowns in his second year with the Panthers. That set the stage for a decade-long run of success that included Smith winning the 2005 NFL Comeback Player of the Year Award. He came back from a broken leg to lead the league in catches (103), receiving yards (1,563), and touchdown receptions (12).
Smith ultimately recorded seven 1,000-yard seasons in 13 years with the Panthers. He also earned all five of his Pro Bowl selections during that stretch. Although he spent the final three years of his NFL career with the Baltimore Ravens, Smith clearly cemented his status as a franchise legend while starring in Carolina.
The franchise legend is coming back to Carolina to learn a new position
Already a member of the Panthers' prestigious Hall of Honor, Smith has a chance to add another layer to his legacy in Carolina. In fact, the 42-year-old can write an entirely new chapter of his story once training camp kicks into high gear.
Panthers reporter Darin Gantt published a story on the official team website on Tuesday announcing Smith will work alongside new play-by-play announcer Taylor Zarzour as an analyst for the 2021 preseason. Though he's done pregame, postgame, and halftime spots as an analyst for NFL Network, Smith has never called a game.
However, he does have one factor working in his favor: familiarity.
Smith and Zarzour started building a rapport a decade ago through their shows together on local sports talk radio station WFNZ.
"I mean, I had the greatest player in franchise history as my sidekick," Zarzour said. "Over the years, it just developed, and it got to the point where we treat each other as brothers. So when this opportunity came up, I called Steve, and I said, 'I'm in if you're in.'"
Smith's charisma and knowledge of the game should shine though in a live TV setting. Plus, he has an experienced partner in the booth who can provide pointers.
But will the legendary receiver have good things to say about his beloved team once the preseason begins?
With Smith making a transition of his own, can the Panthers transform into a playoff team?
With Smith taking on a new position with the Panthers, it's clear times are changing in Carolina. That doesn't necessarily mean Matt Rhule's team should be considered a viable playoff contender this year, though.
The Panthers have a lot of new faces on both sides of the ball. And nearly all of them come with question marks attached.
Can former New York Jets quarterback Sam Darnold resurrect his career running Joe Brady's offense?
Will wide receiver Robby Anderson (Darnold's ex-teammate) live up to his two-year, $20 million contract?
Does 2021 second-round pick Terrace Marshall Jr. have the ability to make an impact as a rookie?
On the other side of the ball, projected starting middle linebacker Denzel Perryman has to prove he can stay on the field. Considering he never played 16 games in any of his six seasons with the Los Angeles Chargers, Perryman doesn't seem like a strong bet to remain healthy all year.
Fellow free-agent signee Hasson Reddick has to silence critics who believe his breakout 2020 season was an aberration. The 2017 first-round pick totaled just 7.5 sacks during his first three years with the Arizona Cardinals. Was Reddick's 12.5-sack campaign a sign of things to come? Or will he fail to replicate his success from a year ago?
Clearly, Steve Smith will have no shortage of topics to talk about when he starts his new gig later this summer.