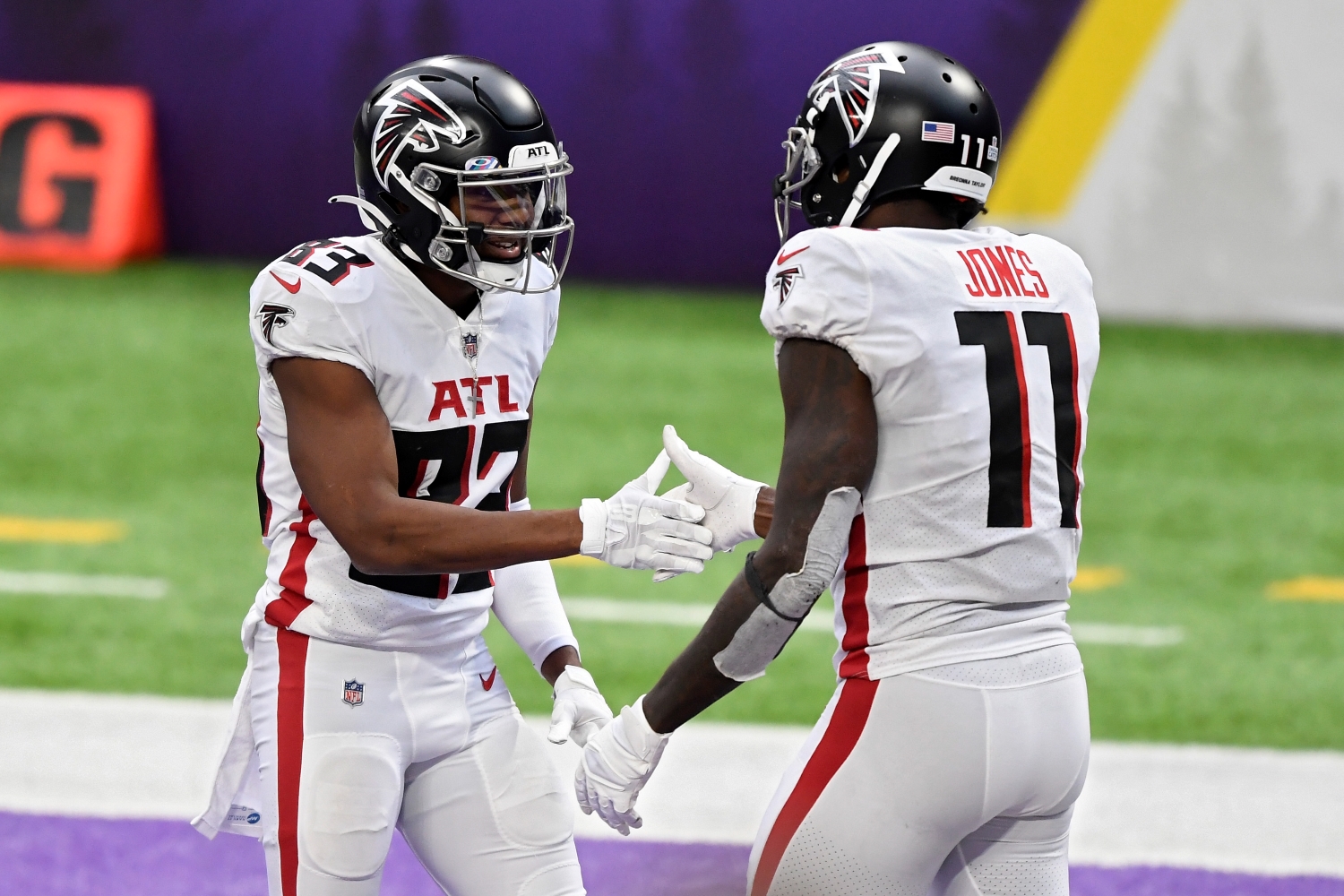 Julio Jones Changed the Course of Russell Gage's NFL Career With 1 Word of Advice
Will Russell Gage continue to build off his breakout 2020 season? If he continues to follow Julio Jones' one-word piece of advice, the odds of that happening look favorable.
Julio Jones routinely got the best of defensive backs during his decade-long run with the Atlanta Falcons. A true once-in-a-generation talent, he utilized a terrifying combination of size, speed, and strength to rack up prolific numbers as one of the NFL's most electrifying receivers. Though his Falcons career officially came to an end last week, Jones' influence may still be felt in Atlanta.
After all, Matt Ryan will have to rely on Russell Gage even more than he did a year ago. And if the young wideout continues to implement Jones' one-word piece of advice, he has a chance to change his life forever.
Julio Jones gave Russell Gage a first-hand glimpse at greatness in Atlanta
The Falcons began preparing for life after Jones in 2018. After selecting Georgia's Calvin Ridley with their first-round pick, they doubled-down by taking Gage in the sixth round. A talented athlete who played on both sides of the ball at LSU, he joined Atlanta as a high-upside prospect in need of some seasoning.
Luckily for Gage, he got a chance to witness one of the most impressive seasons of all time by a receiver during his rookie year.
Jones' 2018 campaign included a league-high 1,677 receiving yards on 113 catches. The 6-foot-3, 220-pound wideout also caught eight touchdowns while earning Pro Bowl honors for the sixth time in his career.
Although Jones' numbers took a dip the following year, he still posted an impressive line of 99/1,394/6. Meanwhile, Gage proved capable of handling a more prominent role. After catching six passes for 63 yards as a rookie, he caught 49-of-74 targets for 446 yards and one touchdown. As it turns out, he received some career-changing advice from Jones during his breakout season in 2019.
A single word of advice changed the course of Gage's NFL career forever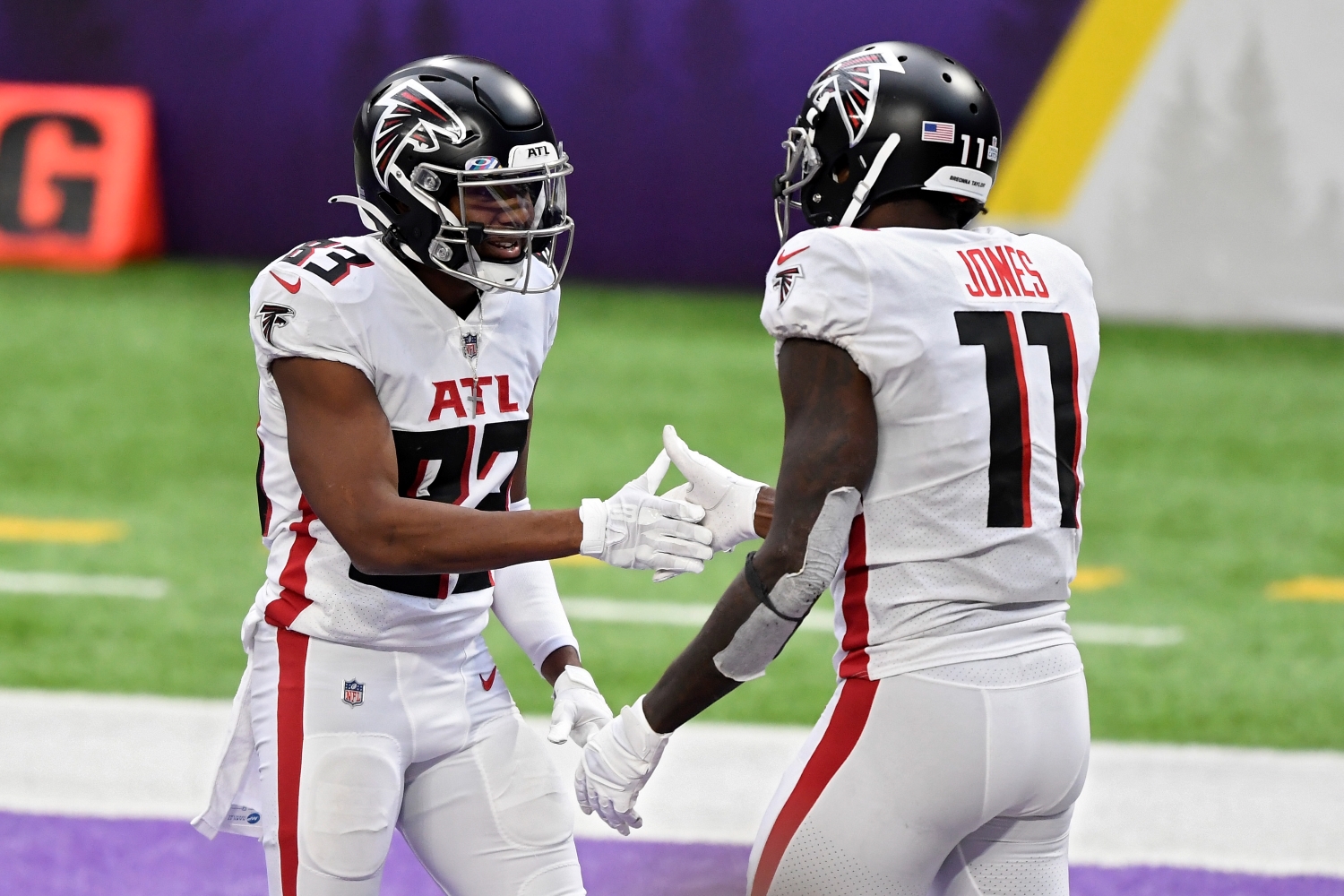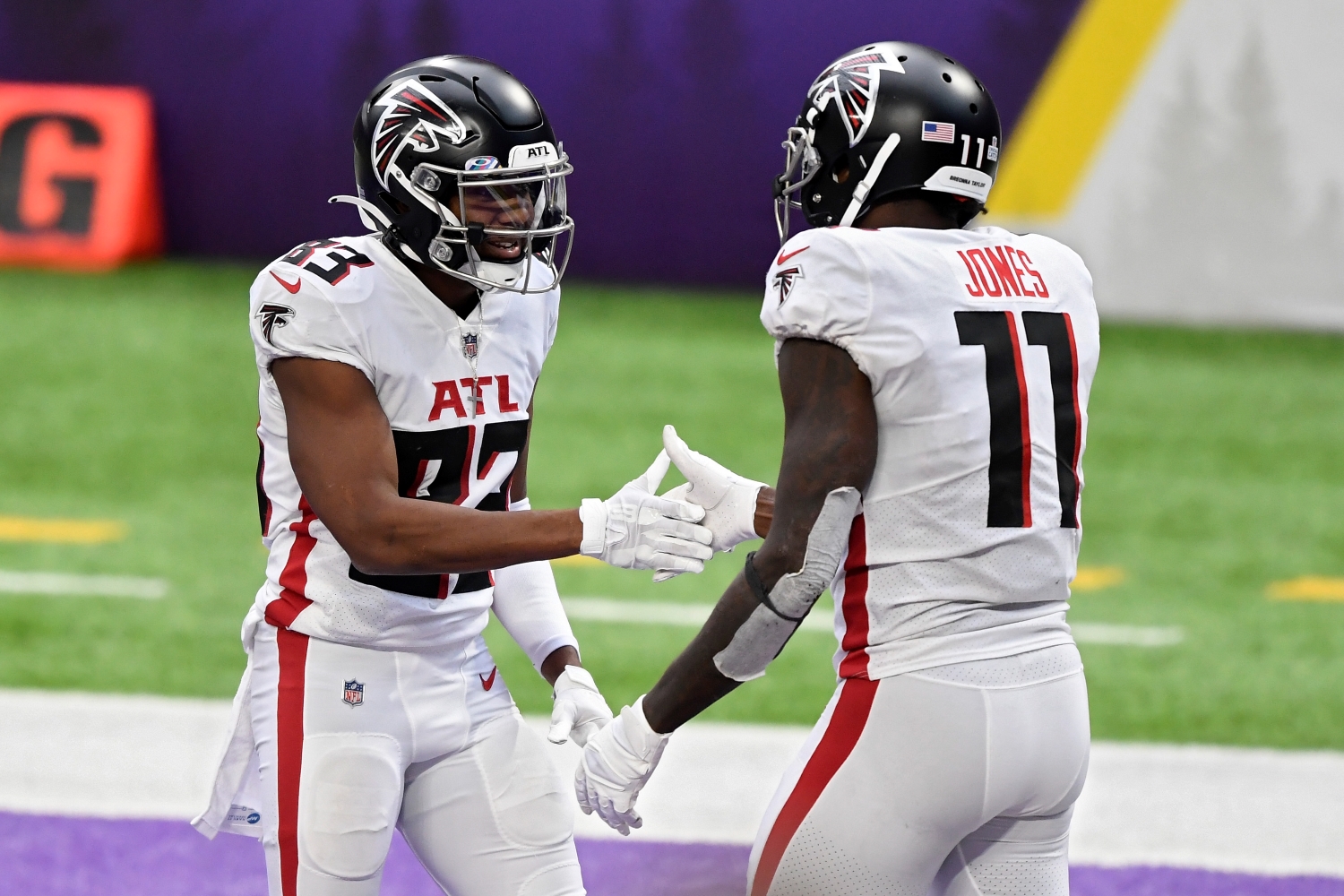 Sometimes, it's best to take the simple approach.
So when it came time to give Gage some feedback, Jones made sure to not overcomplicate things. According to Michael Rothstein of ESPN, the longtime Falcons star gave his understudy one word of advice: run.
"That was his biggest thing," Gage said. "Speed, speed off the ball, running. A lot of guys get too caught up in thinking and thinking into their routes. Just understand that even if you make a mistake, make it full speed."
He further added, "Run. That's a receiver's biggest asset is his speed. So whatever it is, you need to display it."
Embracing that concept midway through the 2019 season changed everything for the young wideout. Gage finished fourth on the team in receiving yards, and his role expanded in 2020 as a result of Jones' injury issues.
Operating primarily out of the slot, he set career-highs across the board. And by establishing a rapport with Ryan, Gage proved he can be a reliable weapon for the Falcons. But with Jones gone, can he improve upon last year's totals of 72 catches for 786 yards and four touchdowns?
What does the future hold for Jones and his former Falcons teammate?
The stakes are high this season for both wideouts.
In Gage's case, he needs to show he can still make a consistent impact without having Jones command attention from defenses. If he continues to build momentum, he'll position himself for a nice raise next offseason. Set to make $2.183 million in the final year of his rookie contract, Gage could easily triple or quadruple his salary if he takes another step forward. As an impending free agent, he has plenty of motivation to step up in the first year of the post-Jones era.
Speaking of the seven-time Pro Bowler, his future also hangs in the balance. The Tennessee Titans hope Jones can recapture his All-Pro form coming off an injury-shortened season. At 32 years old, though, it's fair to wonder if Jones is about to drop off the proverbial cliff. If he doesn't live up to the hype in his first year in Tennessee, could the experiment come to an abrupt end?
Ironically, while Jones' career might be trending in the wrong direction, Gage's future looks brighter than ever.
And if following his former teammate's advice leads to more success on the field, Gage will be running to the bank to deposit a hefty signing bonus check sooner than later.