Carolina Panthers First-Round Pick Jaycee Horn Takes Advantage of New NFL Rule to Honor His Idol Kobe Bryant
As teams start to sign their 2021 NFL draft picks, news is beginning to come out about what numbers the players will wear for their new teams. Some rookies will stick with their numbers from college, while others will pick a new number to mark their fresh start in the pros. 
For one player, Carolina Panthers No. 8 overall pick Jaycee Horn, the new number has special significance. The South Carolina cornerback will wear a number that honors not him or his famous father but his favorite NBA legend.  
Jaycee Horn is no stranger to pro athletes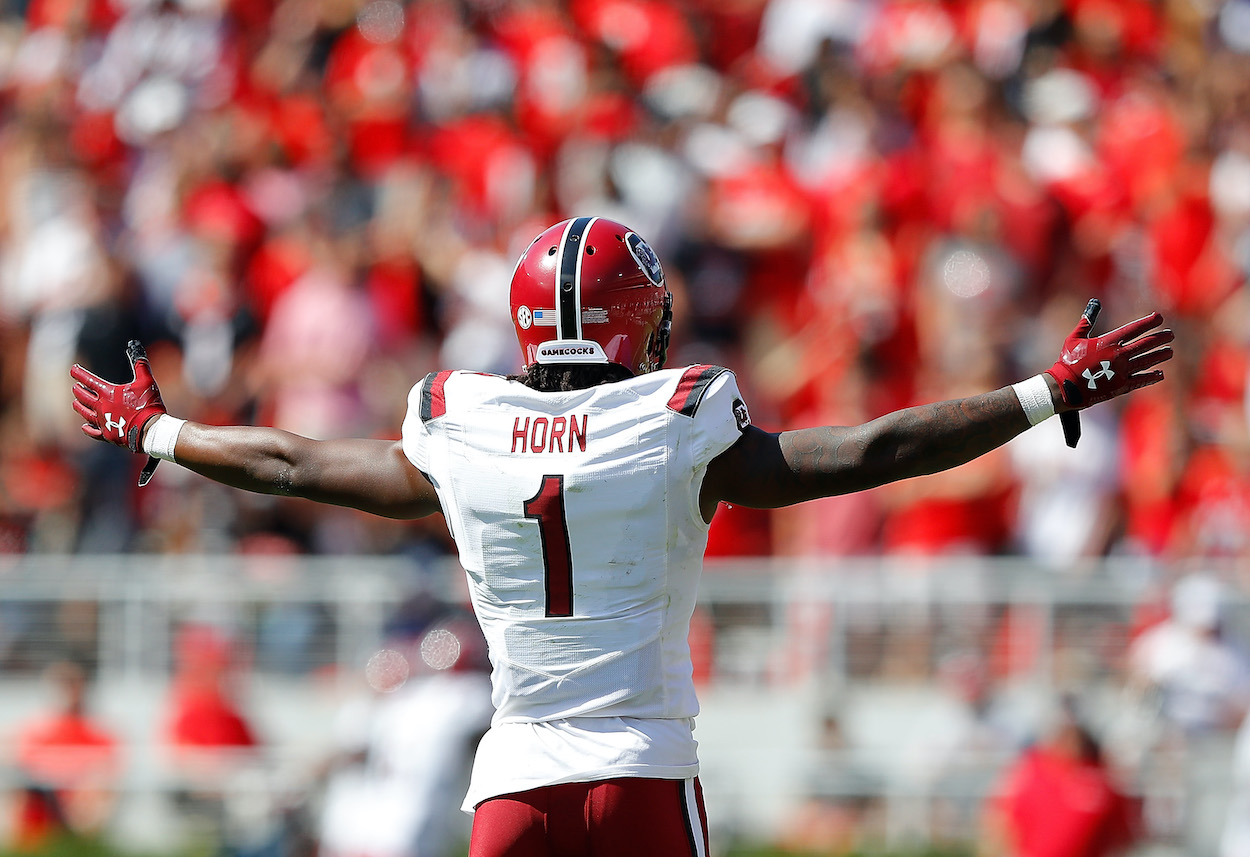 Horn, one of the top cornerbacks in the 2021 NFL draft, grew up around professional athletes. His father, Joe Horn, played 12 seasons in the NFL. He started his career with the Kansas City Chiefs and ended it with one season in Atlanta but is best known for his time with New Orleans Saints. 
Horn played seven seasons in the Big Easy. The team made the playoffs in his first year and his last, but most of his time as a Saint was on teams that missed the postseason. However, this team futility didn't stop Horn from earning individual accolades. 
The wide receiver, who came from the tiny Itawamba Community College in Mississippi, made four Pro Bowls with the Saints. He was the team's leading pass-catcher from 2000-2004 and had 7,622 receiving yards and 50 touchdowns in New Orleans. 
Horn is best known though for his ingenious celebration following one of these touchdowns. During a nationally televised game against the New York Giants in 2003, Horn caught a touchdown pass. He ran over to the goalpost padding and pulled out a cellphone he had stashed before the game. The celebration would go down as one of the most famous in NFL history. 
The NFL has a new rule regarding positions and jersey numbers
The 2021 NFL season will look a little different on the field. The league made an aesthetic change in the offseason that will allow position groups to wear a broader range of numbers in 2021 and beyond. 
During the 2020 season, due to expanded rosters based on COVID-19 restrictions, some teams had a problem finding jersey numbers for all the players in a position group. To help alleviate this problem, the NFL expanded the range of jersey numbers each group can wear. According to NFL.com, the new rules are: 
The expanded jerseys will allow running backs, tight ends, fullbacks, H-backs and wide receivers to wear numbers 1-49 and 80-89; defensive backs can choose from 1-49; linebackers 1-59 and 90-99; offensive linemen 50-79; and defensive linemen 50-79 and 90-99. QBs, kickers and punters will remain in 1-19.
At least one notable player has called these new rules "dumb," but it seems that most players are excited about the change. Some players will be able to go back to the number they wore in college, which has no jersey number restrictions. 
Horn announced he will wear No. 8 in honor of Kobe Bryant
Horn is one of the NFL rookies who will be taking advantage of this new rule in the upcoming season. The cornerback, who wore No. 1 his junior season at South Carolina, announced on Twitter that he will be wearing No. 8 for the Carolina Panthers in the NFL. 
The announcement included a photoshopped image of him in a No. 8 jersey for the Panthers along with the hashtag, #RIPKobe. This isn't the first time the defensive back has tweeted about the late NBA superstar. 
Earlier in 2021, following the first anniversary of Bryant's death, Horn wrote on Twitter, "The world just feel like it's missing a big piece ever since Kobe left. Long Live the Greatest!"
Horn has yet to play a down in the NFL, but it is already clear that when he does, he will try and emulate two great players on the field. If he can combine the win-at-all-costs mentality of Bryant with the confident swagger of his father, Horn could easily become one of the league's most popular stars. 
If this happens, there will surely be a lot of No. 8 Panthers jerseys in the stands at Bank of America Stadium for years to come. 
All stats courtesy of Pro Football Reference