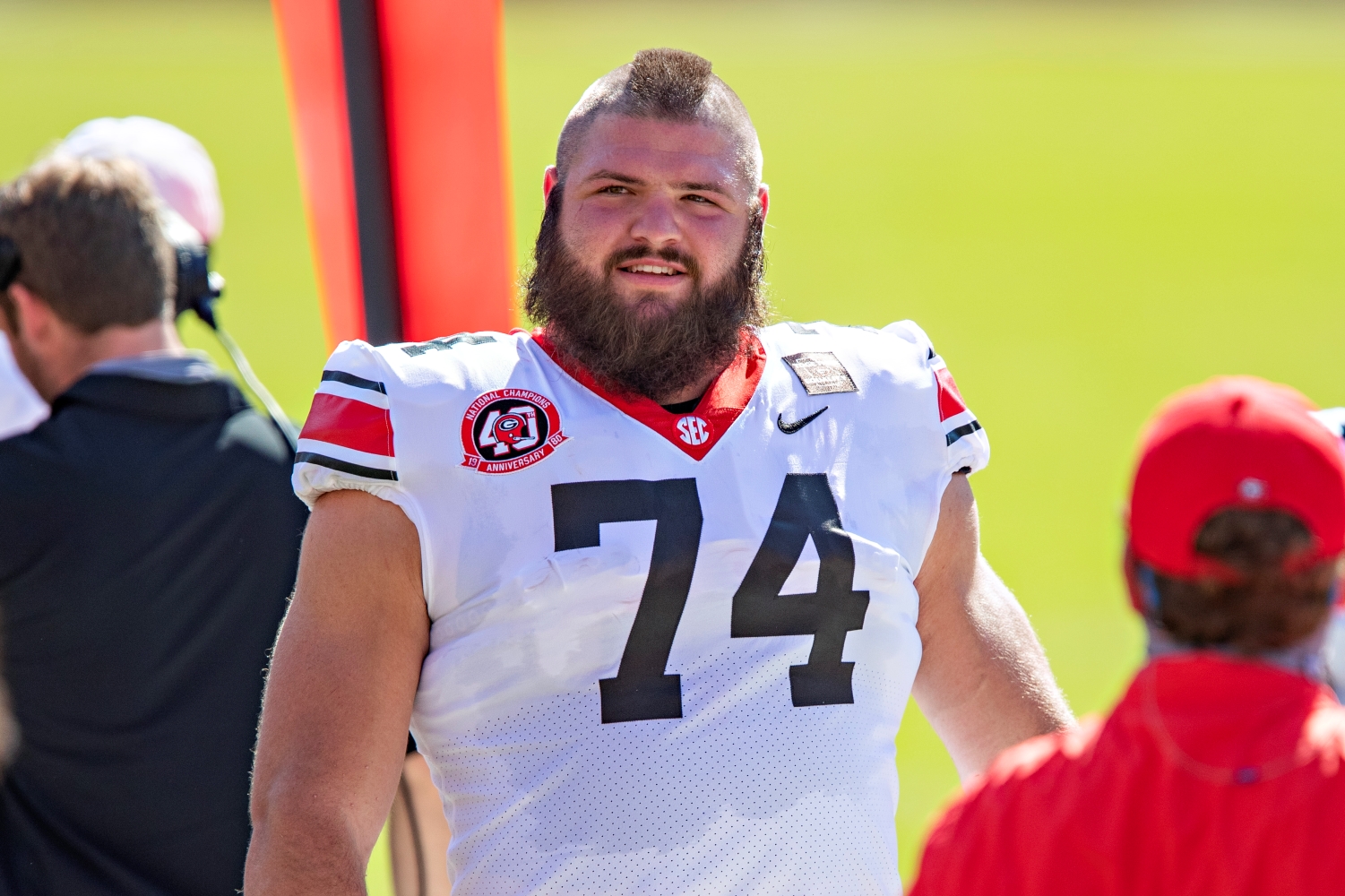 From Devouring a Half-Dozen Double Cheeseburgers to Squatting 700 Pounds, Ravens Rookie Ben Cleveland Has Spent Years Preparing His Body to Withstand the Pressure of Protecting Lamar Jackson
Baltimore Ravens rookie Ben Cleveland has a chance to become a dominant offensive lineman thanks to his combination of size and power. Luckily for Lamar Jackson, the newest member of his protection squad has spent years preparing his body to withstand the pounding of playing at the NFL level.
NFL players don't live ordinary lives. After all, they deal with levels of physical and mental stress that few of us could ever imagine. And in the case of Baltimore Ravens rookie Ben Cleveland, the preparation process to become a pro football player began at a time when Ray Lewis still leveled running backs for a living.
From chowing down on cheeseburgers to subjecting himself to some serious squat sessions, the powerful guard has done everything possible to get himself ready to dominate defensive linemen for years to come. And if Cleveland carries over his college success to the NFL, Lamar Jackson and the Ravens' offense could take a substantial in 2021.
Ben Cleveland will try to build off his success at Georgia in Baltimore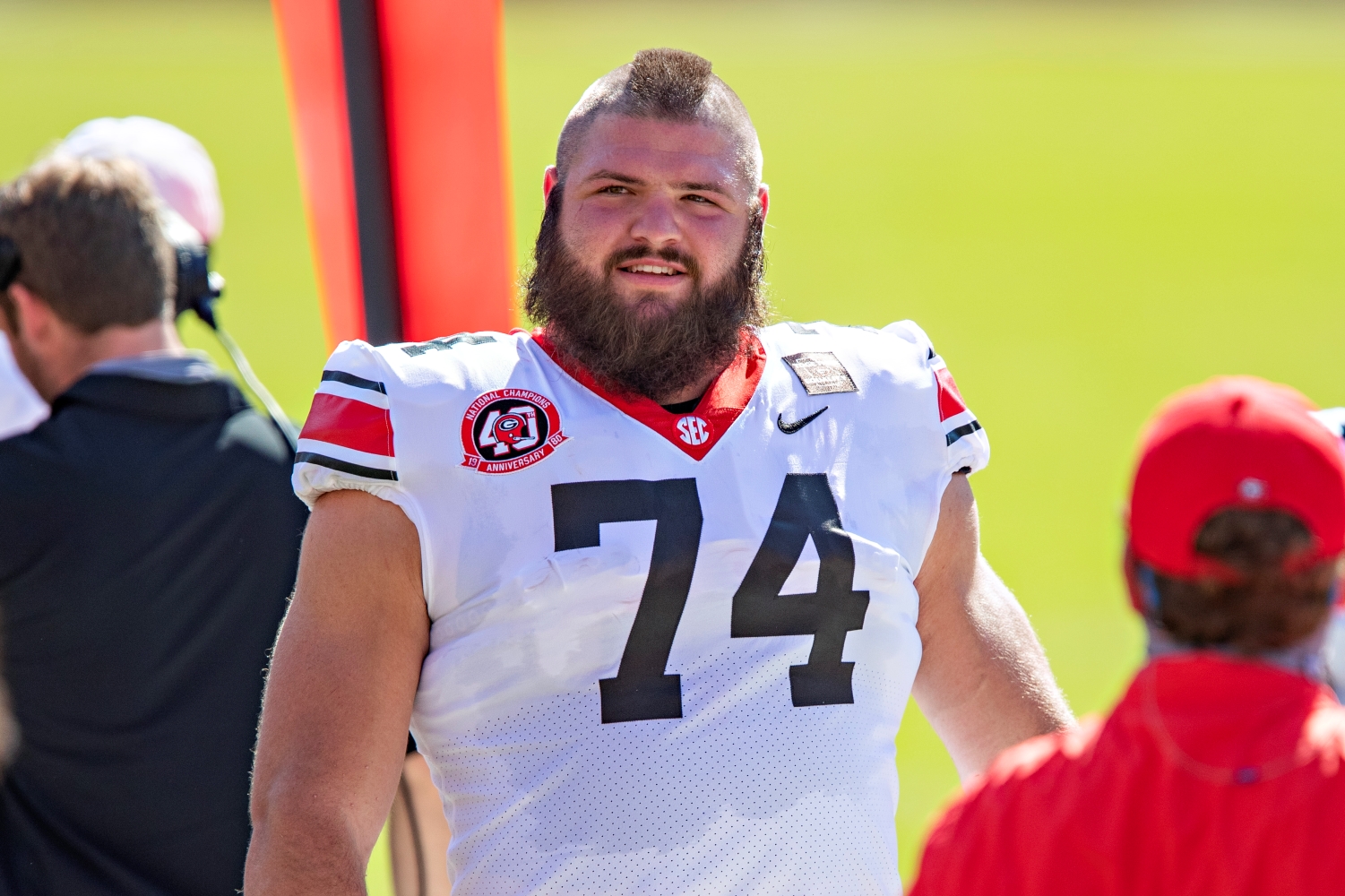 The Ravens may have traded away one of the most imposing offensive linemen in the NFL this offseason, but they also added a talented one in the form of towering guard Ben Cleveland. Baltimore took the 2020 first-team All-SEC selection with the 94th overall pick in the 2021 NFL Draft. Between his impressive physical profile and game film, it's easy to see why Cleveland heard his name called on the second day of the draft.
Tipping the scales at 6-foot-6, 357 pounds, the Toccoa, Ga., native didn't stray far from home to play college football. Cleveland spent the last five years in Athens suiting up for the University of Georgia Bulldogs. After redshirting as a freshman, he saw plenty of action as a part-time starter at right guard from 2017-19.
Luckily for Cleveland, he saved his best season for last.
The powerful blocker earned second-team All-America honors from The Athletic thanks to his consistent level of performance over the course of Georgia's nine-game season. His ability to move in space stood out on film, especially in the running game. Cleveland's combination of size and athleticism (he ran a 4.97 40-yard dash) obviously enticed the Ravens to use a valuable pick to secure his services. At 22 years old, he already has an NFL-caliber frame. And while he looks to have a bright future ahead of him in Baltimore, Cleveland wouldn't have gotten to this point without years of hard work and an unbelievable amount of calories.
Downing double cheeseburgers and squatting 700 pounds has helped the Ravens rookie prepare his body to withstand the rigors of the NFL
A coveted recruit coming out of Stephens County High School, Cleveland stood out from the rest of his peers from an early age. In fact, he stood 6-foot-2 at the age of 13.
Needless to say, genetics helped set him up for future success on the football field. But it also took many grueling hours in the gym and quite a few family-sized meals to make Cleveland into the athlete he is today.
ESPN's Jamison Hensley delivered a behind-the-scenes look at how the promising rookie put in the time, energy, and chewing power to put himself on a path to play in the NFL. Cleveland once ate a half-dozen double cheeseburgers in one sitting, and he became known for consuming two whole pizzas during the hours after football practice and before going to sleep.
His diet helped him gain the strength and power to deliver bone-crunching blocks as a high-school player. And once he joined the Bulldogs, he got a chance to enhance those traits by training with other elite athletes. Cleveland can reportedly squat 700 pounds. Plus, his 545-pound maximum bench press shows he has the upper-body strength to overwhelm defenders.
Ultimately, his physical tools and upside simply proved too much for the Ravens to pass on.
"John [Harbaugh] has been talking about Cleveland for like two months, really," Ravens general manager Eric DeCosta said after selecting the talented guard in the 2021 NFL Draft. "So it was a relief for me to actually see him available when we picked. This was John's pick."
Can Cleveland and Co. keep Lamar Jackson out of harm's way during the 2021 season?
The Ravens' training staff probably won't tell Cleveland to eat double cheeseburgers after working out. Then again, perhaps it's best to let the hulking guard do things his own way. After all, it got him this far, right?
With access to top-class nutritionists and high-level strength and conditioning coaches, Cleveland has an opportunity to work on any weaknesses (not that he seems to have many) and develop even more strength, power, and flexibility. Anything he can do to enhance a physical profile that already looks more than capable of taking care of business in the trenches will only benefit Lamar Jackson and the Ravens' offense in the long run.
Although he doesn't play a glamorous position, Cleveland has an important role to fill. Baltimore operates a run-based offense that's predicated on the offensive line generating consistent movement. The former Bulldog will have to show he can execute different blocking assignments, including pulling and making blocks in space. If the Ravens experience any hiccups along the offensive line, that will make life difficult for Jackson and the talented running back tandem of J.K. Dobbins and Gus Edwards.
Cleveland obviously faces an uphill battle to play at a high level as a rookie, but he certainly has the traits to get the job done. And if he can become half the player longtime right guard Marshal Yanda was, the Ravens will be in good hands for years to come.