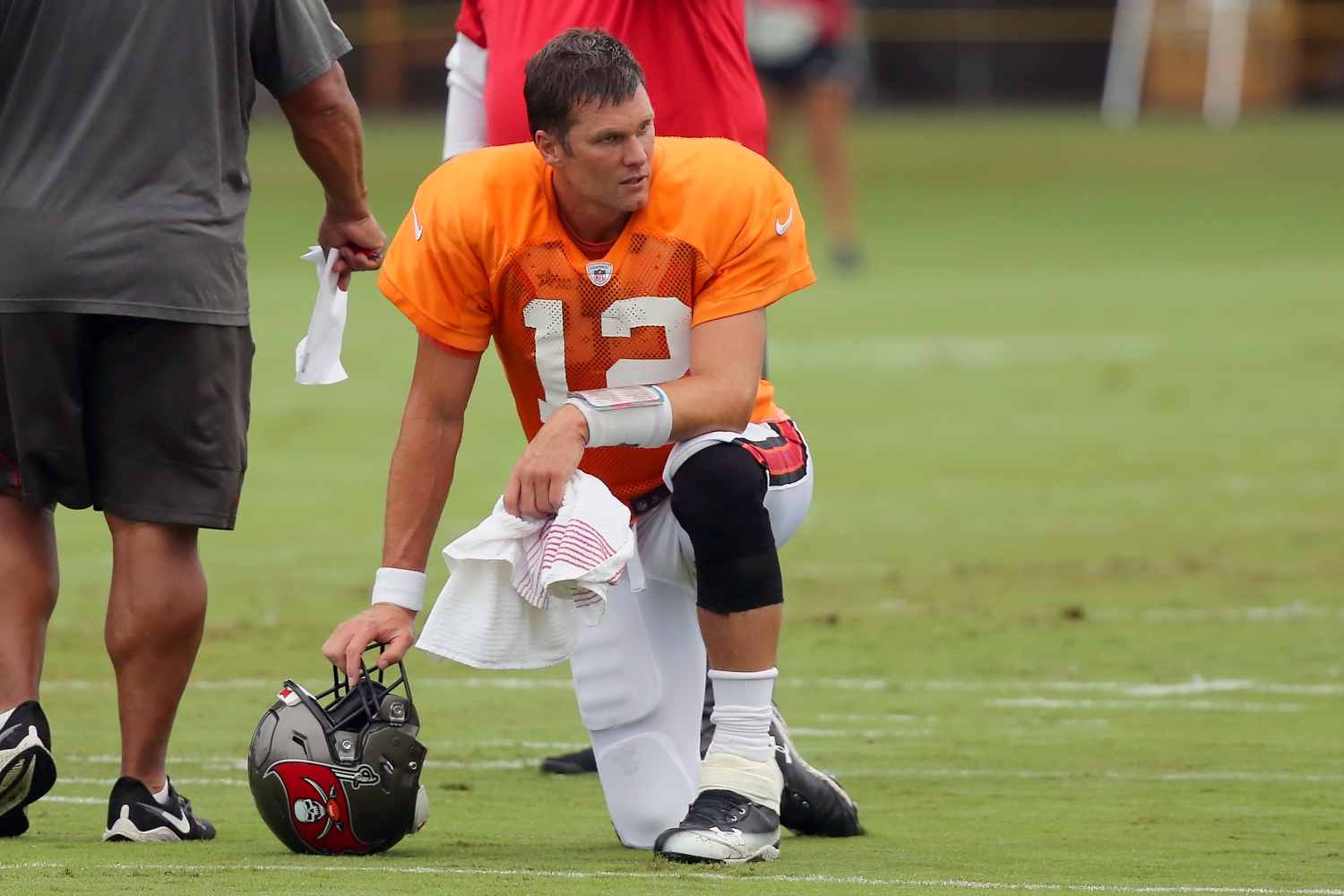 The Shocking Truth About Tom Brady's Knee Injury Proves the GOAT and the Buccaneers Have Been Lying to Fans All Long
With new reports emerging about the true nature of Tom Brady's mysterious knee injury, it's clear both the legendary quarterback and the Buccaneers have been lying to fans all along
Tom Brady recently admitted to lying the majority of the time he steps in front of the cameras. However, it turns out the seven-time Super Bowl champion kept a major secret hidden that speaks to both his toughness and his tendency to take liberties with telling the truth. In fact, the shocking reality of Brady's much-discussed knee injury shows that both the GOAT and the Tampa Bay Buccaneers have been lying to fans all along.
Tom Brady made a surprising admission after winning his seventh Super Bowl ring
Despite joining a new team for his age-43 season, Brady didn't let that stop him from finding his way back to the Super Bowl. Coming off a down year by his lofty standards, the longtime New England Patriots star reminded everyone why he's considered the greatest quarterback of all time. Brady played all 16 games for the fourth straight season, and he benefitted tremendously from playing with a much stronger supporting cast than the one he left behind in Foxborough.
After completing 65.7% of his passes for 4,633 yards and 40 touchdowns—his highest total since he threw 50 in 2007—the battle-tested signal-caller led the Buccaneers on a dominant postseason run that culminated with a lopsided victory against the Kansas City Chiefs in Super Bowl 55. Needless to say, it seemed like everything went right for Brady during his first year in Tampa.
However, the future Hall of Famer made a surprising admission in May that naturally raised questions about whether the Buccaneers followed league rules on reporting injuries.
"I had a pretty serious knee surgery this offseason, which is the first surgery I've had in about 12 years," Brady said on Hodinkee Radio. "I was really interested to see how it was going to go because last year it just took a lot. Every week I was kind of tending to my knee, and I thought I would love to see a season where I can focus on some other strength stuff that I want to do, some other technique stuff where I'm not just focused on protecting my knee all the time."
The shocking truth about Brady's knee injury proves he and the Buccaneers have been lying to fans all along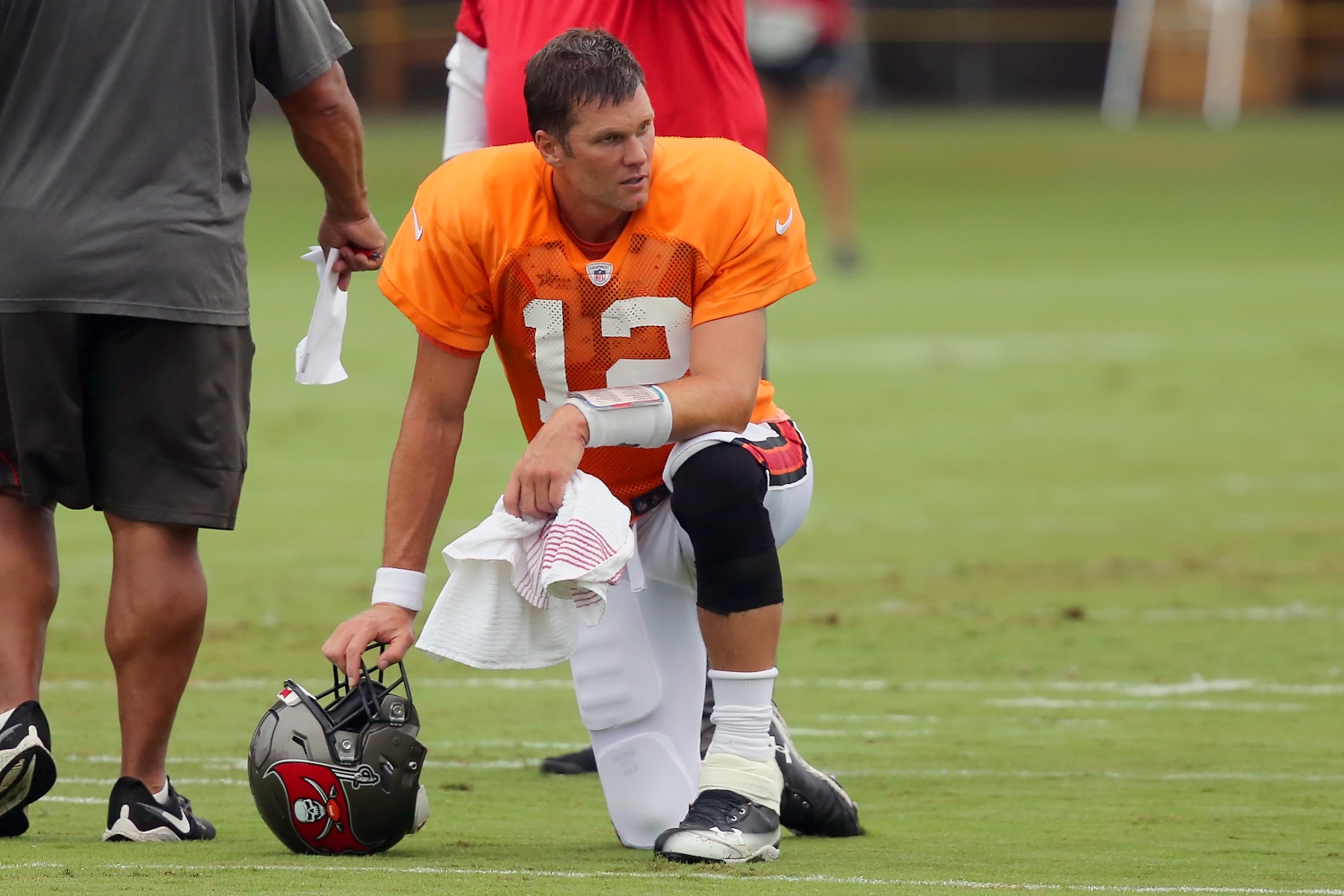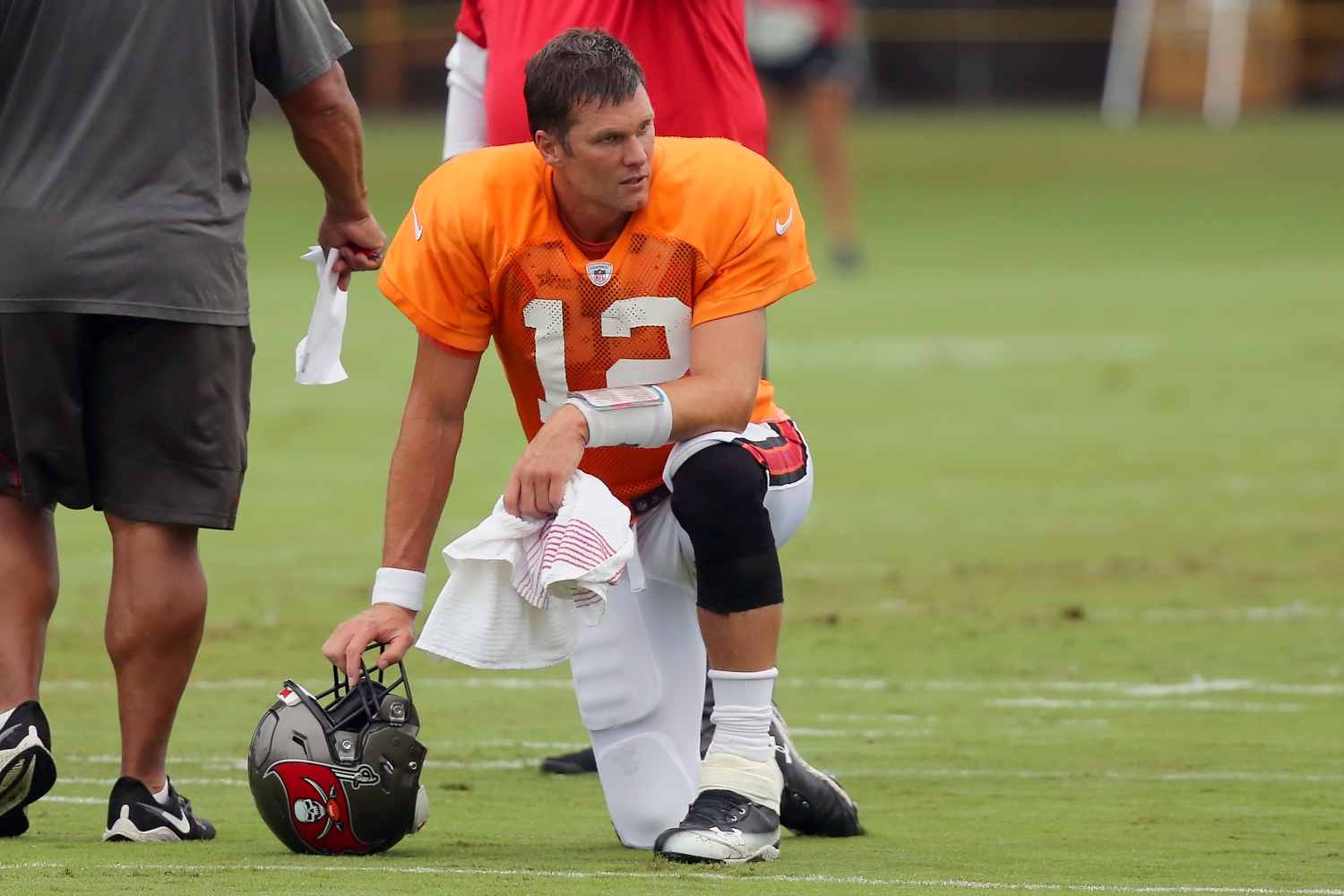 Although Brady and the Buccaneers downplayed the extent of his injury for months, it turns out they were lying to fans all along. In fact, based on multiple reports, it's clear neither the legendary quarterback nor his team told the truth about his troublesome left knee.
According to Rick Stroud of the Tampa Bay Times, Brady played the 2020 season on a partially torn medial collateral ligament (MCL) in his left knee. Surprisingly, he reportedly suffered the injury in his final year with the Patriots.
"The injury gradually worsened during his first year with the Bucs, and he finally had surgery to repair it in late February after winning his seventh Super Bowl," Stroud reported.
Ian Rapoport of the NFL Network took things a step further by reporting that Brady played with a fully torn MCL during his first season with the Buccaneers.
Either way, it seems like the soon-to-be 44-year-old dealt with much more than he or the Buccaneers let on. While Brady deserves tremendous credit for pushing through what must have been a painful injury, that doesn't take away from the fact that Tampa never listed him on an injury report with a knee problem. That should raise red flags for Roger Goodell, whose "preserving the integrity of the game" claim doesn't match up with not investigating or punishing the Buccaneers for what appears to be a clear violation of the injury-reporting process.
Lying about his health looks like a questionable move by Brady. Then again, perhaps he kept his injury under wraps to avoid being a distraction. Ultimately, though, nothing can be done to change the situation. What matters most is that Brady got the surgery he needed, and that spells trouble for whoever has to face Tampa this season.
Don't sleep on Tampa going undefeated with a healthy TB12 under center
As long as Brady doesn't experience any setbacks with his surgically repaired knee, he should put up big numbers for the second straight season. The Buccaneers boast a frighteningly deep group of skill players, a rock-solid offensive line, and a supportive coaching staff. Plus, they have more than enough playmakers on the defensive side of the ball to make life miserable for opposing quarterbacks.
With the NFL expanding its schedule, the Buccaneers have an opportunity to become the first team in league history to go 17-0 during the regular season. Given the sheer amount of talent on their roster, they certainly have the pieces in place to make a legitimate run at going undefeated. Given all the success he's enjoyed during his NFL career, Brady should have ample motivation to accomplish a feat that's never been done before.
Of course, if the Buccaneers blaze through their schedule and stamp their ticket to Super Bowl 56, Tom Brady better hope things go better than the last time he had the chance to complete a perfect season.
All statistics courtesy of Pro Football Reference.