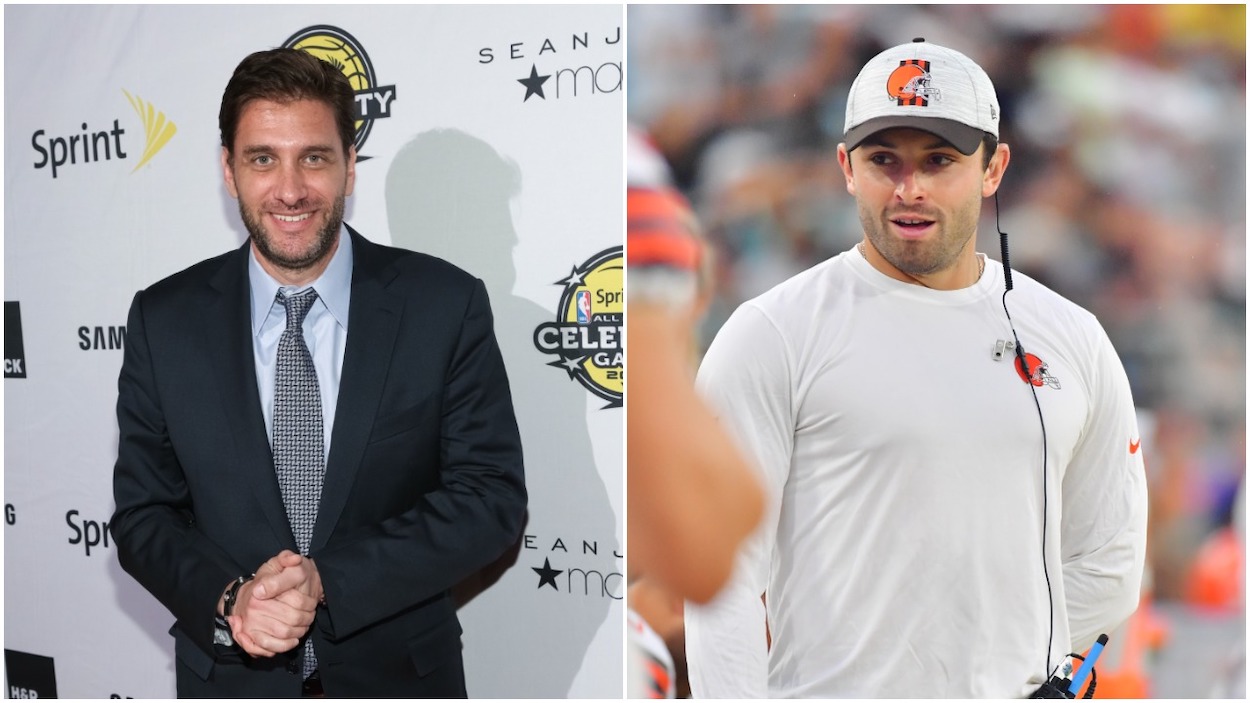 Mike Greenberg Mounts Passionate Defense of Baker Mayfield: 'If All That Isn't Enough to Shut Them Up, I'm Not Quite Sure What's Going to Be'
ESPN's Mike Greenberg thinks critics are wrong about Cleveland Browns QB Baker Mayfield and the 2018 No. 1 pick has already proved his value. In 2021, the team now faces a decision. If Greenberg is right, they could get a good deal on his contract extension. If not, it could be same old Browns.
The Cleveland Browns' Baker Mayfield has always been a polarizing quarterback. Whether it was transferring from Texas Tech, enraging opposing fans at Oklahoma, or being compared to Josh Allen and Lamar Jackson in the pros, there are plenty of fans and media types who both love and hate the QB. ESPN's morning show host Mike Greenberg falls squarely into the former camp.
He thinks Mayfield is not only great but underrated and underappreciated as well. The TV host recently used his national platform to underscore this point and take all those who think differently to task.
Baker Mayfield's had an up and down career so far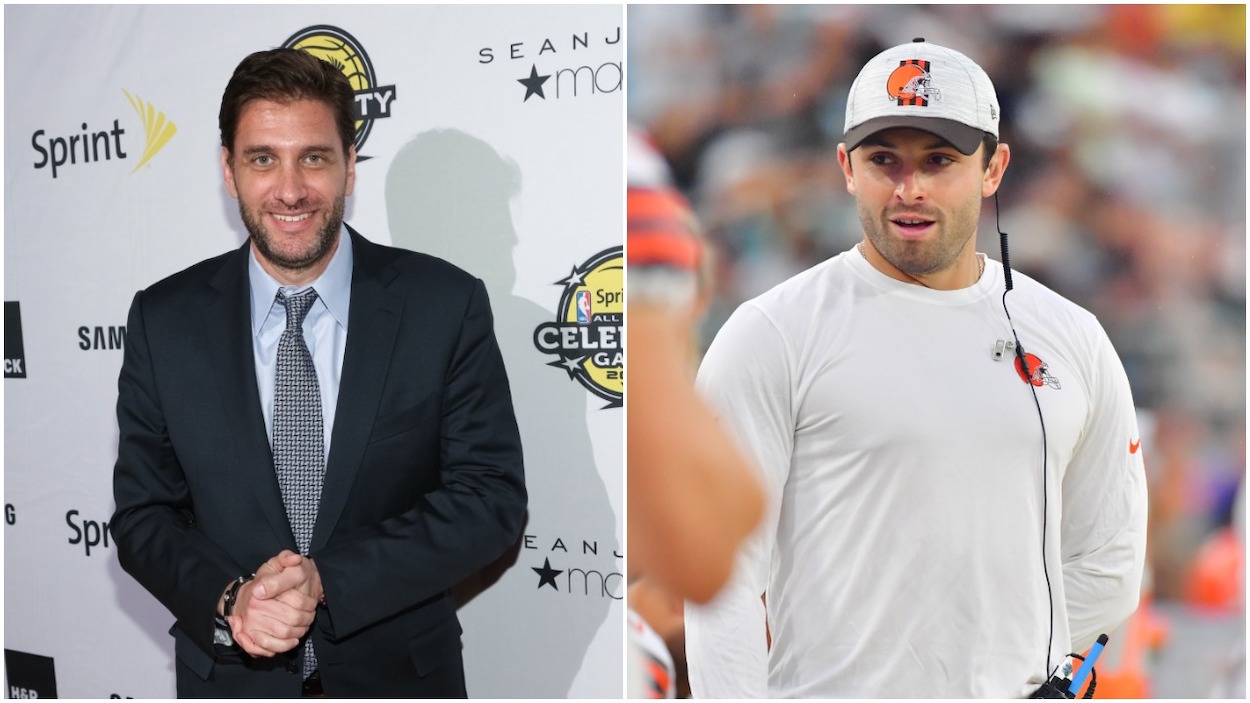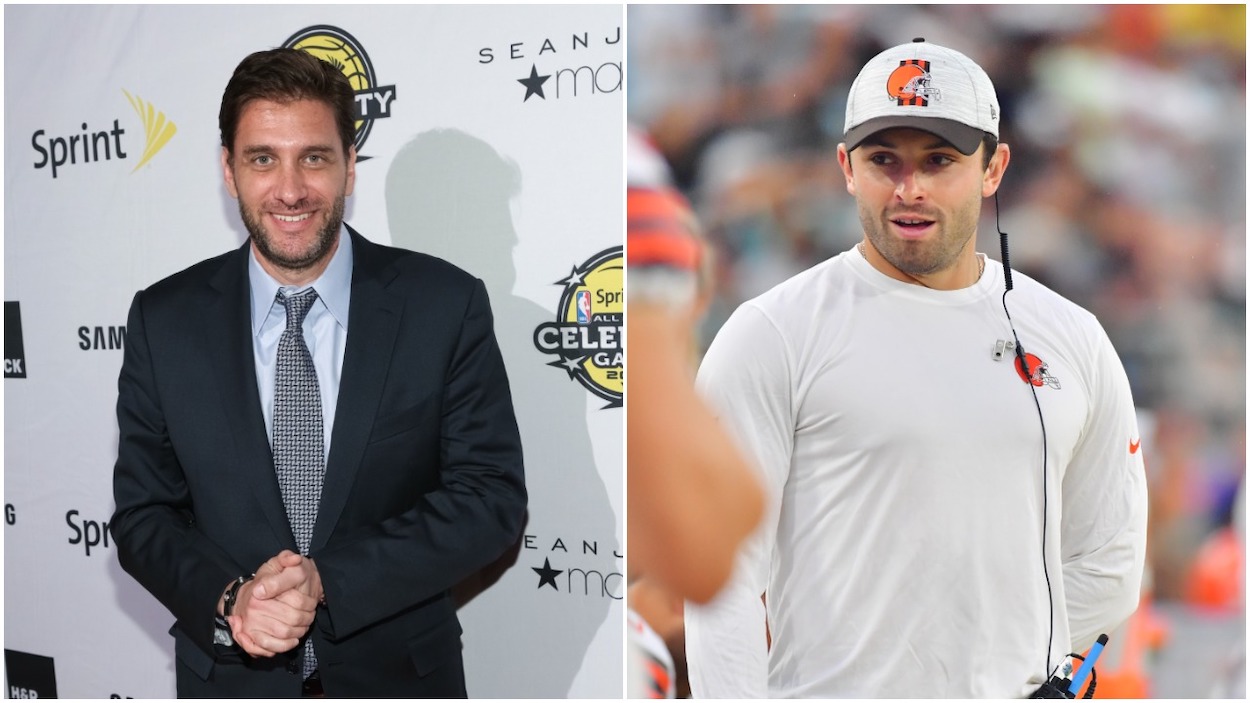 Oklahoma QB Baker Mayfield started his 2017 season by igniting a national controversy by planting an OU flag in the middle of the Ohio State "O" in The Horseshoe. He ended it by picking up a Heisman Trophy in New York City. A few months later, the Cleveland Browns picked him No. 1 in the 2018 NFL Draft.
Mayfield went ahead of Allen and Jackson in that draft, two QBs that are currently having better careers than the Austin, Texas native.
Although he put up solid numbers, the Browns signal-caller went 12-17 in his first two years as a starter. His first two seasons' stat line included 7,552 yards and 49 touchdowns. The issue was his 35 interceptions.
In 2021, Mayfield had a career-low in completions, tied for his rookie season-low with just 486 passing attempts, and threw for fewer yards than either of the previous two seasons. However, he threw joys eight interceptions and led Cleveland to an 11-5 regular-season record and an impressive 48-37 victory over the Pittsburgh Steelers.
Mayfield and the Browns' luck ran out against the Kansas City Chiefs in the Divisional round, but at least one prominent pundit thinks this was enough to silence the Mayfield doubters.
Mike Greenberg thinks criticism of Mayfield is unfair
"What if I told you that a quarterback was drafted by a team that had gone 1-34 in its last 35 games?" ESPN's Mike Greenberg asked on the channel's morning show, Get Up. "And in his first three seasons with the team, he led them to more wins than losses," Greeny continued.
He then noted that this quarterback accomplished this while reporting to four different head coaches and the same number of offensive coordinators.
"You might say, 'that guy's working miracles.' I would say that guy's Baker Mayfield," the host concluded.
Greenberg then shared several illuminating stats to illustrate his point. He noted that Mayfield is the first Browns QB to start three consecutive Week 1's since Bernie Kosar and that his eight games with an 80 or higher passer rating were third in the NFL behind Aaron Rodgers and Patrick Mahomes.
To Mayfield's arm strength critics, Greenberg shared that the QB had the best completion percentage in the league (50%) on throws of more than 20 yards. He also cited the Browns playoff victory of the Pittsburgh Steelers – the Browns first since 1994 – as a rebuttal to those who say he Mayfield isn't good enough to beat good teams.
Greenberg ended his argument with a flourish, concluding:
Here is the truth. Baker Mayfield has turned around what was the worst franchise in American sports, despite all manner of adversity, and is a big part of the reason now that they are talking Super Bowl in a town where the team was winless four years ago. So, if all that isn't enough to shut 'them' up, I'm not quite sure what's going to be.
It was a strong case for Mayfield, who the Browns are now facing a major decision on heading into the 2021 NFL season.
The Cleveland Browns have to make a decision on a massive contract extension
The 2021 NFL season is rapidly approaching, and so is the deadline for the Browns to decide what type of contract extension to give Baker Mayfield.
Allen just set the market for 2018 star QBs, signing a six-year, $258 million ($150M guaranteed) deal to stay in Buffalo, and Jackson will likely soon follow. What does this mean for Mayfield?
Especially after last season, the petite passer will definitely get a sizeable extension. The question is, for how much money and how many years? As Greeny noted, Mayfield has already surpassed all Cleveland QBs for the past 25 years. However, he's yet to reach the heights of his contemporaries.
Cleveland is reportedly looking to lock up two of its other 2018 picks before Mayfield in Denzel Ward and Nick Chubb. After that, it's all about the QB.
If last season was for real, the Browns could have the best signal-caller in franchise history on their hands and get him at a discount because he hasn't hit his ceiling yet. On the other hand, if last year was a fluke, and Cleveland invests huge in Mayfield, it could be another massive mistake by the lake.
All stats courtesy of Pro Football Reference