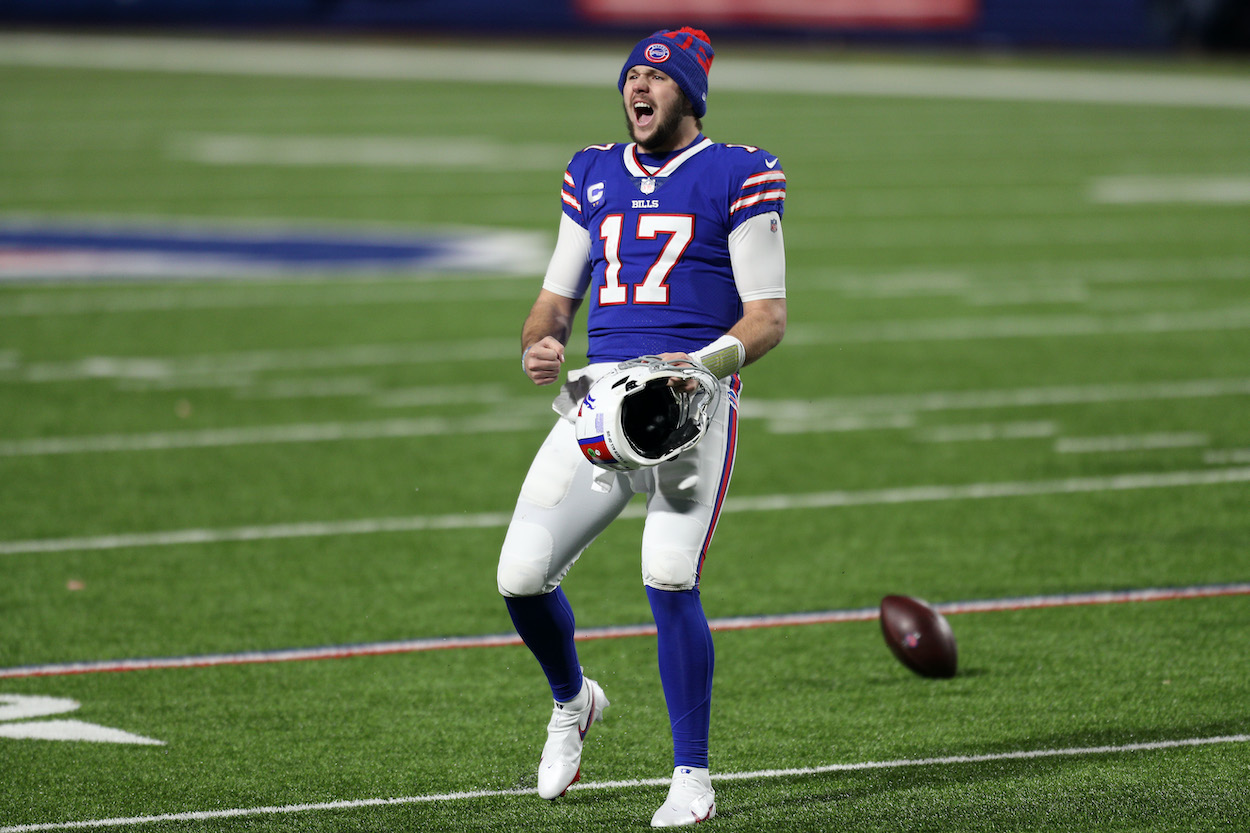 Josh Allen Beats Lamar Jackson and Baker Mayfield to a Massive Extension, Signing a Six-Year $258 Million Deal With the Bills
Josh Allen just signed a massive new contract extension but what is it actually worth and which of his fellow young QBs will be next? Allen's new deal basically includes $150 million guaranteed which is the most ever in an NFL deal. Now Baker Mayfield and Lamar Jackson will be next to sign.
Five teams drafted quarterbacks in the first round of the 2018 NFL Draft. The New York Jets' No. 3 pick, Sam Darnold, is on to his second team, and the Arizona Cardinals No. 10 pick, Josh Rosen, is fighting for a job on his third team. The Cleveland Browns' Baker Mayfield (No. 1), Buffalo Bills' Josh Allen (No. 7), and Baltimore Ravens' Lamar Jackson (No. 30) have found success with the team that selected them.
These three young QBs are all up for big extensions to extend their contracts past the 2022 season. The first signal-caller to sign would set the market for the other two, and that happened on Friday when Allen signed a six-year, $258 million deal with Buffalo.  
Josh Allen broke out in 2020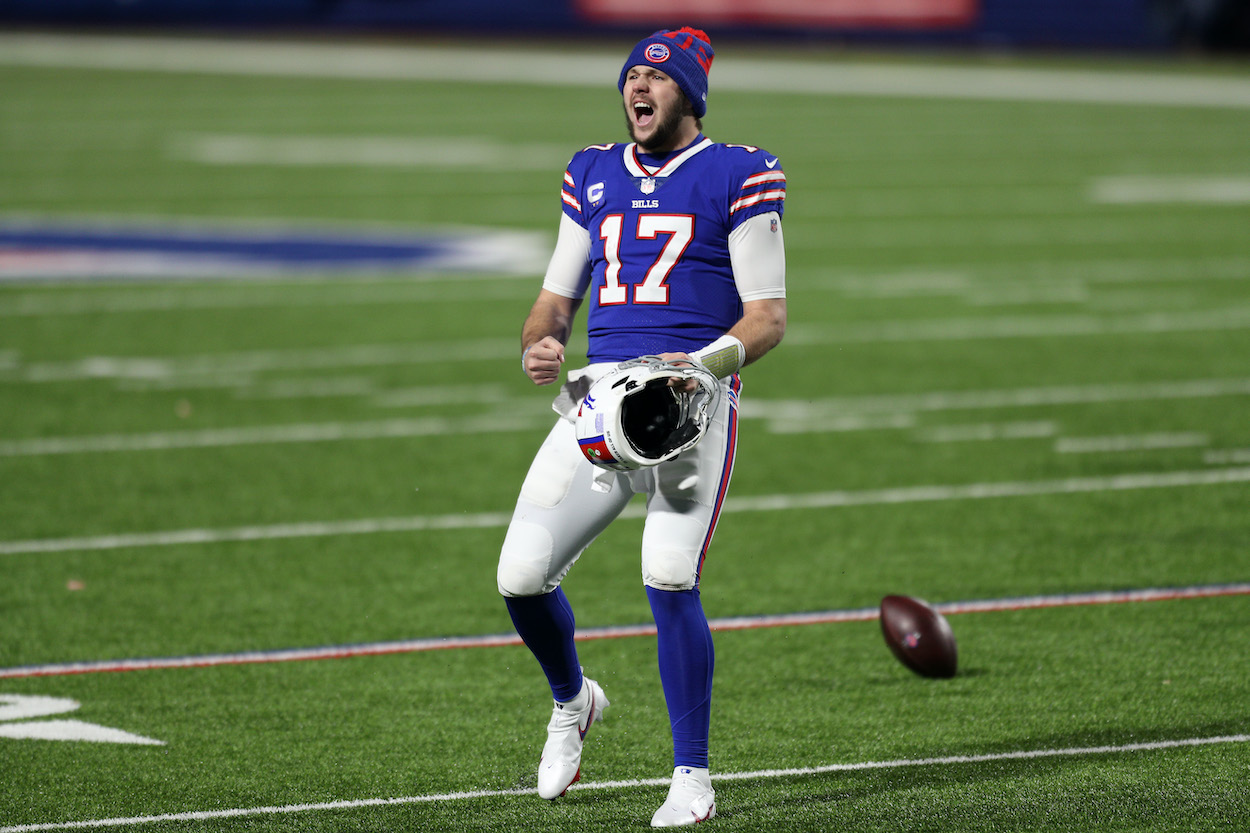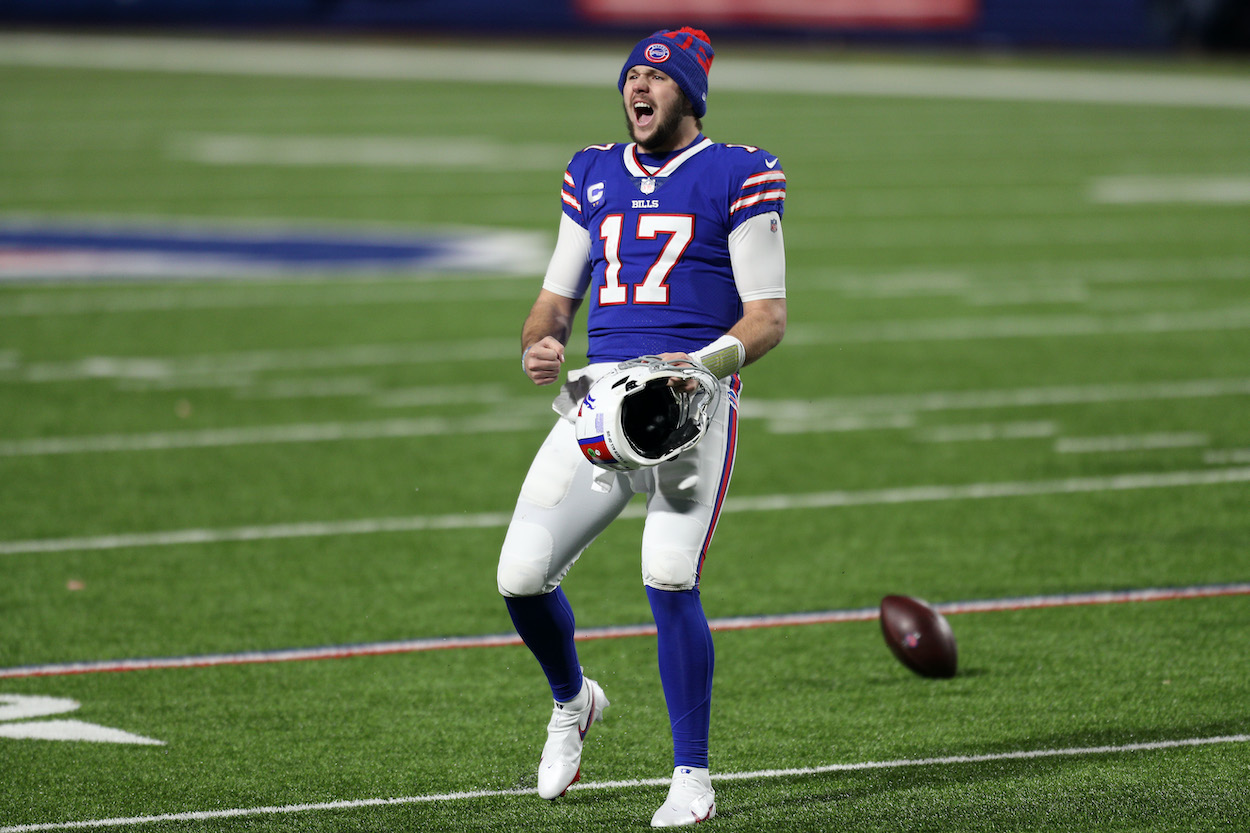 Allen played college ball at Wyoming, not exactly a hotbed of NFL prospects. The Bills drafted him based on his physical tools and potential rather than what scouts saw against top competition.
The 25-year-old has rewarded the Bills by making steady progress each year. In 2020, he broke out and became an NFL MVP candidate. Allen's development has been steady over his first three seasons. His stats have increased in key categories every year.
In 2018, he passed for 2,074 yards, and in 2019 he threw for 3,089. In 2020, he produced his best season yet, racking up 4,544 yards. His progression looks like this across the board. He's also steadily increased his touchdowns (10, 20, 37) and completion percentage (52.8%, 58.8%, 69.2%).
The Bills helped his development by building the offensive line. They drafed players like Cody Ford, and signed veterans like Mitch Morse and John Feliciano. They also cultivated one of the best receiving corps in the league. Last season's addition of Stefon Diggs was a huge help as he led the league in receptions and receiving yards.
What's Josh Allen's contract really worth?
On Friday, August 6, 2021, the news broke that the Buffalo Bills inked Josh Allen to a six-year, $258 million contract extension. Like all NFL contacts, though, the reported number and the contract's worth are quite different.
The important thing to look at with NFL contracts is the guaranteed money, and even that can be deceiving at times. Here's what the Allen contract is actually worth.
The deal is reported to have a guaranteed $150 million, but that's not 100% accurate. Upon signing the contract, Allen's extension will guarantee him $100 million. That guarantee includes his signing bonus, 2021 salary and roster bonus, 2022 salary and option bonus, 2023 salary, and 2024 roster bonus.
Then, if he's on the Bills roster through the fifth day of the league year in' 22, '23, '24, and '25, he'll lock in guaranteed bonuses of $10M, $13.5M, $10.5M, and $16.5M, respectively. That is where the $150 million number comes from.
Chances are that Allen will get these guaranteed roster bonuses as cutting him prior to any of these seasons would have disastrous salary cap ramifications for Buffalo.  
That $150 guaranteed number is the highest guarantee in NFL history, per ESPN. Kansas City Chiefs QB Patrick Mahomes' 10-year, $503 million extension came with $141.5 million guaranteed.
Baker Mayfield and Lamar Jackson will be next, but when? 
The next dominoes to fall from the Class of 2018 will be Baker Mayfield or Lamar Jackson. It will be fascinating to see which one gets his big new deal first and how it compares to Allen's contract.
The Browns recently indicated they want to take care of two other 2018 draft picks, Denzel Ward and Nick Chubb before they get to Mayfield's massive deal. The former Oklahoma Sooner came off the draft board before Allen and Jackson, but he doesn't have stats, resume, or team success these two do. So, it wouldn't be a surprise if his contract were slightly less.
As for Jackson, he has brought the Ravens to the playoffs in each of his first seasons and won an NFL MVP award. This puts him in line for a monster deal that could surpass Allen.
Both Baltimore and Jackson seem to want to get the deal done soon and are actively working toward it. However, there is an intriguing piece to this negotiation that could skew both the timeline and the money involved. Jackson is working as his own agent in conjunction with his business manager, who happens to be his mother.
Mayfield and Jackson will get new deals soon, but how soon and for how much is the big question. Whatever the answers, they will help define the economy of the NFL in the next few years.
All stats courtesy of Pro Football Reference and contract figures courtesy of spotrac