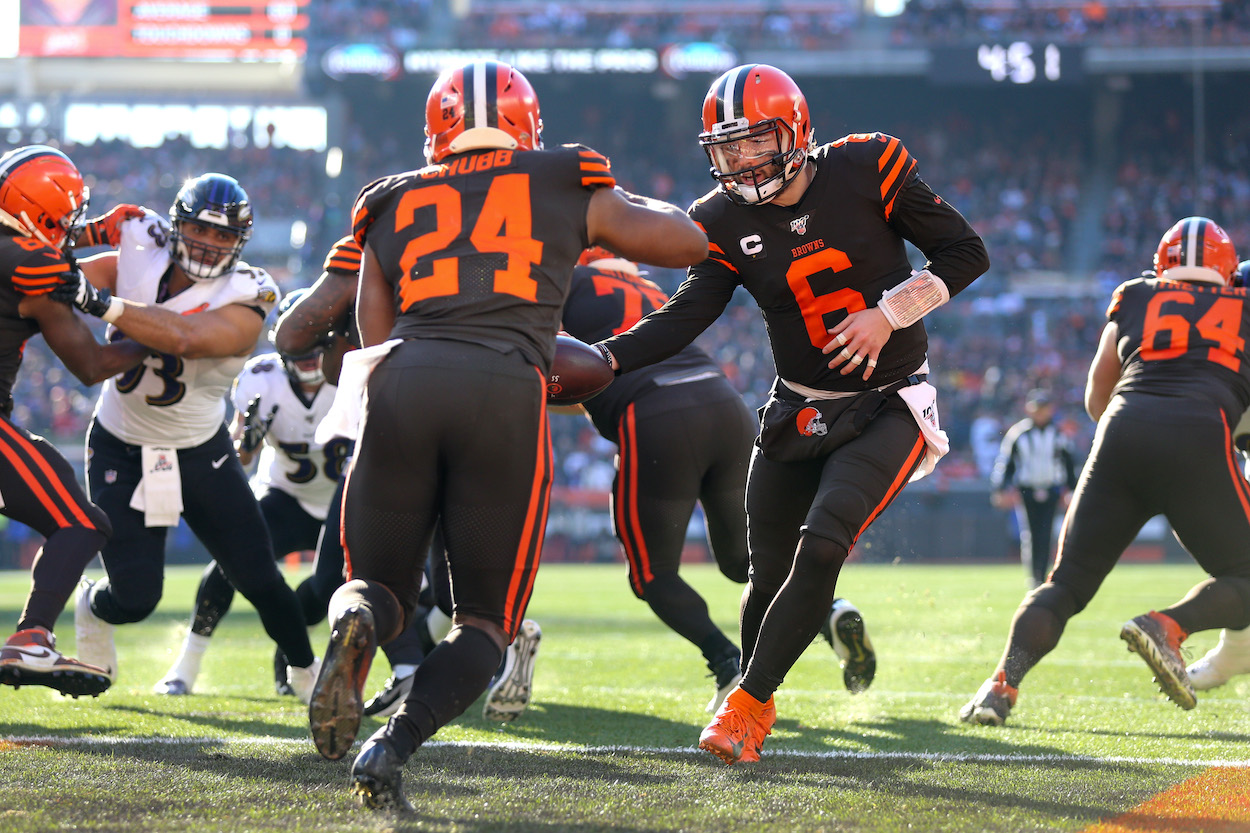 Baker Mayfield's Possible $40-Plus Million Contract Extension is Going to Wait Until the Browns Sign 2 Other Stars, According to NFL Insider
Baker Mayfield is going to get paid by the Cleveland Browns. His two fellow early-round 2018 draftee teammates may get signed first, though. Denzel Ward and Nick Chubb will be the Browns' top priorities now as the organization waits to see what the other 2018 QBs, Lamar Jackson and Josh Allen, get from their teams.
It may come as a surprise that the Cleveland Browns focus in 2021 is on contract extensions for other players ahead of Baker Mayfield. That's because there are two types of organizations in the NFL: those that have a franchise quarterback and those that don't.
If your favorite team is in the latter group, you know how painful it is. If your squad is in the former, you want the front office to do everything in its power to keep that QB happy.
Baker Mayfield had a breakout season in 2020, justifying the Browns drafting him No. 1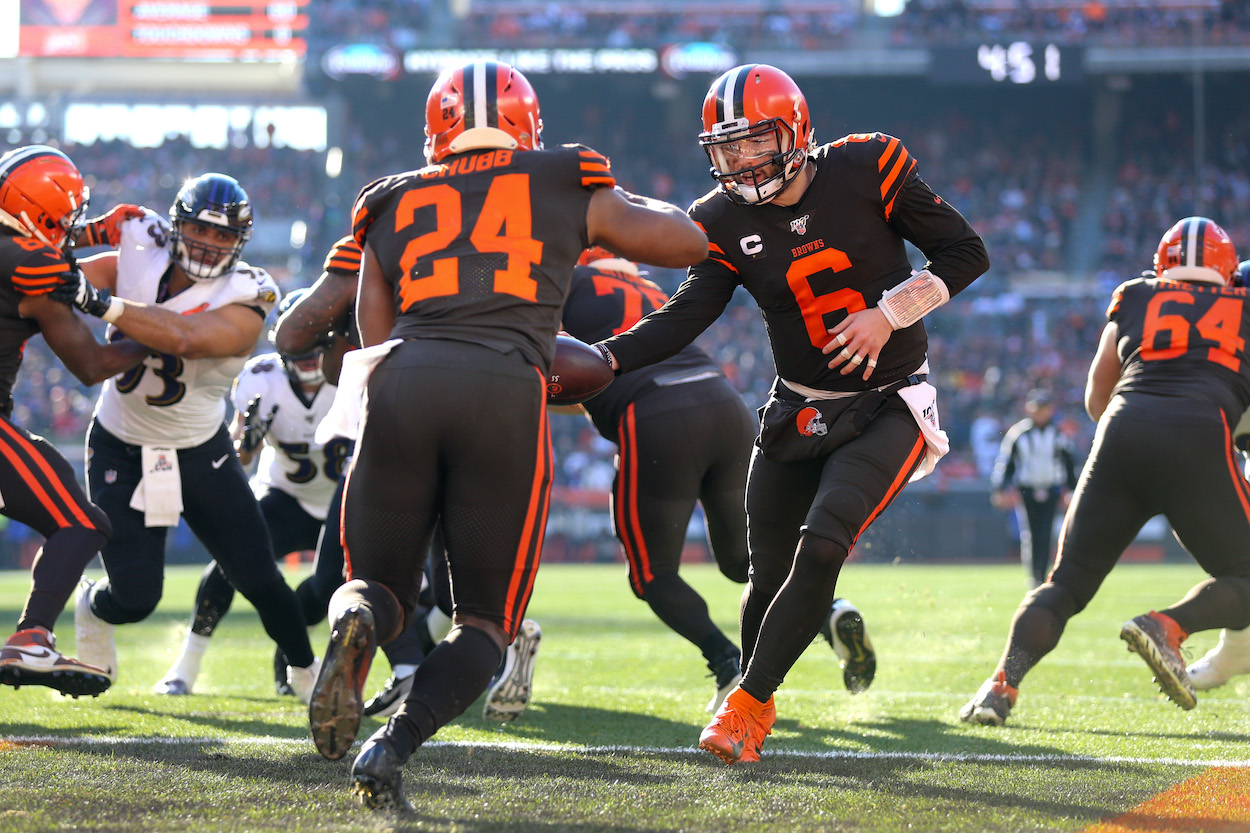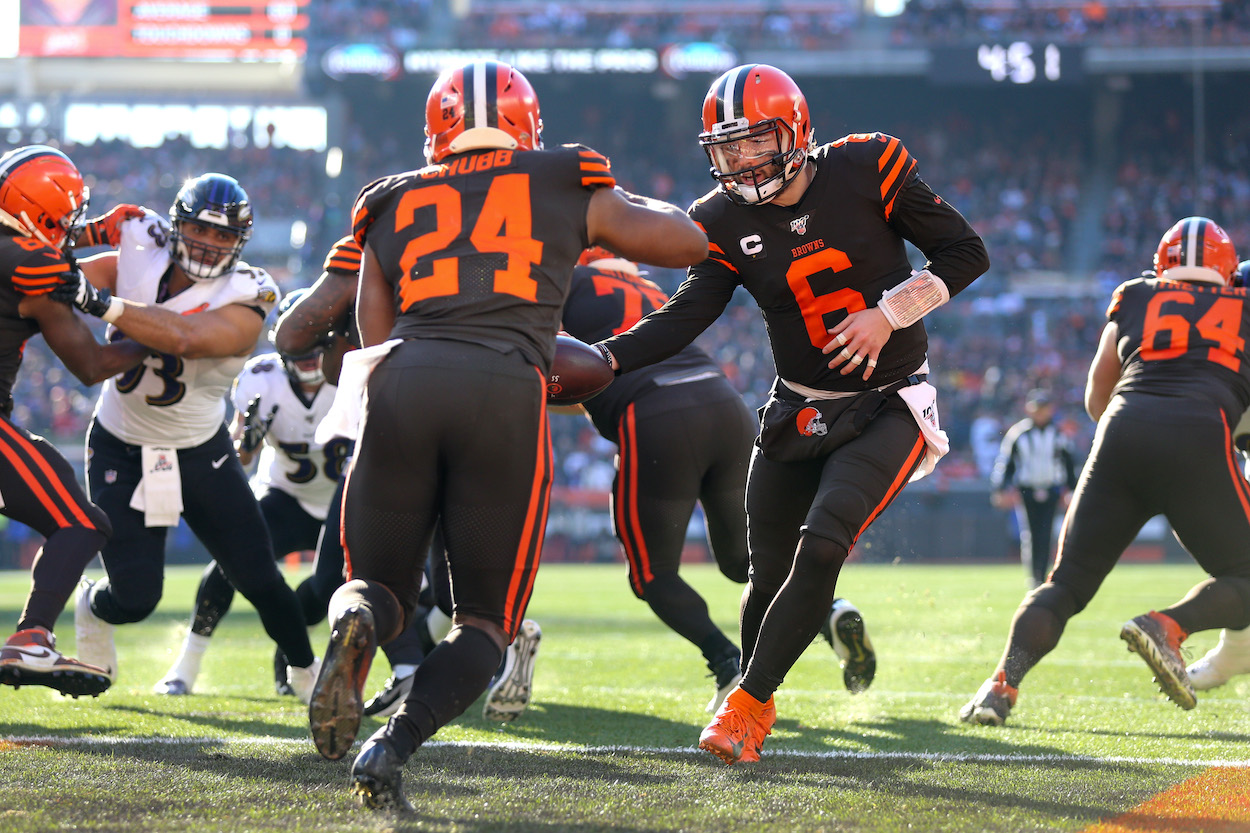 The Browns picked Baker Mayfield out of Oklahoma with the No. 1 overall pick in the 2018 NFL draft. At the time, the decision was somewhat polarizing. Taking the brash, 6-foot-1 (program height) Texan was risky, especially considering four other QBs went in the first round that year.
The gamble paid off for Cleveland, however. It's still too early to judge who will have the best career from that draft, but Mayfield is solidly in the group of passers that panned out, along with Buffalo's Josh Allen and Baltimore's Lamar Jackson. Former New York Jet Sam Darnold and former Arizona Cardinal Josh Rosen both seem like busts and are not still with their original team.
Mayfield had his breakout season in 2020. He led the Browns to an 11-5 record and the second round of the playoffs. The third-year signal-caller seemed to find his niche last season, tying his career-low in pass attempts (486) and setting a new low mark in yards (3,563), but dramatically cutting down on interceptions. He went from 35 in his first two seasons to eight in 2020.
Now, Mayfield is a legitimate MVP candidate, and the Browns have Super Bowl expectations in many circles.
Ian Rapoport says the Browns will pay two players before Mayfield's big deal
While most Browns fans would say locking down Mayfield is the top priority, it seems like the Browns want to take care of two other stars from the 2018 draft.
The Browns were loaded with high picks that year and took cornerback Denzel Ward No. 4 overall and running back Nick Chubb at No. 35. Both players have made the Pro Bowl in their first three seasons.
On the Pat McAfee Show 2.0 podcast, NFL Network's Ian Rapoport discussed when he thought Mayfield would get his extension and if it would be closer to the $30 million Cason Wentz deal or the $40-plus million range Jackson will likely get.
First of all, I believe that is the case, that the Browns are looking at potential extensions for Chubb and Ward now, before Baker. Makes sense. I don't think they have anything to decide on Baker. But more information is not bad. I think it's ok to do the extension next year as opposed to this year.

I don't see any quarterback taking the $30 million extension so, to me, Dak signs for $40 (million), my guess is that Lamar and Josh Allen both come in over $40 million, so if you're Baker, and you wait a year – and let's say the Browns go deep into the playoffs again – last year was a good season for Cleveland. He's going to be asking for the same.

Ian Rapoport on Baker Mayfield
This all makes sense for Mayfield and the Browns, but Browns fans will likely be on pins and needles during the 2021 season while he's playing out his rookie deal.
The Class of 2018 is going to break the bank
Mayfield, Allen, and Jackson are all in the last year of their rookie deals, making $5.1 million, $3.5 million, and $1.7 million, respectively, based on draft position. However, each QB has their fifth-year option picked up while they negotiate long-term extensions.
The fifth-year option salaries for these players are basically inverted. This is because the league calculates these based on performance and accolades. Without an extension for 2022, Jackson and Allen will make $23 million, and Mayfield will get $18.8 million.  
The Dallas Cowboys Dak Prescott and the Kansas City Chiefs Patrick Mahomes set the market for young, MVP-caliber QBs last year. Prescott got four years, $160 million, with $125 million guaranteed. Mahomes signed a deal worth $450 million over 10 years with $141.4 guaranteed.
These deals are structured very differently (as Mayfield, Allen, and Jackson's deals will likely be), but the end result is pretty much the same. Prescott gets an average annual salary of $40 million, and Mahomes' average yearly paycheck is $45 million.
This is the neighborhood Mayfield is living in nowadays, and the Browns will have to cough up the cash to keep him long-term. Wrapping up Chubb and Ward before giving Baker the bag could be smart as long as they leave enough room for $40 million-plus.
All stats courtesy of Pro Football Reference and contract figures courtesy of spotrac