As Dak Prescott Tries to Justify His $160 Million Contract, the Quarterback Jerry Jones Desperately Wanted in the 2016 NFL Draft Will Make Just $65,000 and Receive Housing Assistance From His Newest Employer
Jerry Jones made a franchise-altering decision by signing Dak Prescott to a $160 million contract extension. While nobody can predict the future, the Dallas Cowboys obviously have faith that the two-time Pro Bowler will earn every penny of his record-setting deal.
However, as Prescott attempts to justify his upgraded salary, the quarterback Jones lusted after in the same 2016 NFL Draft stands to make less than six figures as he tries to resurrect his football career north of the border.
Dak Prescott faces enormous pressure to live up to his lucrative contract extension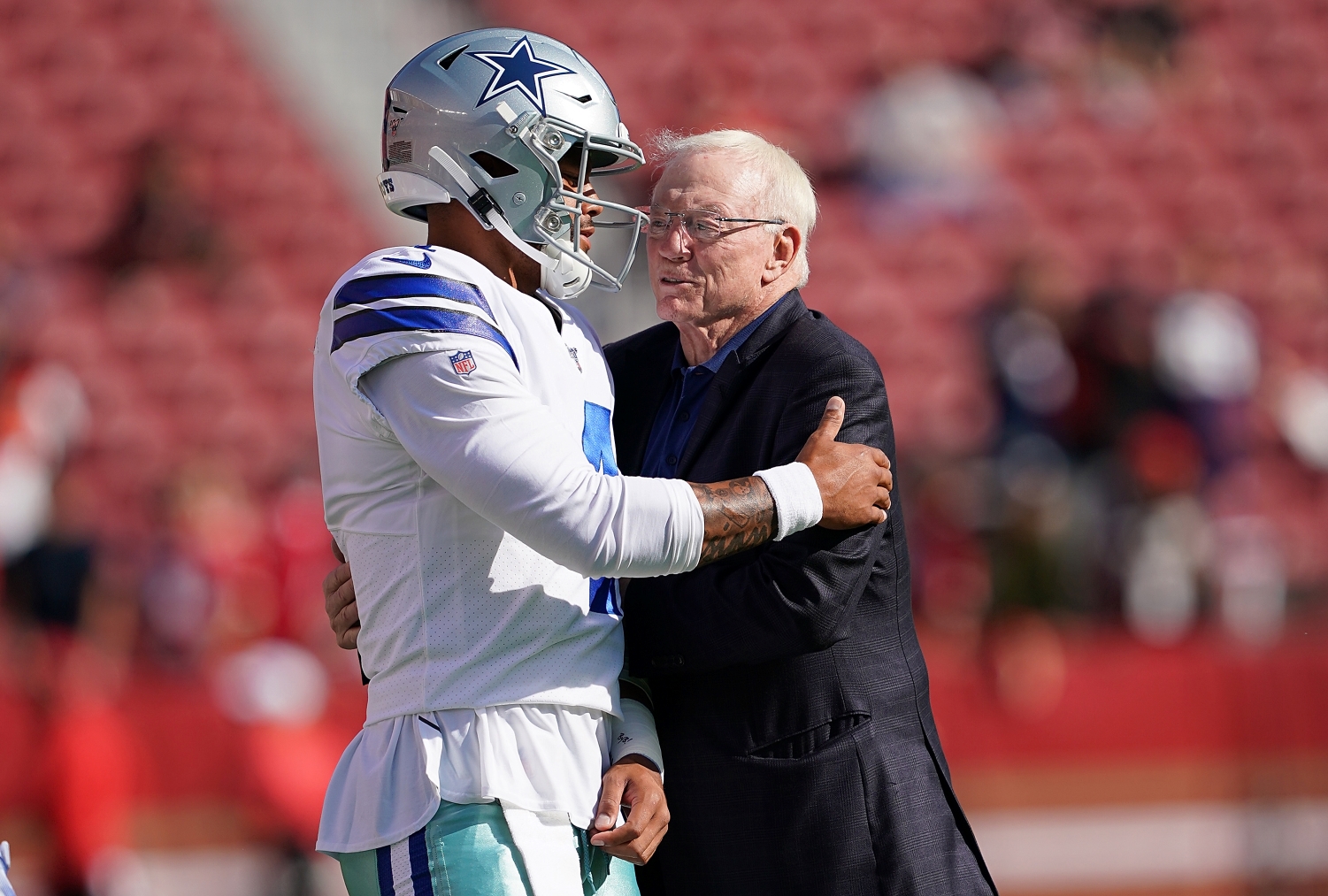 Jones sure thinks Prescott has what it takes to lead his franchise to a Super Bowl title. After all, you don't sign a quarterback to a $160 million contract extension if you don't believe in his ability to win championships.
Will Prescott live up to his lucrative deal? Or will Jones regret giving him a contract that includes a $66 million signing bonus and $126 million guaranteed?
That largely depends on whether Dallas does a better job protecting the quarterback this season. The Cowboys suffered a brutal run of injuries along the offensive line that forced Mike McCarthy to dig deep down his depth chart. Needless to say, Dallas missed the dominant tackle duo of Tyron Smith and La'el Collins. But with both players set to return to the lineup, the Cowboys look capable of putting up big point totals.
Besides being healthy, Prescott also has the advantage of working with a fantastic set of skill players. With Ezekiel Elliott back in prime shape, the running game should be in good hands. Meanwhile, it's hard not to get excited about the prospect of Prescott passing the ball to the talented receiver trio of Amari Cooper, Michael Gallup, and CeeDee Lamb. Based on the Cowboys' projected starting lineup, the 27-year-old signal-caller has more than enough weapons at his disposal, so he has no excuse not to live up to his expensive salary.
Ironically, as Jones prepares to sign some pricey paychecks made out to Prescott, the quarterback he desperately wanted to take in the 2016 NFL Draft couldn't be more at the opposite end of the financial spectrum.
The quarterback Jerry Jones missed out on doesn't have such a bright financial future ahead of him
If Jones had it his way, Paxton Lynch would have become a Cowboy. However, John Elway interfered with that plan by trading up to take the strong-armed quarterback with the 26th overall pick in the 2016 NFL Draft. Unfortunately for the Denver Broncos, investing in Lynch did not pay off.
After signing a four-year, $9.476 million contract, the 6-foot-7, 244-pound signal-caller appeared in five games before Elway pulled the plug on the failed experiment. Lynch completed 61.7% of his passes for 792 yards, four touchdowns, and four interceptions during his brief time with the Broncos. Although he spent time with the Seattle Seahawks and the Pittsburgh Steelers during the 2019 season, the 27-year-old hasn't thrown an NFL pass since Week 17 of the 2017 season.
While Lynch can still call himself a pro football player, his latest contract shows how far he's fallen from his days as a first-round draft pick. According to Justin Dunk of 3DownNation, the Broncos draft bust's two-year deal with the CFL's Saskatchewan Roughriders includes a 2021 base salary of $65,000. Lynch's compensation package also includes $3,600 in housing and a $200-per-game active roster bonus. Dunk also reported that the former NFL quarterback can earn an extra $500 for every game in which he plays 51% or more of the offensive snaps.
In addition, Lynch can increase his payday by earning individual awards. The maximum incentive includes a $3,000 bonus for being named the CFL's Most Outstanding Player.
Clearly, playing football up in Canada won't line Lynch's pockets like working in the NFL. Luckily for him, he made almost $9 million from the Broncos. And while Lynch represents a cautionary tale on why it's risky to take a quarterback in the first round, he's not the only member of his draft class who faces an uncertain future.
Paxton Lynch isn't the only quarterback from the 2016 draft who desperately needs to turn his career around
Isn't it ironic that Prescott has developed into the best quarterback from a draft that saw two signal-callers go off the board within the first two picks?
While the Cowboys star still has to prove he can win in the playoffs, he certainly has done all the right things from a leadership standpoint to justify receiving such a massive deal. If you're Jerry Jones, you have to feel confident that Prescott can get the job done and bring the Lombardi Trophy back to Dallas.
On the other hand, like Lynch, several quarterbacks from the 2016 draft have seen their careers go in unexpected directions. In fact, Jared Goff and Carson Wentz — the first two players selected that year — face enormous pressure heading into the 2021 season.
Despite taking Goff No. 1 overall five years ago and signing him to a $134 million extension in 2019, the Los Angeles Rams surprisingly moved on from him this offseason. With Matthew Stafford now living in LA, Goff has to show the Detroit Lions that he's worth building around.
Meanwhile, Wentz needs to resurrect his once-promising career under his former offensive coordinator. But after falling out of favor in Philadelphia, it remains to be seen whether the former North Dakota State star can rediscover his prime form in Indianapolis.
If not, the Colts will have to pull the plug on Wentz just like the Broncos did with Lynch.
All statistics courtesy of Pro Football Reference. All contract data courtesy of Spotrac.