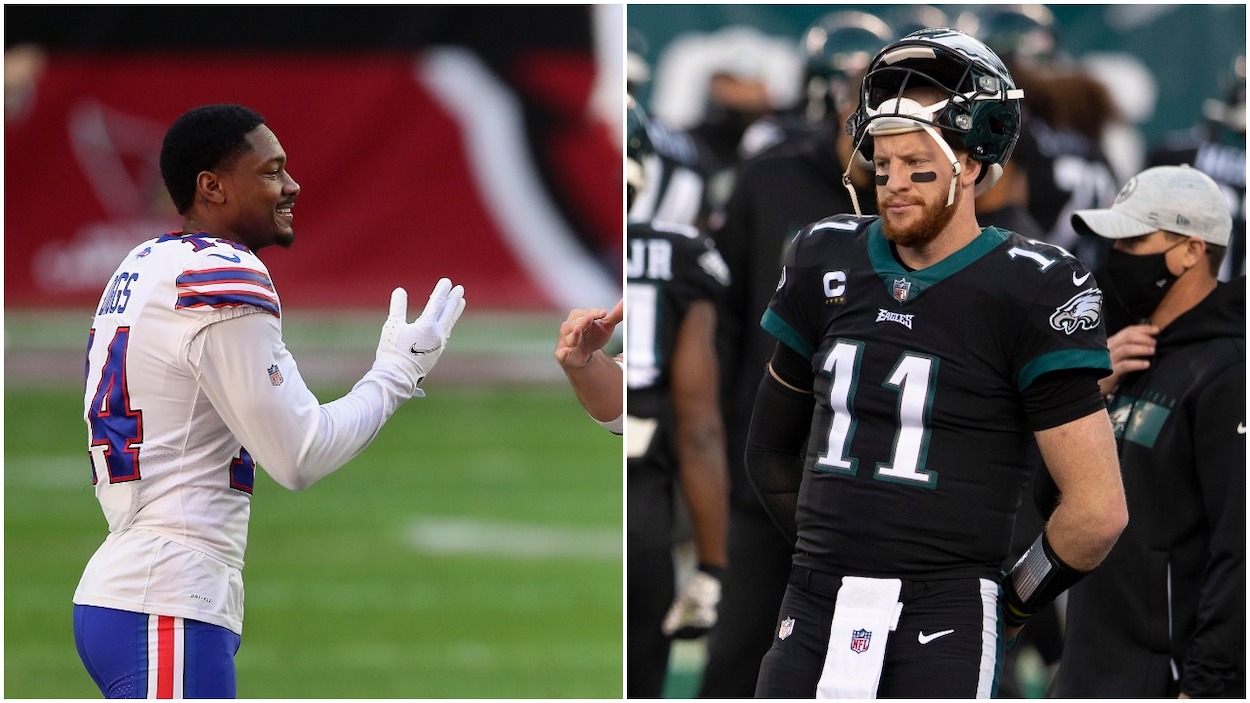 Indianapolis Colts Make a $128 Million Gamble That Carson Wentz Can Be the Next Stefon Diggs
Former Minnesota Vikings wide receiver Stefon Diggs turned his career around and helped his team win big after being traded to the Buffalo Bills in 2020. Can new Indianapolis Colts QB Carson Wentz do the same in 2021 after leaving his disastrous tenure with the Philadelphia Eagles?
The lasting image of the Minnesota Vikings 2019 season is of sullen wideout Stefon Diggs pouting on the bench. The narrative around the former University of Maryland pass-catcher is that he was just another in a long line of diva wide receivers who may be more trouble than his talent is worth.
Fast forward to the end of the 2020 season. Diggs turned into the best receiver in football, regularly talked about how happy he is in Buffalo, and had a season-long love-fest with his new quarterback, Josh Allen.
The biggest disgruntled NFL star of the 2020 season was Philadelphia Eagles QB Carson Wentz. With a trade to the Indianapolis Colts that reunites him with his former offensive coordinator, Frank Reich, can Wentz do what Diggs did and reignite his career?
Stefon Diggs flourished in Buffalo after languishing in Minnesota
In his final year in Minnesota, Diggs produced 64 catches on 94 targets for 1,130 yards and six touchdowns. It's definitely not a bad year, but for Diggs, who sees himself as one of the best receivers in the league, it wasn't enough, especially the six targets a game.
Diggs admitted as much during the 2020 season. He said that he wanted out of Minnesota because they were too run-heavy and didn't utilize his considerable talents enough.
If all Diggs wanted was more opportunity, the Bills certainty gave it to him.
The 6-foot wideout led the league in yards with 1,535 and receptions with 127 on a staggering 166 targets in 2020. He also made the Pro Bowl and First-Team All-Pro. Most importantly, Diggs helped the Bills reach the AFC Championship game for the first time since 1993.
Taking a chance and trading for Diggs was arguably the move of the year in the NFL and the Bills would do it again 100 times out of 100.
Carson Wentz is looking for a Stefon Diggs-like turnaround with the Indianapolis Colts
At the end of 2020, while Diggs was loving life in Buffalo, Wentz was seemingly miserable in Philadelphia. The former No. 2 overall pick sat on the sidelines during the last game of the season and watched as Jalen Hurts and later, sixth-round pick Nate Sudfeld, turned a winnable game against the Washington Football Team into an embarrassing loss.
Wentz was in the fifth-year option season of his rookie deal with a monster, four-year, $128 million extension kicking in in 2021. That number, combined with issues on the field and in the locker room in Philly, meant that Wentz had to go.
The Eagles traded Wentz to the Colts in February 2021 for a second- and third-round pick. The move reunited Wentz with Reich, who coached Wentz during his successful rookie and sophomore seasons.  After losing last year's QB, Philip Rivers, to retirement, this trade is a Hail Mary from the Colts.
There's one big difference between the Diggs and Wentz situations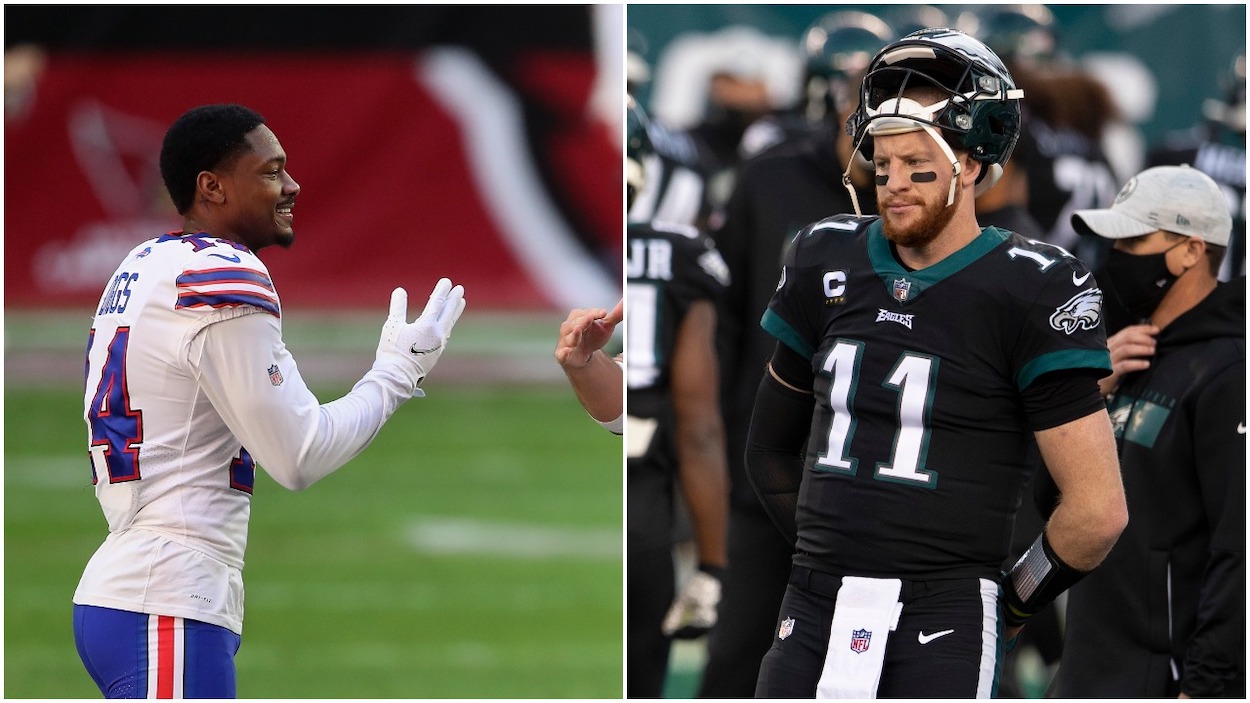 Diggs didn't like the football situation that happened in Minnesota. He didn't like all the handing off to Dalvin Cook, he didn't like all the underneath passes to Adam Thielen, and he didn't like the inconsistency of QB Kirk Cousins.
Sending Diggs to a new team with a different offensive scheme and a better quarterback fixed these problems relatively easily. Wentz's issues might not be as easy to fix.
The difficulties Wentz had in Philly were in the locker room and more personal in nature.
In a sensational story in the Philly Voice by Joseph Santolquito in January 2019, the author sites numerous unnamed sources "in and around the NFL and Eagles" who crush Wentz on a personal level.
In addition to revelations that Wentz "bullied" his OC (Mike Groh, not Reich) and was arrogant because he "had his ass kissed his whole life," the true bombshell paragraph from the piece came next:
His aw-shucks, overgrown-Opie-from-Mayberry routine plays well with the local and national media. … But the true Wentz is more nuanced and complicated, with sources describing him as "selfish," "uncompromising," "egotistical," one who plays "favorites" and doesn't like to be "questioned," one who needs to "practice what he preaches" and fails "to take accountability." 
Simply removing Wentz from a locker room that turned on him might be enough to revitalize his career. There's a chance that Wentz's personality and leadership are as bad as some Eagles players think. This could mean a simple change of scenery may not be enough to turn Wentz back into a franchise quarterback.
If Reich can turn Wentz back into the QB he was the first time they were together, the Colts' big-money gamble will pay off. If not, the Eagles just dogged a big-time bullet and turned their problem into the Indianapolis' problem.
All stats courtesy of Pro Football Reference and contract figures courtesy of spotrac