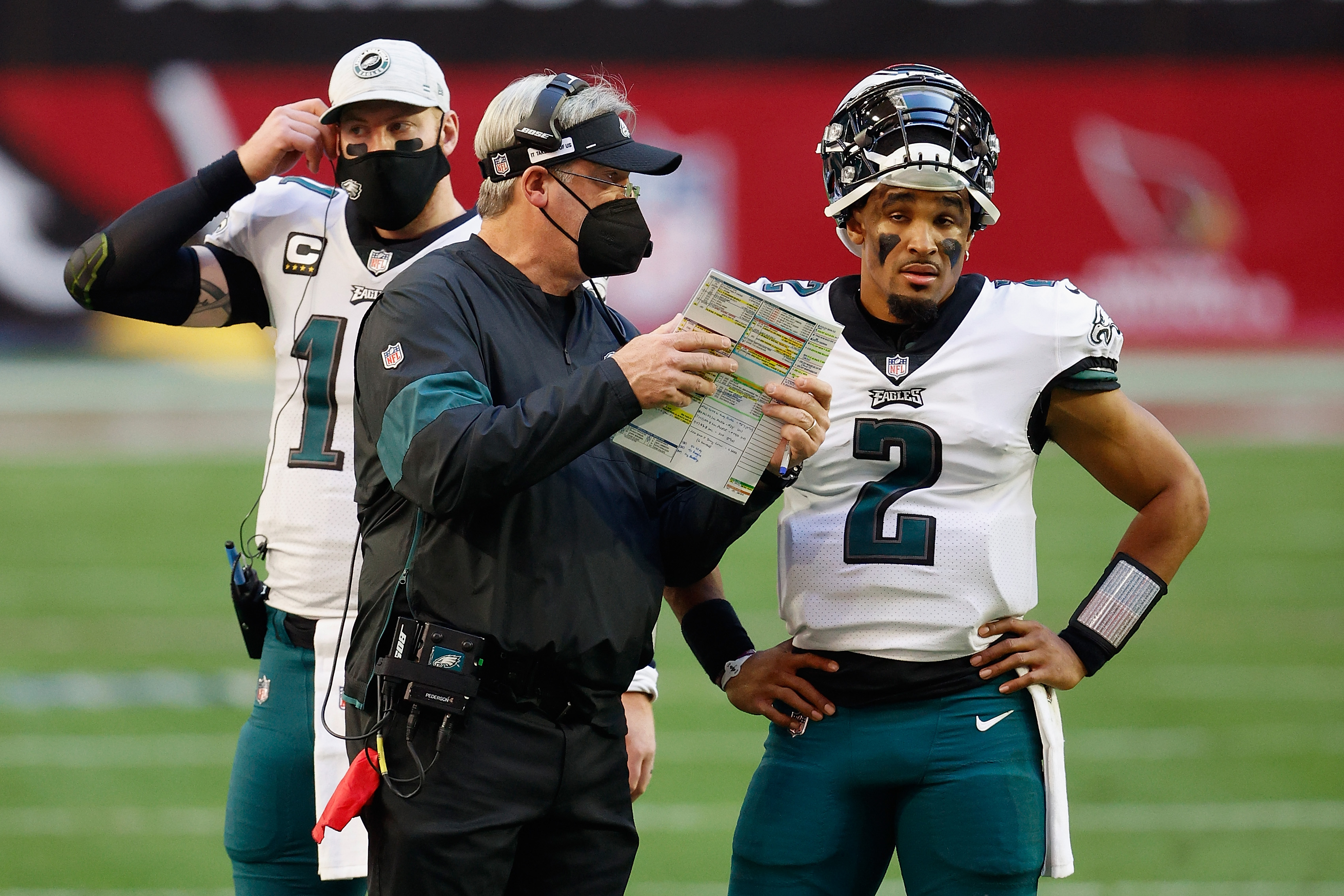 Doug Pederson's Own Players Had to Be Restrained After Bizarre QB Benching
Philadelphia Eagles coach Doug Pederson's own players had to be restrained after his decision to switch quarterbacks Sunday.
Philadelphia Eagles coach Doug Pederson has taken a lot of heat for his decision to turn to his third-string quarterback Sunday night. The New York Giants, watching from afar and needing an Eagles win over the Washington Football Team to make the postseason, came out and blasted Pederson for throwing the game. Some of Pederson's own players also had to be held back after the coach's bizarre decision.
Did the Philadelphia Eagles tank?
Entering Week 17's finale against the Washington Football Team, the Philadelphia Eagles were eliminated from playoff contention. A Washington win would put Washington into the postseason. If the Eagles won, the New York Giants would make their way into the playoffs. What was in it for the Eagles? If the Eagles won, they would pick ninth in the 2021 NFL draft. With a loss, they'd pick sixth.
With the Eagles trailing by three points in the second half, Eagles head coach Doug Pederson replaced quarterback Jalen Hurts with third-string quarterback Nate Sudfeld. Sudfeld struggled, completing five of 12 passes for 32 yards and an interception. The Eagles lost 20-14.
Pederson said his game plan was to use Sudfeld in the game to see what he could do. Rookie quarterback Jalen Hurts, who replaced an ineffective Carson Wentz, had only made four starts during the season. The move was very questionable as Hurts has very little NFL experience and appears to be the Eagles' quarterback of the future.
The New York Giants weren't happy
Doug Pederson has the right to do play his player in the manner which he sees fit. If he wants to see how third-string quarterback Nate Sudfeld can be, he has the right to play him. What's strange about the situation is that he doesn't really know how good quarterback Jalen Hurts can be yet.
Hurts took over for starter Carson Wentz in Week 14. He led the Eagles to a victory over the New Orleans Saints, who were playing without their own quarterback, Drew Brees. In Hurts' four starts, he went 1-3 with five touchdown passes and three interceptions. When Sudfeld replaced hurts with the Eagles within striking distance, it didn't sit well with New York Giants head coach Joe Judge.
Judge said the Eagles disrespected the game by not playing to win. "To disrespect the effort that everyone put forth to make this season a success for the National Football League," he said. "And to disrespect the game by not going out there and competing for 60 minutes and doing everything you can to help those players win. We will never do that as long as I am the head coach of the New York Giants."
Even Philadelphia Eagles players went after Doug Pederson
It wasn't just the New York Giants who were mad at the move Philadelphia Eagles head coach Doug Pederson made by pulling starting quarterback Jalen Hurts on Sunday. Jeff McLane of the Philadelphia Inquirer said things were pretty ugly over on the Eagles sideline as well.
McLane reported that Eagles players and coaches were "shocked" and "outraged" and that Hurts was "distraught." In his report, McLane wrote: Two defensive players had to be held back from approaching Pederson. Center Jason Kelce and another offensive starter went to the coach to ask him why he had pulled the starting quarterback with the Eagles trailing by only three.
Kelce seemed bothered by the move to pull Hurts. According to McLane, Kelce made an impassioned plea against taking earlier this month. Kelce hasn't spoken to reporters since Sunday night and didn't respond to a media request for comment.