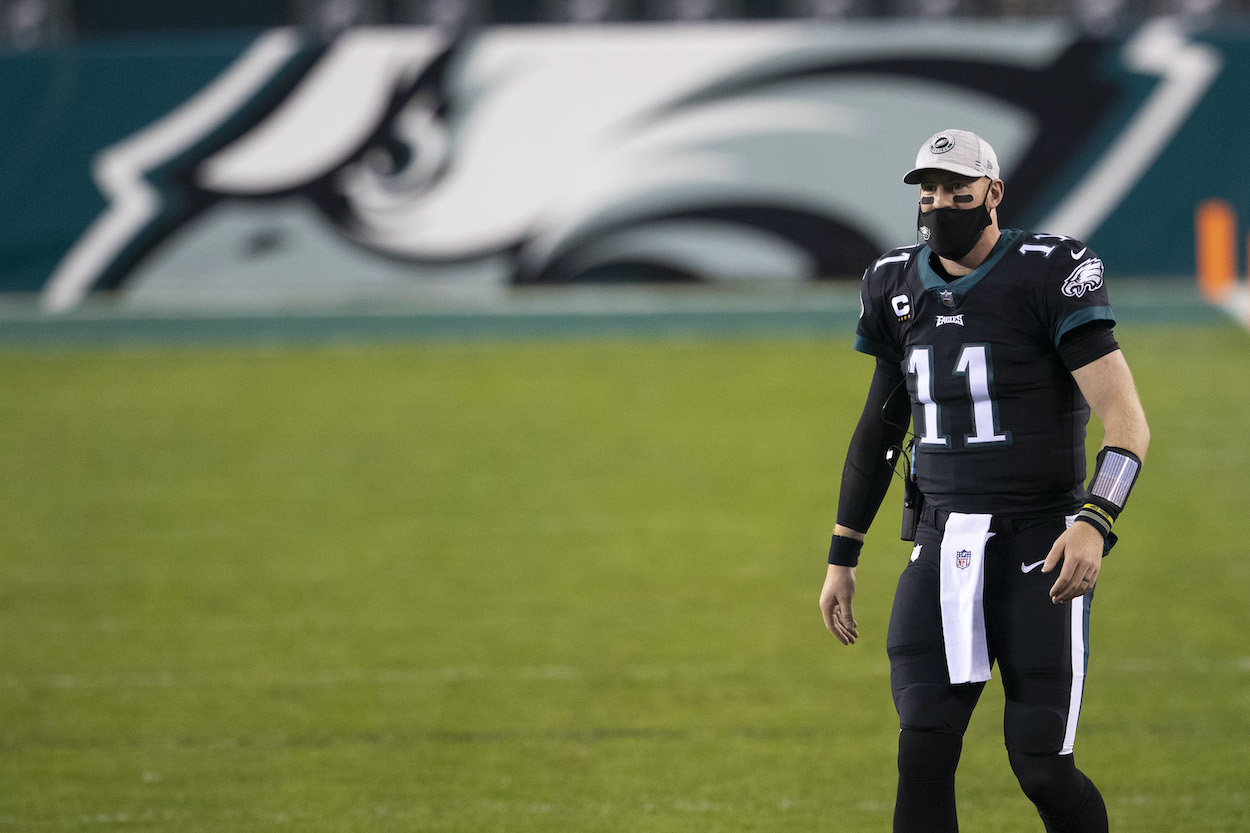 The Philadelphia Eagles Just Lit $34 Million on Fire to Get Rid of Their Biggest Nightmare
The Philadelphia Eagles have traded Carson Wentz to the Indianapolis Colts, and they lit $34 million on fire in the process.
The Carson Wentz saga in Philadelphia is finally over.
On Thursday afternoon, the Eagles traded the former No. 2 overall pick to the Indianapolis Colts for a 2021 third-round pick and a conditional 2022 second-round pick. This coming less than two years after Philadelphia handed Wentz a four-year, $128 million contract extension that included over $66 million fully guaranteed. By trading Wentz, the Eagles essentially lit $34 million on fire to get rid of their biggest nightmare.
The Eagles trade Carson Wentz to the Colts
After weeks of negotiations between the Eagles and a few suitors around the NFL, Philadelphia finally unloaded Carson Wentz by trading him to the Colts, Adam Schefter and Chris Mortensen of ESPN first reported. In return, Indianapolis is sending back a 2021 third-round pick and a conditional 2022 second-round pick.
Many believed the Eagles would receive a first-rounder for the former Pro Bowl quarterback, and they still might. The Colts' 2022 second-round pick becomes a first-round pick if Wentz plays 75% of the team's snaps this year or if he plays 70% of the snaps and leads Indianapolis to the playoffs.
A Wentz trade has been brewing ever since former head coach Doug Pederson benched the QB for Jalen Hurts late last season. Wentz never won his job back after that, and he truly didn't deserve to, either.
After four solid seasons to start his NFL career, Wentz was one of the worst QBs in the league last year. He threw a league-high 15 interceptions to just 16 touchdowns, and his 72.8 passer rating was the second-worst mark in the league.
Wentz's relationship with team management became so fractured that the Eagles had no choice but to trade him this offseason. The lengthy saga is finally over, but it doesn't come without a cost.
The Eagles just lit $34 million on fire
Back in 2019, the Eagles believed Carson Wentz was going to be their franchise quarterback for years to come. He had already led the team to two playoff appearances in three years, and it was his stellar play in 2017 that made the Eagles' Super Bowl run possible.
So, general manager Howie Roseman awarded Wentz with a four-year extension worth $128 million. A cheap contract for a top-tier QB in today's NFL, but it turned out to be a disaster.
The same contract carried a $33.8 million dead cap hit in 2021 if Wentz was to be traded prior to the season. Philadelphia didn't expect that to be a possibility when the team drew up the deal, but here we are.
Now that Wentz has been traded, that $33.8 million will count against the Eagles' cap in 2021. That's nearly 20% of the team's available cap space for a player who won't even be on the team. Wentz's $33.8 million dead cap hit will be the largest dead-money charge in NFL history.
What's next for Carson Wentz and the Eagles?
For Wentz, this answer is simple. He will step in as the starting quarterback of the Colts in Week 1 next season. He's back with his old offensive coordinator in Frank Reich, and he has a fresh start in a new city that's eager to welcome him in. With a Super Bowl-caliber roster around him, there's no reason he can't revert back to his old ways. Sky's the limit for Wentz and the Colts next season.
As for the Eagles, their future isn't that simple. Jalen Hurts is officially the guy under center (unless Roseman inexplicably drafts a quarterback with the sixth overall pick). Nick Sirianni steps in for Doug Pederson, along with an entirely new coaching staff. Philly has decisions to make regarding veterans Alshon Jeffery, Zach Ertz, and Fletcher Cox. The Eagles are aging, severely lacking elite talent, and nearly 20% of their 2021 cap space has just been lit on fire.
Good luck, Howie Roseman. You got yourself into this mess. Let's see if you can dig your way out.
All stats courtesy of Pro Football Reference