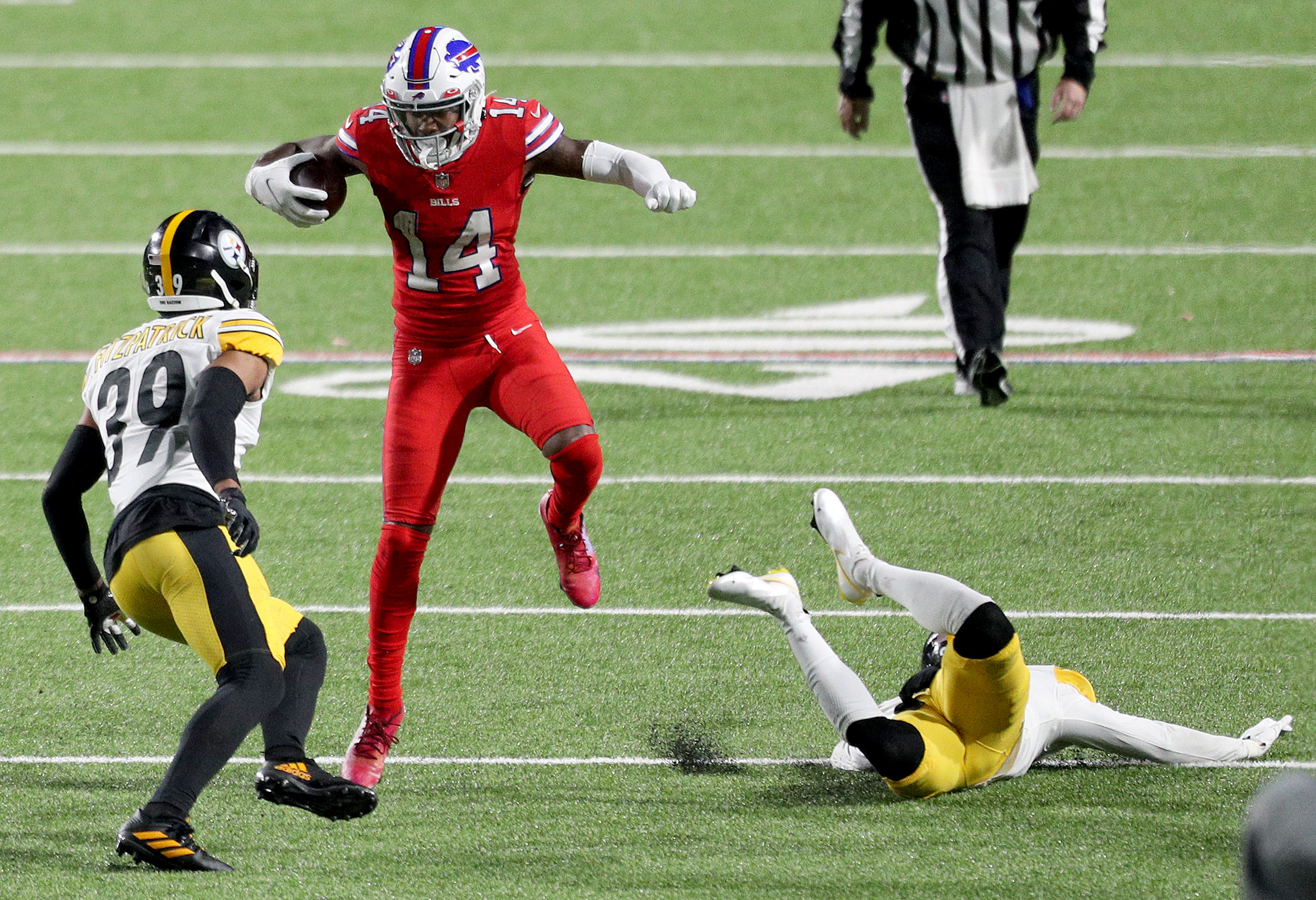 Stefon Diggs Reveals the Reason He Wanted Out of Minnesota
Buffalo Bills standout wide receiver Stefon Diggs reveals the reason he wanted out of Minnesota.
Stefon Diggs has found a happy new home with the Buffalo Bills. The former Minnesota Vikings wide receiver clearly wanted out of Minnesota, but it was never understood why. He was perceived as disgruntled – a locker-room problem. Diggs finally revealed why he wanted to move on.
Stefon Diggs' NFL career
Stefon Diggs played his college football at Maryland, playing three seasons before declaring for the 2015 NFL draft. The 6-foot, 190-pound wide receiver was selected by the Minnesota Vikings in the fifth round. Diggs wound up becoming a draft-day steal.
He played five seasons with the Vikings, catching 30 touchdown passes during that stretch. Diggs appeared unhappy toward the end of his Vikings career and Minnesota shipped him off to the Buffalo Bills. The Vikings got a tremendous return on their fifth-round pick as the Bills sent a first-round pick, a fifth-round pick, a sixth-round pick, and a fourth-rounder in 2021 to the Vikings.
The Vikings used that first-round pick to select LSU wide receiver Justin Jefferson, who is having an outstanding rookie season. In July of 2018, Diggs had signed a five-year extension worth $72 million.
Diggs thriving with the Buffalo Bills
When Stefon Diggs was traded to the Buffalo Bills prior to the 2020 season, it gave quarterback Josh Allen a clear-cut No. 1 target. It's paid off for the two. The Bills have become a force in the AFC and sport a 10-3 record heading into Week 15.
Diggs is having a monster season with his new team. In 13 games, Diggs has already collected a career-high in receiving yards with 1,167. The speedy wideout has already been targeted 134 times this year.
Diggs leads the league with 100 receptions. He's averaging 11.7 yards per reception and had five touchdowns. Diggs has helped turn Allen into an elite quarterback this season. Allen, often criticized for his lack of accuracy, has completed 68.6% of his passes. He's also thrown for a career-high 3,641 yards and a career-high 28 touchdown passes.
Why did Diggs want to leave Minnesota?
Last season, Stefon Diggs wasn't happy with his role on the team. He was fine for skipping practice and was viewed by many as a malcontent. He recently revealed why he wasn't happy in Minnesota. Diggs said he felt the Vikings weren't overly honest with him and that he felt he wasn't utilizing his talents as the team was run-oriented.
"People were kind of, I'm not going to say peeing on me and telling me that it's raining, that's a little bit harsh," Diggs said to The Viking Age. "But once you don't have trust with the person. It's hard to do business."
Diggs was in a "very dark place" in Minnesota in 2019. He wasn't happy with his role. "(The Vikings) were kind of gearing toward a run-heavy (offense) at that time," he said. "I didn't know it going in. I didn't know it was going to be that way. They only would allow me to do so much. In my eyes, it wasn't going to be in the best interest of my career." Diggs has found new life and the Vikings have found their replacement in promising rookie Justin Jefferson.