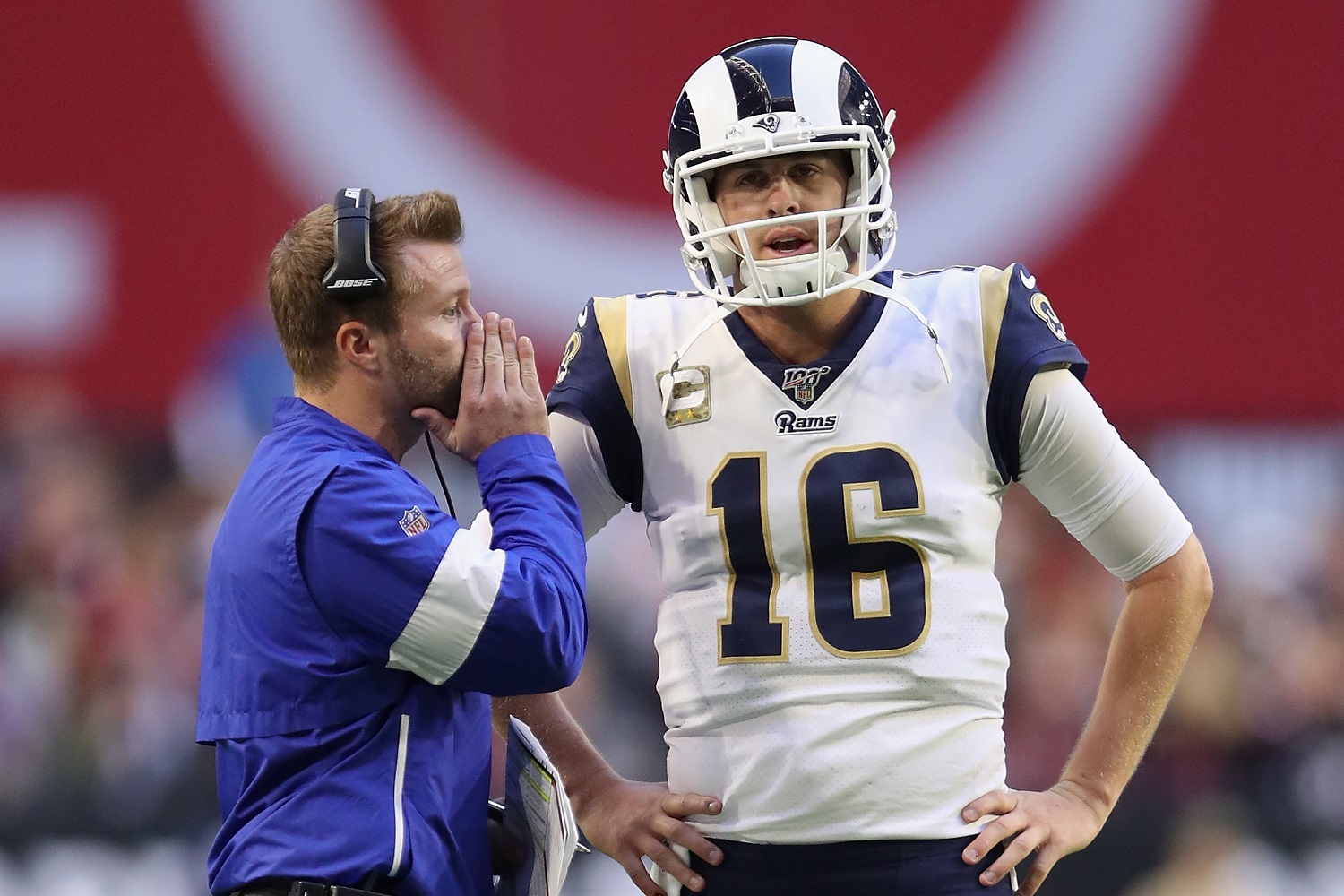 Jared Goff Had a 2-Letter Response to Sean McVay in Their Final Conversation
Los Angeles Rams coach Sean McVay gave up on quarterback Jared Goff, swapping him to the Detroit Lions for Matthew Stafford. Goff's reaction as he spoke to the coach was brief.
The relationship between a quarterback and his coach has been compared to a marriage since it's supposed to be a long-term deal but sometimes goes askew. Still, the parties often work through the rough patches and continue on. Well, when Sean McVay chose to break up with Los Angeles Rams QB Jared Goff, he at least did so without going through the charade of Valentine's Day.
Their final conversation was epic, albeit brief.
Jared Goff was the No. 1 pick in the 2016 NFL draft
Revisionist history says the Los Angeles Rams overreached by making Jared Goff the first pick of the 2016 NFL draft. However, the Rams had been going through quarterbacks like breath mints for several years, and it's not like the signal-callers taken in the first three rounds – Carson Wentz, Paxton Lynch, Christian Hackenberg, Jacoby Brissett, and Cody Kessler – set the league on fire. Some 134 players came off the board before Dak Prescott was drafted.
Goff struggled in seven starts as a rookie, but his turnaround in 2017 was impressive. He earned the first of two consecutive Pro Bowl nods by throwing for 3,804 yards and 28 touchdowns to bring the Rams to the playoffs for the first time since 2004. The following season was better: 4,688 yards, 32 TDs, and a trip to the Super Bowl.
That earned him a four-year, $134 million contract extension that rightfully raised eyebrows since the Rams could have picked up the fifth-year option instead to buy another year in evaluating him.
Goff's ratio of 42 touchdowns to 29 interceptions over the past two seasons have put him in the crosshairs of doubters and opened the Rams up to criticism for their 19-13 record.
There was tension between Sean McVay and Jared Goff
When Jared Goff broke the thumb on his throwing hand in Week 16, his 2020 season was presumed to be over. However, he was forced back into action in the wild-card round when John Wolford was injured. Goff finished 9-for-19 for 155 yards and a TD to beat the Seattle Seahawks and then returned the following week to complete 21 of 27 attempts for 174 yards and a TD in the divisional-round loss to the Green Bay Packers.
All things considered, the playoff performances should have taken a lot of heat off Goff because he played admirably despite thumb surgery. Instead, McVay gave him a lukewarm endorsement in his season wrapup, calling Goff "the quarterback for now."
"They need marriage counseling is what one person said to me," the NFL Network's Steve Wyche said. "I think this is something that they're going to be able to work through, but there's got to be some healing and that's not just with Jared Goff's injured thumb."
So much for that. The NFL Network's Michael Silver accused Troy Aikman of trashing Goff throughout the season and said Goff could "reasonably assume" that McVay was being critical of his starting QB during production meetings with the Fox Sports analyst.
No amount of counseling was going to fix that.
The parting conversation included the briefest of goodbyes
The Los Angeles Rams obviously concluded after their loss to the Green Bay Packers that Jared Goff was not going to lead them back to another Super Bowl. Over the weekend, they traded Goff and multiple draft picks to the Detroit Lions for veteran quarterback Matthew Stafford.
"I'm just excited to be somewhere that I know wants me and appreciates me," Goff told NFL.com in a thinly disguised shot at Rams coach Sean McVay. "I'm moving forward and couldn't be more excited to build a winner there. "
One night earlier, McVay phoned Goff to inform him of the trade. The coach had barely gotten the details out of his mouth when the quarterback saw that he had an incoming call from his father.
"OK," Goff told McVay, according to NFL Network. "I've gotta go."
Click.
All stats courtesy of Pro Football Reference.