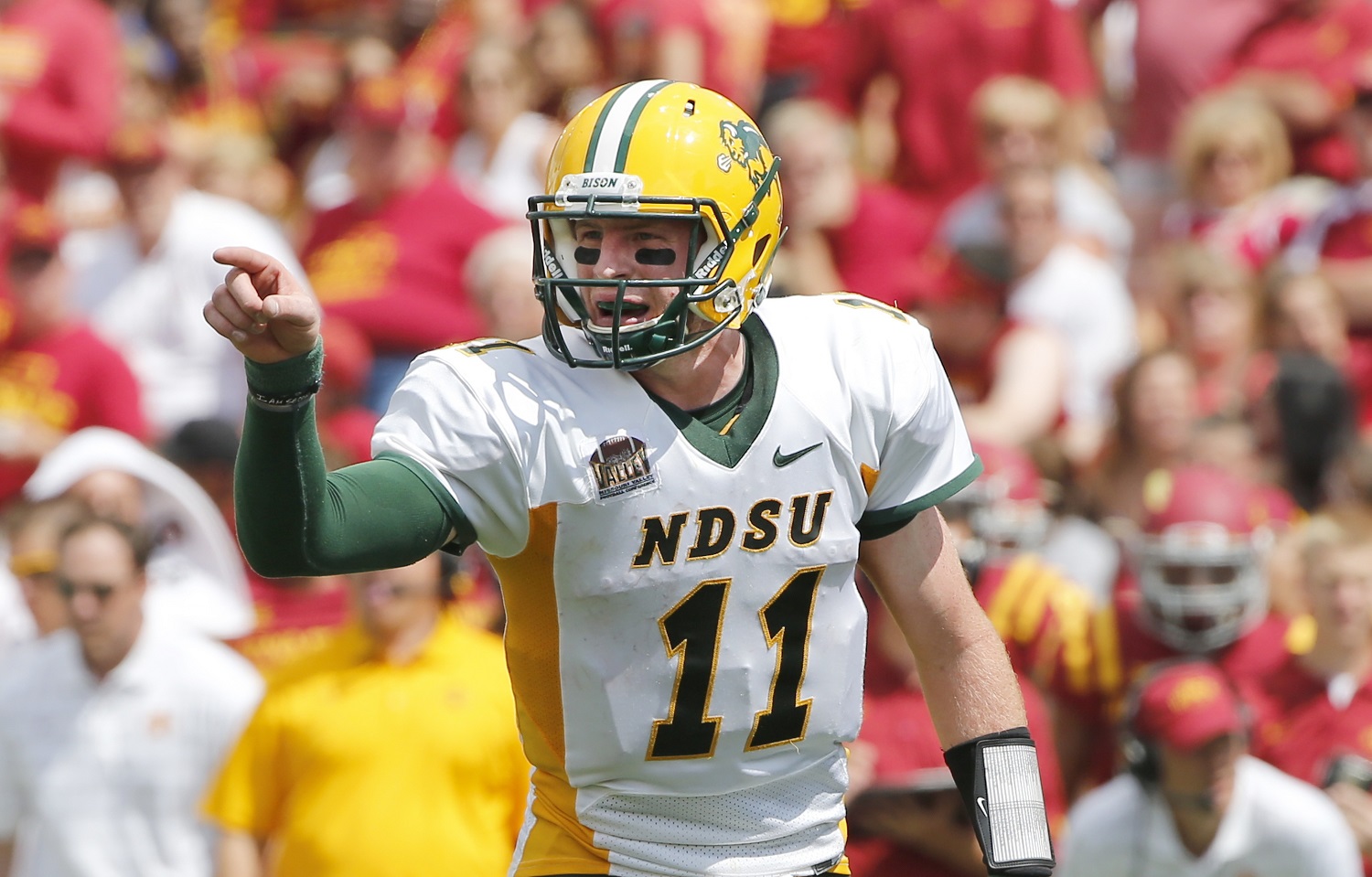 How Did Carson Wentz Win Five College National Championships?
A look at how Carson Wentz was able to technically win five national championships while enrolled at North Dakota State University.
When Carson Wentz was taken by the Philadelphia Eagles with the second overall pick of the 2016 NFL draft, he became the highest selection in history for an FCS player.
Now, for those unaware, FCS stands for Football Championship Subdivision, which the NCAA used to call Division I-AA before they complicated things a few years back when they also changed Division I-A to FBS. There's more to it but let's not get off track here.
Carson Wentz, who was born in North Carolina but moved to North Dakota at the age of three, became an FCS player simply because he wasn't heavily recruited out of high school and chose to stay in the Peace Garden State to play his college football at North Dakota State.
When he arrived in Fargo in 2011, the Bison had made their first postseason appearance in a decade the season prior and were on the verge of becoming one of the greatest dynasties in the history of the sport, a dynasty with which Carson Wentz managed to technically win five national championships.
Carson Wentz wasn't heavily recruited out of high school
Standing 5'8″ and weighing just 125 pounds as a freshman, Carson Wentz was a multi-sport star at Century High School in Bismarck, North Dakota, playing baseball, basketball, and football. As a junior, he decided to quit basketball to focus on football but suffered a broken hand that hindered his ability to play quarterback, which had long been his position of choice as his older brother had been a star QB at century as well.
Wentz played a little wide receiver when he returned from the injury but really wasn't able to focus on being a full-time quarterback until his senior year. As there wasn't much tape on him as a quarterback until that senior season, the scholarship offers really weren't there until late and all of them were from FCS schools in the Missouri Valley Conference, one of which was North Dakota State, where his brother went to play baseball. There was talk of Central Michigan possibly making an offer but Carson Wentz had made up his mind and he joined the Bison in 2011.
He redshirted as a freshman and was the backup quarterback for North Dakota State as they won three consecutive national titles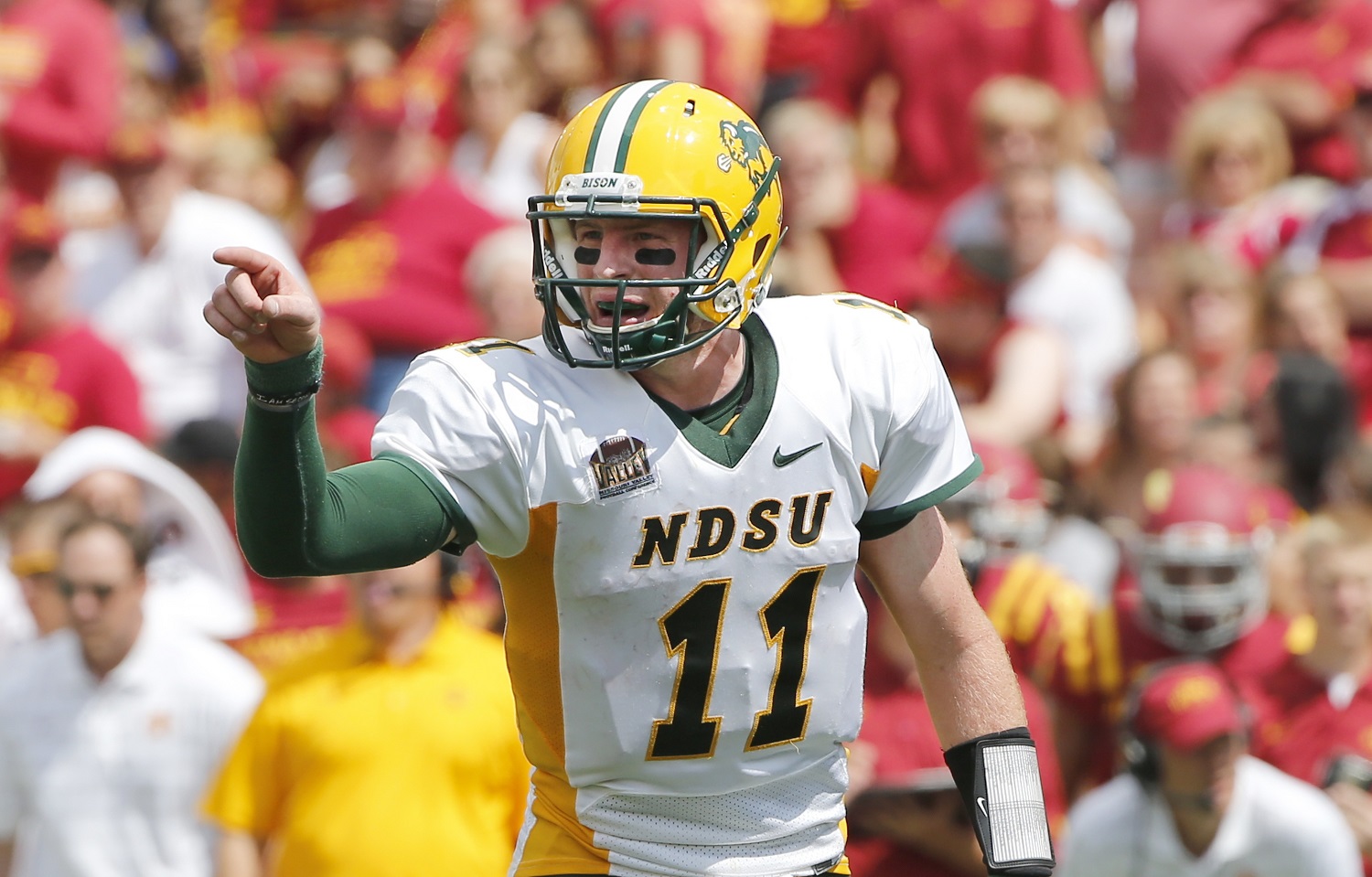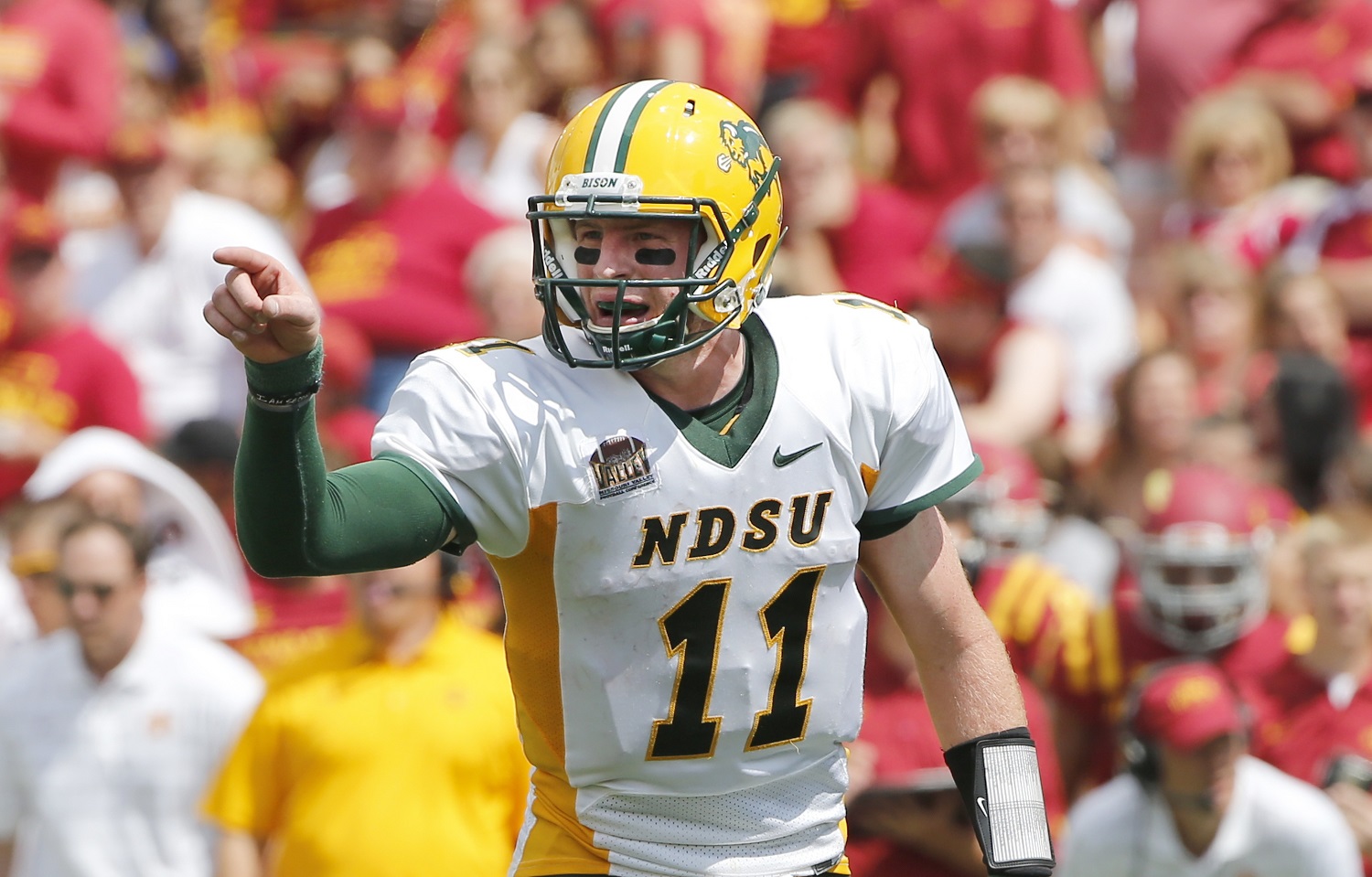 Upon arriving at North Dakota State, Carson Wentz redshirted the 2011 season in which the Bison won the FCS National Championship by defeating Sam Houston State in the title game, 39-13.
As a redshirt freshman, Wentz was a backup quarterback to Brock Jensen and completed 12 of 16 passes for 144 yards and two touchdowns as the team went 14-1 for the second consecutive season and again defeated Sam Houston State in the FCS title game. The following season, again backing up Jensen, Wentz appeared in 11 of North Dakota State's 15 games and completed 22 of 30 passes for 209 yards and a touchdown as the Bison went undefeated and won their third straight title by defeating Towson, 35-7.
Carson Wentz led North Dakota State to two more national titles as the starting quarterback
Carson Wentz finally got his chance to become the starting quarterback for North Dakota State in 2014 and picked up right where his predecessor left off. He completed 228 of 358 passes for 3,111 yards and 25 touchdowns and also added 642 yards and six scores on the ground in leading the Bison to a 15-1 record and a fourth straight national championship. In the FCS Championship Game against Illinois State, Wentz threw for 237 yards and a touchdown and ran for the go-ahead touchdown with 37 seconds remaining in the 29-27 victory, which helped him earn Most Outstanding Player honors.
As a fifth-year senior in 2015, Wentz was having another fantastic season but broke his wrist in NDSU's sixth game of the year, an injury that forced him to miss the next eight games. However, the Bison continued to win without him and he returned for the national title game against top-ranked Jacksonville State and once again earned Most Outstanding Player honors by throwing for 197 yards and a touchdown while also rushing for 79 yards and two scores in the 37-10 win that secured the team's fifth consecutive title.
So that's how Carson Wentz was able to technically win five national titles in college. Now, you might be thinking that his redshirt year doesn't count. But redshirt players can still practice with the team and do help contribute to the program's overall success.
As there are really no specific rules on the matter, it's essentially up to the program to decide who gets listed as a national champion. And if you look at the North Dakota State team picture from Wentz's redshirt season in 2011, he's right there in the seventh row.
Stats courtesy of Sports Reference