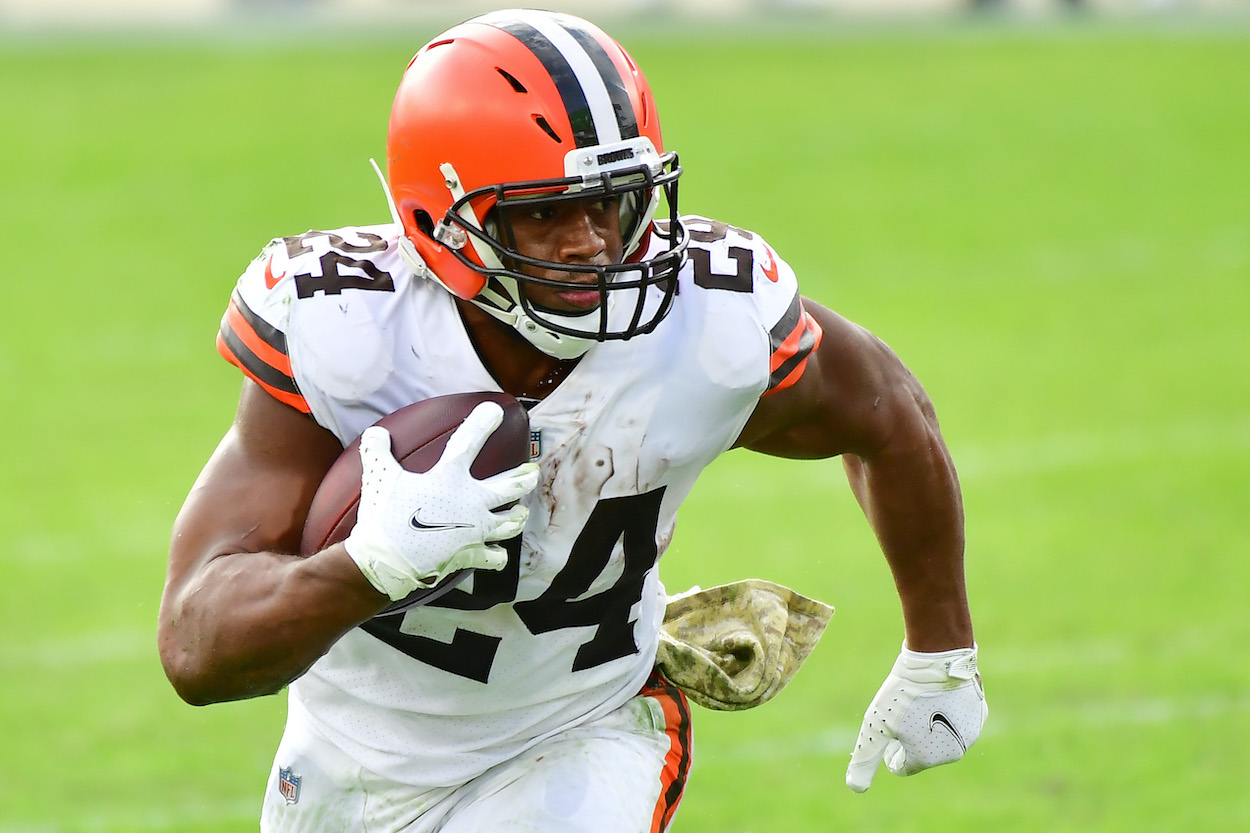 Nick Chubb Already Decided on His Future With the Cleveland Browns
Nick Chubb has spent his first three NFL seasons with the Cleveland Browns, and if it were up to him, he would be spending the next few there as well.
Nick Chubb couldn't have asked for a much better start to his NFL career with the Cleveland Browns, and it sounds as if he wants to keep it going for a little while longer.
Speaking to reporters ahead of the Browns' first minicamp practice of the summer this week, Chubb left no doubts that Cleveland is where he wants to be for the foreseeable future. Now, all that's left to do is to put pen to paper on a contract extension. So, what would a new contract for Chubb look like, and how would it stack up with other running back contracts around the NFL?
Nick Chubb has been a critical part of the Browns' resurgence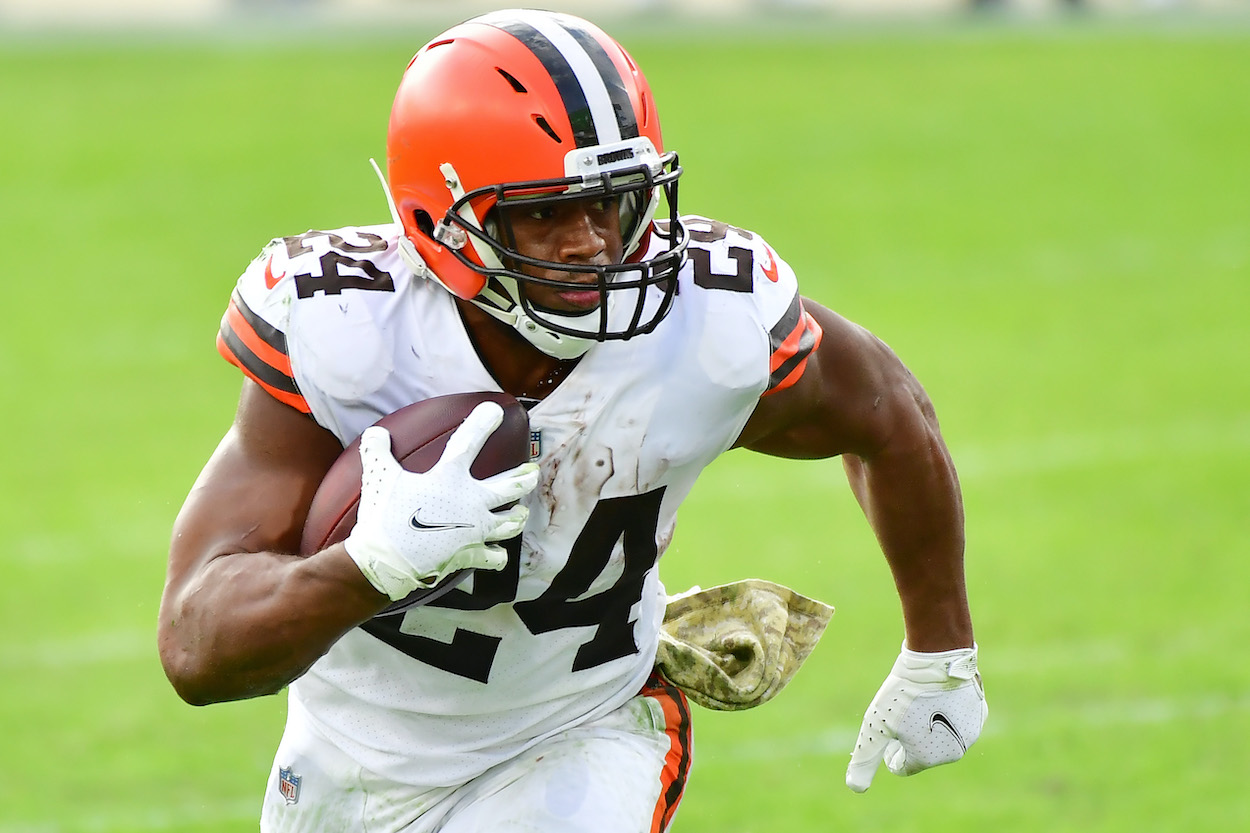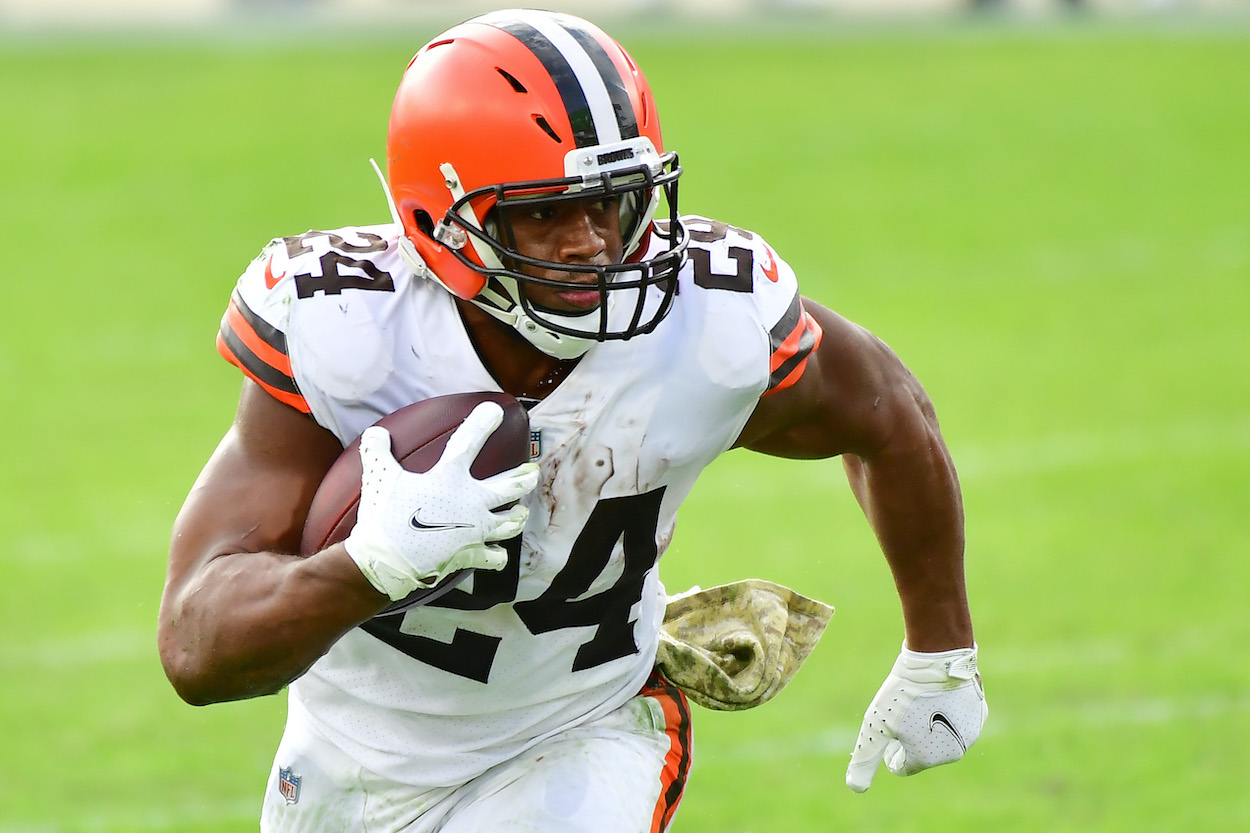 The Browns are finally back on the NFL map after nearly two decades of being completely lost at sea. Cleveland reached the playoffs last season for the first time since 2002, and its talented, young roster puts the team in position to contend for years to come.
A huge part of the Browns' recent resurgence has been the renaissance of a ground-and-pound offensive game plan led by Chubb himself. The Georgia product was drafted in the second round in 2018, and he's been nothing short of spectacular for the Dawg Pound. In just his first three years as a pro, Chubb has rushed for 3,557 yards and 28 touchdowns. He's made the Pro Bowl in the two straight seasons, and he only seems to be improving.
Cleveland has built its entire offensive identity around Chubb and running back mate Kareem Hunt. The Browns don't want to lose him once his rookie contract expires after the 2021 season, and Chubb clearly doesn't want to leave, either.
Chubb on his Browns future: "Cleveland is where I want to be"
Professional athletes nowadays change teams almost as often as they change their underwear. There's barely any loyalty in sports anymore, but Chubb at least seems to have some.
The star running back spoke to reporters Tuesday about his confidence heading into the year, how the offense is shaping up, and his thoughts on a possible contract extension. It's safe to say Chubb would be thrilled if that came to fruition this summer.
"I don't like uncertainty, and I know here in Cleveland what I have with the players and coaches,'' Chubb said. "This is the city of Cleveland, and I don't know how things will be anywhere else. So Cleveland is where I want to be and that is my main focus — to be here in Cleveland."
Chubb said he appreciated the Browns taking a chance on him in 2018, so he wants to pay the franchise back as much as he can.
"Cleveland drafted me however many years ago it was, trusted me and put their faith in me to come here and help build this culture of this team I've been a part of it," he said. "I feel like, yeah, Cleveland is where I want to be and hope everything can work out in that direction."
What would a contract extension look like?
During his Tuesday presser, Chubb said his agent has been in contact with the Browns about a possible contract extension this offseason. His rookie deal expires after this season, so getting an extension done now would make the most sense for both sides.
But what would a new contract look like for Chubb?
According to Spotrac, Chubb's market value is $12.1 million per year, which would make him the seventh-highest-paid running back in the NFL today. A four-year deal worth somewhere around $50 million would make a ton of sense for the 25-year-old.
"I'm going to let my agent and the Browns handle that,'' Chubb said. "I'm just here to play, be here for my team, continue to get better, and try become a better teammate and a better team. That's all I am focusing on and will allow that to take care of itself."