Baltimore Ravens Reunite Lamar Jackson With His Favorite High School Wide Receiver
Most NFL players who enter the league as undrafted free agents have a very slim chance of making their team's opening day roster. One Baltimore Ravens' undrafted free agent, wide receiver Donte Sylencieux, may have a leg up on making the team though. Why? 
It's because Sylencieux was Ravens' quarterback Lamar Jackson's favorite receiver on his high school team.
Lamar Jackson played high school football in Florida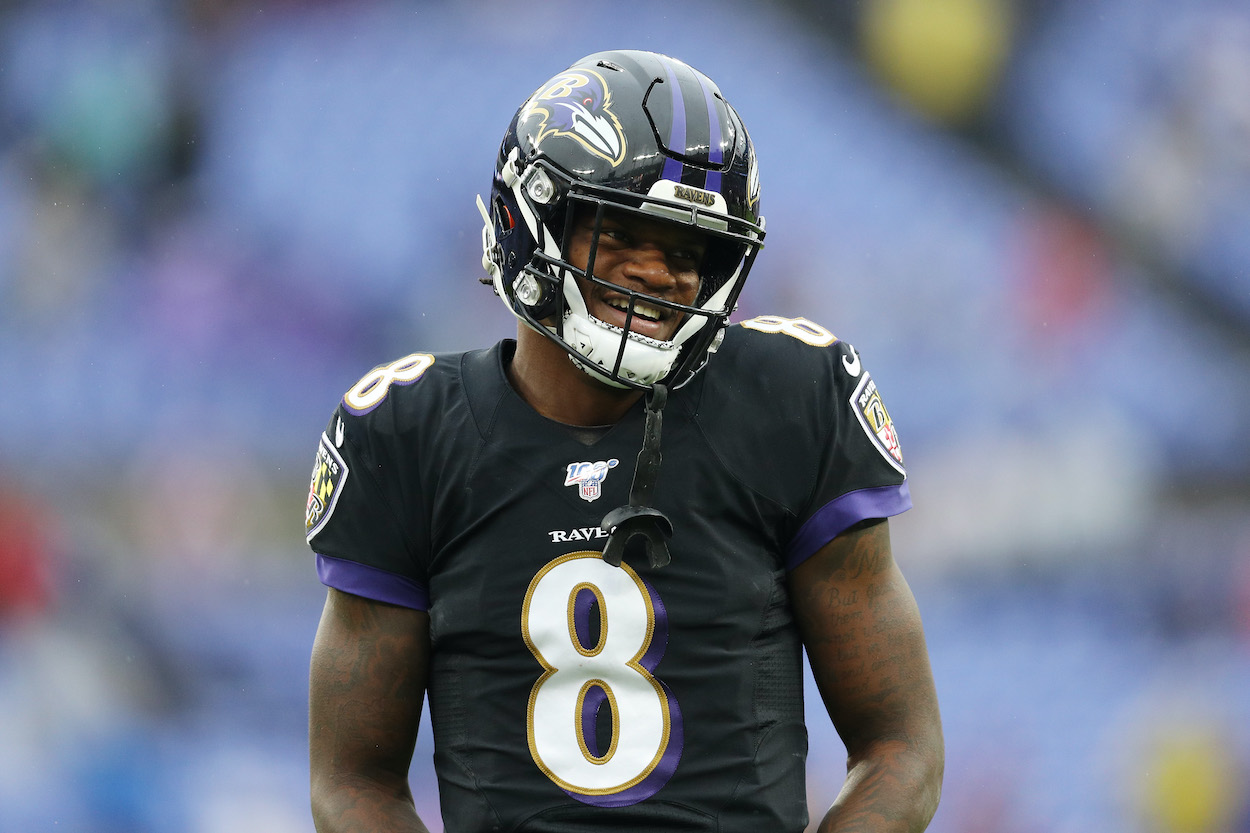 Before quarterbacking the University of Louisville Cardinals and the Ravens, Jackson was a prep star at Boynton Beach Community High School in Florida. In his junior and senior years there, Jackson passed for 3,033 yards, ran for 2,440 yards, and accounted for an astounding 80 touchdowns, according to GoCards.com. 
Those stats led to Jackson becoming a four-star recruit in 2015 and the No. 8 dual-threat quarterback in the country. He would sign with Louisville and go on to win the 2016 Heisman Trophy in his sophomore season.  
Sylencieux played on Jackson's high school team and was a favorite target of Jackson. The 6'1" wide receiver caught 10 of Jackson's 45 touchdowns in high school. He would go on to play at Graceland University, according to ESPN, an NAIA school in Iowa. Here, Sylencieux caught 59 balls in his three seasons on the team. 
The Baltimore Ravens need to upgrade the wide receiver position in 2021
The Raven's 2020 NFL season ended in disappointment with a loss to the Buffalo Bills in the second round of the playoffs. Part of the issue that stunted the Ravens season is that the team was weak at the wide receiver position. 
The team did not have a 1,000-yard pass catcher in 2020. Marquise Brown was the team's leading receiver with 58 receptions for 769 yards. The second most productive receiver wasn't a receiver at all. It was tight end Mark Andrews with 58 receptions for 701 yards.  
There is an issue the Ravens are facing trying to upgrade at this position though. Because of Jackson's unique skill set, they are a run-heavy offense. The team led the league in rushing in 2020, both yards and attempts-wise. Baltimore ran the ball 555 times last season for 3,071 yards.  
While they missed out on some high-profile free agents, the Ravens did add some firepower at wideout in the offseason. They inked veteran receiver Sammy Watkins to a deal, and they drafted lightning-quick University of Minnesota wideout Rashod Bateman, No. 27 overall in the 2021 NFL draft. 
Donte Sylencieux is still a longshot to make the Ravens roster
While Sylencieux will have an ally in Jackson, making the team, or even the practice squad, is a long shot. In addition to the team's other new receivers and his undrafted status, the fact that Sylencieux went to an NAIA as opposed to a Power 5 or even another NCAA school isn't promising. His lack of big-time production in college is a black mark as well. 
Picking up Sylencieux isn't the first time the Ravens have signed a receiver that Jackson had success with in his pre-NFL days. In 2019, Baltimore signed Jaylen Smith, who was a top target of Jackson's at Louisville. Smith was eventually cut in training camp and never officially played for the Ravens. 
Whether he makes the team or not, this blast-from-the-past connection between Jackson and Sylencieux will be fun to keep an eye on. Maybe Sylencieux can catch on and rediscover some of that Boynton Beach magic. If not, at least this will hopefully be a step toward the Ravens keeping their franchise quarterback happy, as they look to sign Jackson to a long-term contract. 
All stats courtesy of Pro Football Reference