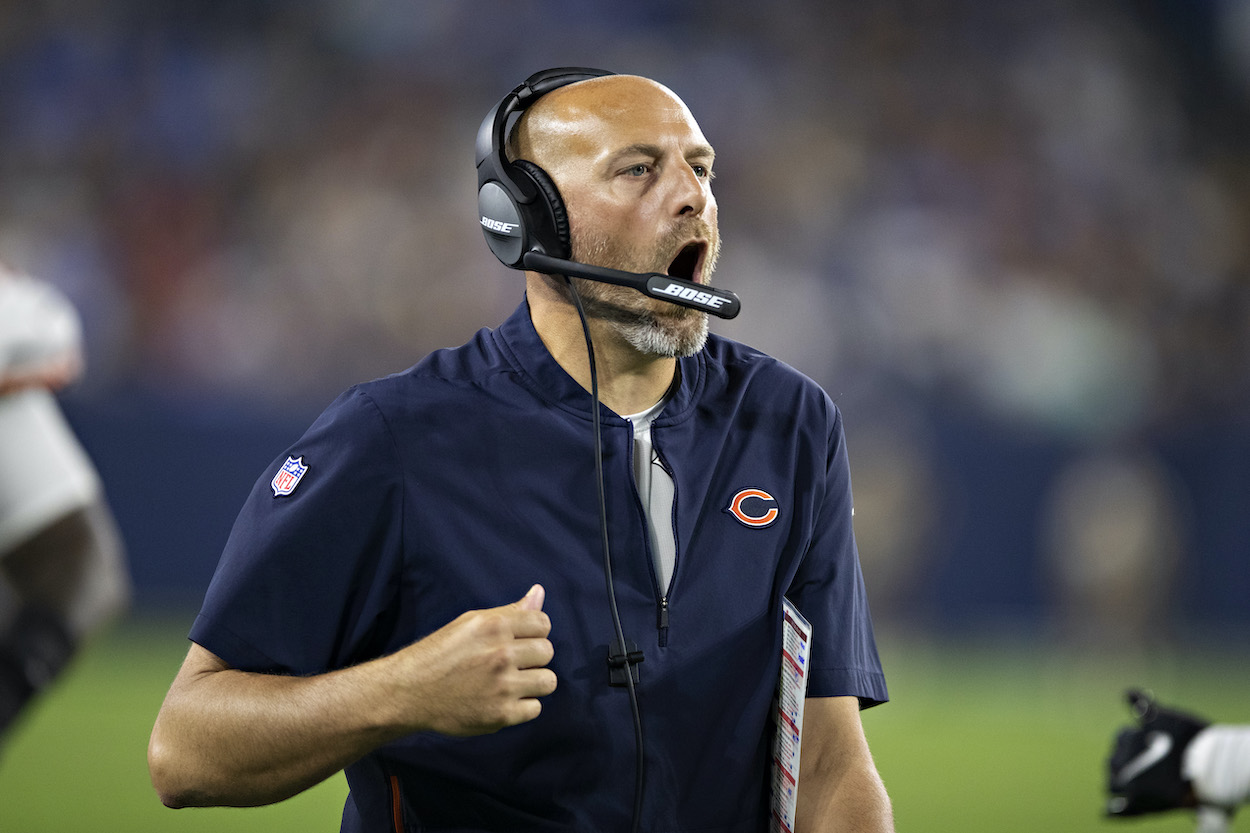 Matt Nagy Bafflingly Explains the Bears' Struggles are Because His Offense 'Takes a Few Years to Get Going'
Chicago Bears coach Matt Nagy was billed as an offensive guru but the Bears O hasn't been great. He says it's something he expected, though, and in Kansas City his offense took a while, but that doesn't seem to bear out.
The 2021 season seems like a boom or bust year for the Chicago Bears. If they can develop Justin Fields and win some games, head coach Matt Nagy and general manager Ryan Pace could become Windy City institutions. If not, the pair could be gone soon. It all may come down to how well the Bears play on offense this year, an issue that Nagy explains could be difficult because of how long his offensive system takes to grasp.
Matt Nagy's Chicago Bears have declined since he became head coach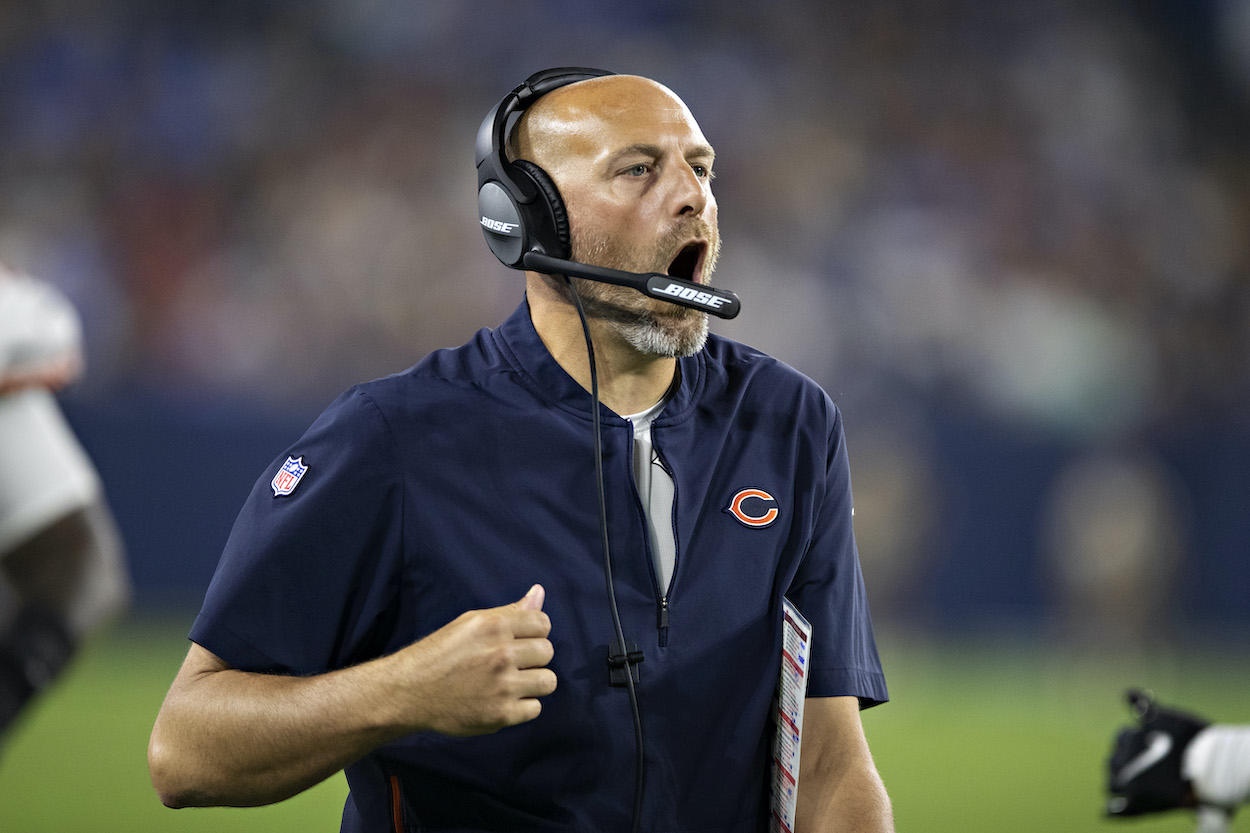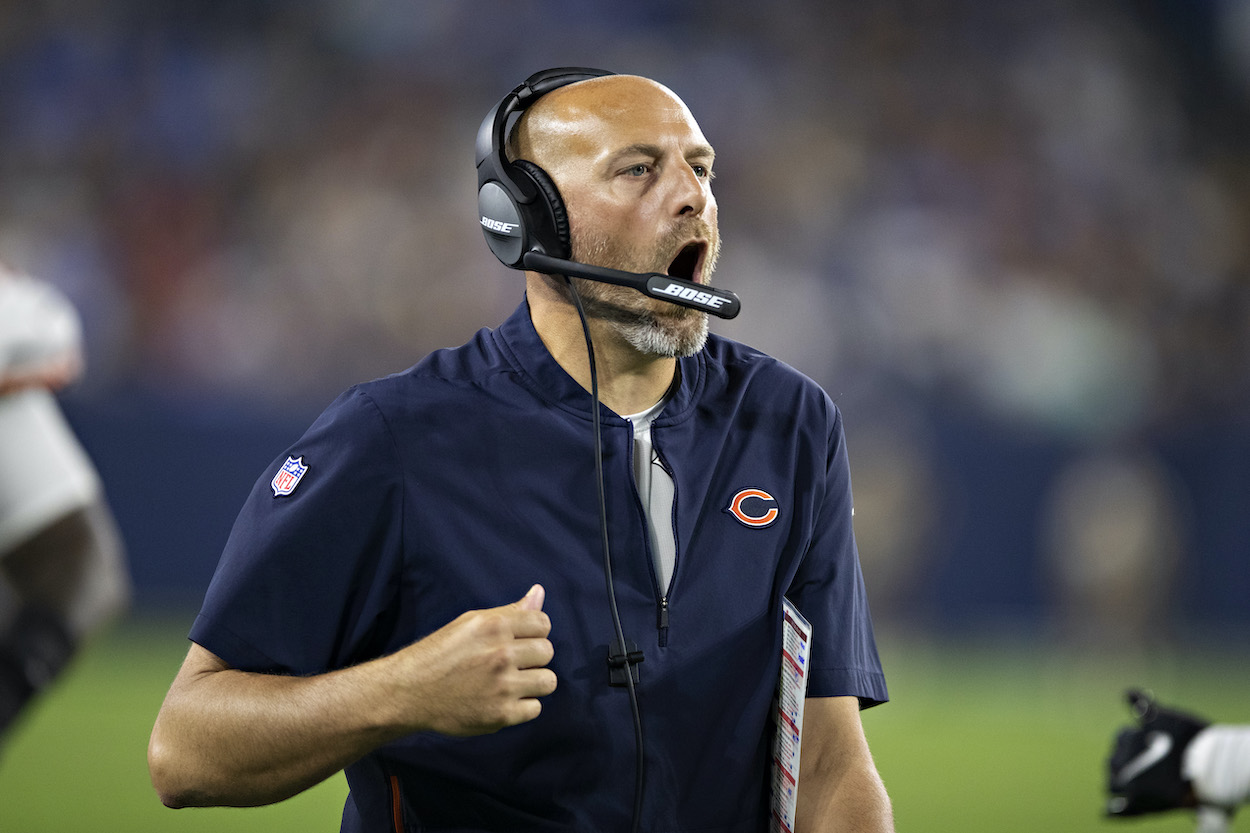 Before Matt Nagy became the Chicago Bears head coach, he was a quarterback. The Pennsylvania native was an All-American at the University in Delaware and then, after failing to catch on with an NFL team, played six seasons in the Arena Football League, according to ChicagoBears.com.
After his playing career ended, he interned for the Philadelphia Eagles under head coach Andy Reid and stayed with him for almost a decade. After two seasons as an intern, Nagy became a coach's assistant and then an offensive quality control coach.
When the Eagles fired Reid, and the Kansas City Chiefs brought him on, Nagy went with him. In KC, the then-35-year-old started as quarterbacks coach and, after three seasons, became the offensive coordinator. In his season as OC, Nagy helped Alex Smith and company go 10-6 and make the playoffs. That success led to the Bears' job.
Things started off so well in Chicago for Nagy and the Bears.
The team went 12-4 in Nagy's inaugural campaign and made the 2018 playoffs. The Bears should have made at least the second round too, but kicker Cody Parkey missed a game-winning 43-yard field goal on the infamous "double doink" kick.
The following two seasons weren't as successful. The team went 8-8 both years, and Chicago's young quarterback, Mitchell Trubisky, failed to improve in Nagy's offense.
Now, heading into his fourth year in charge, Trubisky is gone. If the offense once again sputters in 2021, Nagy will have nothing else to blame but his system, which, by his own admission, is a slow burn.
Nagy says his offense takes a while to get going
Whatever happened with Trubisky and the Bears offense in 2018 didn't stick around for 2019 and 2020. With his seat now officially hot in the Windy City, Nagy explained that this was something he expected.
The offensive guru told the Chicago Sun Times' Mark Potlash that a slow start — meaning three or four years — is just what it takes for his offense to really get a head of steam with a team:
When I first got here … I explained to everybody that this offense, it takes a few years to get going. We saw that in Kansas City because it took a few years, not just with the players that were coming in and were drafted, but the scheme — them learning it and understanding it. After three or four years, it really started picking up and going. I feel like we're at that spot right now.

Matt Nagy on his offensive system
While the Chiefs may not have understood the offense during the first few years like Nagy is implying the Bears don't, the AFC champs did better with it than their NFC counterparts. In Reid and Nagy's first four years in KC, the team went 11-5, 9-7, 11-5, and 12-4.  
The Bears offense better get going soon, or Nagy (and Ryan Pace) will be out
Whether the Bears are finally able to grasp Nagy's apparently complex offense or not, if the Bears don't win this season, it could mean the end for Nagy and the team's GM, Ryan Pace.
Pace got to Chicago three seasons before Nagy. He was the GM in charge when the team inexplicably traded up one spot to draft Trubisky in 2017. The fact that the executive even got to stick around until 2021 to jettison the former North Carolina passer and trade up again to select Justin Fields at No. 11 is somewhat surprising on its own.
The coach and GM are now inextricably linked. This season will likely determine their long-term fate with the Bears organization. If Fields becomes a success and looks like he will be able to take the team to the postseason on a regular basis, the two could be at Soldier Field for a long time.
If Fields doesn't come good or, worse yet, he doesn't get a chance this season because Nagy continues to stick with Andy Dalton stubbornly, both the coach and Pace could be looking for new employment as soon as this coming offseason.
Or, maybe the entire operation depends on the mythical fourth year of Nagy's offense and the magic it will bring. That's what he seems to think, at least.
Like Sportscasting on Facebook. Follow us on Twitter @sportscasting19