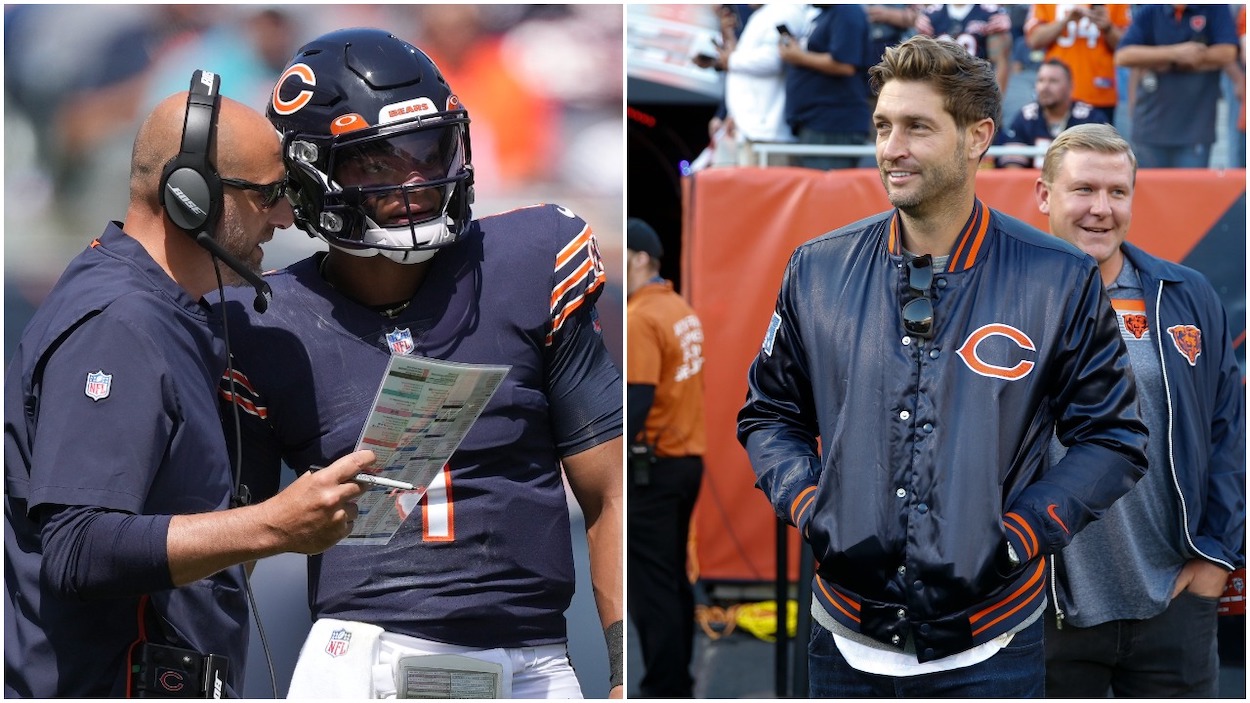 Jay Cutler Weighs in on the Chicago Bears' Matt Nagy, Ryan Pace, and Justin Fields: 'It Hasn't Been Stellar'
Former Chicago Bears QB Jay Cutler shared his thoughts on the future of head coach Matt Nagy, GM Ryan Pace, and why Justin Fields is key. Cutler says that if Fields comes good, Pace and Nagy "probably bought two to three more years." If he doesn't, the pair will likely be out in Chicago.
As someone who spent eight years with the Chicago Bears, former NFL quarterback Jay Cutler knows the organization pretty well. The QB-turned-reality-star-turned-podcast-host recently told fellow NFLer-turned-podcaster Pat McAfee what he thinks about the state of the team, head coach Matt Nagy, and general manager Ryan Pace. He also described why he believes that rookie quarterback Justin Fields is the key to both those guys' job security moving forward.
Jay Cutler was the Chicago Bears QB for eight seasons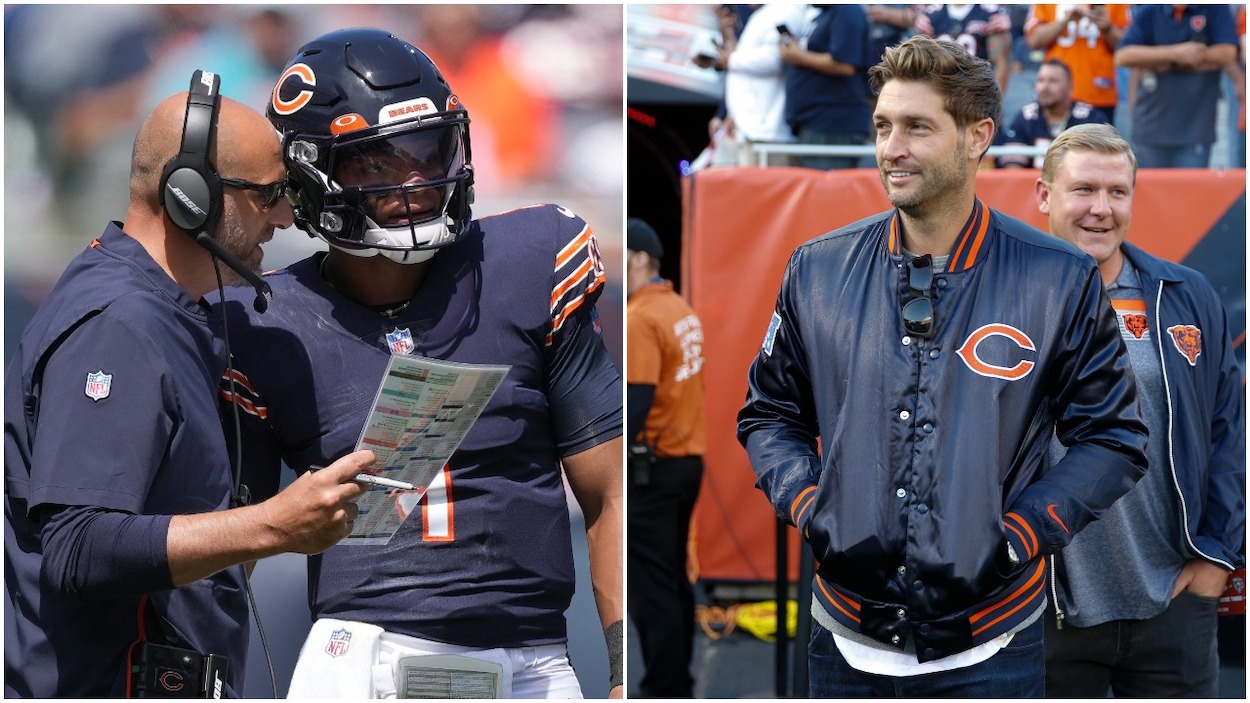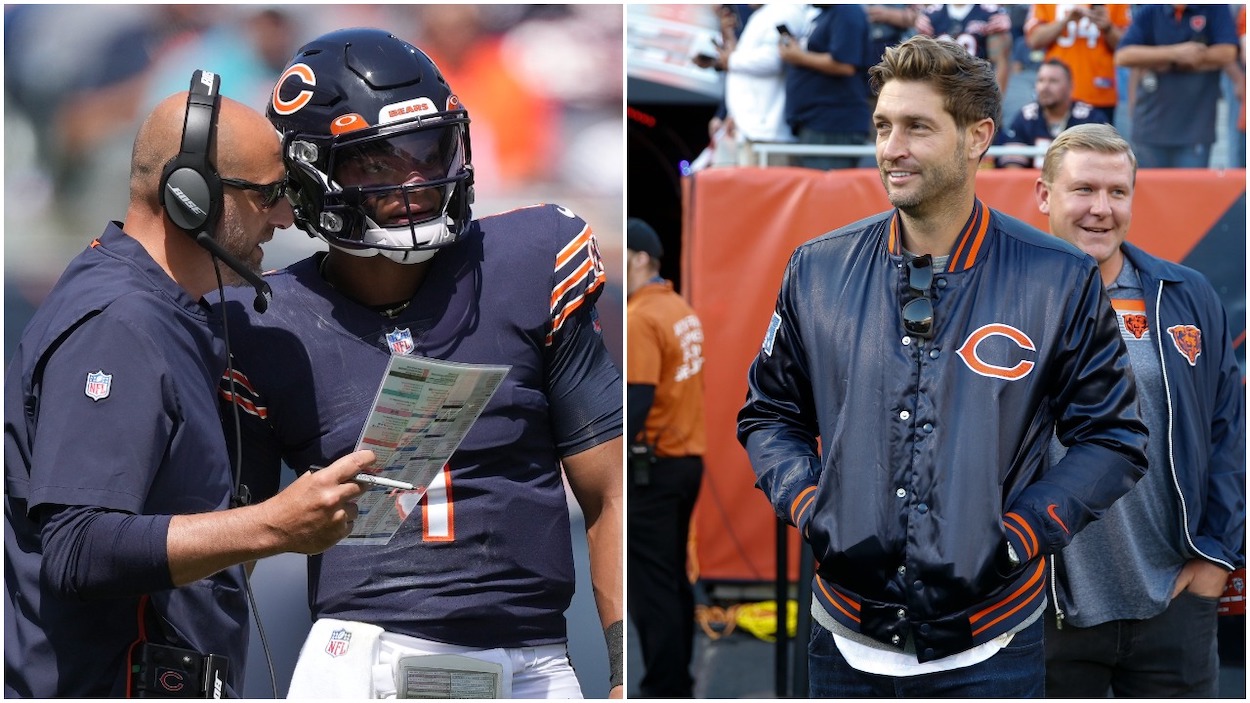 The Denver Broncos took Vanderbilt's Jay Cutler No. 11 overall in the 2006 NFL Draft. After three productive seasons in the Mile High City, including a 2008 Pro Bowl appearance, the team fired coach Mike Shanahan, hired New England Patriots offensive coordinator Josh McDaniels, and traded Cutler.
The Broncos sent Cutler and a 2009 fifth-round pick to the Chicago Bears for 2009 first- and third-round picks and another first in 2010.  
Cutler's next eight seasons were personally very productive but produced only one playoff appearance for the franchise. The former Commodore threw for 23,443 yards and 154 touchdowns but also threw 109 interceptions. He led the league twice in this last category, in 2009 and 2014.
His overall record as the starter in Chicago is 51-51. Despite the lack of team success, he is currently the franchise leader in passing yards, passing touchdowns, and completions.
After retiring then returning for one season with the Miami Dolphins, Cutler walked away from the NFL for good following the 2017 season.
Cutler shared his thoughts on the current Bears QB battle between Justin Fields and Andy Dalton
Since Cutler is one of the best quarterbacks in Bears' history (sadly true), one of former NFL punter Pat McAfee's co-hosts on The Pat McAfee Show 2.0 asked the retired star about the current state of affairs in the Windy City.
"Do we think Matt Nagy and [Ryan] Pace is the answer for Chicago?" Zito asked. Cutler responded by admitting, "Oh God, that's a tough question. Such a loaded question," before launching into his answer:
It all comes down to Just Fields. If they can make it work with him at some point during the season, then [Nagy and Pace] probably bought two to three more years. If this implodes and doesn't go the way it's supposed to go, hell, I don't know what's going to happen because you look back at the draft picks — the first-round draft picks — and it hasn't been stellar. I like Coach Nagy. I like his offense. I've heard nothing but good things from the guys in the locker room, so I'm a fan of his. But, you can only play what you have on the field, so we'll see what happens.

Jay Cutler on the Chicago Bears
If Cutler is right, Nagy needs to change course as soon as possible. The second-year coach has been adamant since the NFL Draft that Dalton is the team's starter. If this season and Fields' development is as critical to Nagy and Pace's job security as Cutler says, they better figure out a way to get him on the field soon.
When will the Bears start Justin Fields?  
In a moment of poetic irony (or maybe a predictor of things to come), Buffalo Bills defensive back Nick McCloud picked off Andy Dalton's final preseason pass. Conversely, Justin Fields' last preseason pass involved an athletic scramble to his right and a pinpoint touchdown pass on the side of the end zone to tight end Jesper Horsted.
The answer to the question, "when will the Bears start Justin Fields?" should be Week 1. However, Nagy has remained steadfast that Dalton will be under center after the opening kick on Sunday Night Football against the Los Angeles Rams.
If Dalton struggles at any point in the opening few games, Nagy will likely have a quick hook. The former Kansas City Chiefs assistant will also have good opportunities to ease Fields into the NFL in Weeks 2, 4, and 5. In these games, the Bears take on what should be subpar defenses against the Cincinnati Bengals, Detroit Lions, and Las Vegas Raiders, respectively.
If the Bears get past that mark without starting Fields and with a sub-.500 record that could be the final straw for both Nagy and Pace's future with the franchise.
All stats courtesy of Pro Football Reference