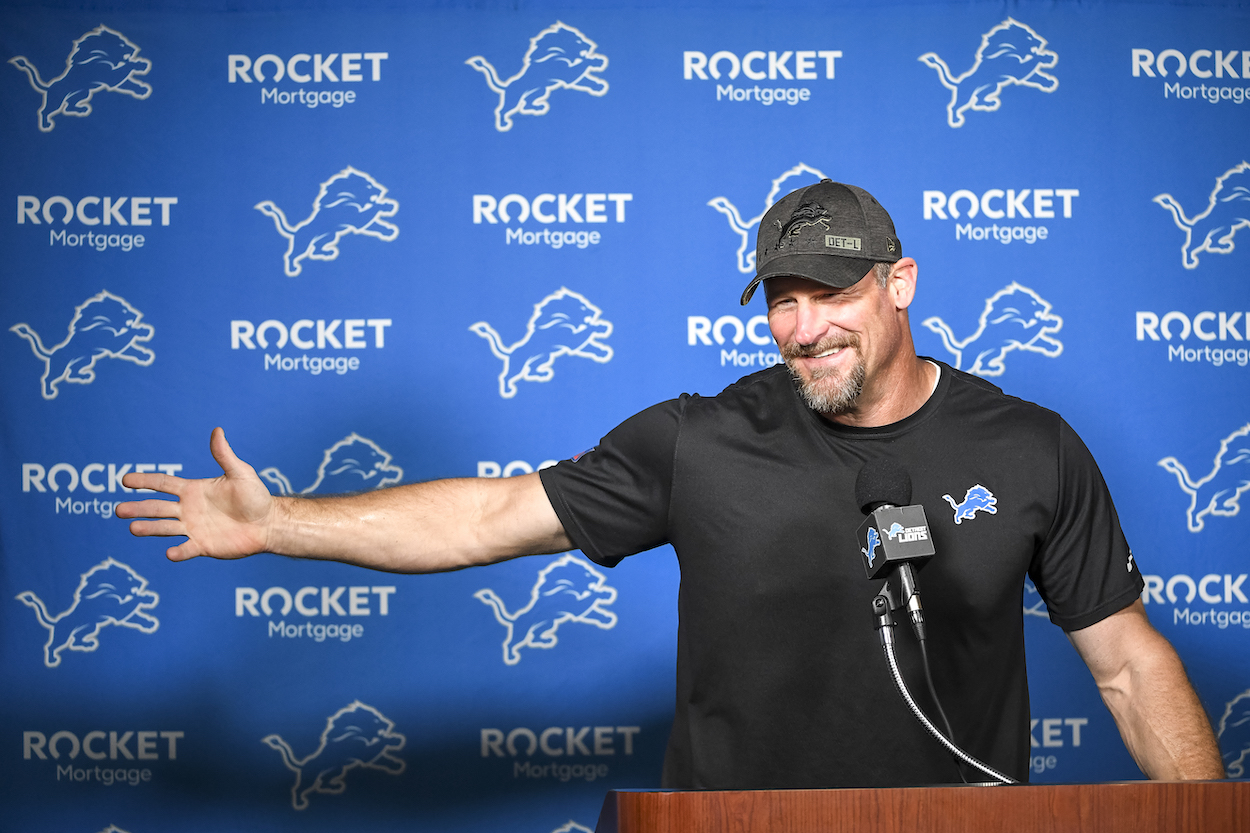 Dan Campbell Starts His Day Coaching the Detroit Lions With an Ungodly Amount of Caffeine
Detroit Lions head coach Dan Campbell was all about energy as a player and as a coach. Now we know the secret to that energetic persona. The former NFL tight end recently shared his morning coffee order which includes 40 oz. of coffee with double shots of espresso in each cup.
Detroit Lions head coach Dan Campbell brings a toughness and energy to the organization that they lacked under the previous Matt Patricia regime. Campbell was a tenacious player and looks like he'll bring the same mentality to his head coaching gig. At Lions training camp, Campbell let reporters in on the secret to his energetic demeanor: tons of caffeine.
Detroit Lions head coach Dan Campbell is all about energy
Campbell played 10 seasons as a tight end in the NFL before becoming the Lions head man in 2021. He was physically imposing at 6-foot-5, 265-pounds, but was never the biggest, strongest, or fastest player on the field.
The reason Campbell stuck around for as long as he did was because of his energy. He was a tenacious blocker and his best seasons were with the New York Giants and Dallas Cowboys in the early 2000s. On these teams, Campbell did the dirty work to free up more graceful pass-catching tight ends Jeremy Shockey and Jason Witten.
The former Texas A&M Aggie showed this energy in his coaching career as well. He's been the tight ends coach and interim head coach of the Miami Dolphins. He was also the assistant head coach in New Orleans prior to his Lions gig.
Campbell hasn't coached a game for Detroit yet but started his tenure with an energetic press conference. "We're gonna kick you in the teeth, and when you punch us back, we're going to smile at you," Campbell famously said. "And when you knock us down, we're gonna get up. And on the way up, we're going to bite a kneecap off."
Campbell drinks a lot of strong coffee to jumpstart that energy
To get his motor running in the morning to bring the energy to Detroit Lions practice, Campbell recently shared his morning beverage routine:
Normally what I do is I get two Venti – I go [to], you know, to Starbucks – and get two Venti of the Pike, with two shots in 'em. So, blackeye in both [pouring shots sounds]. That's what I come in with. That's how I start the day.

Dan Campbell on his coffee habits
A Starbucks Venti Hot is 20 ounces, so that's a 40-oz. start to the day for Campbell. With the two shots of espresso in each, ESPN's Mina Kimes estimated on Twitter that the two drinks add up to 1,200 mg of caffeine.
An average cup of coffee has around 95 mg of caffeine. This means that Campbell kicks off each day at Lions camp with the equivalent of approximately 12 cups of coffee.
Several other NFL head coaches played in the league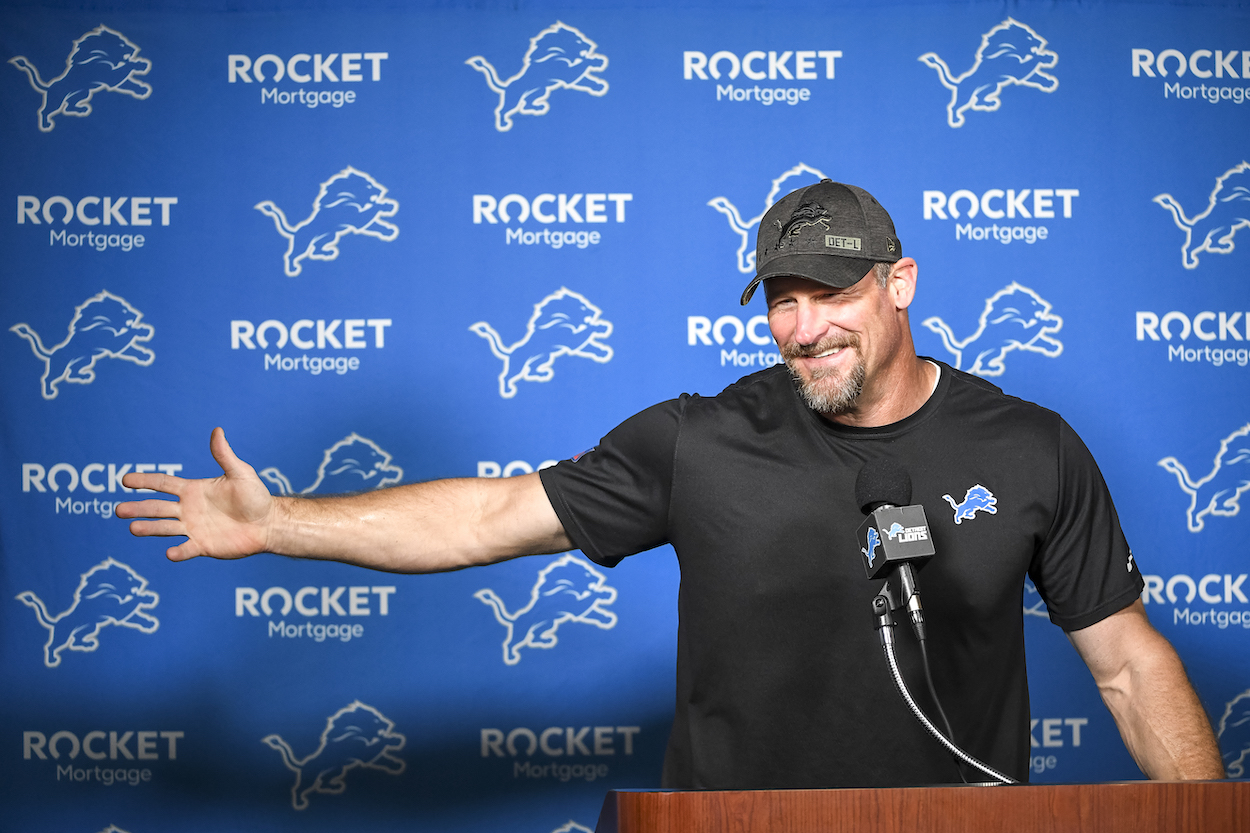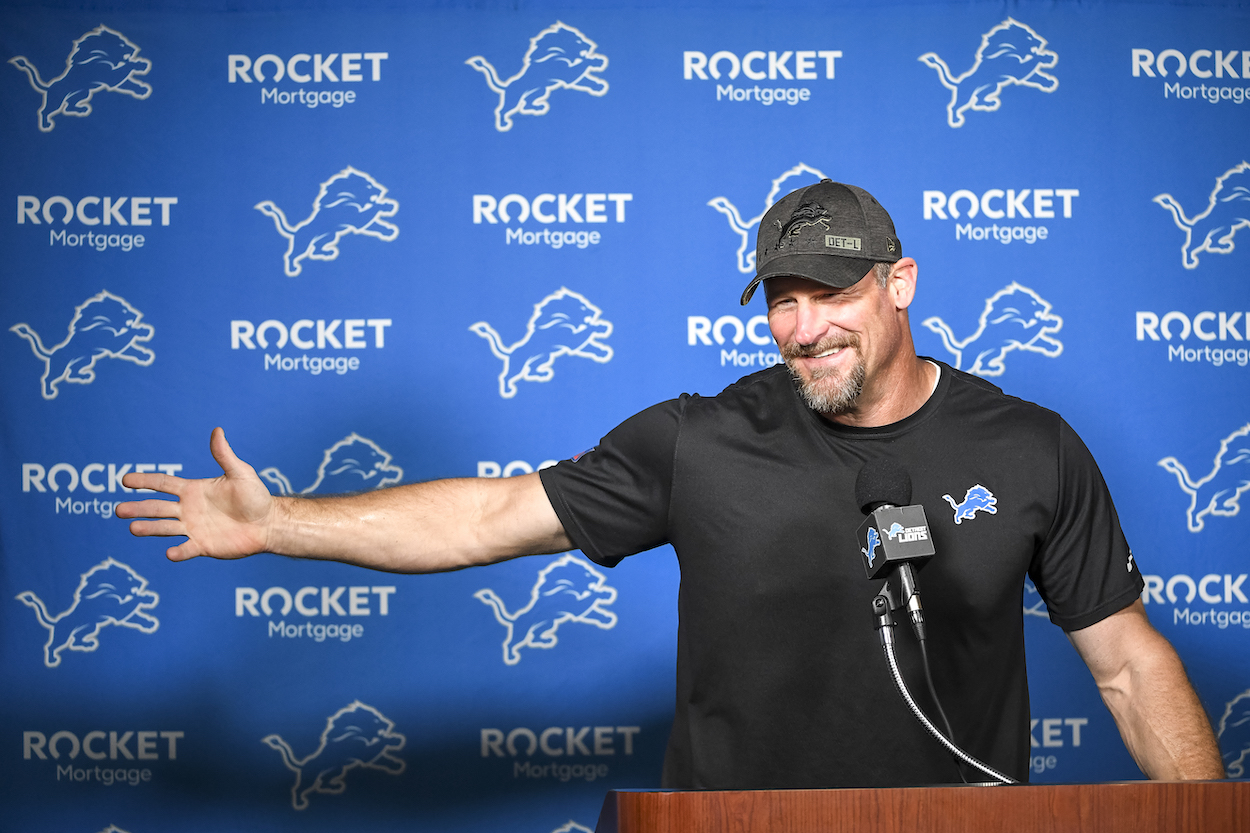 Campbell isn't the only NFL head coach who played in the league.
Washington's Ron Rivera played nine seasons with the Chicago Bears and was part of the legendary '85 team that won the Super Bowl. Frank Reich spent 13 seasons in the league as a backup QB, mainly with the Buffalo Bills.
His biggest claim to fame as a player is that he led the largest comeback in NFL history (32 points). This happened when the Bills came back on the Houston Oilers in the 1992 AFC Wild Card game. Arizona's Kliff Kingsbury was a sixth-round pick but only played in one game for the New York Jets.
Tennessee's Mike Vrabel is probably the most individually successful player-turned-current-head-coach. In 14 seasons, the pass-rushing linebacker made a Pro Bowl and a First-Team All-Pro. He also played in four Super Bowls and won three with the New England Patriots.
The Chicago Bears' Matt Nagy and Cincinnati Bengals' Zac Taylor never played in the NFL but were successful Arena League and Canadian Football League quarterbacks, respectively. 
Saints coach Sean Payton played QB in both leagues and briefly played in the NFL as a replacement player during the 1987 player's strike, per nola.com.   
All stats courtesy of Pro Football Reference