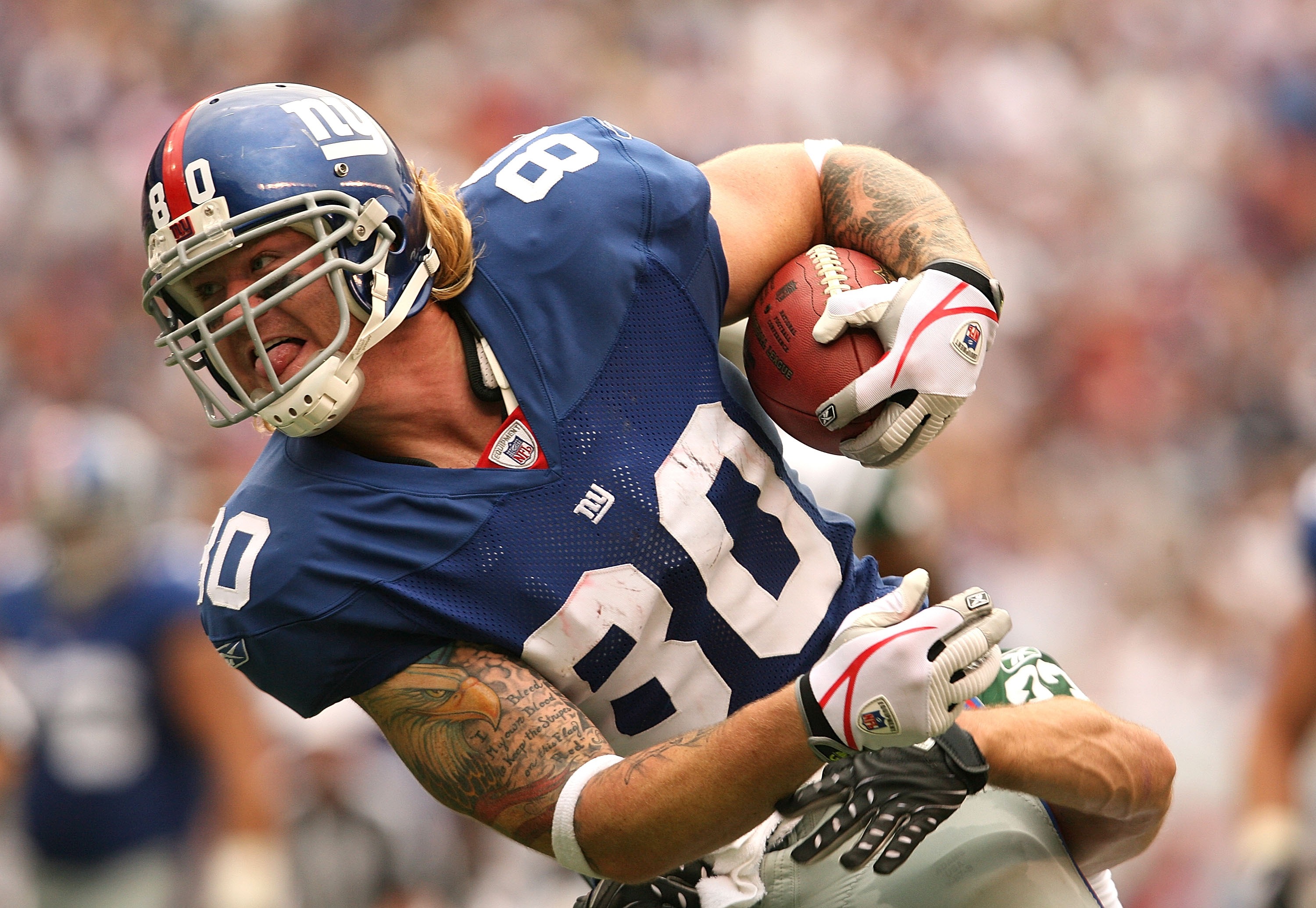 Whatever Happened to All-Pro Tight End Jeremy Shockey?
Former New York Giants star Jeremy Shockey was one of the league's most productive tight ends in his prime. What is Shockey up to now?
Jeremy Shockey had the size of an elite football player and the looks of a movie star.
Luckily for his various teams, Shockey lived up to the expectations that someone with his size had. A star tight end before George Kittle and Rob Gronkowski entered the league, Shockey played a key role for the New York Giants and New Orleans Saints.
Nearly a decade after his final NFL game, what is Jeremy Shockey up to now?
Jeremy Shockey was an elite tight end
In his prime, Jeremy Shockey resembled Thor. In fact, had the Marvel Cinematic Universe been a thing in Shockey's best years, he may have had the "Thor" nickname instead of Mets ace Noah Syndergaard.
The 14th overall pick in 2002 from the University of Miami, Shockey earned All-Pro honors as a rookie with a 74-catch, 894-yard season.
Shockey made the Pro Bowl in four of his first five seasons — and the one year he missed out, 2004, he still caught 61 passes for 666 yards and six touchdowns.
Shockey teamed up with Amani Toomer and Plaxico Burress to give a young Eli Manning some of the best weapons a No. 1 overall pick could have.
From 2002-06, Kansas City's Tony Gonzalez was easily the sport's top tight end. But there was a valid case for Shockey, even over the likes of Alge Crumpler and Dallas Clark, as the second-best tight end.
Shockey had a rough end to his NFL career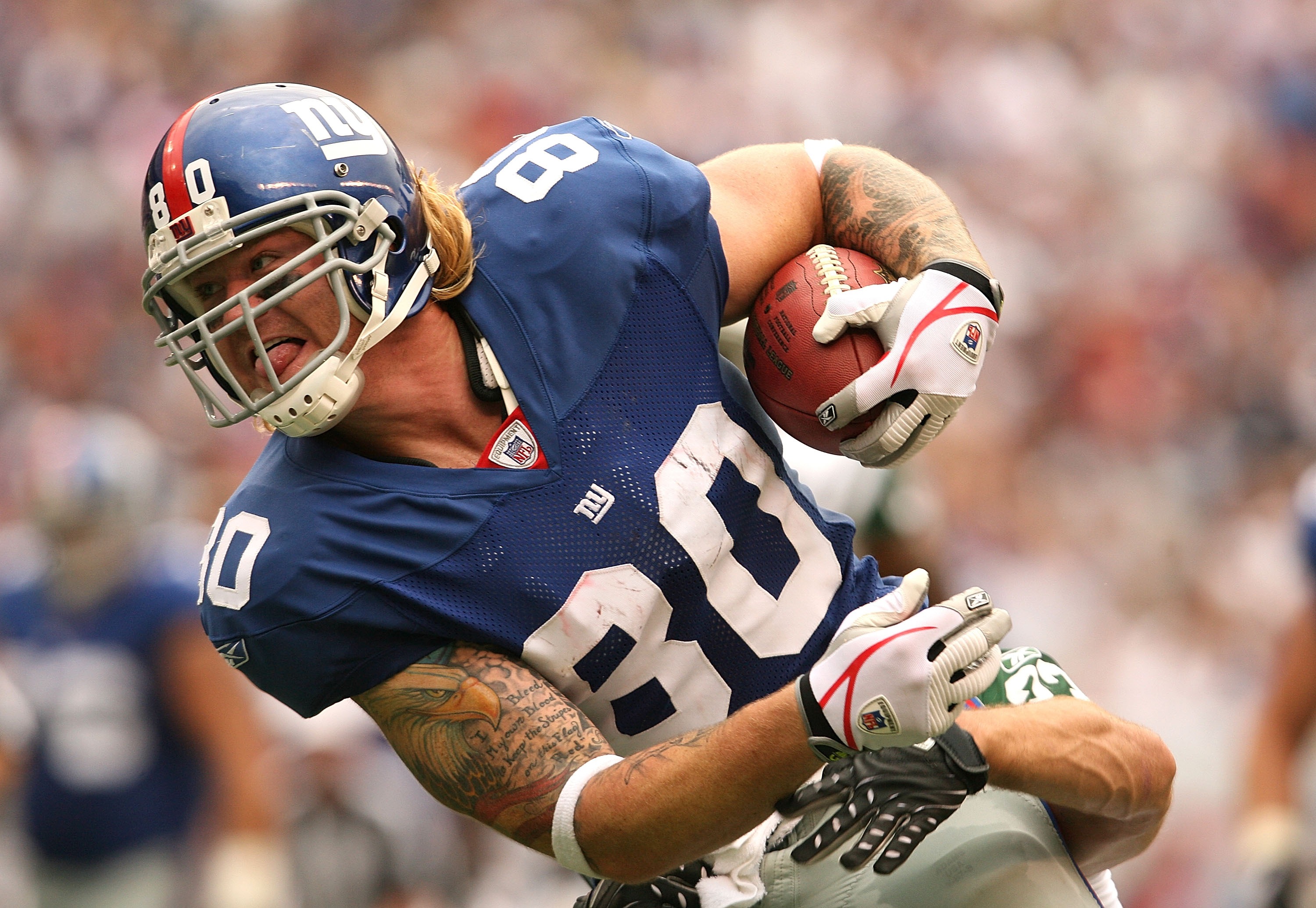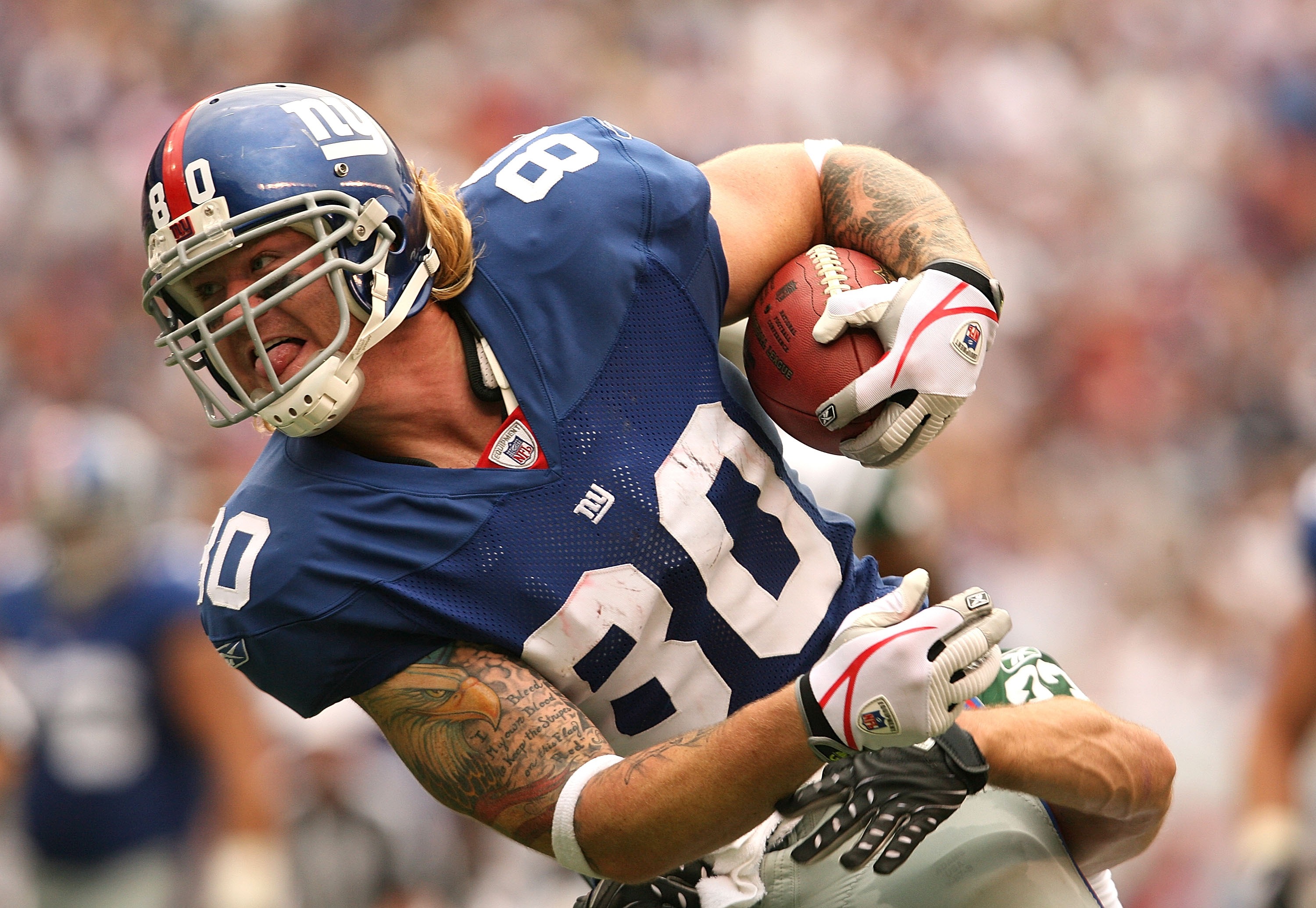 Jeremy Shockey had a fine 2007 season, catching 57 passes for 619 yards and three touchdowns.
However, a late-season knee injury kept him on the bench for the Giants' historic Super Bowl victory over the undefeated New England Patriots.
Shockey declined to participate in many of the Giants' Super Bowl celebrations. Notably, he didn't attend the team's White House visit that summer.
With the young Kevin Boss ready to play a full season, the Giants traded Shockey to New Orleans before the 2008 season. Shockey caught 198 passes for 1,460 yards and six touchdowns in three years with the Saints, although it was clear his explosiveness was gone.
Shockey caught a go-ahead touchdown in Super Bowl 44 against the Colts and left that night with his second career Super Bowl ring.
New Orleans cut Shockey in 2011. He played his final season with the Carolina Panthers and teamed up with a rookie Cam Newton and new tight end Greg Olsen.
Where is Jeremy Shockey now?
Jeremy Shockey didn't play after the 2011 season, though his declining play may not have been the only reason why.
In March 2012, NFL Media's Warren Sapp accused Shockey of blowing the whistle on the Saints' bounty program. Saints coach Sean Payton dismissed that idea in a text message he sent Shockey, according to Fox Sports.
Shockey has had a quiet post-football career. The University of Miami inducted him into the school's Hall of Fame in April 2017.
Shockey returned to the Giants last year during the team's Alumni Day celebration. He joined 80 former Giants players at Metlife Stadium before a 28-14 loss to Josh Allen and the Buffalo Bills.