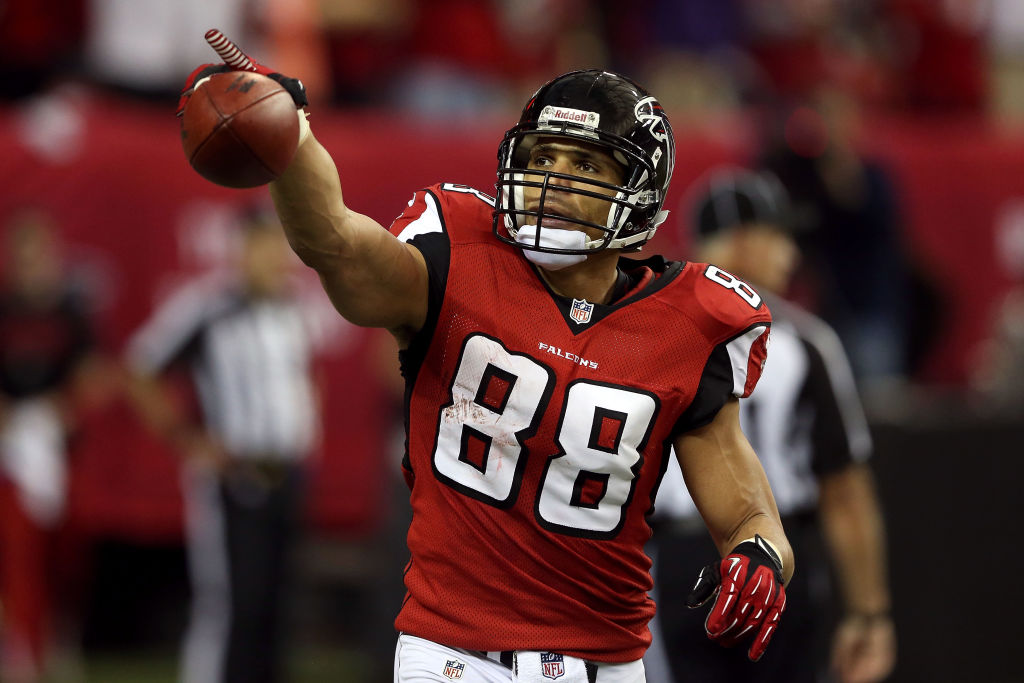 Tony Gonzalez Overcame Depression and Loss of Confidence to Achieve Greatness
Former Kansas City Chiefs and Atlanta Falcons tight end Tony Gonzalez overcame depression and a loss of confidence early in his career.
To the outsiders, Tony Gonzalez has always been on top. The former two-sport college athlete seemingly had it all when he left college to play tight end for the Kansas City Chiefs en route to his Hall-of-Famer career. It was always all smiles for the 6-foot-5, 247-pound tight end who went on to make 14 Pro Bowls. During the early stages of his professional career, he found himself locked in his room drinking and struggling with depression.
Tony Gonzalez' NFL career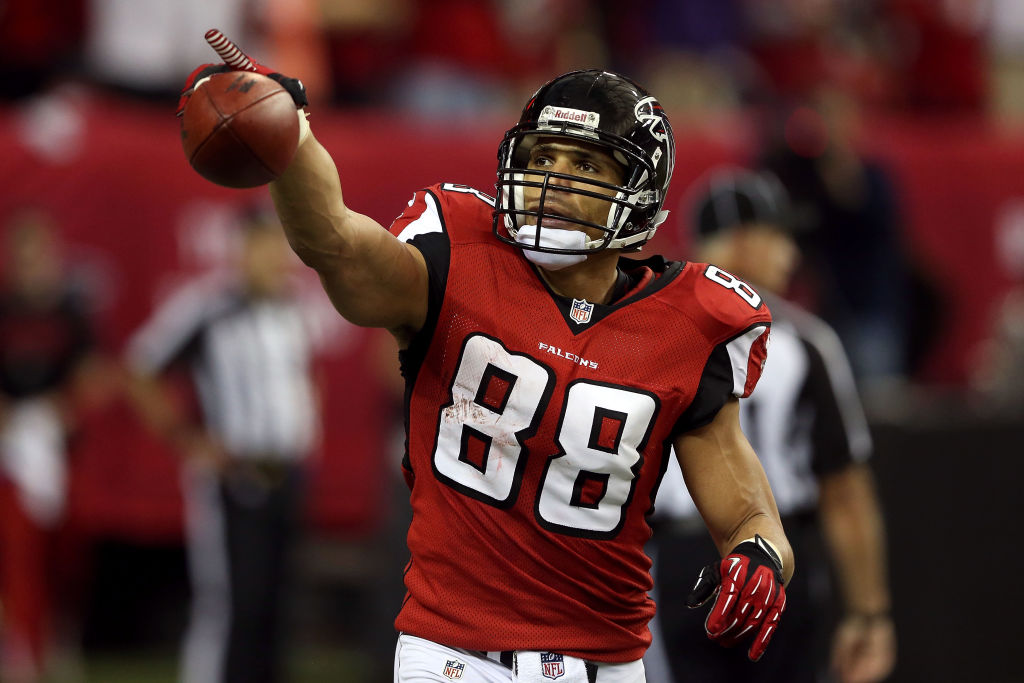 Tony Gonzalez played his college ball at California where he was a two-sport star in football and basketball. He committed to football and was selected by the Kansas City Chiefs in the first round of the 1997 NFL draft. He spent the first 12 seasons of his 17-year NFL career with the Chiefs.
In Kansas City, Gonzalez made 10 straight Pro Bowls after struggling in his first two seasons with the team. During his rookie year, Gonzalez played sparingly, catching 33 passes for 368 yards and a pair of touchdowns. In Year 2, he became the Chiefs starting tight end and saw his targets nearly double. He caught 59 passes for 621 yards and scored twice.
After that, Gonzalez was a Pro Bowler for 14 of the next 15 seasons. He had his most productive season in 2004 when he caught 102 passes for 1,258 yards and seven touchdowns. Three times in his career, he had double-digit touchdown catches. Prior to the 2009 season, Gonzalez was traded to the Atlanta Falcons. In 17 seasons, Gonzalez missed just two games. He finished his career with 15,127 receiving yards and 111 touchdowns. He was inducted into the Pro Football Hall of Fame in 2019.
Gonzalez remains in football as an analyst
As his NFL career was winding down, Gonzalez toyed with the idea of retirement but wound up playing five seasons with the Atlanta Falcons. He continued to put up All-Pro numbers until his retirement. In his final season with the Falcons, Gonzalez was still targeted 121 times, catching 83 passes. He collected eight touchdowns and racked up 859 receiving yards in his last year in the NFL.
Gonzalez, who is considered by most to be the NFL's all-time greatest tight end, has stayed in the game upon retiring after the 2013 season. He joined CBS as an analyst for its pregame show NFL today. He worked at CBS from 2014-2016. In 2017, Gonzalez joined Fox's NFL pregame show as a studio analyst for "NFL Kickoff."
"Tony is an impressive talent with an infectious personality, and is the perfect addition to our Fox `NFL Kickoff' show," said John Entz, president of production and executive producer at Fox Sports. "He brings a unique outlook that will really round out the table."
Gonzalez struggled early physically and mentally with the Chiefs
In his rookie season with the Kansas City Chiefs, Gonzalez was eased into the lineup, playing in all 16 games without starting any of them. In his second season, he was worked into the offense more as the starting tight end. Along with his 59 catches, he also fumbled three times and had several drops which led to a loss of confidence.
Gonzalez said he went through a dark time in his second year in the NFL. "I led the league in dropped passes, got benched twice," he said on an episode of Hotboxin' With Mike Tyson. "I was on my way to being a bust. It got pretty low for me. It was the lowest I've ever been. Until then, I was All-American, I was this and that.
"I went through a depression. I was locking myself in a room and just drinking, feeling sorry for myself, and crying because I had never been through this stuff. From there, it gave me that thirst to learn. What is this thing called greatness and how can I be like Mike Tyson or Jerry Rice? Why did they make it and I'm struggling right now? I'm still on that journey where I'm crushing books on Michael Jordan, Tiger Woods and I started studying people's workout routine. I had lost that belief in myself."
Gonzalez said he sat down with some great thinkers and that helped change his mentality. "You create who you are," he said. He created one heck of a tight end who might be the greatest of all time.