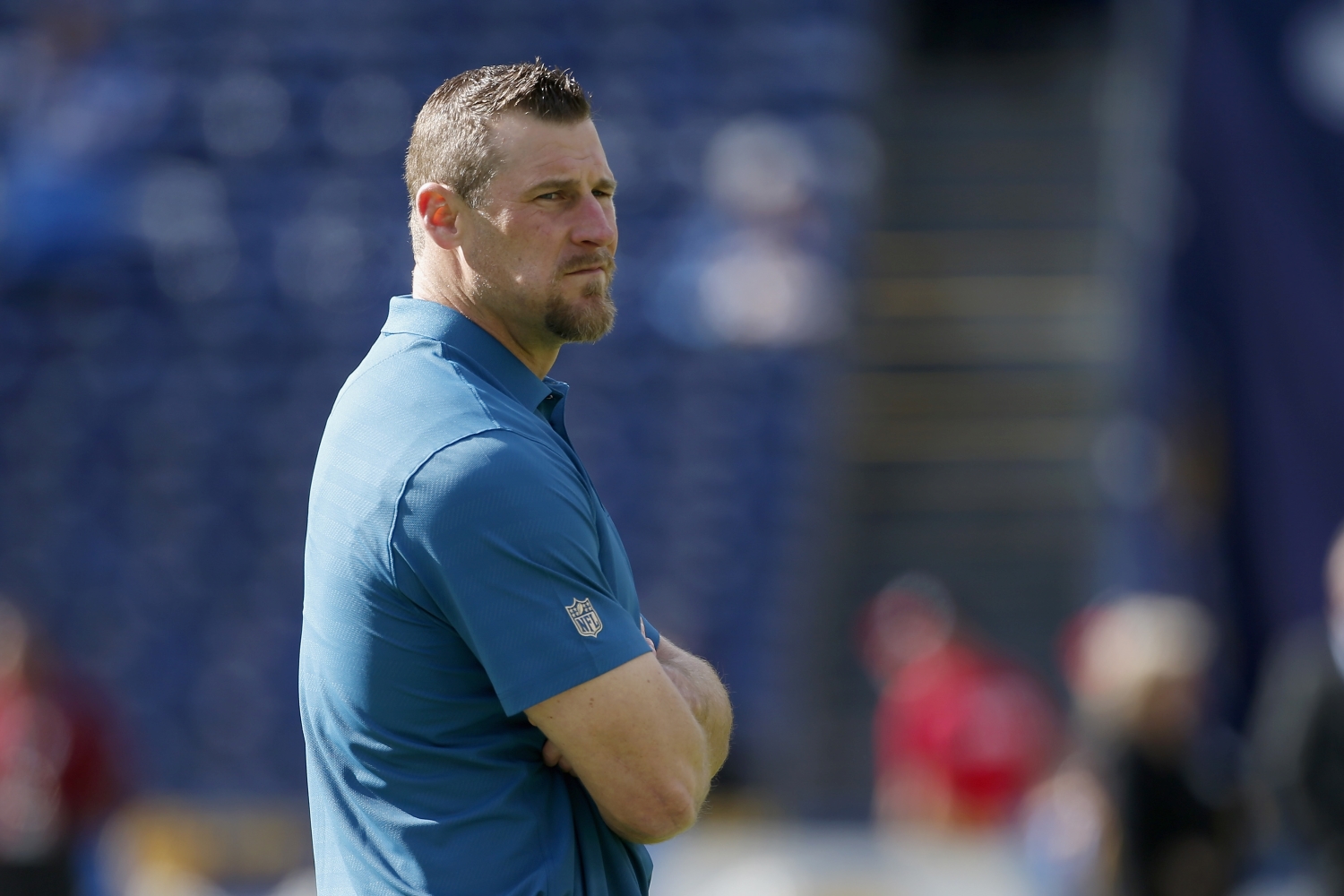 From Strategic Dumps to Sacrificing Limbs, Detroit Coach Dan Campbell Wants to Make a Pet Lion a Permanent Part of His Team
Detroit Lions head coach Dan Campbell revealed his big plan to make a pet lion a part of the team's practice culture.
Considering he made a living as an NFL player for a decade, Dan Campbell understands the importance of building a strong team culture. Plus, he spent the last five seasons working for the New Orleans Saints, who have long been regarded as one of the league's top-run franchises. But if Campbell had it his way, the Lions would take things in a new (and scary) direction in terms of living up to their identity.
Even if his idea never comes to fruition, though, that type of renewed energy is exactly what the team needs coming off the disastrous Matt Patricia era.
Detroit has been busy shaking things up this offseason
In desperate need of new leadership, the Lions started the rebuilding process by hiring Brad Holmes as general manager and executive vice president. The 41-year-old joined the Rams organization in 2003 and spent the last eight seasons as the team's director of college scouting. Aaron Donald, Todd Gurley, Jared Goff, and Cooper Kupp all arrived via the draft during Holmes' tenure.
With a new GM in place, the Lions moved quickly to hire Campbell. He entered the coaching ranks in 2010 with the Miami Dolphins following an 11-year career as an NFL tight end. The 45-year-old has earned a reputation as a no-nonsense, hard-nosed coach who brings a ton of energy to the table. Respected by peers and players, Campbell should help establish a new culture within the team he suited up for from 2006-08.
Detroit then went all-in on the future by moving on from Matthew Stafford. The Lions traded their longtime starting quarterback to Holmes' old team for Jared Goff, two first-round picks, and a third-round selection. During the 2021 NFL draft, they got Goff some much-needed help by taking 6-foot-6, 325-pound offensive lineman Penei Sewell seventh overall. So in the span of only a few months, the Lions found a new GM, head coach, starting quarterback, and potential franchise left tackle.
Dan Campbell outlines his plan for making a pet lion a permanent part of the team
The Lions definitely needed new blood in the room. But their new head coach quite literally wants to take that even further. During a recent appearance on Pardon My Take, Campbell revealed he wants to have a pet lion at his workplace.
Don't think he's serious?
He already presented the idea to Lions owner Sheila Ford Hamp.
"I don't think we're going to be able to do it, but I would love to literally just have a pet lion. Just a legit pet lion on a chain, a big-ass chain, and he really is my pet," Campbell said on the podcast. "We just walk around the building, we go out to practice, we're at 7-on-7, we're behind the kicker when he's kicking. There we are."
The lion wouldn't just be for show, either.
"On command you can train him," Campbell explained. "Like if one of your groups isn't doing well, you can take him over to their section and just have him take a dump where they are at and bring him on back. Think about it. It would be outstanding." 
Don't worry, Detroit fans. Campbell made it clear he's willing to pay the price if the team's pet gets hungry. In fact, he would sacrifice a limb to win a Super Bowl ring.
"I may end up losing an arm because of it, but that would be even better because it would validate—this is a freakin' creature. This is an animal. This is from the wild," Campbell said.
What should Lions fans expect to see on the field in 2021?
Lions fans shouldn't expect to see a live version of the exotic animal patrolling Ford Field anytime soon. From a football standpoint, what happens inside the sidelines this season remains a mystery.
How will Goff look without Sean McVay calling the shots? Can the 26-year-old take advantage of a fresh start and resurrect his value? Or will the Lions discover he's not the long-term answer at quarterback?
The questions don't stop there on offense.
Can an offensive line that features three first-round picks finally become a dominant unit?
How will the passing game look now that Kenny Golladay, Marvin Jones, and Danny Amendola are all gone?
Does D'Andre Swift have a future as an every-down back? Or will Jamaal Williams eat into his snaps?
Meanwhile, the Lions literally can't be any worse on defense than they were last year. After finishing 32nd in points allowed per game (32.4), Detroit at least looks capable of moving up a few spots in the rankings. Still, it's hard to get excited about a group that lacks dynamic playmakers.
On paper, the Lions look like a team destined to finish near the .500 mark. Perhaps Campbell will prove everyone wrong and turn things around quicker than expected.
Maybe then he can revisit the pet lion conversation with ownership.
All statistics courtesy of Pro Football Reference.