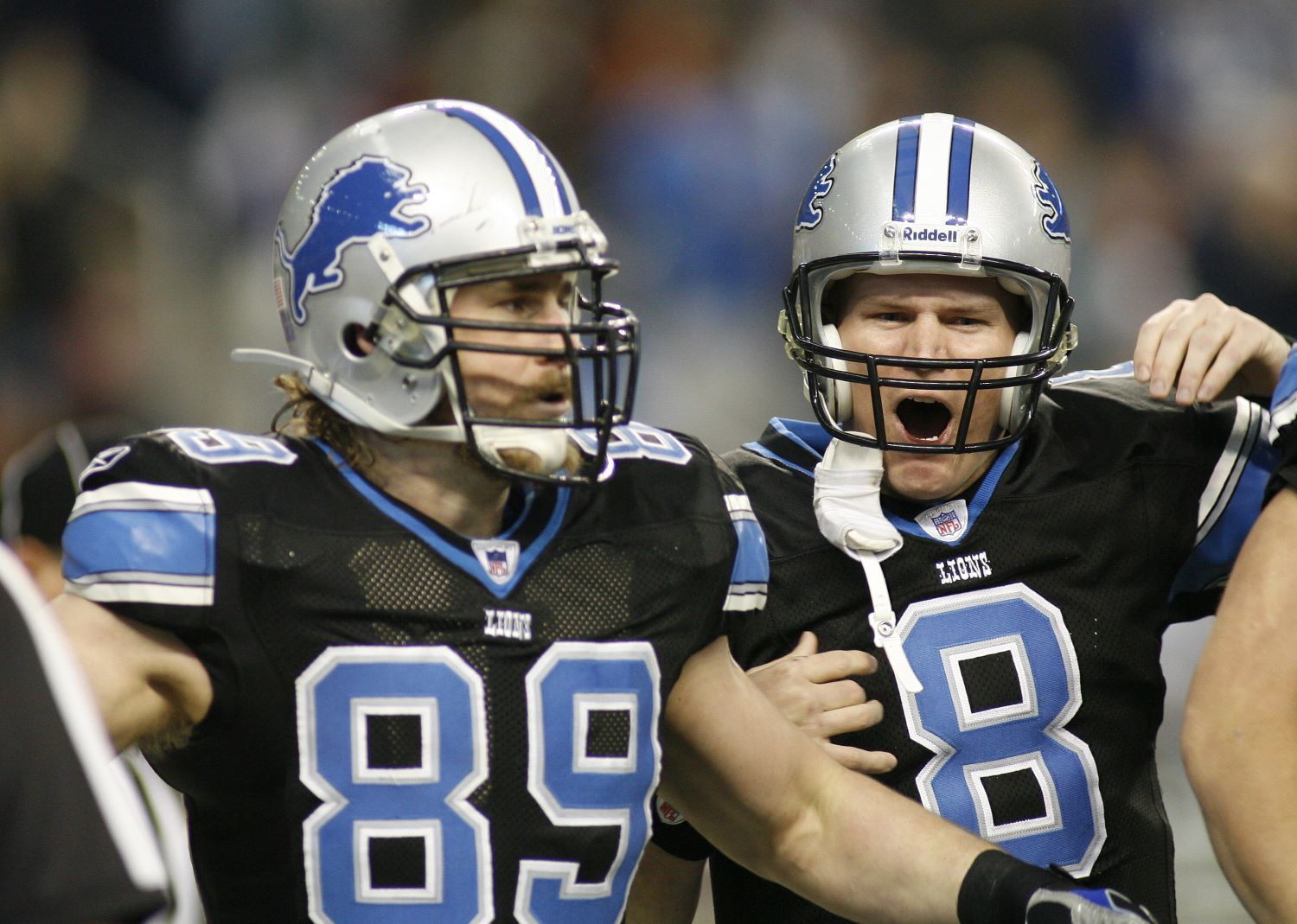 The Detroit Lions Foolishly Plan to Hire One of Their Former Players as Their Next Head Coach
Despite having many qualified candidates on the market, the Detroit Lions want to hire one of their former players as their next head coach.
The Detroit Lions need a new coach. Ironically, their preferred choice happens to be an old friend.
Or rather, an ex-employee.
Once again, the perennial NFC North cellar-dweller has a foolish plan to "fix" the franchise. Because given their reported infatuation with Dan Campbell, it sure sounds like the Lions have already made a decision on who will become the team's next head coach.
And if that truly is the case, Detroit is doomed.
Detroit whiffed badly on its last hire
The Lions had a good thing going with Jim Caldwell. Yet, despite having a 48-26 record in four years as the team's head coach, he got fired after the 2017 season.
Detroit plucked from the Bill Belichick coaching tree and hired Matt Patricia as Caldwell's replacement. He teamed up with general manager Bob Quinn, who also left the Patriots for a promotion from the Lions.
Let's just say that didn't turn out so well for any of the parties involved.
Coming off back-to-back 9-7 seasons, the Lions went 6-10 in Patricia's first year. In 2019, Detroit bottomed out at 3-12-1. The former New England Patriots defensive coordinator quickly lost the locker room thanks to his harsh approach and questionable personnel moves.
Ultimately, the Lions ended the relationship after 43 games. Detroit went 13-29-1 under Patricia's watch before he got fired after Week 12 of the 2020 season. Darrell Bevell got promoted to interim head coach…which didn't go any better.
Although they remained in the playoff hunt heading into December, the Lions completely fell apart down the stretch. Detroit lost its final four games to finish with a 5-11 record.
Clearly, the Lions set themselves way back by hiring Patricia and Quinn. Their poor drafting and bungled trades and free-agent signings have resulted in a roster that has major holes.
A former Lions player could soon become the team's next head coach
On Thursday, the Lions finally took a step in the right direction by hiring Brad Holmes to be their new general manager. The longtime LA Rams personnel executive brings a wealth of experience and knowledge to the table. Expect Detroit to start drafting much better with Holmes at the helm.
With their GM vacancy filled, the Lions' next priority is to find a new head coach. Apparently, the franchise has already found the man for the job.
And he'll be a familiar face to Lions fans who lived through the brutal Rod Marinelli era that included an infamous winless 2008 season.
According to the NFL Network's Ian Rapoport, New Orleans Saints assistant head coach/tight ends coach Dan Campbell is "the favorite to be the new Lions head coach" despite the fact the team cannot conduct an in-person interview with him until the Saints' season ends.
The 44-year-old coach has been with New Orleans since 2016 after kickstarting his coaching career as an intern with the Miami Dolphins in 2010. Prior to that, Campbell collected paychecks as a tight end for four NFL teams.
Ironically, the Texas native won a Super Bowl ring in his final season as a member of the Saints.
What's even more ironic is that Campbell came to New Orleans after spending three years in Detroit.
The former 1999 third-round pick appeared in 19 games for the Lions between 2006-08. Campbell started 11 games in his first year with the team and caught 21 passes. He set career-highs with 308 receiving yards and four touchdowns.
Now, though, it sounds like Detroit's former starting end will soon become the man in charge of one of the NFL's 32 franchises.
Dan Campbell isn't even close to being the top candidate on the market
Dan Campbell draws high praise for his no-nonsense approach, toughness, and leadership. He does have some head-coaching experience; he went 5-7 as the interim HC for the Dolphins back in 2015.
However, he has never been an offensive coordinator. By all accounts, he has no experience in player personnel or scouting. Essentially, he spent half a decade as a tight ends coach before adding "assistant head coach" to his resume when he re-joined the Saints in 2016 to help Sean Payton from the sidelines.
Compared to some of the other candidates on the market, Campbell doesn't come close to measuring up.
Kansas City Chiefs offensive coordinator Eric Bieniemy also earned a living as an NFL player before transitioning to coaching. He has called plays at both the college and professional level. And if you've watched the Chiefs during the Patrick Mahomes era, you shouldn't have any questions about Bieniemy's abilities.
Tennessee Titans OC Arthur Smith stands out as another no-brainer option. Before he took over, Derrick Henry and Ryan Tannehill never sniffed the Pro Bowl. Thanks to Smith's play-calling brilliance, Henry has already put himself in the discussion to earn a bust in Canton. Oh, he also signed a $50 million contract back in July.
As for Tannehill? He went from being a flameout in Miami to the 2019 NFL Comeback Player of the Year. The former first-round pick inked a $118 million contract extension with $62 million guaranteed after resurrecting his career in Smith's offense.
Yet, the son of FedEx CEO Fred Smith doesn't appear Detroit-bound. And neither does Bieniemy.
Instead, the Lions foolishly plan to make Campbell their next head coach over a number of better-qualified candidates, including Josh McDaniels, Brian Daboll, Matt Eberflus, and even 31-year-old up-and-comer Joe Brady.
Given their history of hiring head coaches—and just about everything else related to running a successful NFL franchise—Detroit definitely doesn't deserve the benefit of the doubt.
What Lions fans do deserve, however, is a head coach with better credentials than Dan Campbell.
All contract data courtesy of Spotrac. All statistics courtesy of Pro Football Reference.