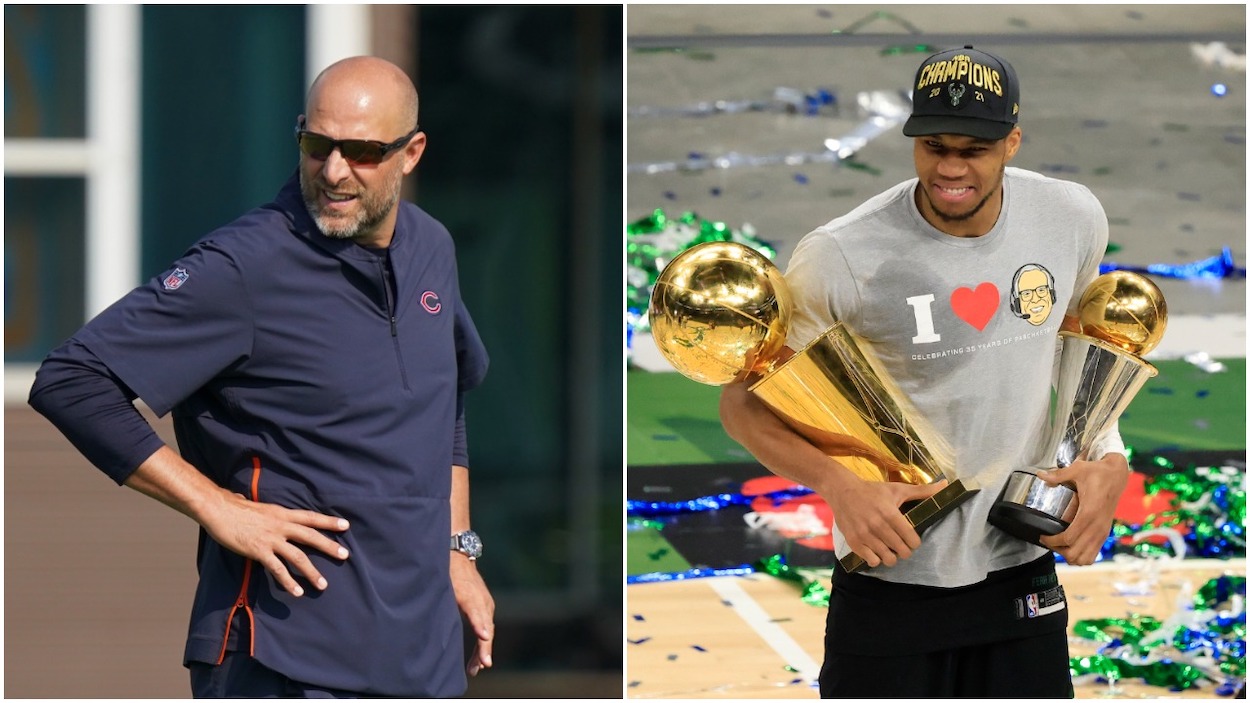 Matt Nagy Reveals an Inspirational Giannis Antetokounmpo Quote is Helping Him Deal With the Justin Fields Situation
Chicago Bears coach Matt Nagy is trying to focus on the present in the Andy Dalton vs. Justin Fields battle, just like an NBA MVP says. Nagy loves a Giannis Antetokounmpo so much, he wants to put it up in his kids' room. He also hopes it will help him deal with Dalton/Fields like Smith/Mahomes.
NFL coaches and players draw inspiration from all sorts of places. Many times, it comes from people who came before them in their sport. However, sometimes the source is a little more surprising. For example, you may not expect that Chicago Bears head coach Matt Nagy found inspiration in a quote from Milwaukee Bucks' Finals MVP Giannis Antetokounmpo. 
Something Antetokounmpo said recently, though, about the past and future vs. staying focused on the present is so inspiring to Nagy that he's not just using it with his team, he says he's going to hang it on the wall in his kids' room as well. 
Matt Nagy is not ready to start Justin Fields 
The Bears, led by GM Ryan Pace and Nagy, traded up in the 2021 NFL draft to No. 11 to draft Ohio State QB Justin Fields. 
Spending a top 11 pick on a QB usually means that the signal-caller will be the starter sooner rather than later. The opportunity often even comes in Week 1 or 2 of the NFL season. The Bears signed former Cincinnati Bengal and Dallas Cowboy quarterback Andy Dalton this offseason, though, and Nagy is steadfast that Dalton will be the opening day starter. 
Nagy has said that "Andy is our starter" on numerous occasions this offseason, despite the fact that fans and even the most famous coach in franchise history are clamoring for the rookie already. 
As the drumbeat for Fields gets louder, the pressure on Nagy will only ratchet up. In order to deal with this, he's taking inspiration from an unlikely source. 
Nagy is drawing inspiration from NBA champ Giannis Antetokounmpo
While being quizzed about the Dalton/Fields situation, Nagy told reporters about an Antetokounmpo that he loves so much that he's "going up in all four of my kids' bedrooms," per NBC Chicago.
During an NBA Finals press conference, a reporter asked Antetokounmpo how he figured out the "ego part" of basketball at such a young age. The Greek Freak explained that he believes that when you start to think about how good you're playing or all you've accomplished, "you're going suck" the next day. 
The two-time NBA MVP then explained his overall philosophy about focusing on the present saying: 
When you focus on the past, that's your ego. … And when I focus on my future, that's my pride. … I kinda focus in the moment, you know? In the present. And that's humility. That's being humble. That's not setting no expectations. That's going out there and enjoying the game, competing on a high level. 

Giannis Antetokounmpo on focusing on the present
Antetokounmpo continued by saying that this is a mindset he's always tried to master and that "it's been working so far."
After sharing the quote with reporters, Nagy paraphrased it when discussing his team's mindset, saying, "You can't worry about the past. You can't worry about the future. We're going to worry about right now, today. That's all we can do."
Alex Smith may be the reason Fields doesn't start in 2021
Nagy's belief in letting a rookie sit for a season likely comes from his time in Kansas City. In 2017, as Chiefs offensive coordinator, Nagy and head coach Andy Reid started veteran QB Alex Smith. This is despite the fact the team had the No. 10 pick in the 2017 draft on the squad. 
The rookie got one start in Week 16 and threw for a pedestrian 284 yards with an interception and no touchdowns in a 27-24 win over Denver. 
The following season, the Chiefs let Smith walk to the Washington Football Team, and the now-second-year player took over. As the new QB1 in KC, Patrick Mahomes threw for over 5,000 yards and led the league in touchdown passes (50) and QBR (80.3). He led the team to a close Conference Championship loss to the New England Patriots. The next season, he won the Super Bowl. 
We'll never know if that year holding a clipboard is one of the things that helped turn Mahomes into one of the best quarterbacks in the NFL, but Matt Nagy sure seems to think so. 
All stats courtesy of Pro Football Reference