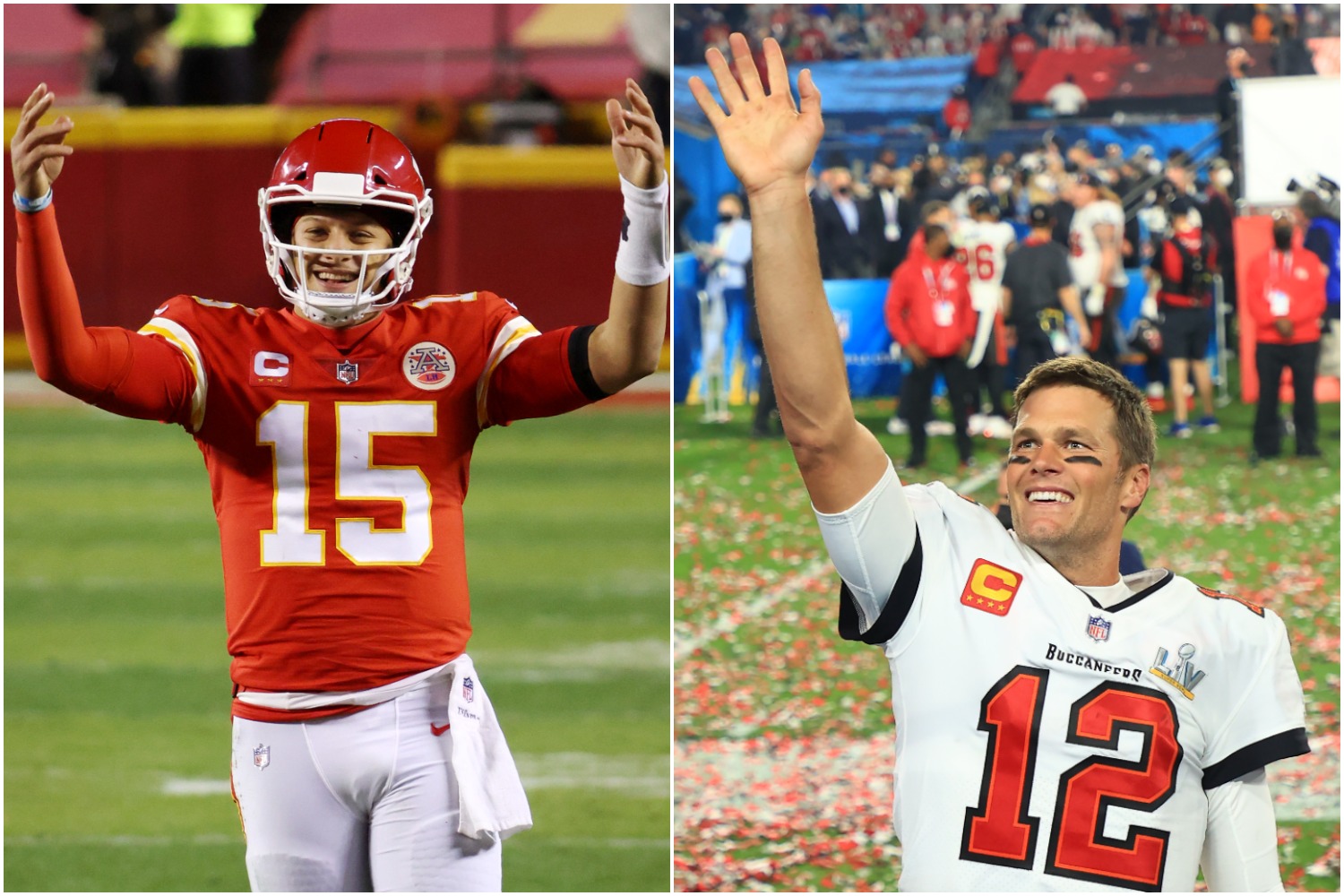 Patrick Mahomes Just Earned a Prestigious Honor That Proves Even Tom Brady Isn't in His Class
Patrick Mahomes may be a few Super Bowl rings behind the GOAT, but by recently earning a prestigious honor, the Kansas City Chiefs star proved not even Tom Brady is in his class.
Patrick Mahomes obviously needs to win a few more Super Bowl rings to enter Tom Brady territory, but there's no doubt the 25-year-old has put himself on a path to potentially steal the GOAT title from the seemingly-ageless quarterback. After all, even though he's only been a starter for three seasons, the Kansas City Chiefs star has accomplished more than most NFL players could ever dream of.
Of course, Mahomes came up short in his quest to win back-to-back titles thanks to a dominant performance by Brady and the Tampa Bay Buccaneers in Super Bowl 55. However, that hasn't stopped the league's most talented signal-caller from earning a prestigious honor that proves even TB12 isn't in his class.
Patrick Mahomes has an incredibly impressive resume for a 25-year-old
The Chiefs took a bit of a gamble by trading up to take Mahomes with the 10th overall pick in the 2017 NFL Draft. Coming out of Texas Tech, the rocket-armed quarterback faced questions about his ability to become a star at the pro level. Luckily for Kansas City, going all-in on building around the multi-sport athlete turned out to be the best decision in franchise history.
After biding his time behind Alex Smith as a rookie, Mahomes took the NFL by storm in his first season as a starter. The 6-foot-3, 230-pound signal-caller won MVP honors by throwing a league-leading 50 touchdown passes. Unfortunately for the Chiefs, their 2018 season ended in heartbreaking fashion courtesy of the Brady-led New England Patriots.
Mahomes managed to get revenge the following year. Although his regular-season numbers took a sizable dip, he stepped up when it mattered most. Thanks to a sensational fourth-quarter effort that included two touchdown passes by Mahomes, the Chiefs defeated the San Francisco 49ers in Super Bowl 54.
With an MVP trophy and a Super Bowl ring at home, the Texas native made history by signing a 10-year contract extension that carries a maximum value of $503 million. He quickly utilized his new financial spending power to join the Kansas City Royals ownership group as a minority stakeholder.
While Mahomes' 2020 season didn't go entirely as planned — he dealt with several injuries and had a tough outing in Super Bowl 55 — he still earned his third straight Pro Bowl selection. Needless to say, he has quite the resume for someone who doesn't turn 26 until September.
Mahomes just earned a prestigious honor that proves even Tom Brady isn't in his class
Despite beating Mahomes with the Lombardi Trophy on the line, Brady couldn't topple his talented adversary in the Madden NFL 22 ratings. In fact, while the GOAT earned a more-than-respectable rating, it's clear that he isn't in the same class as the quarterback who just received a prestigious honor from the popular video game franchise.
According to a news release by EA Sports, Mahomes can officially call himself a member of the 99 Club in Madden NFL 22. Chiefs tight end Travis Kelce, Los Angeles Rams cornerback Jalen Ramsey, Rams defensive lineman Aaron Donald, and Green Bay Packers wide receiver Davante Adams also earned a spot in the coveted 99 Club.
As for Brady?
He received the second-highest rating (97) of any quarterback in the game. However, the fact he ranks behind Mahomes shows that the Chiefs star is truly in a class of his own. Unlike Brady, he has elite physical tools that allow him to shine not only from the pocket but also on the run. The fifth-year pro may not boast the same level of experience or knowledge of the game as the five-time Super Bowl MVP, but Mahomes undoubtedly has a once-in-a-generation skillset that separates him from every other NFL quarterback — including Brady.
But, does that necessarily mean he will be viewed as the GOAT when all is said and done?
Does the Chiefs star have a realistic shot at taking the GOAT title away from Brady?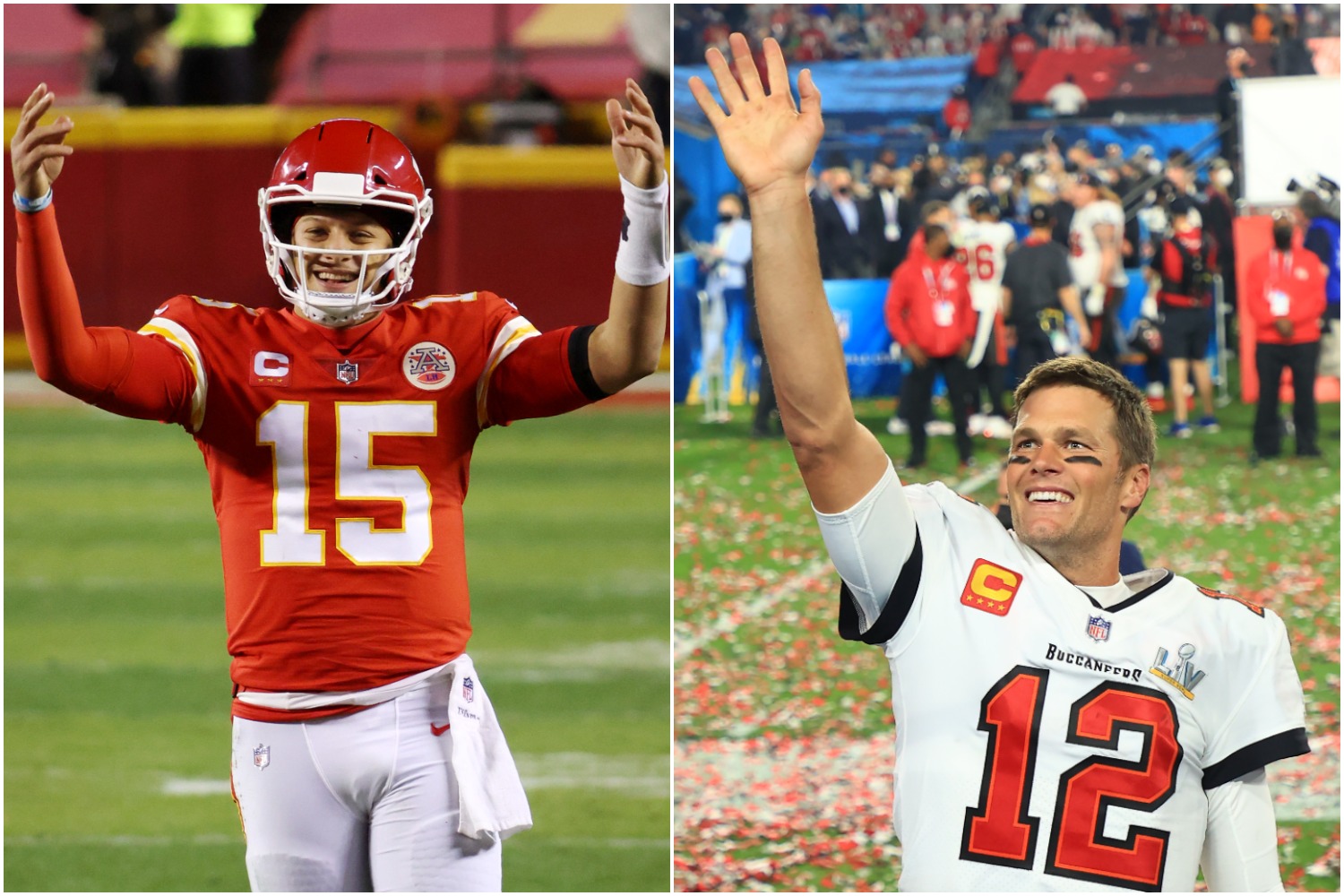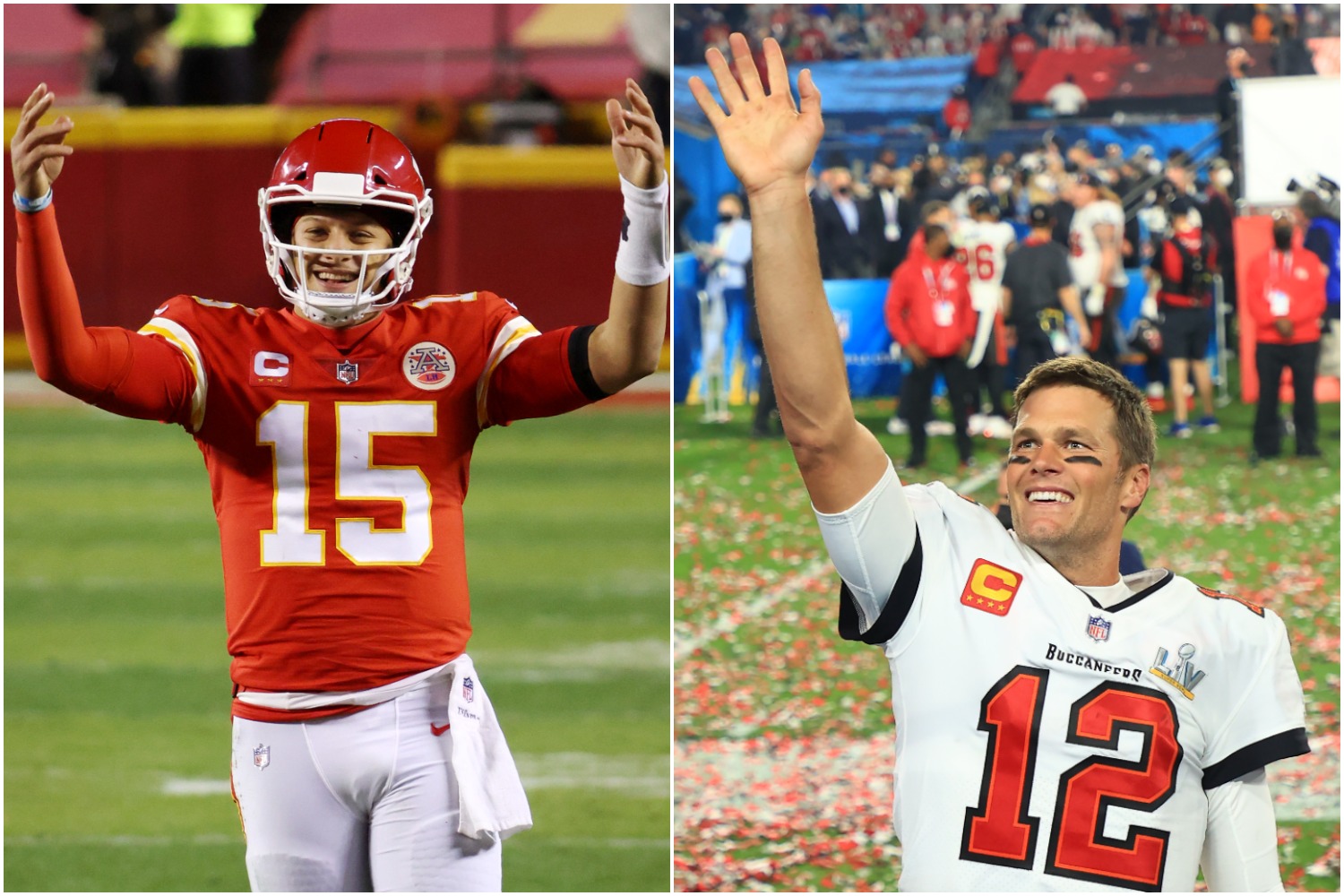 Given the amount of success he's had in his first three years as a starter, it seems likely that Mahomes will hoist the Lombardi Trophy at least a few more times during the course of his career. Besides his own talent level and the strong supporting cast around him, he has an excellent general manager (Brett Veach) and head coach (Andy Reid). Plus, Mahomes plays in an era where rules are catered to help offensive players shine more than ever.
However, considering he needs six rings to catch up to Brady, he obviously has more to accomplish before he can legitimately enter the GOAT conversation. With the Buccaneers looking more than capable of winning back-to-back titles, Mahomes may need to win seven just to keep up with his soon-to-be 43-year-old peer.
Still, barring any significant injury setbacks, he should at least make the debate interesting. Because even if he retires with fewer Super Bowl rings than Tom Brady, Patrick Mahomes may leave us with no choice but to crown him the king of quarterbacks based on the truly special things he can do on a football field.
All statistics courtesy of Pro Football Reference. All contract data courtesy of Spotrac.