Dak Prescott Suffers Injury Setback That Should Convince the Cowboys to Quickly Acquire a Real Backup Quarterback
Jerry Jones watched his dream of winning a Super Bowl title evaporate once Dak Prescott fractured and dislocated his right ankle in Week 5 of the 2020 season. With their star signal-caller sidelined, the Dallas Cowboys simply didn't get adequate play out of the quarterback position. As a result, the first year of the Mike McCarthy era ended with a 6-10 record and no playoff berth.
Unfortunately for Dallas, it hasn't taken long for Prescott to suffer another injury. Although the two-time Pro Bowler looks capable of overcoming his latest setback, the Cowboys shouldn't hesitate to make a move to bolster their depth at the most important position in sports.
Dallas got disappointing results from the quarterback spot once Dak Prescott got hurt last season
While the absence of starting tackles Tyron Smith and La'el Collins certainly hurt the Cowboys' offense, Prescott's season-ending ankle injury represented the biggest blow to a unit that held so much promise. Once the dual-threat star went down, that forced Dallas to insert Andy Dalton into the lineup.
That experiment didn't work out too well.
While the longtime Cincinnati Bengals starter completed 64.9% of his passes for 14 touchdowns, he threw eight interceptions in 11 games while posting a 4-5 record as a starter. Besides finishing 25th in quarterback rating (87.3), Dalton ended the year with a career-low 6.5 yards per attempt.
Of course, Cowboys fans witnessed far worse play from the position during the team's disappointing 2020 season.
With Dalton sidelined by a concussion, Dallas started seventh-round rookie Ben DiNucci in Week 8. Needless to say, the Atlanta native had a night to forget.
DiNucci completed 21 of 40 attempts for 180 yards in a 23-9 loss against the Philadelphia Eagles. He got sacked four times and finished the night with a quarterback rating of 64.8.
Garrett Gilbert also started one game for the Cowboys. And the 2014 sixth-round pick showed why he entered the 2020 season with only five career attempts on his NFL resume.
Although Dallas only lost by five points, Gilbert didn't exactly light it up against the Pittsburgh Steelers. He finished the night with 243 yards, one touchdown, and one interception.
After posting an ugly 55.3% completion rate against the Steelers, Gilbert never attempted another pass all season.
Surprisingly, though, the Cowboys essentially did nothing to address the position during the offseason.
Prescott's injury setback should convince the Cowboys to quickly acquire a real backup quarterback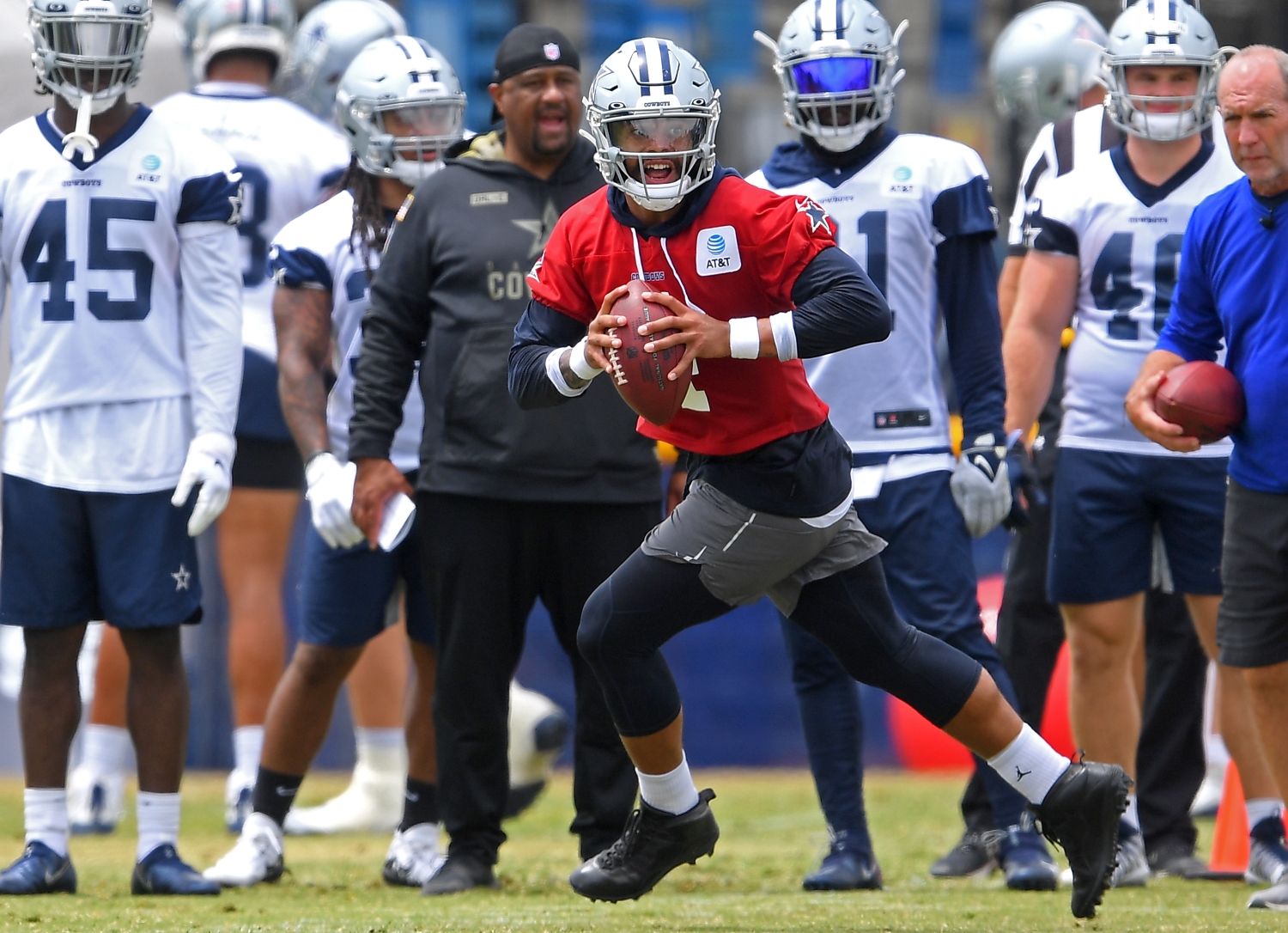 Despite suffering a serious injury in October, Prescott secured a life-changing raise this spring. Fresh off signing a $160 million contract extension, the 28-year-old entered training camp with plenty of pressure on his shoulders. After all, he faces enormous expectations now that he's one of the highest-paid quarterbacks in the NFL.
Unfortunately for Dallas fans, Prescott has already suffered a setback as he tries to bounce back from last season's gruesome ankle injury.
On Wednesday, NFL Network reporter Jane Slater took to Twitter to deliver an update from the Cowboys on their star quarterback.
"After leaving today's practice early with soreness in his right arm, Dallas Cowboys quarterback Dak Prescott underwent an MRI examination in Oxnard, CA. The results of that test showed that Prescott has a muscle strain in his right shoulder," their statement read.
According to the Dallas Morning News, Prescott suffered a latissimus strain, which is the muscle that connects the bone of the upper arm to the spine and hip. That type of injury reportedly takes a few weeks to heal.
While a strain may not be a serious long-term issue, the fact Prescott is already dealing with an injury should convince the Cowboys to think long and hard about pursuing a legitimate backup for their highly-paid starter. With Dalton in Chicago, Dallas only has DiNucci, Gilbert, and 2017 undrafted free agent Cooper Rush on the active roster. If Prescott gets hurt at any point during the season, the Cowboys will be in big trouble if they have to rely on any of those three backups.
Which quarterbacks should Jerry Jones have an eye on?
Who should the Cowboys target as a better backup option behind their $160 million man?
Why not give the Jacksonville Jaguars a call about Gardner Minshew? Back in June, Jeremy Fowler of ESPN reported the asking price for the talented passer could be as low as a fifth- or sixth-round pick. If that's truly the case, Dallas should make that deal as soon as possible.
Minshew has shown plenty of promise during his first two years in the league. He may not have a prototypical frame (6-foot-1, 225 pounds), but he's tough, accurate, and confident. He would undoubtedly represent a massive upgrade over the Cowboys' current crop of backups.
Even Nick Foles — who seems destined to get moved by the Bears — would give the Cowboys a better chance to win than their current backups. Plus, Blake Bortles still needs a home, and he at least enjoyed some success at the NFL level.
Either way, it's time for Dallas to make a move to get a legitimate backup in place. Considering their projected starter is coming off a major injury and already has a strained muscle in his throwing shoulder, the Cowboys shouldn't need any more convincing about the importance of having quality depth at the most pivotal position in sports.
All statistics courtesy of Pro Football Reference.