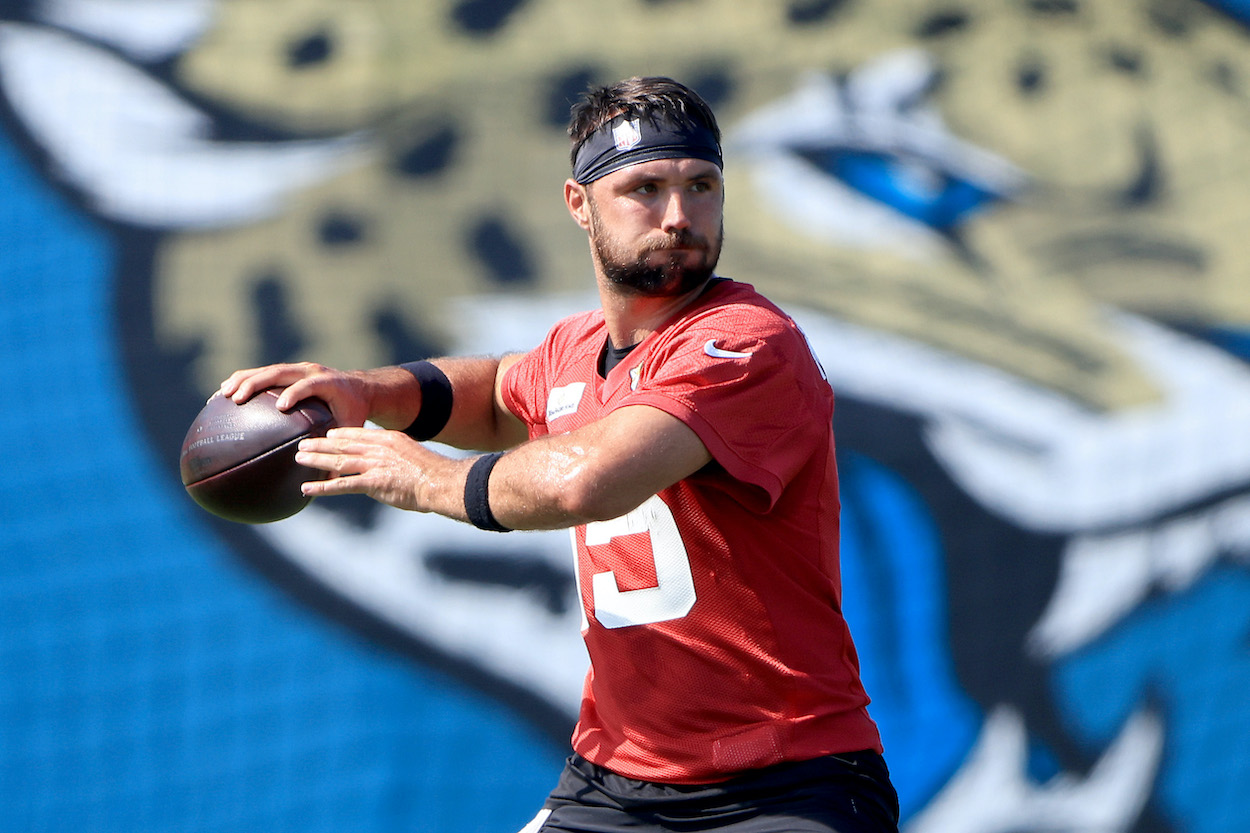 Gardner Minshew Goes on an Epic Rant About Competing With Trevor Lawrence: 'I Haven't Taken a S— in Weeks.'
Gardner Minshew is a cult hero for his mullet, his mustache, and for saying things like this about competing for the Jags starting job. With Trevor Lawrence Jacksonville's presumptive starter, Minshew is staying focused and is excited about the competition, but a trade could still happen if the price is right.
The Jacksonville Jaguars now have a No. 1 overall pick quarterback with flowing hair and a golden boy pedigree in Trevor Lawrence. That's a far cry from their QB of the last few years, the unheralded, mullet-wearing, mustache-loving Gardner Minshew.
Minshew wasn't a top recruit or a poster boy for anything coming out of Mississippi. He took the hard way to becoming an NFL starting QB, but that grit and determination (and humor) might mean he'll stick around the league longer than many think.
Gardner Minshew is a cult hero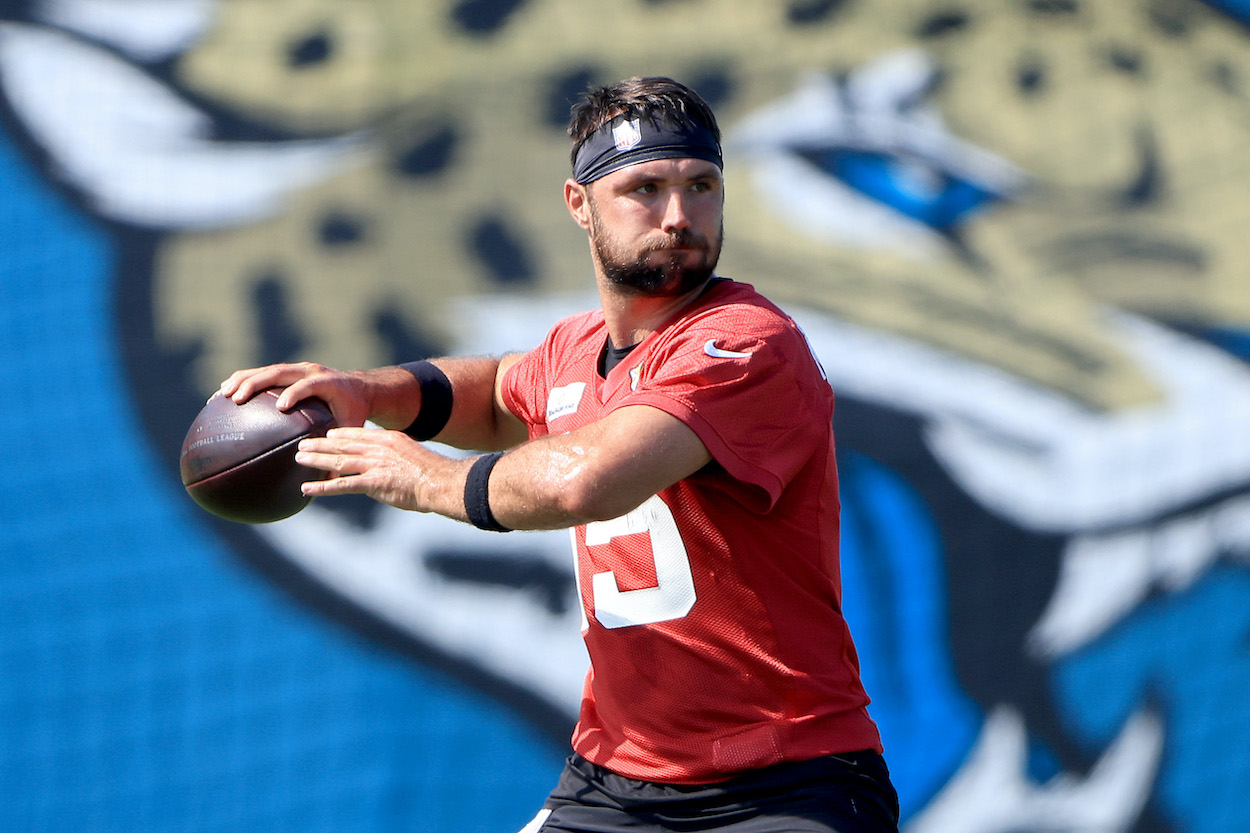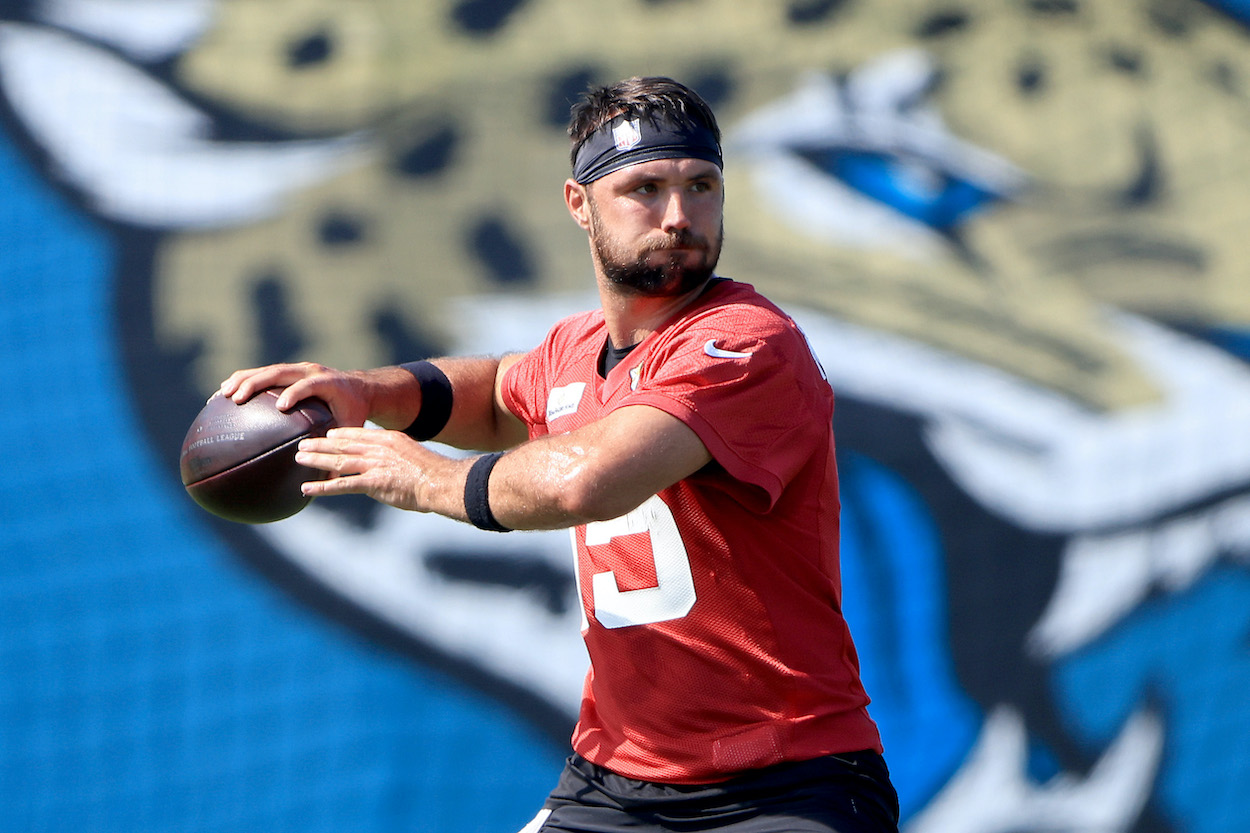 Long before "Minshew Mania" swept Duval County and, on some level, the entire NFL, Gardner Minshew II (there is no Gardner I, his parents randomly decided to name him that) was just a quarterback from Mississippi who bounced around college football.
He started with a scholarship to UAB but then the school's football program folded, per NFL.com. He then went to Troy University but never played. Then, Northwest Mississippi Community College, then East Carolina.
Finally, he was about to transfer to Alabama to become a backup and learn from the great Nick Saban before becoming a coach when the eccentric Washington State coach Mike Leach gave him a call. The outlandish offensive genius gave Mishew a pitch, don't sit on the Alabama bench, come throw it "70 times a game" in Washington, and that's exactly what "The Mississippi Mustache" did.
Minshew actually only threw 51 times a game at Washington State, but he racked up 4,779 yards, 38 touchdowns, and only eight picks doing so.
This led to Jacksonville taking Minshew at No. 178 overall in the sixth round of the 2019 NFL draft. He ended up starting 20 games in his first two years and 5,530 yards, 37 touchdowns, and 11 interceptions in those games.
His backstory, grit, and gunslinger style – along with the mullet and the mustache – endeared the unlikely NFL QB to fans everywhere, especially in Duval.  
The Jaguars drafted Trevor Lawrence to be the franchise QB, but Minshew's ready to compete
In the Green Light with Chris Long podcast, the host asked Gardner Minshew about his mindset coming into the season. Long noted that the team obviously hoped their top pick would win the starting job. He then asked how the QB is dealing with that.
Minshew responded as only Minshew can:
I'll tell you this, man. In preparation for the competition, I haven't taken a s— in weeks. Number 2 is not an option. Anybody that comes in and thinks that's an option, that's what they're gonna get. Ya know what I'm sayin?

Gardner Minshew on competing with Trevor Lawrence
Minshew followed up with a serious take on the situation. He said that he knows how hard he's worked, he's excited and ready for the training camp competition, and that is all a player can do in a situation like his.
Will the Jaguars trade Gardner Minshew?
The Jaguars are in an enviable spot or a tough one, depending on how you look at it. On the plus side, they have a starting-caliber QB behind their No. 1 pick who costs almost nothing by NFL standards ($850K in 2021, $965K in 2022). If Lawrence isn't ready or goes down with an injury, Minshew can step in and competently lead the team.
On the other hand, if Lawrence struggles or goes out with an injury and Minshew comes in and looks great, the organization could have a QB controversy that no one, from ownership down to head coach Urban Meyer, wants.
From his perspective, Meyer "loves Minshew's competitive fire," according to ESPN's Michael DiRocco. And, as a first-time head coach, he probably wants as many options as possible to help him navigate his inaugural season.
As training camp gets started, though, if QBs around the league go down, the price for Minshew could skyrocket as he would be the best available replacement who is not starting for his current team. If this is the case, a team may make the Jags an offer they can't refuse, and Minshew could, once again, get a shot to defy the odds and make all his doubters look foolish.
All stats courtesy of Pro Football Reference and Sports Reference and contract figures courtesy of spotrac