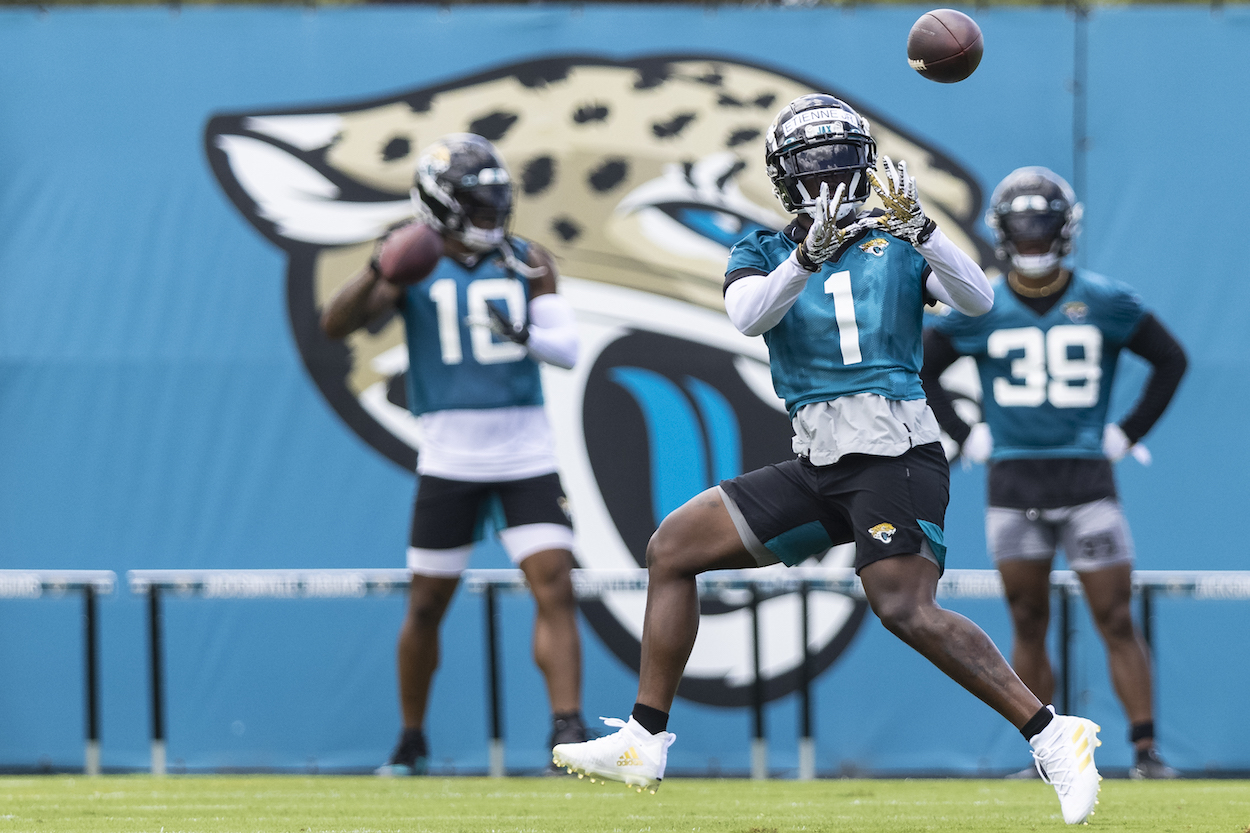 10 NFL Players Will Have Bigger Cap Hits Than the Combined $22.2 Million of the Jacksonville Jaguars' 8 Skill Position Starters
It may seem like the Jacksonville Jaguars are in for a rough season with such a low offensive payroll. The team's eight skill position starters have a lower combined cap number than the 10 highest-paid players in the NFL. However, this may be good for the Jags, especially with a QB on a rookie deal.
To say that the Jacksonville Jaguars' offense will be young and inexperienced is an understatement. The good news for the organization is that this group won't cost a lot in the 2021 NFL season. The team's core group of eight skill position players (QB1, RB1, RB2, WR1, WR2, WR3, TE1, & TE2) will only make a combined $22.2 Million. 
That number is incredibly low when you consider the premiums teams pay for those positions and that there are 10 NFL players with a higher cap hit. This inexperience could make for a long year in Duval, but it could also mean that Jags are building something special. 
The Jacksonville aguars will have a young, inexpensive offense in 2021
The 2021 Jaguars' offense will revolve around the No. 1 pick in the 2021 NFL draft, Trevor Lawrence. Even as the top pick, he'll still have a relatively low cap hit in 2021 at $6.6 million. Behind him will be fellow first-round pick and former Clemson Tiger Travis Etienne or free agent signing Carlos Hyde. The rookie running back will make just over $2 million while Hyde will make just under.
In the pass-catcher roles, the Jags will start free agent Marvin Jones ($4.7M) and a pair of former second-rounders, DJ Chark ($2.5M) and Laviska Shenault ($1.7M). At tight end, Jacksonville will roll with former Panther Chris Manhertz ($2.6M) and James O'Shaughnessy ($1.5M). 
If second-year players like WR Collin Johnson or RB James Robinson can force their way into the starting lineup during camp, that number could drop even further. Those two have cap hits of $76,778 and $1,666, respectively. 
Quarterback-turned-tight-end Tim Tebow would lower that figure as well as a starter. His cap number for 2021 is just $920,000. 
10 NFL players have a bigger cap hit than the Jaguars offense
It's incredible to think that a handful of NFL players will take up more of their team's cap all the Jags' skill position players combined in 2021. Who are these well-paid stars? 
It will come as no surprise that the majority of the names on this list are quarterbacks. The top six, in fact, are all well-paid signal-callers. However, it isn't necessarily a who's who list of the best passers in the league. 
The players with the biggest cap numbers in 2021 are Aaron Rodgers ($37.5M), Russell Wilson ($32M), Kirk Cousins ($31M), Matt Ryan ($26.9M), Jimmy Garoppolo ($26.3M), and Ben Roethlisberger ($25.9). 
The last four players on the list are all defensive linemen or pass-rushing linebackers. They are Kansas City's Frank Clark ($25.8M), Dallas' DeMarcus Lawrence ($25M), Philadelphia's Fletcher Cox ($23.8), and Denver's Von Miller ($22.2M). 
Dak Prescott also has a $22.2 million cap hit, but it is a few thousand dollars lower than the Jags starters. Ryan was No. 1 on the list heading into 2021 before restructuring his contract. Ryan Tannehill did the same and dropped from No. 5 to No. 88. 
A good QB on a rookie deal is incredibly valuable in the NFL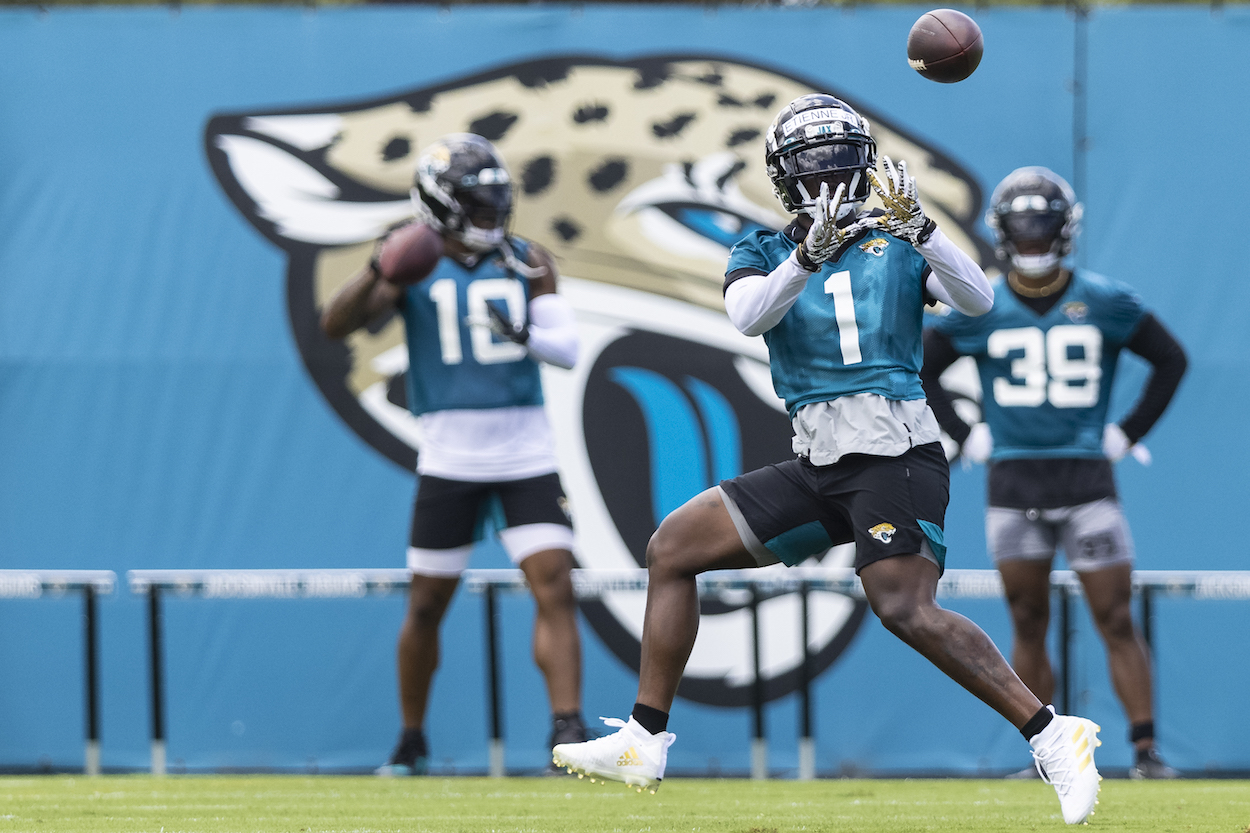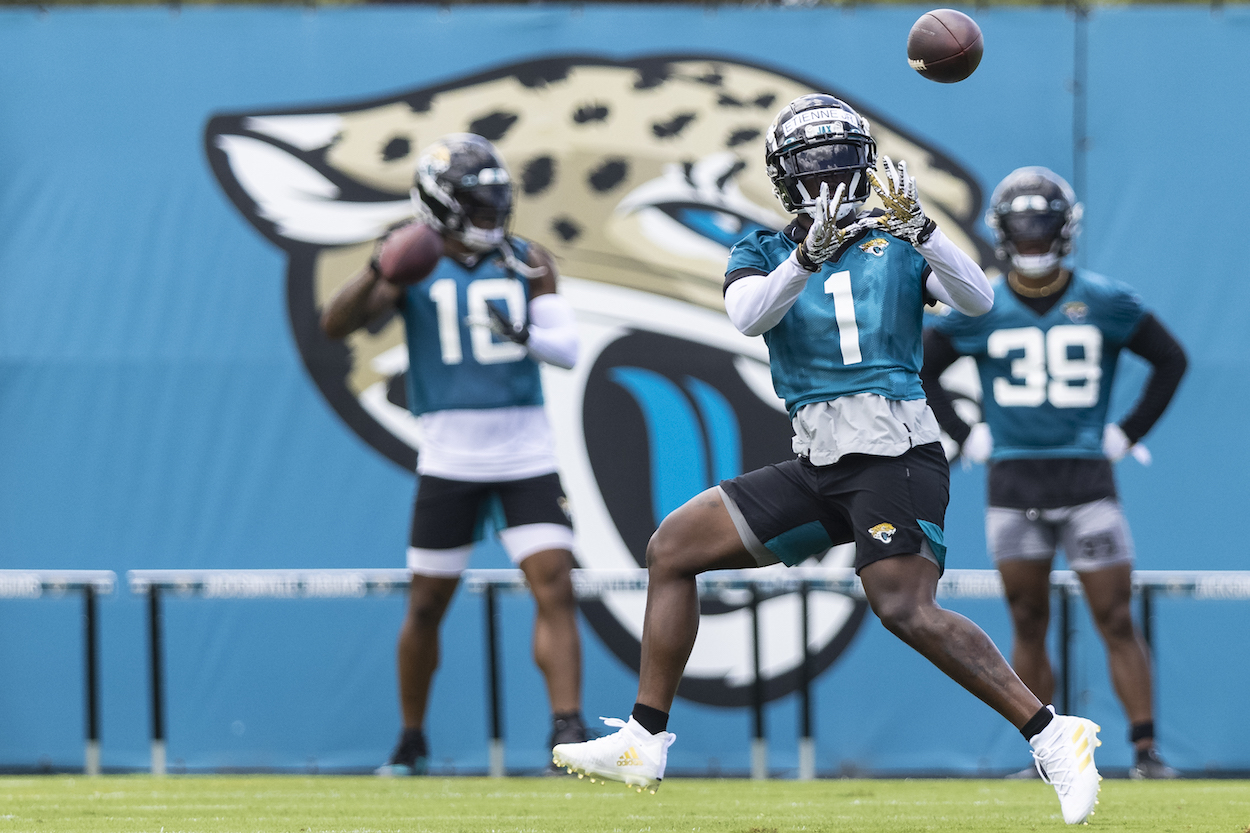 While paying your entire offensive skill group $22 million may sound like a dicey proposition, it may actually be a good thing for the Jaguars and new head coach Urban Meyer. 
Team's with star QBs in rookie deals have a leg up on the competition. If Lawrence can develop into a start like many project, the Jags could be set up for Super Bowl runs in the next few years. 
You can look to the 2021 AFC Playoffs to see how much it helps build a team if you're paying a rookie QB a reasonable salary. Four of the seven teams had QBs on rookie deals. Those teams were the Kansas City Chiefs (Patrick Mahomes), Buffalo Bills (Josh Allen), Baltimore Ravens (Lamar Jackson), and Cleveland Browns (Baker Mayfield). 
Also, while Tom Brady, Drew Brees, and both Manning brothers have won Super Bowls recently, so have a fair number of QBs on rookie deals. Mahomes, Wilson, Roethlisberger, and Joe Flacco all won the title in their first five years. Nick Foles won it as a high-quality backup who the Eagles could afford thanks to Carson Wentz's rookie deal. 
If Lawrence can live up to the hype and the Jacksonville Jaguars can build around him in the next four to five years, the team could be a force in the AFC for years to come, even with its paltry 2021 payroll. 
All contract figures courtesy of spotrac